Creative Home
There's nothing I love more than visiting a creative home.  You get a glimpse of their personality while enjoying their style.  Creating your own art always adds that original touch.
Cute girl, cute site, cute projects…….even though she doesn't have my Link Party listed or have TCB listed in her blog roll, I've still decided to feature her.

I saw her "you are loved" photo on Jen's site (tatertots&jello) and fell in love with the wall art she created.  Makes such a statement.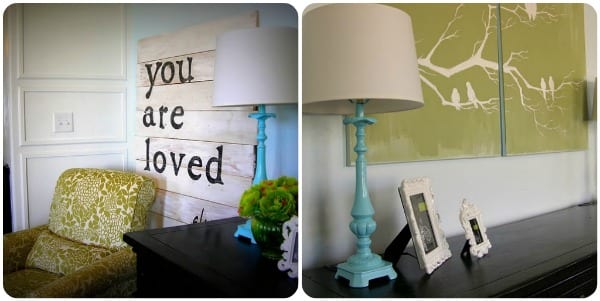 She's got a few projects that will keep you busy either planning or just looking.  Always a great way to get yourself motivated to live creatively.
Knowing how you readers love a good wreath, I figured you'd fall over with this one.  It's gorgeous! She shows a great tutorial too.  A wreath AND a tutorial…..life doesn't get much better than that.
With all you with little girls, here's a great idea for a birthday party.  That Rapunzel wreath is brilliant, and then there's the cake! Yep…….you're in luck. She's got a tutorial for that too.  You'll find many of her projects on her side bar. Easy to find.
This cake isn't from the Rapunzel party, but while roaming around her site, I see she also has a site for making cakes for events.  If you're in the Farmington Utah area (was there any question she was from Utah? Would have loved meeting her), you're in luck for cakes!
Alright all you lovelies……Time for a creative week!