This post brought to you by Blue Bunny Ice Cream. All opinions are 100% mine.
No Sugar Added Ice Cream!
Our last day of school is finally here and I'm so ready to get this party started.  I love the ease of summer and the ability to travel without working around the school schedule.
I love the flavor of summer and was happy to try the Sweet Freedom Blue Bunny® Ice Cream treats. By keeping fun ice cream novelties and ice creams in the freezer…..there is no need to run out to meet the ice cream truck. Besides, these have NO Sugar Added which is exciting for National Diabetes Month.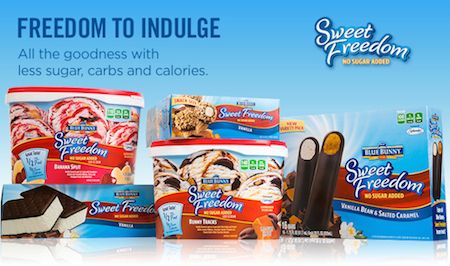 Making Every Moment Count
This summer we are cramming in a lot!
My son will spend 3 weeks with his cousins in Utah, I'll spend 2 weeks. In the short time I'm there, I'll be trying to see all my Utah Blogger friends as well as hang with my sister. We LOVE our time in Utah!
My son will be going to his first over night week long camp for soccer this summer and when he returns we'll be visiting the Bay area for the first time, where I'll speak at a conference and my husband and son will be able to attend one of the Real Madrid Soccer games. We are really Making Every Moment Count!
In between all that, there will be soccer practices, soccer tournaments, and time spent with local friends. It's not uncommon for my son to have a few friends over and when you have a few teen boys in your home, you better have food.
I try to keep a variety of healthy snacks and treats on hand, so I was thrilled with the No Sugar Added Ice Cream Treats from Blue Bunny® Sweet Freedom line of products.
No Sugar Added never tasted so good! Blue Bunny® is the first national brand to offer so much variety in no sugar added frozen treats.
Not only do I try to keep my own sugar consumption down, I try to limit the amount my son gets. Blue Bunny® is great for the sugar conscious. 
I'm loving the variety of Sweet Freedom flavors, with the Bunny Tracks as my favorite………this week.
My son loves the Banana Split flavor and the vanilla.
Let's Make Every Moment Count this summer!
Follow Blue Bunny® on Pinterest and on Facebook.