I've gathered 20 Crock Pot Desserts that will make you so happy!
20 Crock Pot Desserts You Will Love!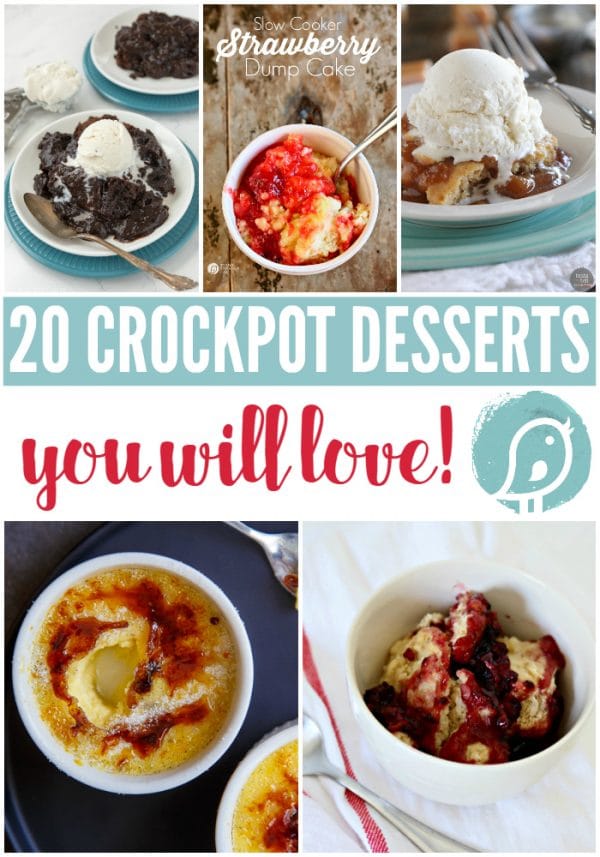 It hadn't really occurred to me for the longest time that I could actually make dessert in my Crock Pot. I just always thought of my slow cooker for making dinner. When I friend Stephanie came out with her first Slow Cooker Cook Book, which is awesome by the way, I remember having one of those AHA! Moments when I saw desserts! Since then, I have thrown so many things in the slow cooker to see how it would work. Most the time it comes out great! Dump Cakes are my favorite!
If you're looking for great recipes, besides the ones I'm sharing below, please use my affiliate links for all the Slow Cooker Cook Books that Stephanie has written.

Below are several recipes from bloggers I trust. I'd love for you to click through and let me know which one looks like something you'll try.
20 Crockpot Desserts You'll Love
20 Slow Cooker Dessert Ideas
Making desserts in a crockpot is the best-kept secret. Check out this list of crockpot desserts from a few of my favorite bloggers.
Follow my Slow Cooker Pinterest Board for lots and lots of delicious recipes!