This 202o Free Printable Calendar is Japanese inspired by using Morimoto Toko's art on each month. Getting organized has never looked so beautiful. You can also download my Minimalistic Fern Design 2020 calendar too.
2020 Free Printable Calendar
I have never been attracted to Asian inspired art for my home, but when I saw these art pieces, I fell instantly in love. This was just another reminder to keep my mind open to different styles.
I may end up having a few 11×14 prints made for framing. If you're interested, let me know and maybe I'll work a little faster.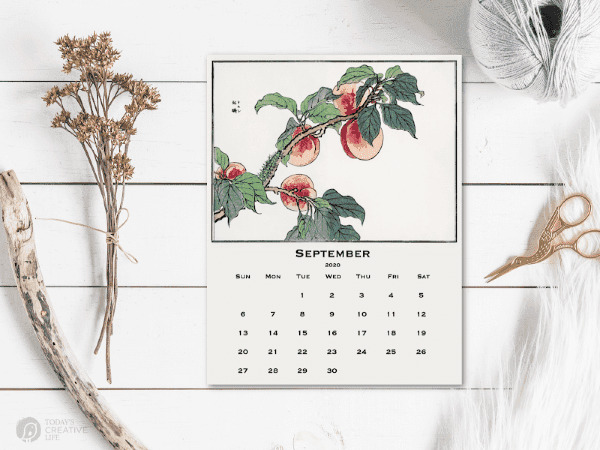 How to Print Free Calendars
Download from the Printable Vault.
Subscribers to the VIP Today's Creative Life email list receive a password that gives them access to The Printable Vault. If you haven't already, you can subscribe here.
Supplies needed:
Inkjet printer – you don't need an expensive one for printing free printables.
Printer paper – I like using a higher quality printer paper for calendars.
Find this printable calendar in The Printable Vault and click on it. A free download will begin on your device.
Place the paper you want to use in your printer.
Open the file and choose your printing options.
Print all 12, or just one month as needed.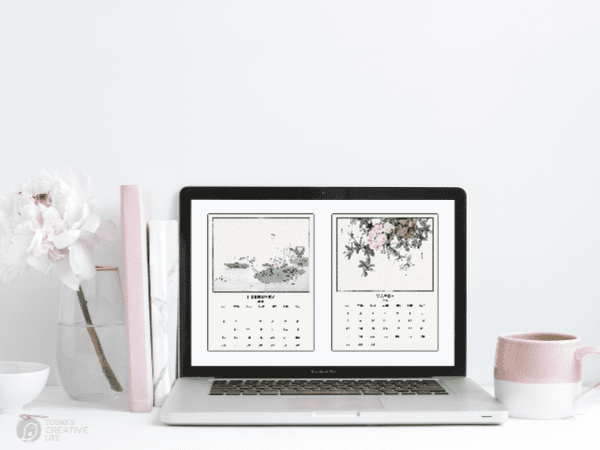 How to Display a Free Printable Calendar
There are so many ways to use your Asian-inspired calendar. Because it's so pretty, it's also serving as a piece of wall art.
Calendar Binding
With a DIY binding machine, you can bind your calendar pages altogether and hang them anywhere you need.
Hang on a Clipboard
I have 6 clipboards in my office on my DIY memo board. I like hanging 6 months at a time for a quick glance. It also looks nice.
Use an Easel
If you use thicker cardstock, you can just place it on one of those smaller desk easels. Or you could even frame it and then place on the easel.
Desktop Screen Saver
Feel free to upload to your desktop screen saver for a pretty and functional backdrop.