Easy sewing project! From a 5XL T-Shirt to Swimsuit Cover-up!

While I'm "On Assignment" at The Kennedy Space Center, (follow along on FB, Twitter or Instagram with hashtag #VisitKSC ) a few of my blogging friends have gathered around to guest post! Please welcome Michelle from A Little Tipsy as she shares how she takes a 5XL T-Shirt to Swimsuit Cover-Up and takes you through each step! Nothing makes a guest poster feel better, than a bunch of nice comments! hint hint!
---
5XL T-Shirt to Swimsuit Cover-up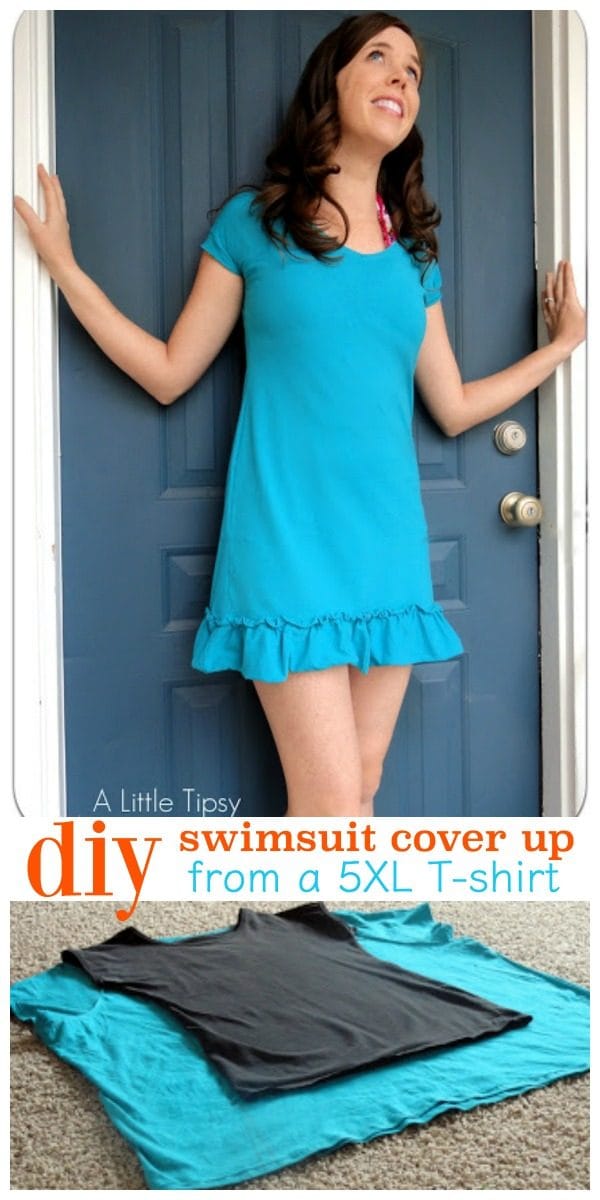 A little about me, I am that girl who buys the 5XL t-shirt from the dollar store because she likes the color. Go ahead and laugh. You figure what the heck it's $1, you'll do something with it someday, right? Well, my friends, I am vindicated. Not only did I use that 5XL shirt from my stash, but I dusted off my sewing machine and used it without breaking something. So, what did I make pray tell? A swimsuit cover.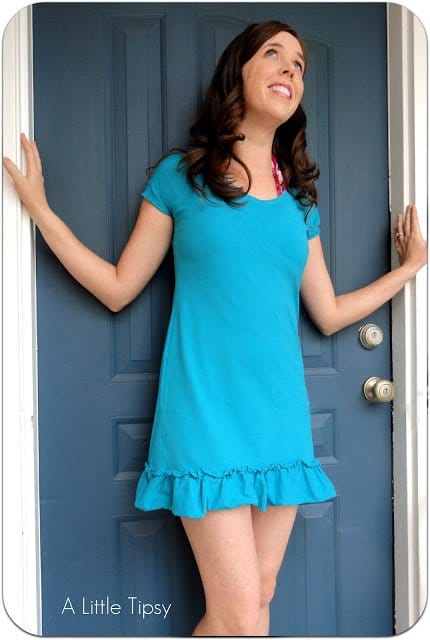 For some reason, the only swimsuit covers I could find either don't cover much of anything, or they were long sleeved (which I honestly don't understand). Those of you who are fair skinned and farmer tanned like me, you know it doesn't take long for our shoulders to completely sizzle. Thus began (and ended) my search for cute swimsuit covers that had sleeves, but also covered enough that when I bend down with my kiddos I don't embarrassing myself or anyone else within eyeshot.
How to Make a Swim Suit Cover
Supplies:
5XL (or very large) shirt
Pins
Scissors
Sewing Machine
Thread
1. Turn the 5XL shirt inside out and lay one of your fitted t-shirts on top of it.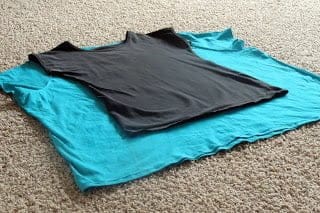 OPTIONAL: pin out about an inch on each side using safety pins. This makes it so you can turn it right side out and try it on to make sure it will fit right. Remember if you did not pre-wash the shirt it will probably shrink.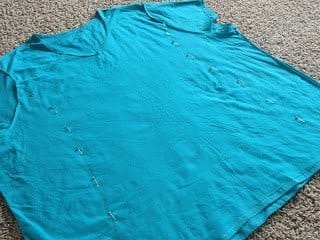 2. Once you know where you want the seam, pin with straight pins removing the safety pins. Continue the flare of the fitted shirt all the way to the bottom so the skirt of your cover will be a short A line with room to move.
3. Trim the excess material from the sides of the shirt.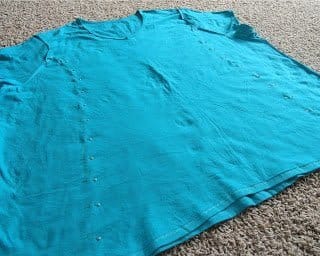 4. My seams just happened to line up with the shoulder seams on the large shirt. If I cut it off right on the seam it would have been a cap sleeve, but I wanted the sleeves a tad longer so I left an inch outside the seam. I left the sleeve as is at this point. I don't mind a raw edge.
5. To finish the sides for a plain t-shirt dress, sew along the pins and stop when you get to the sleeve seams.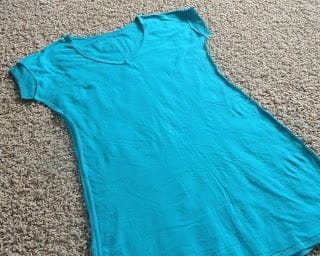 6. To add the ruffle, use strips of the excess material. I had four strips about 4 inches wide and 13 inches long. You can sew all four strips together for one long strip or do two at a time to make it easier.
7. Sew a loose stitch all along one edge of the strip about 1/2 inch from the edge leaving a length of thread on each end. Pull one of the threads, holding the other in place to gather the fabric.
8. Pin the gathered strips onto the skirt. You will have seams on the right and left sides and in the middle of the front and the back, but they are not visible because of the gathering of the ruffle.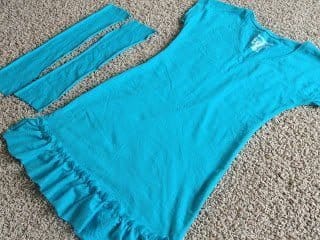 9. Sew a straight stitch right down the line where you gathered to attach the ruffle.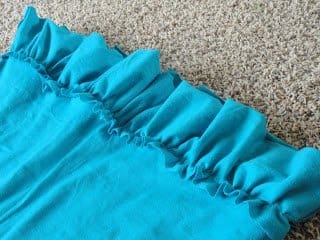 Congrats, you made your very own swimsuit cover!
I wore this all day on a scuba dive boat in Maui and it was so comfortable! I borrowed my mom's sewing machine to make this and when I told her what I was doing she gave me the courtesy smile and nod like "this should be interesting." When I told her in Maui that this was the cover I made, she couldn't believe it.
Now you can make a 5XL T-Shirt to Swimsuit Cover-up too!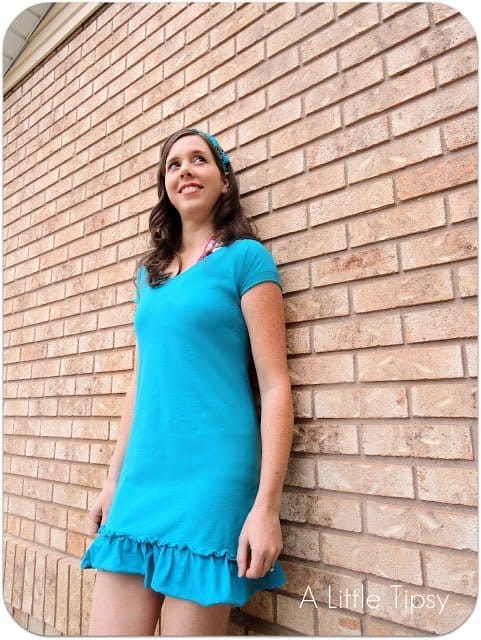 If you like this idea, you may like these other projects made with t-shirts: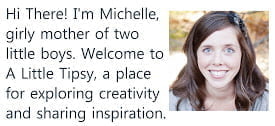 Thanks a bundle to Kim for letting me stop in and share with you today!
---
More DIY Sewing Projects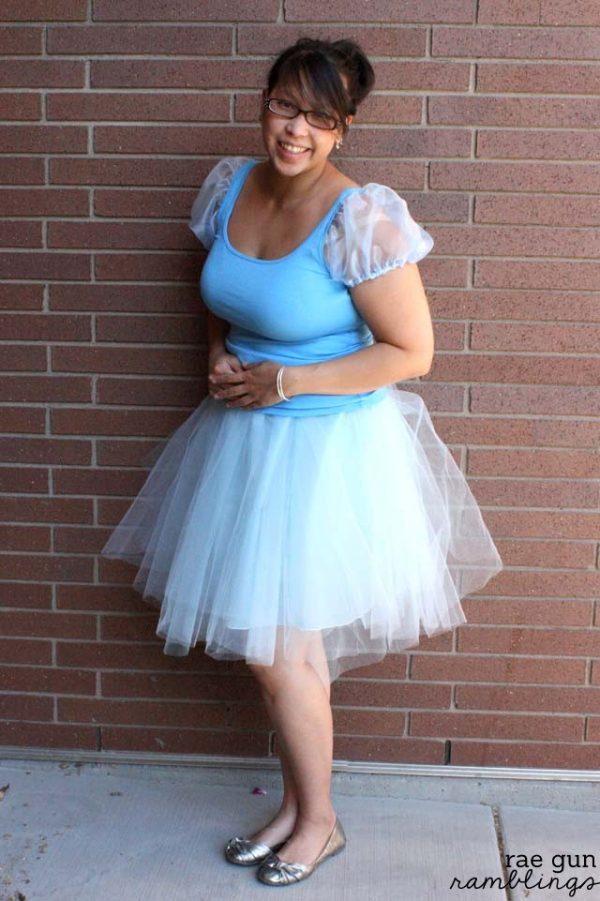 DIY Cinderella Costume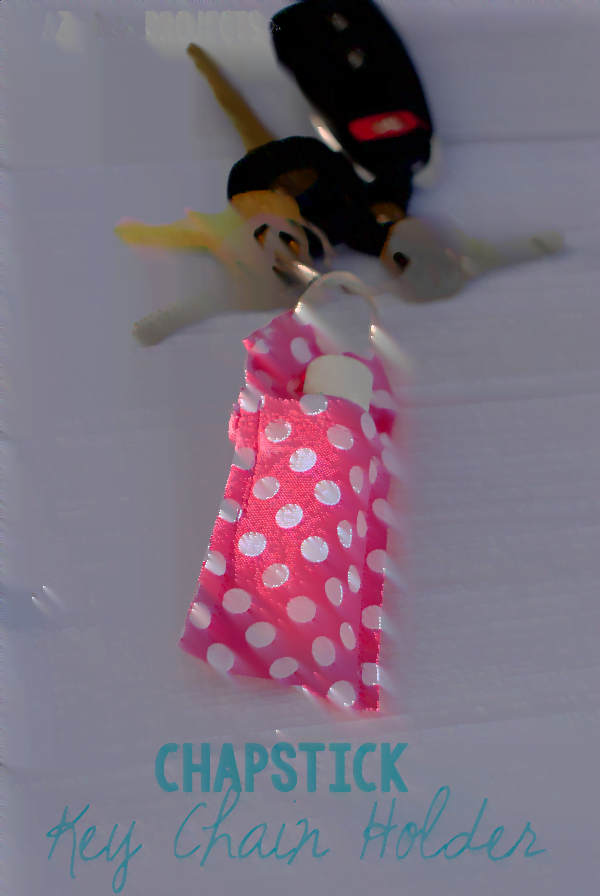 DIY Chap Stick Key Ring Holder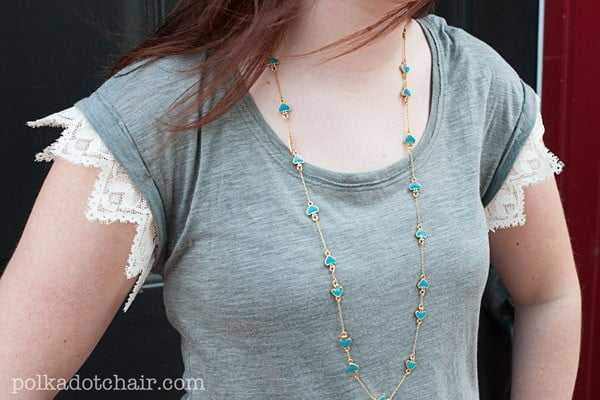 DIY Lace Trim Tee