Looking for a quick and delicious breakfast idea? These Banana Walnut Breakfast Muffins with Fruit and Honey will do the trick!
I love muffins for breakfast and I'm pretty sure many of you do too!
We were headed off for a long day of soccer, so I whipped up a quick breakfast muffin recipe. This recipe can be mixed and matched with any combination of fruit you have around and I had some banana's heading south really fast.
I had some of the new Smucker's® Fruit and Honey Fruit Spread I thought would be good smeared on a warm muffin, but before I knew it, I was adding a small dollop on top of each muffin to be baked right in.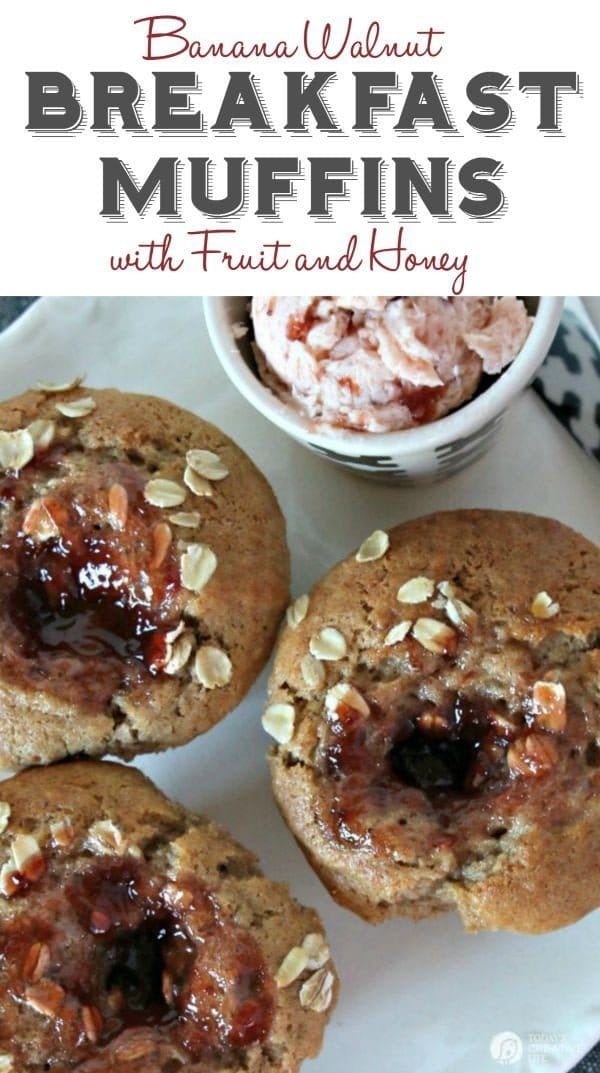 Banana Walnut Breakfast Muffins
The J.M Smucker's Company recently asked me to create something unique with their new product that my family would enjoy. Adding a new topping to their favorite muffins would be a fun surprise.
We happily munched on a couple of these on our way to the soccer field. The added Smucker's Fruit and Honey gave it the perfect added sweetness I was looking for on an early Sunday morning.
Once I got home, I thought that mixing butter with the spread would also be delicious to slather on a warmed up muffin and I was right…… again!
This buttery sweet spread would be great on toast too! It's a fun twist that's easy to make for any breakfast bread. Of course, it's perfect all on its own! I can't wait to try it on a piece of sourdough toast. Mmmmm
Back to the muffins!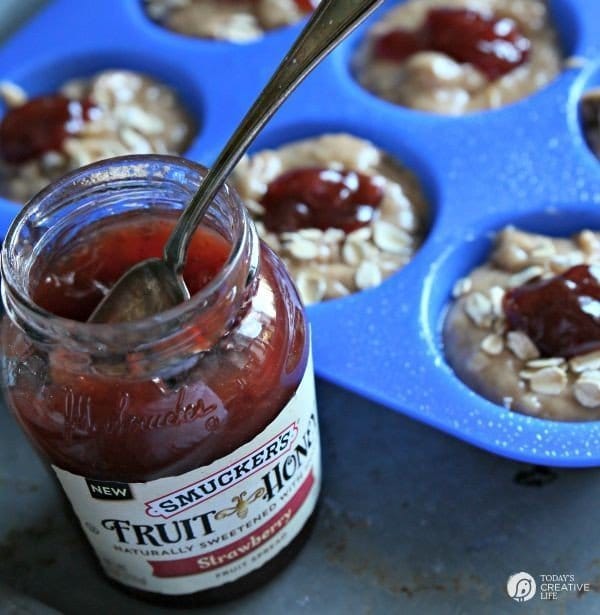 As I mentioned, this is one of those recipes that you can mix and match your ingredients with whatever you have on hand. The base recipe stays the same, but the 2 cups of fruits can be bananas, pumpkin, apples, zucchini…. you get the picture.
Adding a dollop of the jam right to the top of each muffin before baking felt like such a genius move, even though it's such a simple idea. It's an easy way to bump an ordinary muffin up a couple of notches.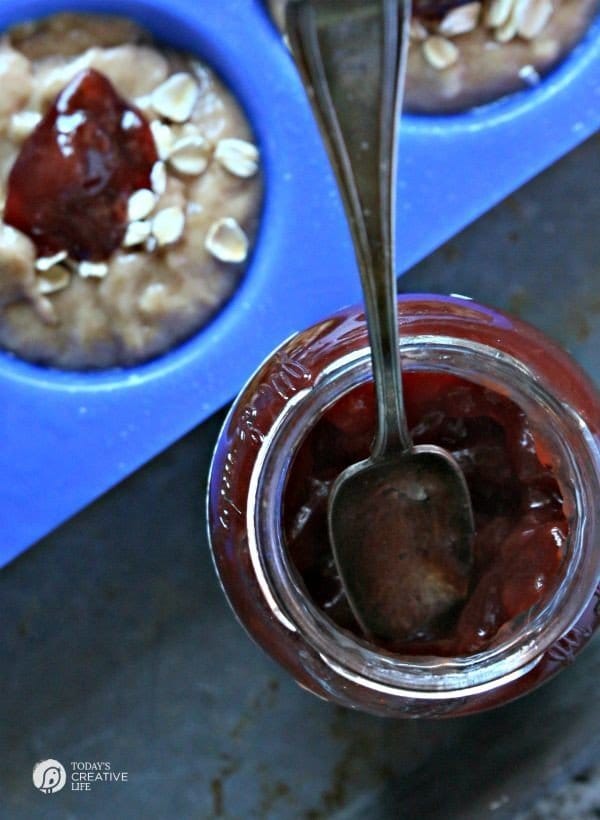 This stuff is smooth.
I used a silicone muffin pan to make it easier for the muffins to pop out since I knew they'd be overflowing a bit. The fruit spread gave the muffins a glazed topping of sweetness. Some of it oozed off, but I think that's because I overfilled the muffin pan.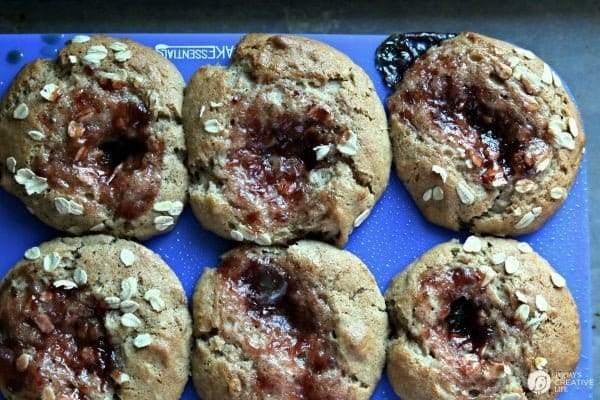 I sprinkled a few oats to the top for texture and I'm thinking they look just like a bakery muffin.
A girl can dream!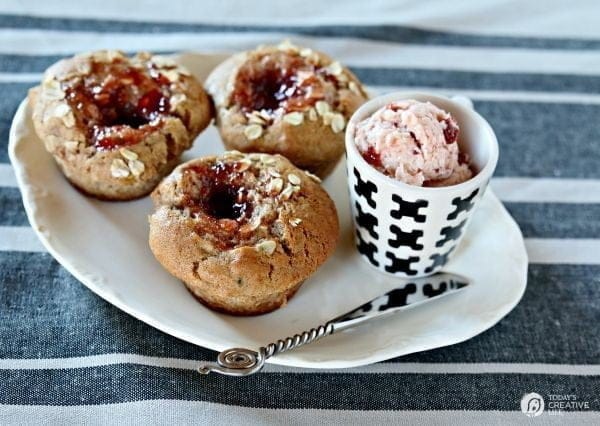 If you're on the run, just grab and go.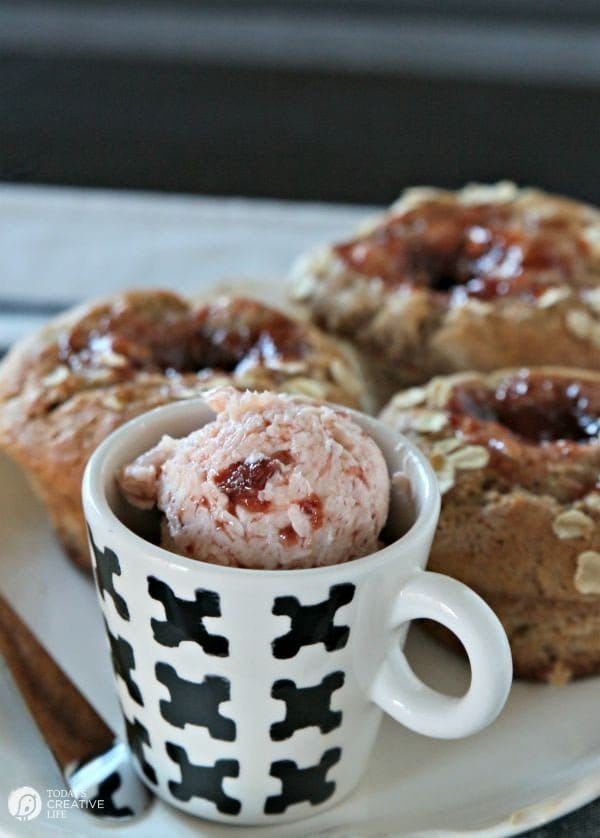 But if you're serving these up at home, then take a moment and make up a quick batch of the Fruit and Honey Butter Spread. You'll be happy you did!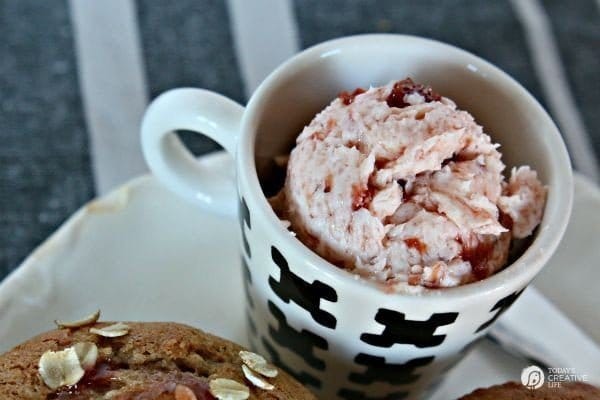 Who wants a banana walnut breakfast muffin?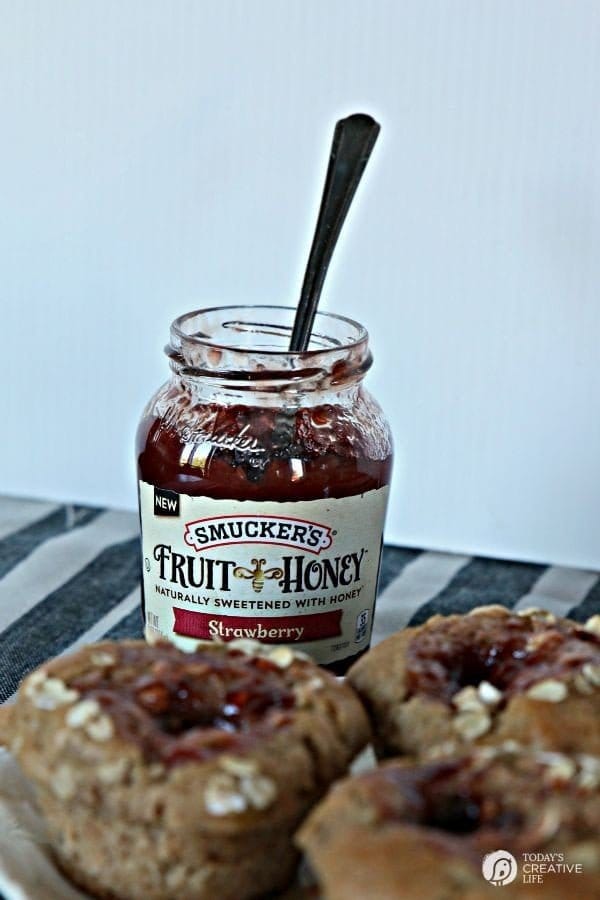 Easy Breakfast Muffin Recipe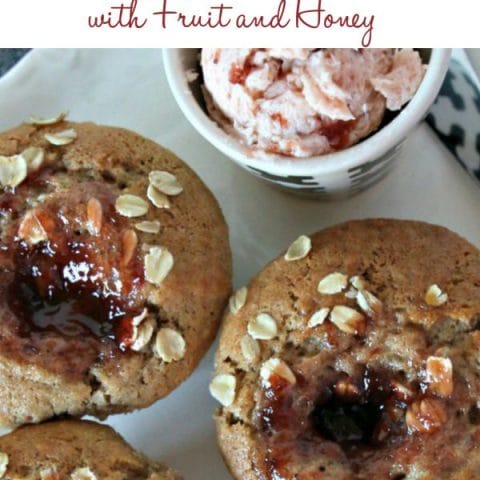 Banana Walnut Breakfast Muffins with Fruit and Honey
Yield: 24
Prep Time: 15 minutes
Cook Time: 15 minutes
Total Time: 30 minutes
Ingredients
3 cups flour
3 teaspoons cinnamon
1 teaspoon salt
1 teaspoon baking soda
1/2 teaspoon baking powder
2 eggs
1 cup oil
2 cups sugar
2 cups mashed banana
3 teaspoons vanilla
1 cup chopped walnuts
Smucker's Fruit and Honey Spread
Instructions
Set your oven for 375°
Combine dry ingredients together in a medium bowl and set aside.
In a large bowl, beat eggs; add sugar and oil. Mix until creamy.
Add mashed banana and vanilla.
Add dry ingredients slowly; mix well. I used my electric mixer, but it's not necessary.
Stir in walnuts.
Spoon into a well greased muffin tin.
Add a dollop of Smuckers Fruit and Honey to the top of each unbaked muffin
Bake for 12-15 min
Notes
Swap out the bananas for a different fruit.
Not only have we enjoyed it on our Banana Walnut Breakfast Muffins, or smearing on toast, but I loved a dollop in my plain Greek yogurt. (because who can eat that stuff plain, right?)
You can find Smuckers Fruit and Honey at Walmart.
---
More Muffin Recipes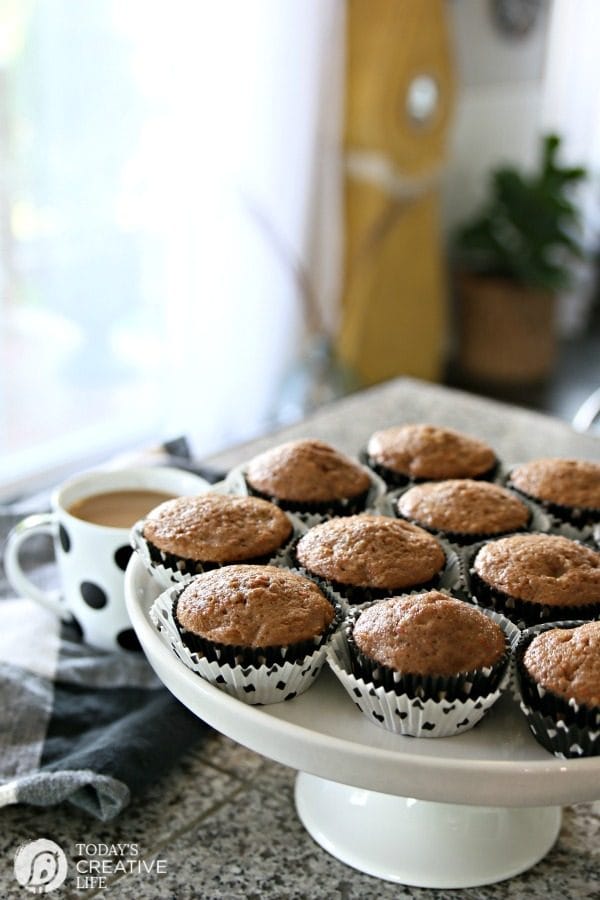 Carrot Banana Cake Mix Muffins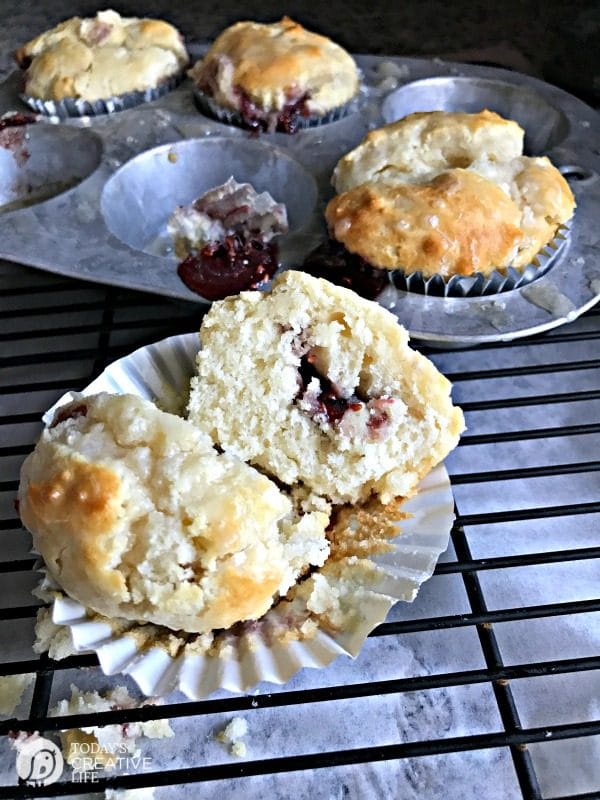 Sweet Raspberry Muffins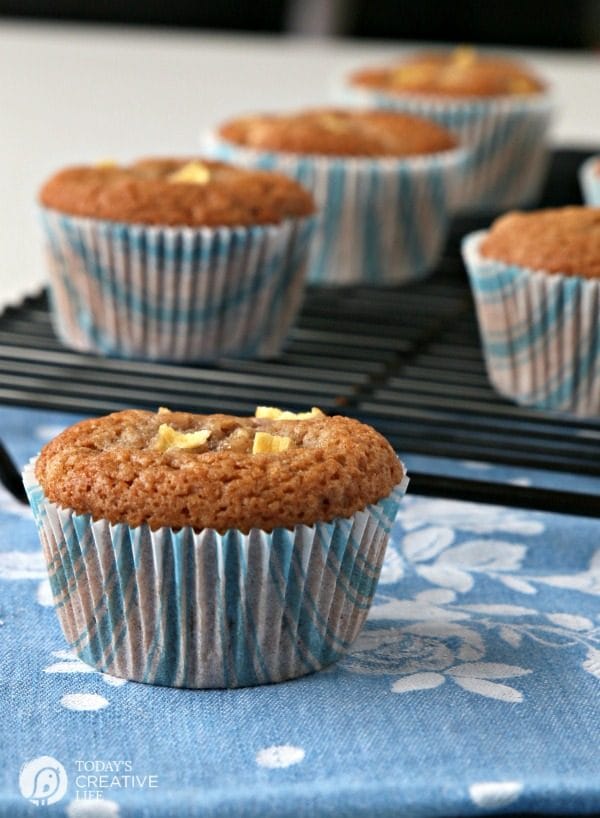 Apple Cinnamon Spice Muffin Recipe
This is a sponsored conversation written by me on behalf of JM Smuckers. The opinions and text are all mine.