Please welcome my friend Emily as my guest today! I met Emily on the Park City Tram a couple of years ago and was instantly jealous of her tall slender frame and high heels. She is sharing one of the best looking Bar Recipes! Let's hope she eats this very day!! You may also like these Short Bread cookies or this Captain Crunch Bar recipe too!

Hello, everyone! This is Emily from is this REALLY my life? and although these brown butter chocolate chunk blondies are a mouthful to say, they're a delightful mouthful to eat!
…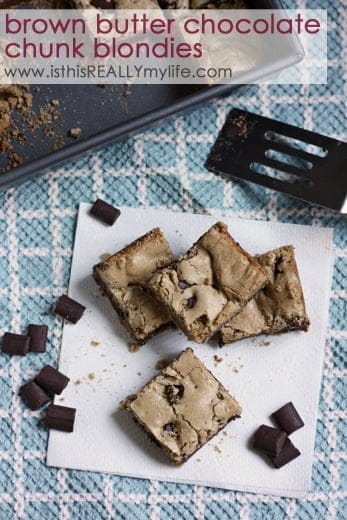 …
My friend is on a search for the perfect blondie recipe—something similar to what our local Hagermann's Bakehouse used to make. When I came across the browned butter vanilla bean blondies from my cute friend over at Sweet Treats & More, I knew I had to try it. Of course, being the chocolate fan I am, I turned them into brown butter chocolate chunk blondies…with a bit of vanilla bean thrown in for good measure.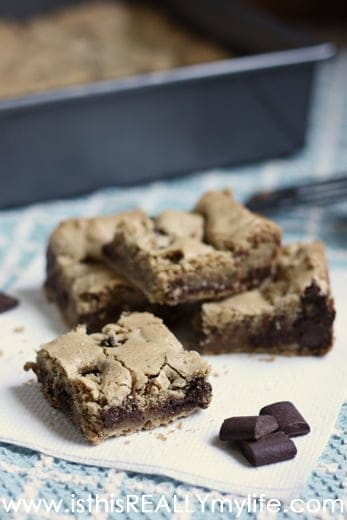 Before making these blondies, I first had to figure out this browned butter thing. Here's what I learned after my first attempt completely failed:
Use a stainless steel pan. A dark, non-stick pan makes it hard to tell when the browned butter is the correct color.
Cook the butter over medium heat. Anything higher and you're sure to burn it if you blink.
The butter will continue to cook once you remove it from the heat. Don't procrastinate!
…
The second attempt at browned butter fared much better. I even got all fancy and used a spoon to transfer the butter from saucepan to mixing bowl, leaving what I call "browned butter sediment" behind.
I'm such a pro.
…
…
I have to say, these brown butter chocolate chunk blondies are super delightful…so much so I wish I'd made two pans (one for me and one for the family).
*sigh*
Guess I'll just have to make another batch! Or better yet, try another blondie recipe (purely for research of course).
Bar Recipe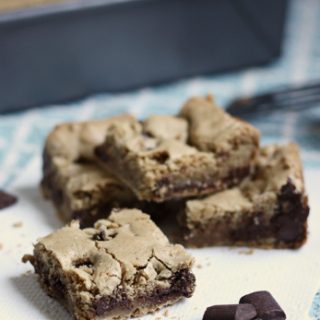 Brown Butter Chocolate Chunk Blondies
Ingredients
1/2 cup unsalted butter
1 cup packed light brown sugar
1 egg
1 1/2 tsp vanilla bean paste
1 cup all-purpose flour
1 tsp baking powder
Pinch of salt
1 cup semi-sweet chocolate chunk chips
Instructions
Preheat oven to 350 degrees. Lightly grease an 8x8-inch pan.
In a small saucepan over medium heat, melt butter. Stir constantly until melted and butter begins to bubble and foam. Continue cooking and stirring until butter turns golden brown. Remove from heat and let cool for 5 minutes.
While butter cools, sift together flour, baking soda and salt in a small bowl. Set aside.
Pour butter into the bowl of a stand mixer. Beat in brown sugar and vanilla bean paste until thoroughly combined. Add egg and beat until smooth and creamy (about 1 minute).
Add dry ingredients and mix well. Gently stir in chocolate chunk chips.
Spread into pan and bake for 18 to 22 minutes or until edges are golden brown and center is set.
Cool before serving. Or don't and eat them right out of the pan.
…
Crap. Now I need a pan of these blondies, like, yesterday. I may not even be patient enough to brown that dang butter.
A big thank-you to Kim and her invitation to guest post for Today's Creative Blog. For more yummy recipes (and a bit of humor), you can visit me at isthisREALLYmylife.com.
______________________________________
isthisREALLYmylife.com ~ medicating or celebrating? the answer is "yes"
You can also find me here:
Facebook: facebook.com/isthisREALLYmylife
Twitter: twitter.com/emihill