Knowing how to care for hardwood floors properly will help them to last for many, many years. Here are some tips for non-toxic cleaning and maintenance of hardwood flooring.
We've had our solid hardwood floors for over a year now and I love them even more than the first time I walked on them. I am always asked what the best way to care for hardwood floors is and let me tell you, after working with Bona Flooring, I have learned some great non-toxic hardwood floor care and cleaning tips.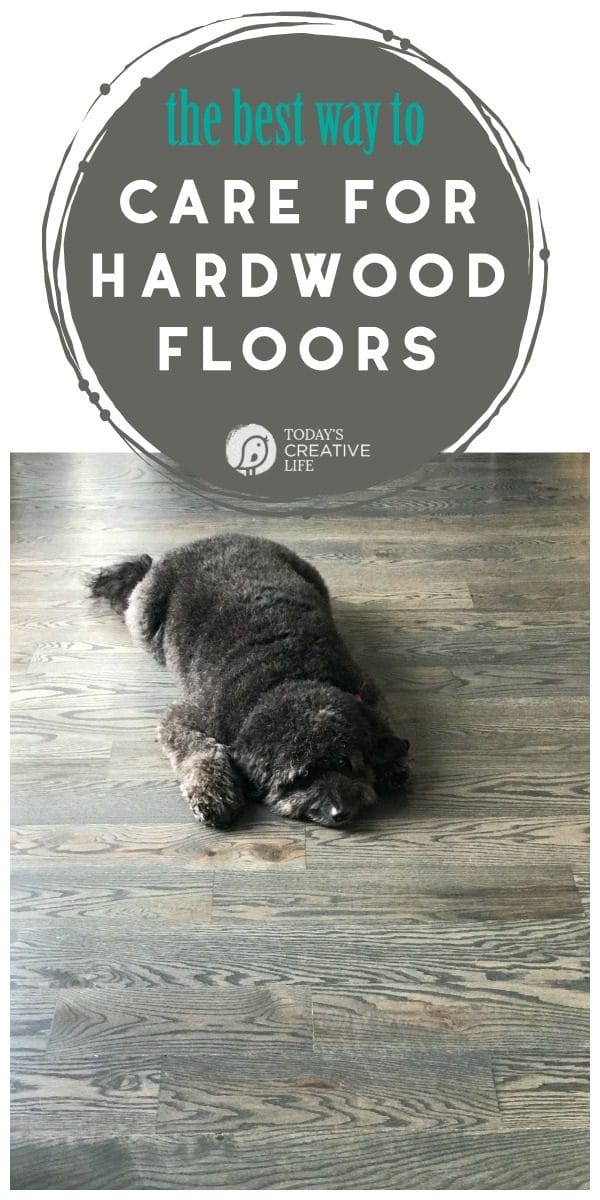 When we first moved into our home, I thought we had laminate flooring, but it was actually an engineered wood floor which is not the greatest. The fact that I cleaned with all the wrong things didn't help. I used homemade cleaners with vinegar, I used a steam mop and probably way too much water! All these methods were the worst way to take care of hardwood flooring.
While laminate floors look nice, nothing beats the beauty of floors made of real hardwood! Not only do they look gorgeous, but hardwood floors also last longer than laminate, are easier to repair, and are free of the toxic substances sometimes used in the production of laminate floors.
Our hardwood floor stain and finish is for high traffic and the best part it is water-based and toxic free! You can learn more about toxin-free hardwood floor finishing here.
To keep your floors looking beautiful for years to come, you should know these tips on how to care for hardwood floors!
Tips on How to Care for Hardwood Floors
1. Dust Mop or Vacuum Often
Vacuuming or using a dust mop isn't just important to keep visible dirt off your floor, it actually is a critical part of how you should care for hardwood floors in your home! I use the microfiber dusting pad or the disposable dusting cloths from Bona.
Both work well for obvious dirt, but they also grab up smaller pieces of dirt and dust that over time could wear away at your floors. This could happen because dust and dirt are actually made up of tiny, hard particles that get rubbed into your flooring as people walk around. Because of this, you'll also want to make sure to dust or vacuum under any rugs or runners. You don't want to pick up a rug one day and discover that the dirt beneath it has damaged your floor!
When vacuuming your hardwood, it's best to use a soft brush, and not any brushes that beat or rotate, as these can scrape the floor on their own.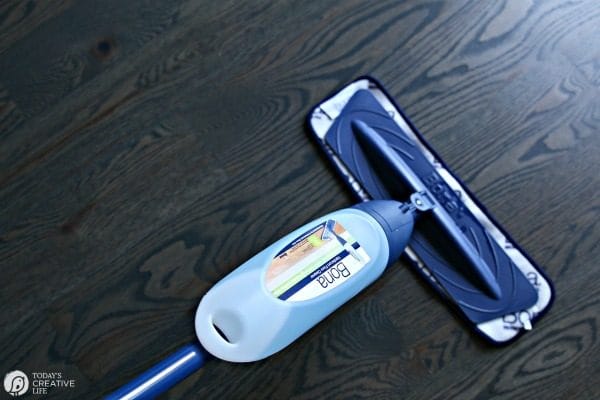 2. Avoid Water
An important tip to remember about how to care for hardwood floors is this- don't let the floor get wet! And if water does get on it, wipe it up quickly! Water can harm your floor's finish, or even soak into the wood and cause it to stain! For this reason, you'll want to make sure there are mats under pets' water dishes, trays under plants, and large rugs/mats near entryway doors (to reduce the damage of wet shoes on rainy days). I don't even mop with water.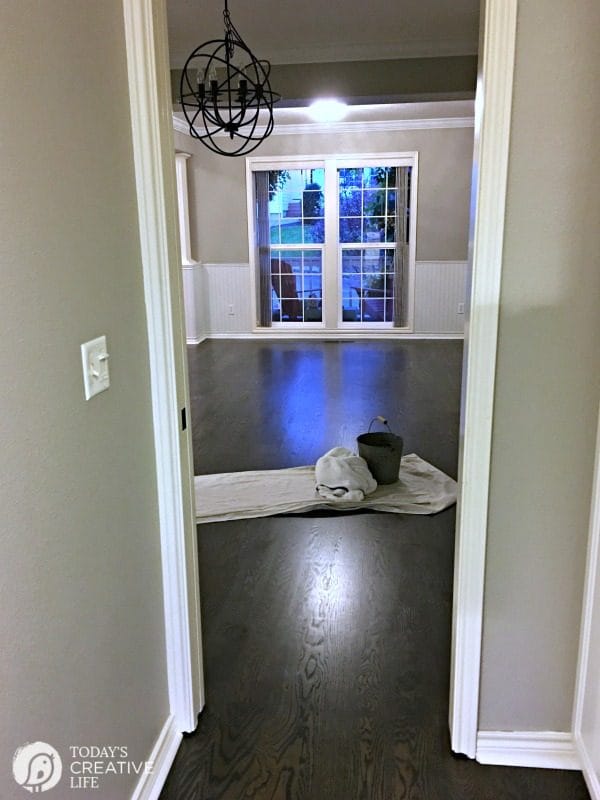 3. Use Rugs
Rugs are very helpful for keeping your hardwood floors in perfect condition! In fact, the more rugs, the better, especially in high traffic areas like hallways. Just try to avoid rugs that have backings made of rubber or vinyl. These can keep any moisture that's on the floor trapped against its surface, which over time can damage the floor the same as a water spill can.
4. Be Careful with Pets
People with pets may find it a bit trickier to know how to care for hardwood floors. This is because if anything is going to scratch up your floors, it's the nails of a pet!
To keep this from happening, you have a couple of options. You could keep your pet out of the room(s) with hardwood flooring. Or you could buy soft nail caps for dogs, which not only will pad their nails, but also reduce how much they may slip on the floor. Or you could let your pets have the ability to roam freely through the house, but make sure to only play with them in rooms without hardwood. We chose red oak wood, which is harder than most. Fir is the softest wood and is not recommended for flooring.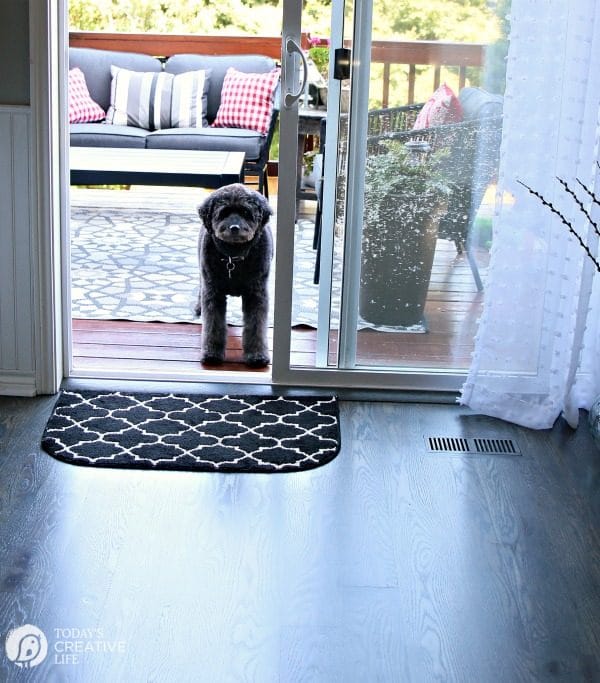 5. Use the Right Polishing Products
I take the guesswork out of what products to use by using only Bona®! I think everyone with hardwood floors should own their Ultimate Hardwood Floor Care Kit. If you visit Bona, you can easily see what product you need by searching "surface" and "type of cleaning".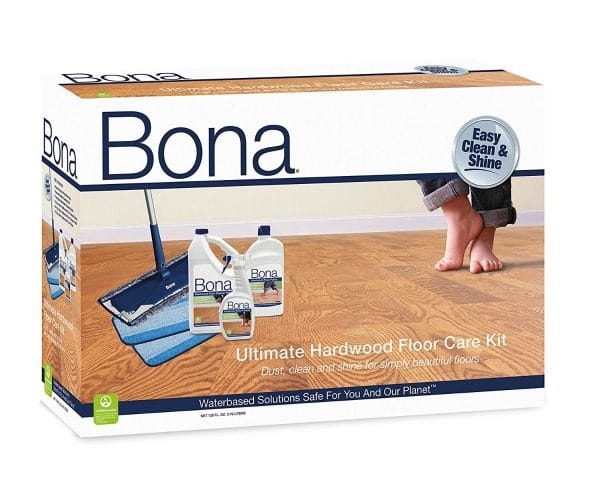 6. Clean Carefully
The Bona products are my favorite because they are eco-friendly. I use the spray mop with the original hardwood floor cleaner so that I don't have to worry about harsh substances that may damage my home.
As I mentioned earlier, don't use white vinegar on hardwood floors (see more items you shouldn't use white vinegar on). While vinegar is a great all-natural cleaning agent, it is acidic, and as a result, may eat away at the finish on your hardwood floors. Because most homemade floor cleaner recipes dilute the vinegar, you may not notice this after the first wash, or even after a dozen washes, but in time your floor will gradually become duller as the finish fades away. Borax solutions can possibly create similar results.
You should also be careful using dish soap on hardwood floors, as soap also may damage the finish. It can also leave a film behind, which may be difficult to clean off.
This is why I stick with Bona as the best way to care for hardwood floors! They are dedicated to creating the best products for your floors and your home.
If you join their loyalty club, you'll get $5 off any mop in stores.
---
More Hardwood Flooring Tips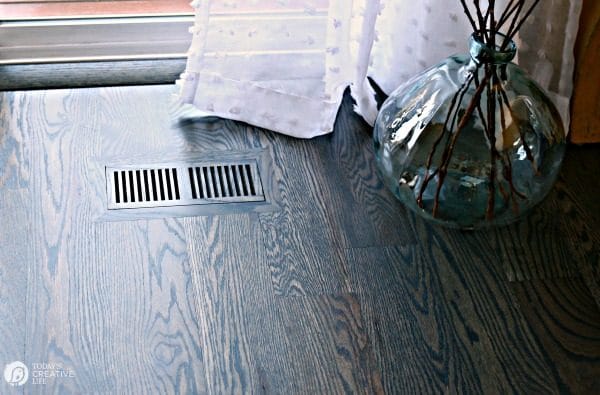 Best Non-Toxic Floor Cleaner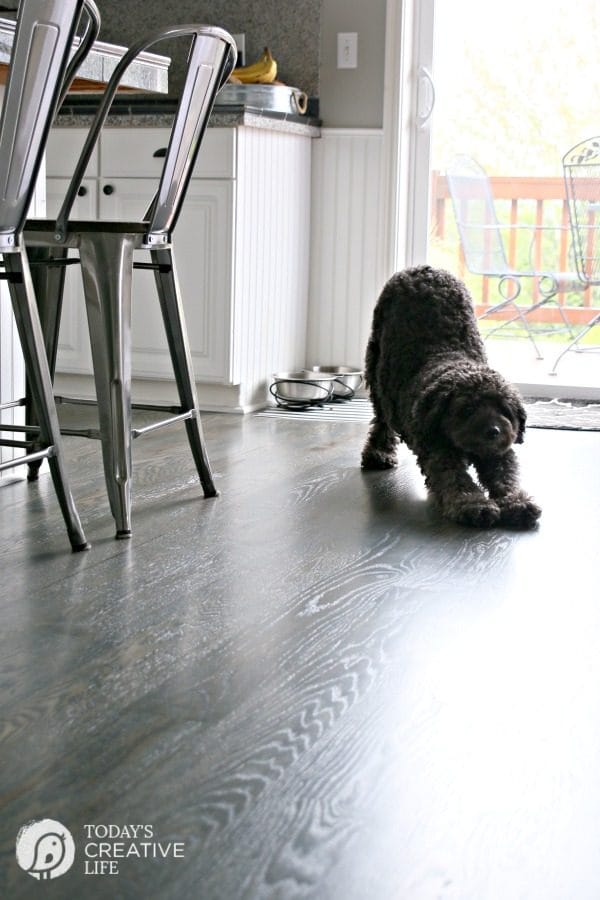 Eco-Friendly Floor Finish for High Traffic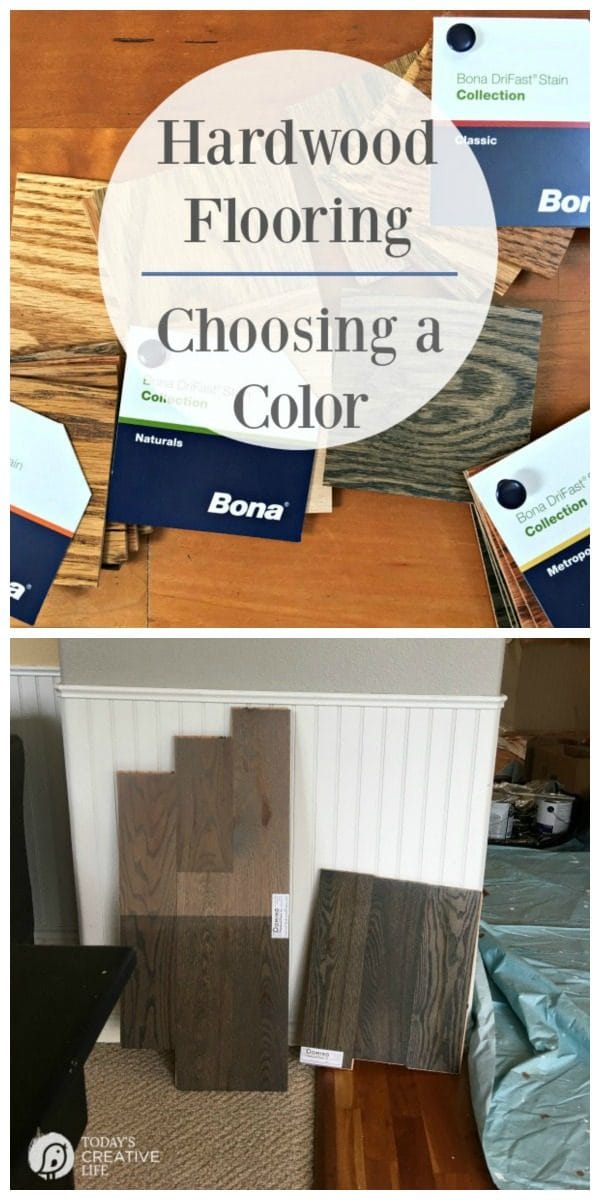 Choosing a Hardwood Floor Color