This Broccoli Salad Recipe is one of my all-time favorite salads. Bacon, raisins, almonds and a delicious salad dressing drizzled all over. It's always nice to find a salad that's great for year-round.
I've always loved broccoli, but I've never really liked onions a whole lot. But I must say, I have learned to love them in this delicious Broccoli Salad Recipe!
Don't have time to read this or print right now? PIN THIS RECIPE FOR LATER.
Broccoli Salad Recipe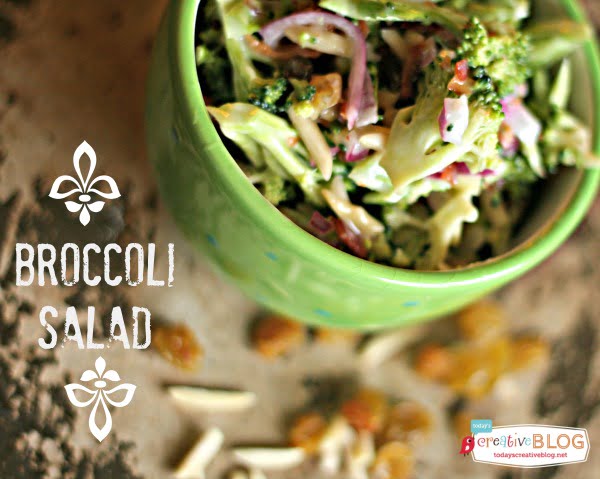 There's so much going on in this recipe, it's hard to focus on just one taste.

It's got bacon (need I say more?), golden raisins, almonds, onions and of course broccoli. Even though there is bacon and the dressing has mayo and some sugar…….it is still good for you. Kim says. Better than a big ole cheese burger right? I say all that broccoli is worth something. This is usually a great perfect summer salad, but I've been finding room for it this winter.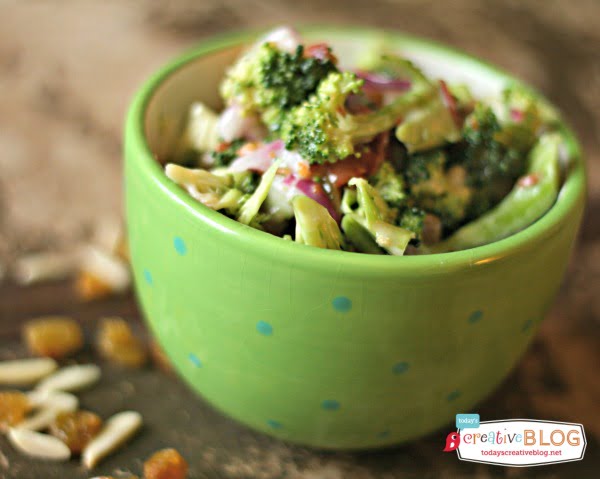 Maybe I'm just missing grill season, but whatever it is, it still taste delicious in February. It feels healthier in February. At least it gets me eating some raw veggies. Eating raw veggies in the winter just seems so un-natural to me. Yes, I do it and I should probably do it more and this is a great way.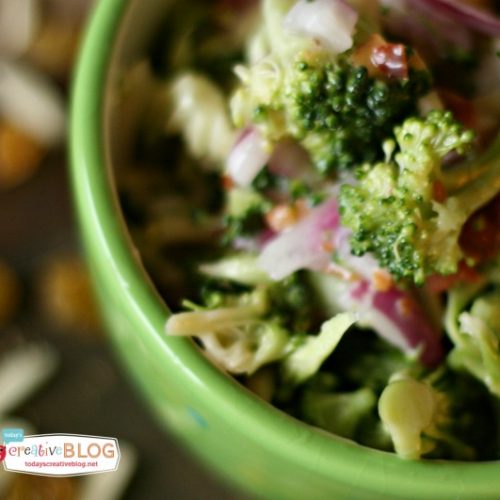 Broccoli Salad Recipe
Yield: 6
Prep Time: 20 minutes
Total Time: 20 minutes
You could certainly serve this right away, but it's best if allowed to mingle with each other first.
Ingredients
2 Medium heads of Broccoli
1 small red onion - diced
1/2 lb (or more) cooked crisp bacon
1 cup golden raisins
1 cup almonds (I like the julienne sliced)
1 cup mayo
1/2 cup sugar
2 Tablespoons white wine vinegar
Instructions
Cut broccoli into small pieces.
Combine broccoli, bacon, raisins, almonds and onion into a large bowl
Dressing:
Blend Mayo, sugar and vinegar until smooth and creamy.
Stir into your broccoli mix and mix well.
Chill and serve.
So tell me, what's your favorite salad?
Find more of my favorite recipes on my Favorite Recipes Pinterest Page.
Follow Kim Demmon (today's creative blog)'s board Favorite Recipes on Pinterest.