These Buttermilk Firecracker Cupcakes are a super moist vanilla buttermilk cupcake with a rich vanilla flavor in each bite. Made from scratch with simple pantry ingredients, this easy vanilla buttermilk cupcake recipe will be your "go to" recipe for any event.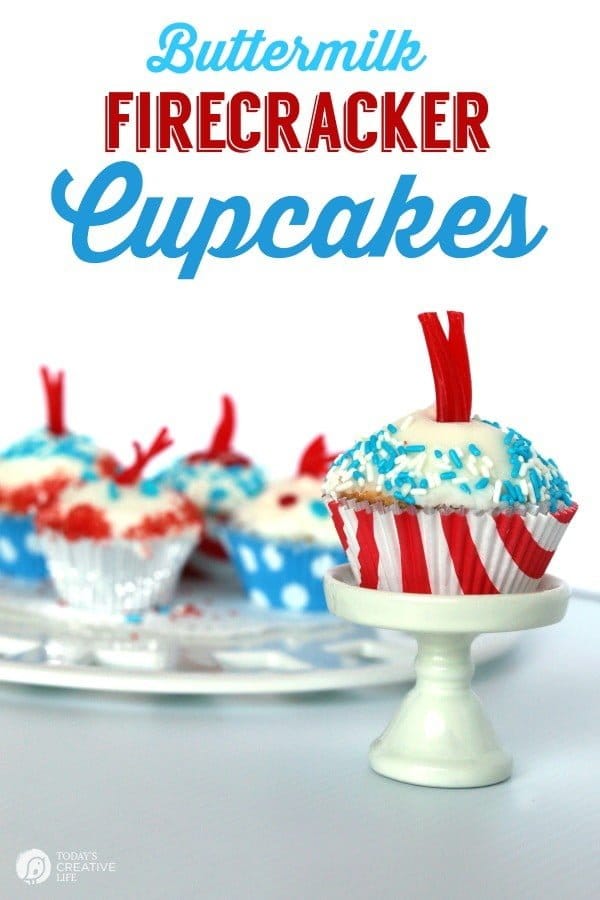 Buttermilk Firecracker Cupcakes Recipe
I'm not a cake or cupcake decorator and guess what? It's OK! This is really more about the cupcake recipe! It's buttermilk, you guys! And it's good! These Buttermilk Firecracker Cupcakes don't have to be for the 4th of July, it's all in how you want to decorate them, it's all in the sprinkles! You can just simply frost them and call it good! They can be pretty easy to decorate like these Bubble Gum Cupcakes.
It doesn't matter what they end up looking like, it's the journey in decorating them! They'll look great for any patriotic table! Add my simple 4th of July table centerpiece and it looks like you've been prepping for days.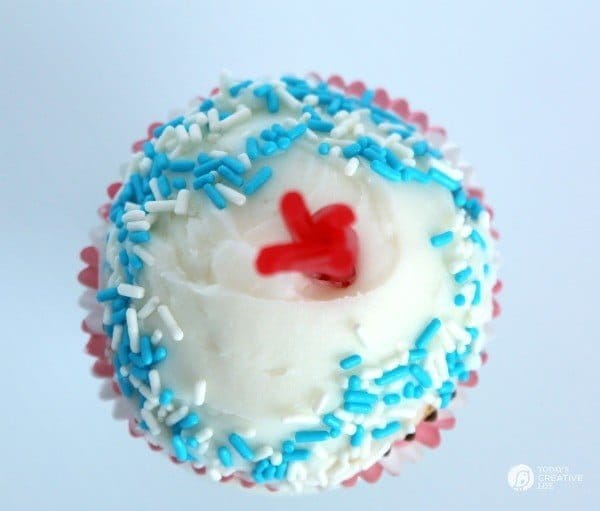 How to Decorate Buttermilk Firecracker Cupcakes
If you're looking for a fun patriotic dessert for the 4th of July holiday, then make up this recipe and then put the kids in charge of decorating!
Supplies Needed:
Red licorice or Twizzers that pull apart
Cupcake liners or baking cups in patriotic designs – Baking Cups can be used without a muffin pan. Just fill and place on a regular cookie sheet.
Ingredients for frosting or store bought.
Frost the cupcake with a liberal amount of frosting. If you want colored frosting, just add a bit of food dye and mix up until smooth.
Place your sprinkles in a shallow bowl and roll the edges of the cupcake until covered.
Cut a 2 inch piece of licorce and separate or peel half way, separating the top pieces into a spraying effect.
Stick the unpeels portion of the licorce into the cupcake.
Place in another cupcake liner. I bake in one and then add another after for a more viberate look.
I don't bake much from scratch, but if I'm going to make a cake or cupcakes, then it's going to be this Buttermilk Cupcake recipe! And since I love being creative, I thought it would be fun to make them patriotic! Who can NOT collect all those adorable cupcake liners and sprinkles?
My son and his friends didn't turn them away and loved the buttermilk cupcake recipe and decorating. They ended up being perfect after all. So I encourage you to GO FOR IT! Let your creativity take you where it may, and if they aren't as pretty as you want, then I guess you'll have to eat it and get rid of the evidence.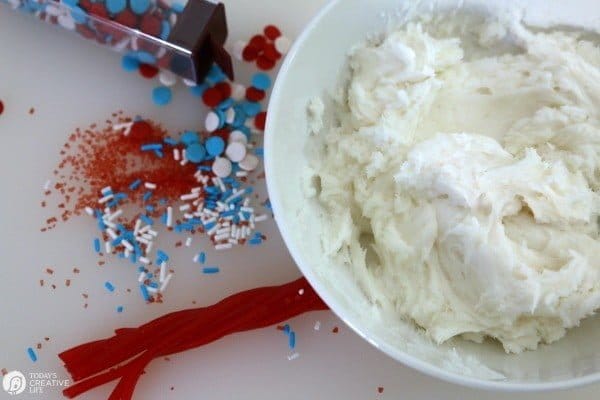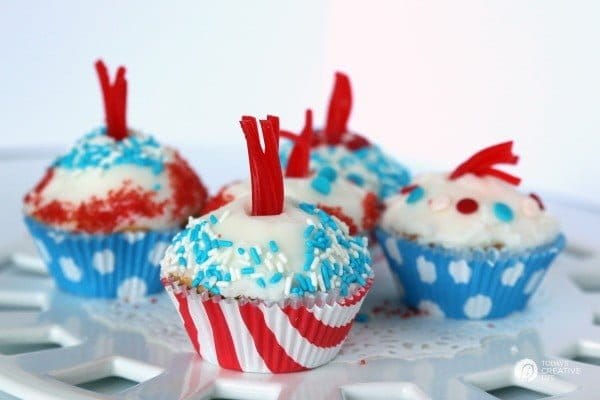 Can you Use Store Bought Frosting for Firecracker Buttermilk Cupcakes?
Let's make one thing very clear… you do not ever need permission to use frosting out of a can. It's easy and it tastes good. If you want to make a butter cream frosting, you can also do that! There is no shame when it comes to frosting. The only rule is that you don't scrimp.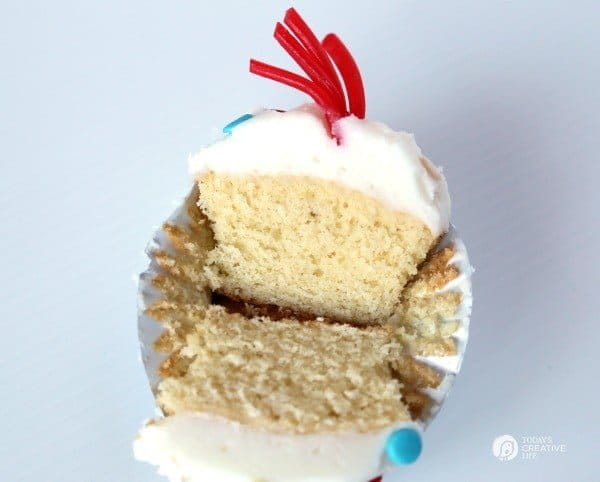 Can You Make Up Vanilla Buttermilk Cupcakes head of Time?
You sure can. They should be fine if you want ot make these up a couple of days or the day before. Store them in an airtight container like a cupcake holder. You can also purchase the same plastic type you see in the grocery store. Or save it if you've recently bought cupcakes.
Can you Freeze Buttermilk Cupcakes?
Cupcakes freeze up really well if you follow the right steps. I also haven't ever tried freezing with frosting, but apparently you can. For freezing unfrosted cupcakes, you'll want to follow these directions. I love this article that shares how to store or freeze cupcakes in detail.
Cool to room temperature.
Wrap each cupcake indiviually with plastic wrap.
Store wrapped cupcakes in an airtight container a cupcake holder or in freezer bags.
Freeze upto about 3 months.
Thaw at room temp and slowly unwrap.
Frost and enjoy!
Making patriotic Buttermilk Firecracker Cupcakes
Gather all your supplies:
All-purpose flour
Baking powder
Salt
Butter at room temperature
Sugar
Eggs
Vanilla bean paste or vanilla extract
Buttermilk
Mixing Bowl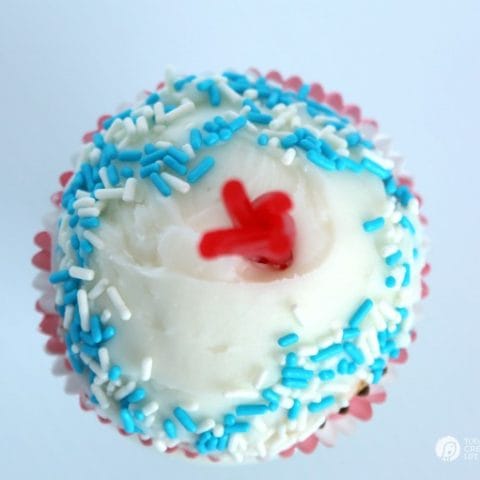 Buttermilk Firecracker Cupcakes
Yield: 12
Prep Time: 10 minutes
Cook Time: 20 minutes
Total Time: 30 minutes
Vanilla Buttermilk Cupcakes are great for any occasion. Decorate with patriotic colors for 4th of July!
Ingredients
2 1/2 cups all-purpose flour - I've used cake flour before too.
1 3/4 teaspoons baking powder
3/4 teaspoon salt
1 3/4 sticks of butter (14 tablespoons), room temp
1 3/4 cups sugar
4 large eggs
2 teaspoons vanilla bean paste or vanilla extract
3/4 cup buttermilk
Instructions
Preheat oven 350°F
Combine flour, baking powder and salt in a bowl and whisk to mix and set aside.
Beat butter with an electric mixer on medium until it's smooth and creamy.
Slowly add sugar and continue to beat until creamy.
Reduce speed and add your eggs one at a time mixing into batter.
Continue mixing and add vanilla.
Add flour mixture and buttermilk. Alternate between the two while adding. Don't over mix
Line your cupcake pan with your liners. I like to use foil ones, then after baking add the pretty ones for a double layer.
Add batter to each liner, half filled.
Bake for 18-20 min. Test by inserting a toothpick. If the toothpick is clean, they're done!
Cool cupcakes in the pan on a wire rack for 10 to 15 min. Remove from the pan and cool completely.
Frost with your desired frosting.

DECORATE
After you've frosted your cool cupcake, place sprinkles in a shallow bowl and roll just the edges into the sprinkles.
Take a 2 inch piece of licorice and separate or cut half way.
Place the unseparated end into the center of your cupcake.
Place the cupcake into an additional cupcake liner for a pop of color.

Recommended Products
As an Amazon Associate and member of other affiliate programs, I earn from qualifying purchases.
Nutrition Information
Yield 12
Serving Size 1
Amount Per Serving
Calories 400
Total Fat 15g
Saturated Fat 9g
Trans Fat 1g
Unsaturated Fat 5g
Cholesterol 98mg
Sodium 363mg
Carbohydrates 59g
Fiber 1g
Sugar 30g
Protein 6g
We do our best to calculate, however, nutrition information may not be accurate.
Patriotic DIY Ideas
Crafting and decorating ideas for all the Red, White, and Blue Holidays! 4th of July, Memorial Day, and Labor Day!
Free Patriotic holiday printables.
Create your own holiday star garland.
Grab a star-shaped ice cube tray and create patriotic drinks!
Grab your supplies and get busy!
More Red, White and Blue Printables.
Simple 4th of July decorations.
Simple sewing project for the holidays.
Sweet treat for your 4th of July parties!
Photo Credit: craftingintherain.com