This Mocha Caramel Graham Pudding is the best caramel pudding you'll ever have! This no-cook dessert recipe is easy and quick! If you love pudding desserts, you'd probably also love this Oreo Chocolate Pudding Pops recipe!
Sharing this wonderful recipe is my bloggy friend Vivienne from The V Spot. I call her Vivi.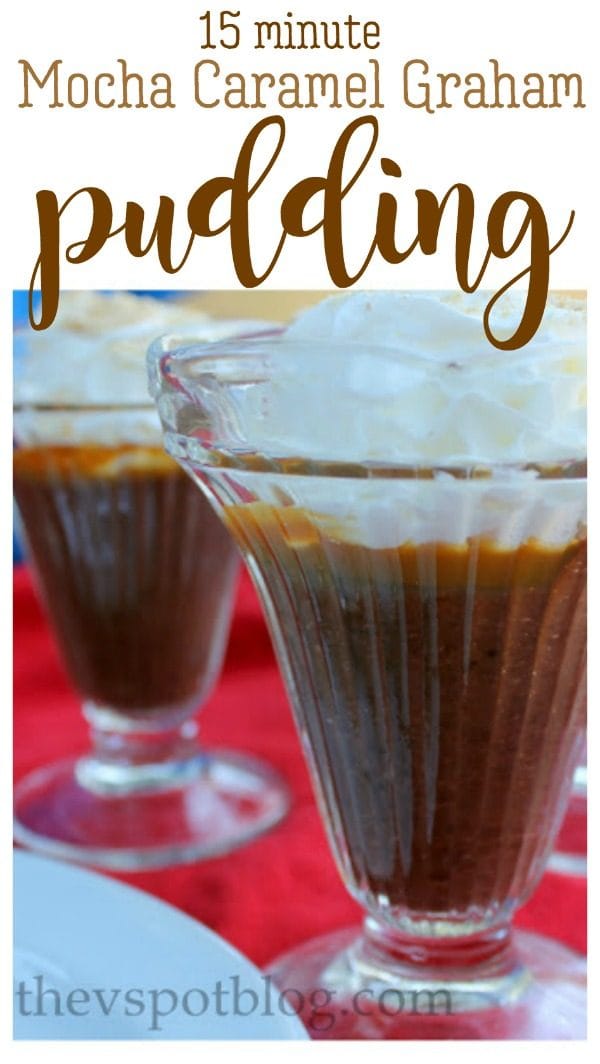 Mmmmm, this special caramel pudding recipe kicks it up a bit by adding mocha and graham. I love quick dessert recipes for those times when a craving hits! Yum! Enjoy!
Caramel Pudding Recipe
With summertime here and temperatures heating up, it's nice to be able to whip up a quick and easy dessert.
This caramel pudding recipe with mocha and graham can be ready to eat in about 10 – 15 minutes, using items you probably already have in your kitchen! (Perfect for those times when guests pop over or for relaxed get-togethers.) Quick and easy desserts are always great to have on hand.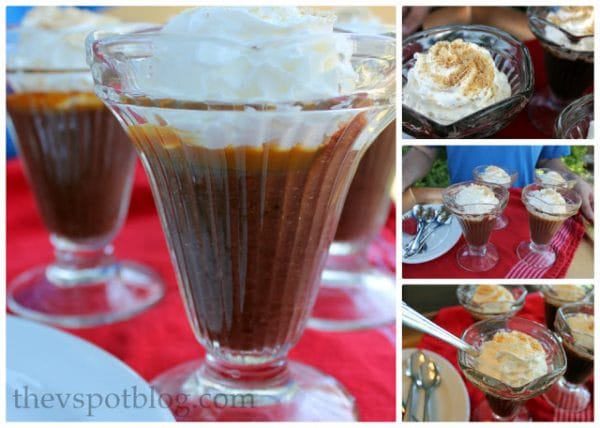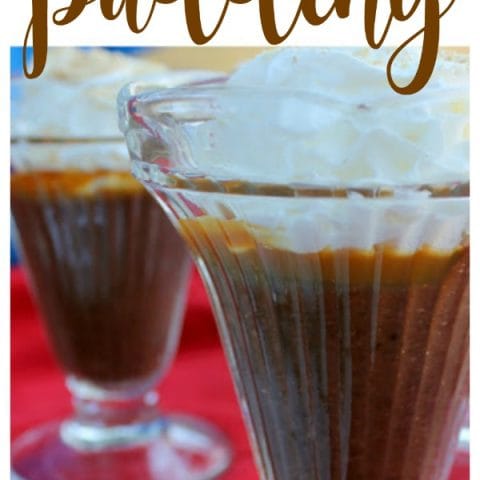 Caramel Pudding ~ Mocha Caramel Graham Pudding
Prep Time: 5 minutes
Cook Time: 10 minutes
Total Time: 15 minutes
Ingredients
1 large box chocolate fudge flavored instant pudding mix (5.9 oz)
½ cup store-bought caramel sauce
Graham crackers (crushed)
Whipped Cream
and either: 2 cups Mocha flavored International Delight Iced Coffee and 1 cup Half & Half OR 3 cups of milk and 2 Tbsp of instant coffee granules.
Instructions
In a large bowl mix the pudding mix with whichever combination of milk you are using. Spoon into pretty glasses and top with a healthy dollop of the caramel sauce.
Even though is sets up in about 5 minutes, I always make them ahead of time and chill in the refrigerator until just before serving. When it's time to serve, spoon crumbled graham crackers into the glass, top with a swirl of whipped cream, another little drizzle of caramel sauce and them sprinkle with finely crushed graham crackers. Enjoy!
Thanks for having me, Kim!
I am a wife, a mom of 4 boys, a DIYer and smart-alleck. I love thrift store finds but am picky about brands of toilet paper. I am afraid of spiders, snakes, heights, and the pressurized rolls of Pillsbury biscuits. On my blog you'll find home projects, crafts, cooking and funny stories. Come visit me on my blog, The V Spot.