What a treat to have this recipe for Homemade Chicken Alfredo Pizza from Ashlee Marie. Whether it's a Grilled Pizza Recipe or a regular one, we LOVE our pizza!
Hi TCL readers! I'm Ashlee from Ashlee Marie and I'm excited to share one of my Kid's all-time favorite dinners with you guys! We love homemade pizza at our house, doing a pizza night at least once a week! This Chicken Alfredo pizza is the first choice every time. The great part is you can completely personalize the toppings for even the pickiest eater, I know I have a few of those!
Chicken Alfredo Pizza Recipe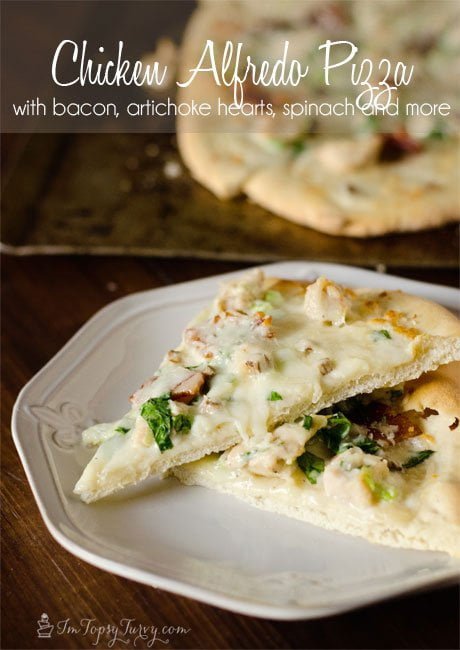 I'll often make small personalized sized pizza for the kiddo's and let them make their own, pizza bar style. Then I'll make a few with everything for me and the other adults. I am sharing my easy and
delicious pizza dough
on the blog today. I use my bread machine to mix and knead it for me for ease, but the same recipe can be made with a normal mixer and dough hook too.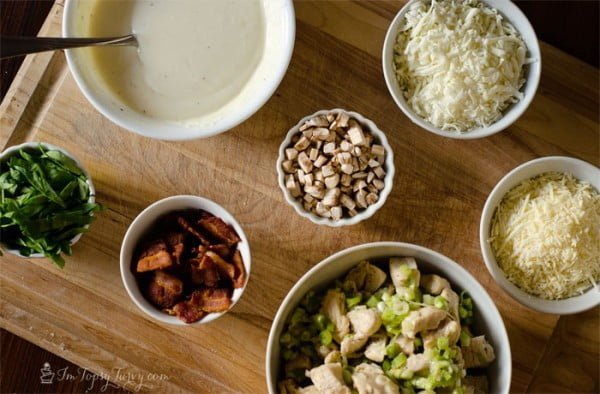 I like to collect and prep all the toppings while the dough is on its final rise so it's all ready to go!
Chicken Alfredo Pizza Ingredients
(printable recipe below)
Pizza Dough
Alfredo Sauce
Chicken breasts – cubed
Green onions -sliced
Garlic – crushed
Thick cut Bacon – cooked
White mushroom – chopped
Spinach – sliced
Artichoke hearts – chopped
Mozzarella – grated
Parmesan – finely grated
How to Make Chicken Alfredo Pizza
I start by sauteing the chicken breasts in olive oil with salt and pepper. Start with a HOT pan and don't mix it too often to get a nice brown. And of course DON'T overcook or you'll get dry chicken, it won't take long.
I add the green onions and garlic to the pan the last few minutes because I don't like the strong flavor of the raw garlic and onions. But that's a personal choice.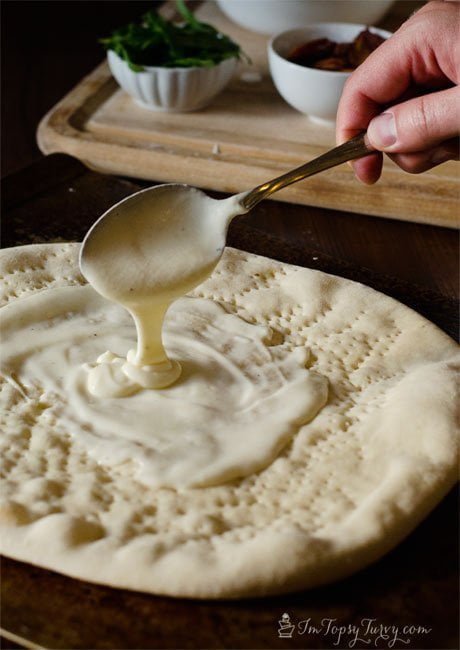 Time to put everything together! If you're grilling your pizza you'll cook the first side for a while then flip it so you'll be adding your ingredients to the cooked side. If your baking your pizza you can either put everything straight onto the raw, rolled out, dough… BUT I like to cook the dough just a few mins so that I don't overcook the toppings. I hate dried out chicken or overcooked spinach on my pizza.
Start by spreading the sauce onto the dough. The biggest mistake people make is they add TOO much sauce and it makes it either too goopy with the toppings kind of floating all over, or the top of the pizza doesn't cook evenly with the underside. Spread it out and it should cover it completely but be thin.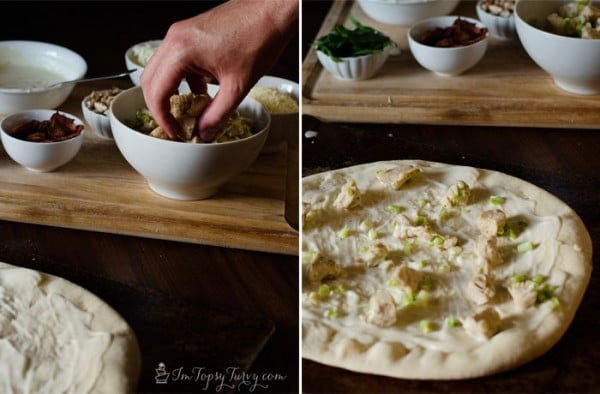 I always add the protein first when it comes to pizza. The more toppings you are adding the less of each you need. Think of a pepperoni pizza vs a supreme, you don't get the same amt of pepperoni on those two pizzas. So spread it out evenly (and obviously the garlic and onions at the same time for me).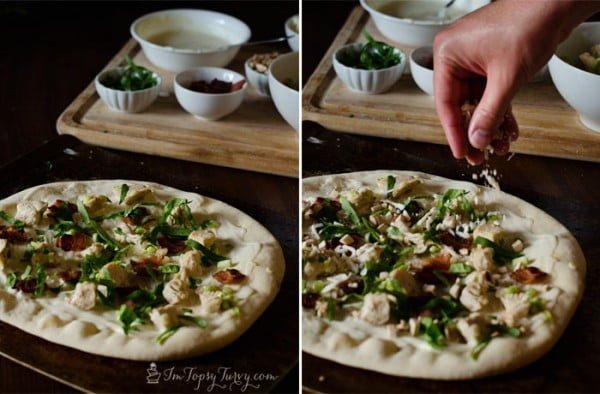 Now have fun with everything else! I love everything I listed above, and I'm SURE there are even more than would be amazing with this pizza. I'd LOVE to hear what you'd add so I can try it out! Play with it, have fun, be brave! You'll be surprised what you like when you start creating your own pizza creations.
Finish with the CHEESE! it brings everything together. Start with the mozzarella, it really binds everything together and it melts SO well. And finish off with the Parmesan, not too much or it will overpower the pizza, but you want some. I do about 2/3rd mozzarella and 1/3 Parmesan.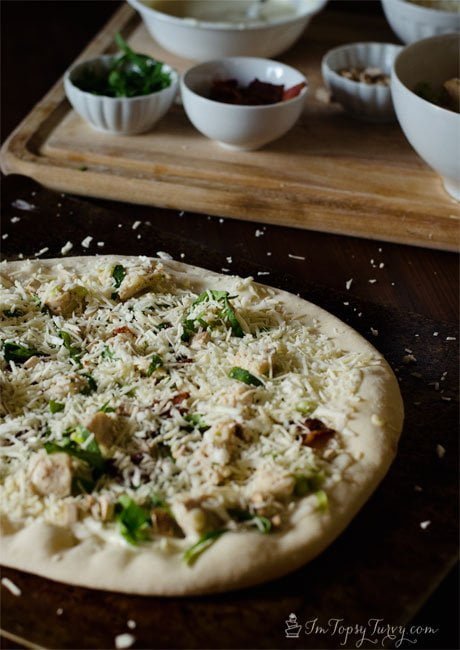 Notice the cheese isn't like FULL coverage, too much and the pizza get's greasy, ewww no one wants that. You just want it to hold everything together so when you slice and serve your pizza nothing falls off!
I love the saltiness and crunch of the bacon, the sweetness of the artichokes and onions, it all comes together so well. Notice I chop things pretty small cause I like a little of everything on each slice!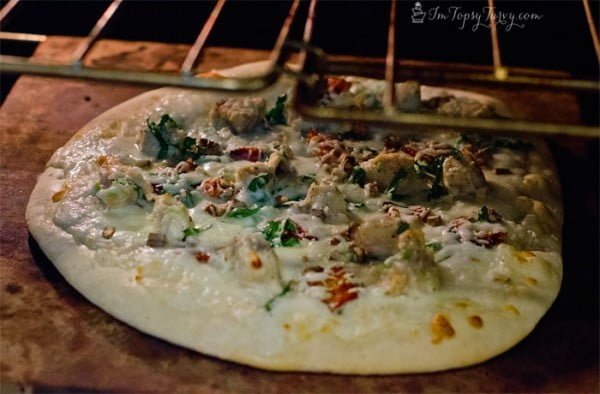 When I bake mine I always use a pizza stone so I get a nice crisp crust.
Baking Pizza Dough
425 degrees
Pre-cook crust for 3-5 mins (depending on crust thickness, you want it firm, but not completely cooked)
add sauce, toppings, and cheese
cook another 4-6 mins, until the cheese starts to brown
How to Grill Pizza
Heat to medium heat
Place the rolled out dough on the grill, close the lid and cook 2-4 mins
Flip
add the sauce, toppings and cheese – quickly
Close the lid and cook another 2-4 mins
All finished!!! Mmmm! It smells AMAZING, trust me, and now throw your second pizza on the grill or in the oven while this rests just a bit so your cheese isn't too runny, then slice and serve!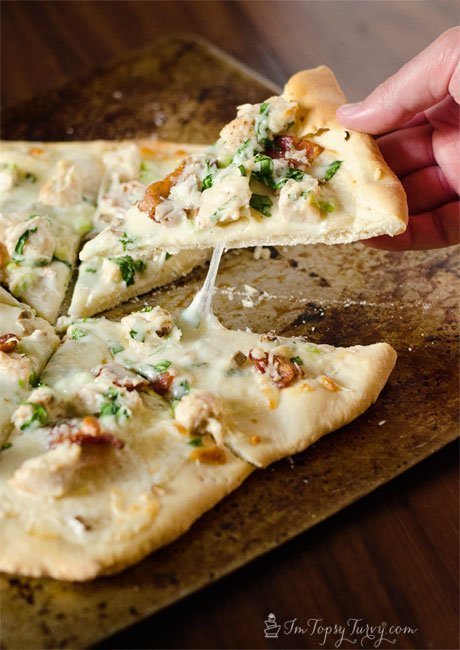 So I want to hear from you! What are your favorite pizza toppings, and what fun pizza's do you like to make at home!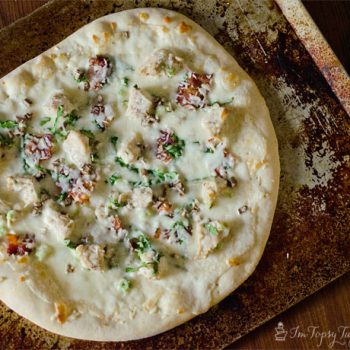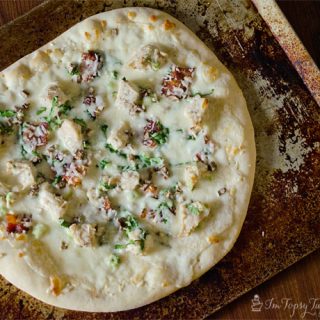 Chicken Alfredo Pizza Recipe
This recipe is from I'm Topsy Turvy. You can find the recipe for homemade pizza dough and homemade Alfredo sauce on http://www.imtopsyturvy.com/
Ingredients
Pizza Dough (use Ashlee's Pizza Dough recipe for this)
Alfredo Sauce (Ashlee also has a recipe for this too)
Chicken breasts – cubed
Green onions -sliced
Garlic – crushed
Thick cut Bacon – cooked
White mushroom – chopped
Spinach – sliced
Artichoke hearts – chopped
Mozzarella – grated
Parmesan – finely grated
Instructions
I start by sauteing the chicken breasts in olive oil with salt and pepper. Start with a HOT pan and don't mix it too often to get a nice brown. And of course DON'T over cook or your'll get dry chicken, it won't take long.
I add the green onions and garlic to the pan the last few minutes because I don't like the strong flavor of the raw garlic and onions. But that's a personal choice.
Time to put everything together! If your grilling your pizza you'll cook the first side for a while then flip it so you'll be adding your ingredients to the cooked side. If your baking your pizza you can either put everything straight onto the raw, rolled out, dough… BUT I like to cook the dough just a few mins so that I don't overcook the toppings. I hate dried out chicken or overcooked spinach on my pizza.
Start by spreading the sauce onto the dough. It should cover it completely but be thin.
Add the chicken and bacon on top of the sauce. Spread evenly.
Add other toppings, then top off with cheese.
Baking
425 degrees
Pre cook crust for 3-5 mins (depending on crust thickness, you want it firm, but not completely cooked)
add sauce, toppings and cheese
cook another 4-6 mins, until the cheese starts to brown
Grilling
Heat to medium heat
Place the rolled out dough on the grill, close the lid and cook 2-4 mins
Flip
add the sauce, toppings and cheese – quickly
Close the lid and cook another 2-4 mins
---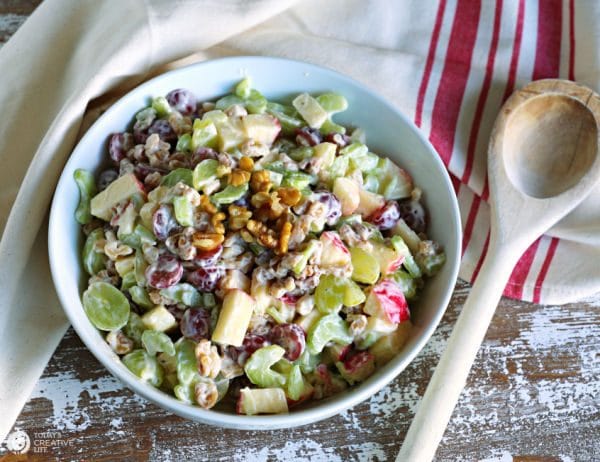 Classic Waldorf Salad Recipe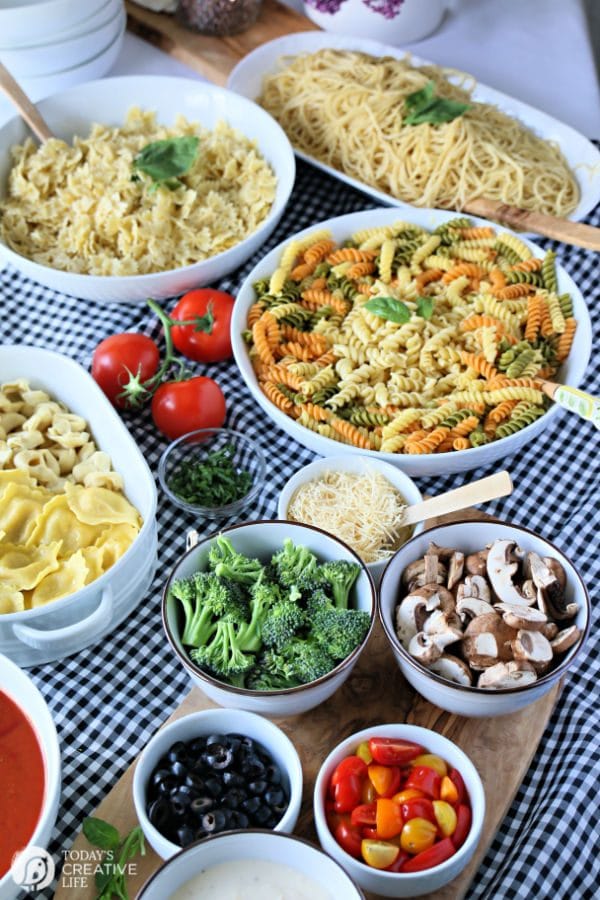 How to Host a Pasta Bar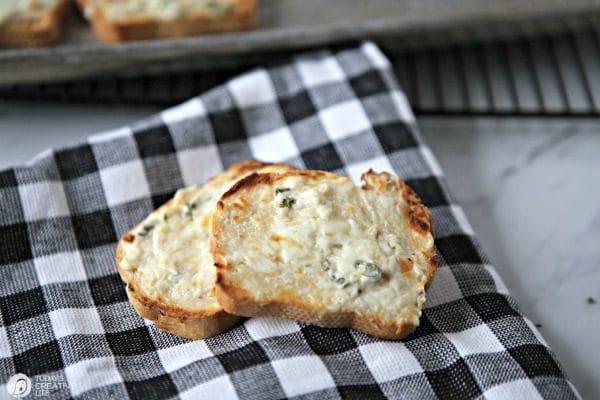 Creamy Garlic Cheese Bread