With Spring here, it's time for some spring cleaning! I've been itching to get my garage organized for over a year! Cleaning your garage may not seem like something you're looking forward too, but like any area of your home, it feels SO nice when it's done!  I'm actually going to share my not so flattering photos of my very messy garage…….because life gets messy. (Unless you're my inlaws, they have the perfectly organized everything…….drat!)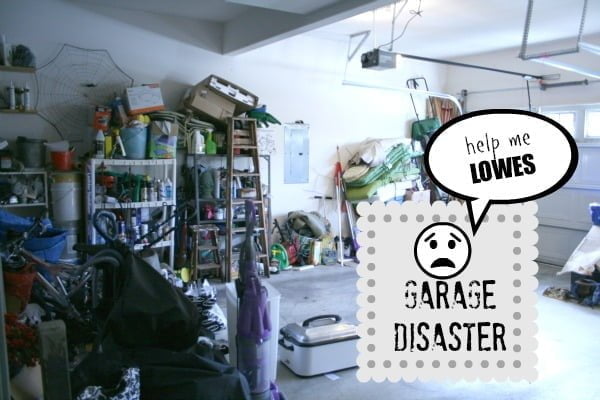 As part of the Lowe's Creative Ideas Team, one of our challenge options was "SPRING CLEANING & ORGANIZATION".  I knew right then that this would be the time to force my husband to clean out that darn garage! (or I'd tell his mother)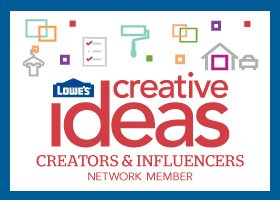 I'd been suggesting cabinets for YEARS, but I swear he was born in the depression because "if it ain't broke" why change or fix it.  Things just kept piling up season after season. I guess he thought if both cars still fit, we were good.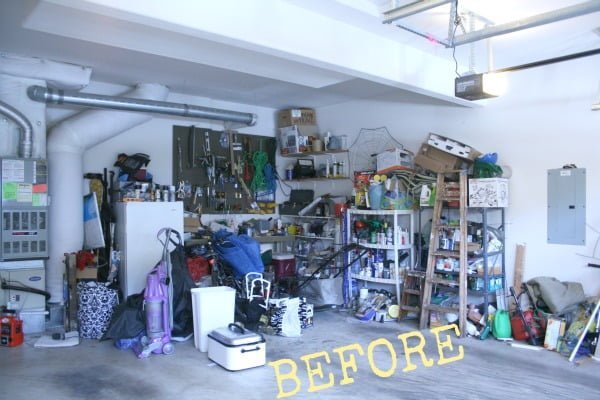 Before he could even crinkle his nose at getting new cabinets, I ordered them online from Lowe's and had them waiting for us at our local Lowe's. He and our son put them together which of course is always a good father / son bonding time.
With the cabinets built, it was time to tackle this mess! It's not completely finished, but I'd say we're about 85% done and it feels so nice.  I noticed we had duplicates of many items, which only goes to prove that you waste money when you're unorganized. (I found 6 bags of moss killer………just sayin)
It's not one of those pretty garage organization projects …….. Better Homes and Garden isn't going to be calling anytime soon, but I'm still happy.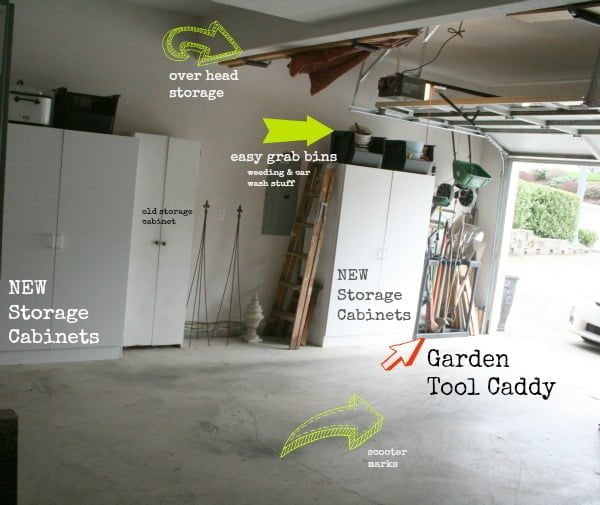 The tool area, that last shelf and under the tool bench still needs attention and it will get it………soon.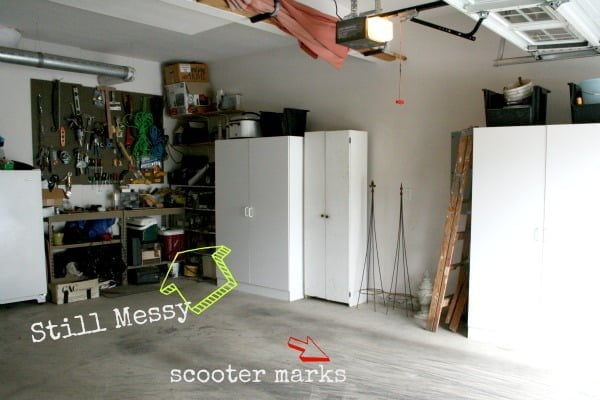 Organized garden tools shouldn't make me so giddy, but I really enjoyed filling this caddy up.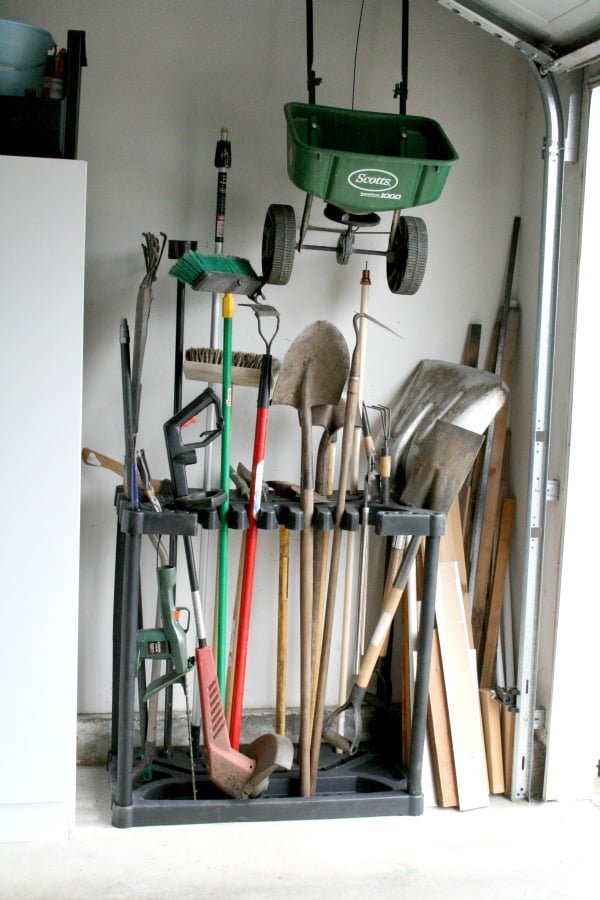 It was so inexpensive and it so perfect .  I was pretty thrilled to see my lawn chair cushions fit perfectly too.  It's the little things people.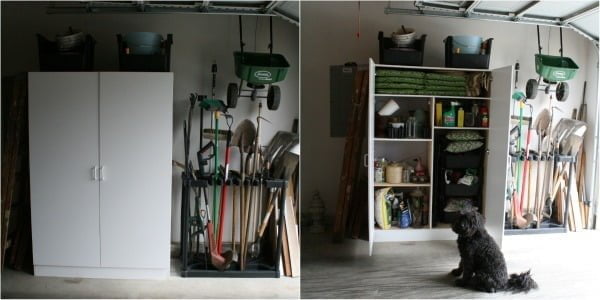 We grabbed 6 of these easy grab bins.  I like how they are open so we always know what's inside.  One for weeding stuff and one for car wash stuff.  I love that they also stack if needed.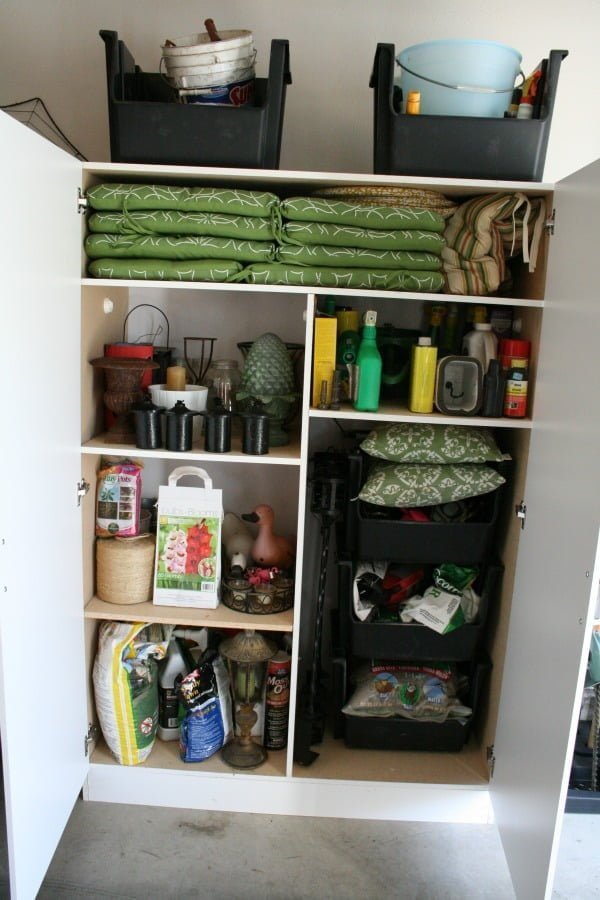 I know my husband will really enjoy it when he can find what he's looking for.
This project was fairly inexpensive for the amount of impact it will have.
For more great ideas, you'll love browsing through: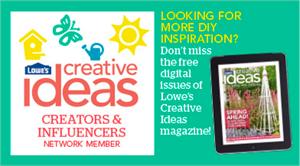 discloser :  As part of the Lowe's Creative Team, I am supplied with gift cards to purchase needed items for each project. All opinions shared are all mine as usual.