Please welcome Allyson from Domestic Superhero as one of the many guests I have lined up while I'm in New Orleans (follow Kim using hashtag #TCBinNOLA). Allyson is sharing this Creamy Chipotle Cauliflower Soup recipe and it looks amazing! She's shared other delicious recipes, like the Crockpot Taco Chili and the Slow Cooker Turkey Barley Soup on TCB before.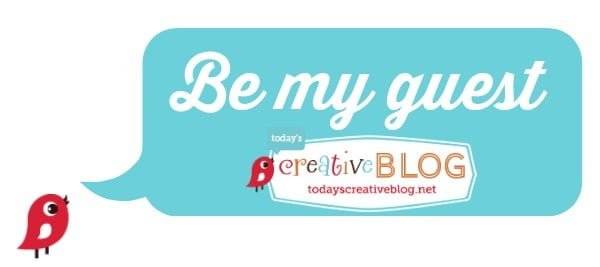 Hey y'all! My name is Allyson and I blog over at Domestic Superhero. I mainly share mouthwatering delicious recipes, but sometimes I throw in the occasional fun DIY. I am super excited to be guest posting for Kim today, as I have followed Today's Creative Blog for a long time, and I never really imagined myself on her blog – but yes, here I am! Today I am sharing a super easy and delicious recipe for some Creamy Chipotle Cauliflower Soup!
Creamy Chipotle Cauliflower Soup Recipe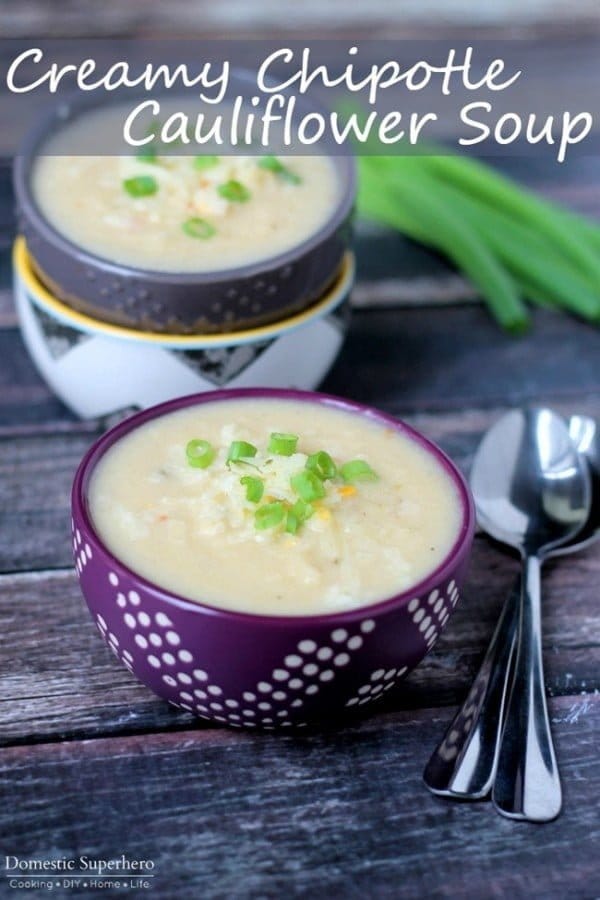 Creamy Chipotle Cauliflower Soup is really the best kind of soup you can make. For one, its creamy like a traditional cream based soup, but it isn't cream based, and you don't have to worry about all those extra calories! In fact, what makes it so creamy is the delicious cauliflower, and a bit of cheese.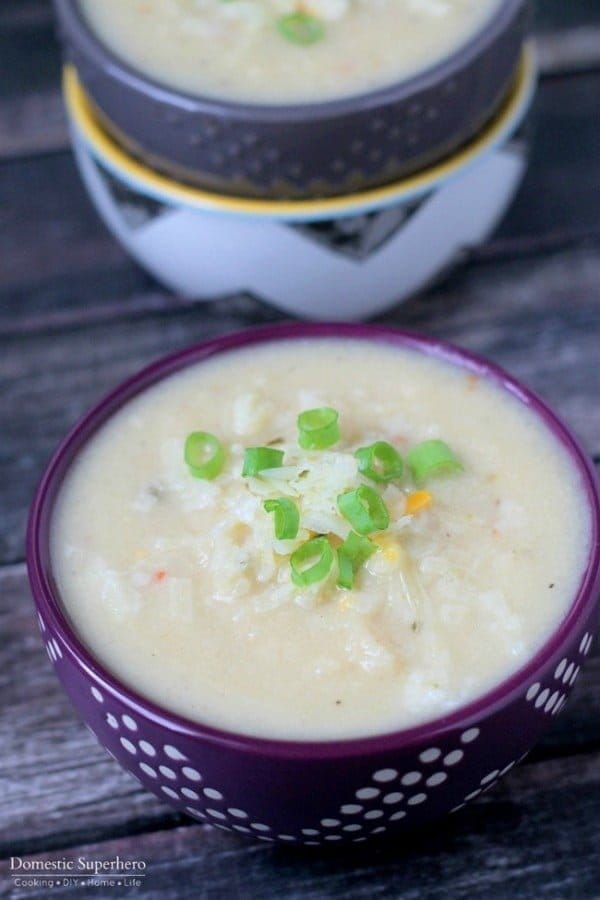 I've made Skinny Cauliflower Soup in the past, but I wanted to spice things up for this recipe. Lately I've been on a huge chipotle pepper kick, and they are really delicious in pretty much anything. I decided to mix up the normal Skinny Cauliflower Soup by adding the chipotle peppers in adobo sauce and a bit of pepper jack cheese aka my one true love. If you ever check out my blog, Domestic Superhero, you will see how obsessed with cheese I am. I LOVE cheese. Cheese makes a pretty delicious addition to just about anything.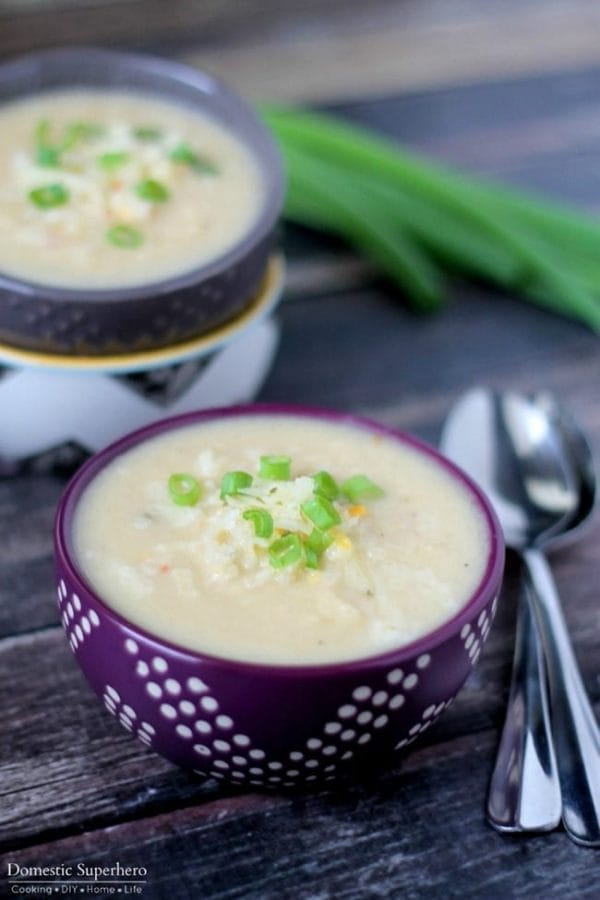 Another thing I love about this soup is that you can really decide how much spice you want. I added several chipotle chili's to my soup, but you can add just one, or half, or 2…it's up to you! This recipe is also super fast – it took me about 20 minutes from start to finish. It's also easy to double so you can freeze some for later! I love this soup!
Ready to make it?! Okay here is what you need…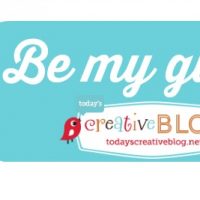 Creamy Chipotle Cauliflower Soup
Ingredients
1 large head of cauliflower, chopped
1/2 onion, chopped
2 cups vegetable broth (chicken broth works too)
1 cup fat free half and half
3 chipotle chilis in adobo sauce, chopped roughly
1/2 cup pepper jack cheese, shredded – plus more for topping
2 green onions
1/8 tsp fresh ground black pepper
1/8 tsp salt salt
Instructions
Combine broth, cauliflower and onions in a soup pot and bring to a boil over medium high heat. Reduce heat to medium and simmer for 15 minutes or until cauliflower is tender. Add chipotle chili peppers with sauce.
Using an immersion blender (or place ingredients in a blender), puree until ingredients are creamy. Add fat free half & half and blend for about 1 minute or until desired consistency.
Add pepper jack cheese and stir with a wooden spoon until cheese is melted. Add salt and pepper; mix with wooden spoon.
Pour into bowls and garnish with cheese and green onions.
So that's it! Super easy, right?! If you decide to you want to double this and freeze some for later, just add 2-3 cups to a quart freezer bag, and freeze. It will last 6 months or more in the freezer!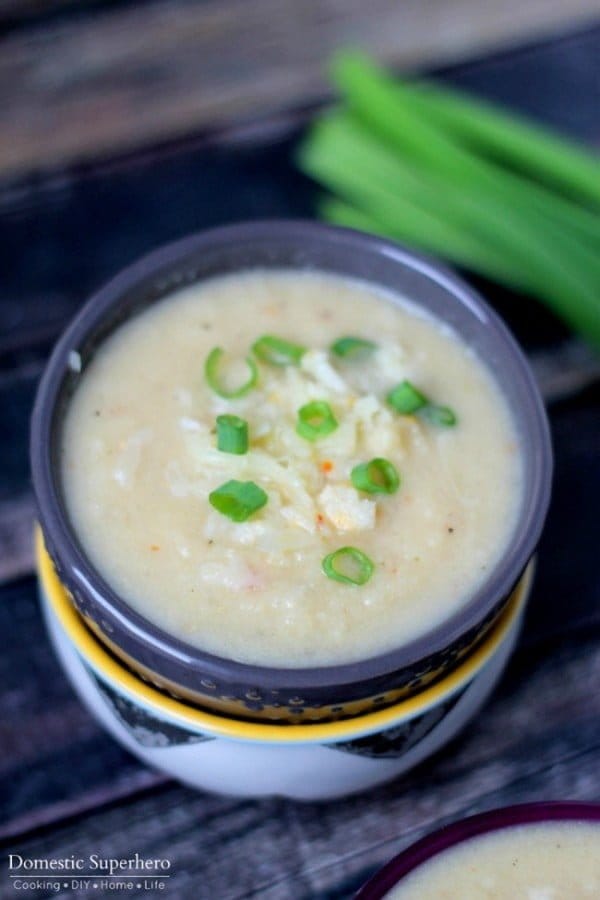 Like soup as much as I do? Check out these other delicious soup recipes on Domestic Superhero.
Slow Cooker Tortilla Soup and Skinny Enchilada Soup
Thanks again to Kim for having me today! I hope to see y'all over at Domestic Superhero or on social media!
Connect with me here:
-Allyson