This Crockpot Beefy Noodle Casserole hits the spot just when you need it. You know…..those cold days, hectic days, sports practice days…… you'll be happy to have this waiting for you. This is your ultimate comfort food like my Easy Chicken Pot Pie. Not only does it have pasta in it, but it's a crockpot meal! WIN!
I made this up this past week and my family practically licked the inside of the crock. That's when I knew it would be perfect for Slow Cooker Sunday! There are only 3 of us, but keep in mind one of us is a 16-year-old boy with a hollow leg and that boy ate 3 large bowls.
Crockpot Beefy Noodle Casserole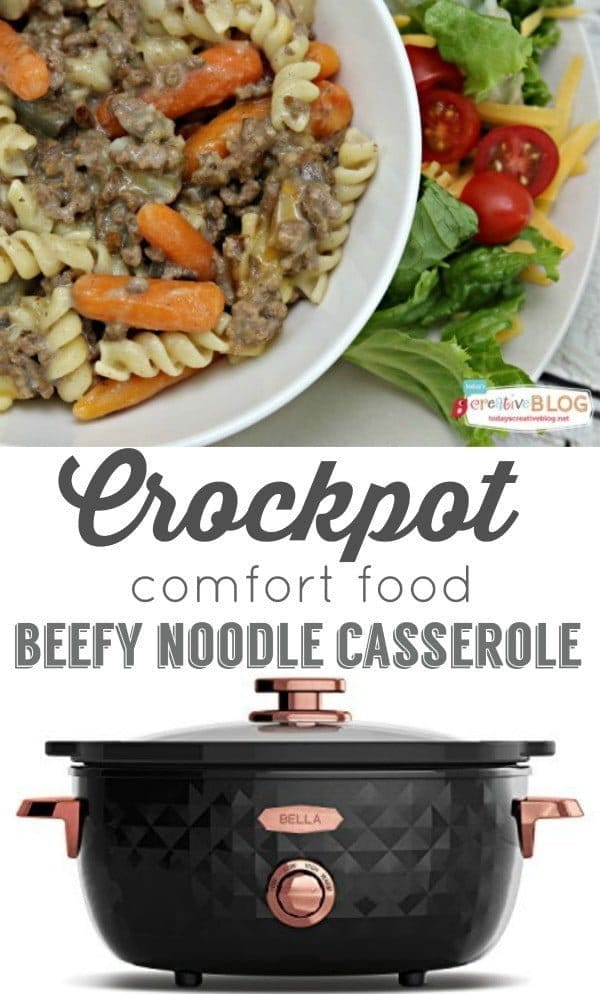 This recipe is fairly quick too if you're cooking on high, making it convenient to start midday. Or cook on low if you've got more time.
I used my 6 quart Crock Pot, but I'm thinking this Casserole Crock pot would be perfect for this. The above slow cooker from Bella is on my wish list too! I'm including some affiliate links for a few of my favorite products.
Looking for quick clean up? These Slow Cooker Liners work like a dream.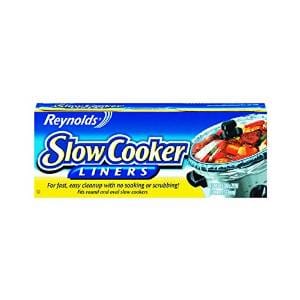 This is definitely a hearty meal that will please your family. I may add more veggies at the end next time. Broccoli and mushrooms would be a great addition.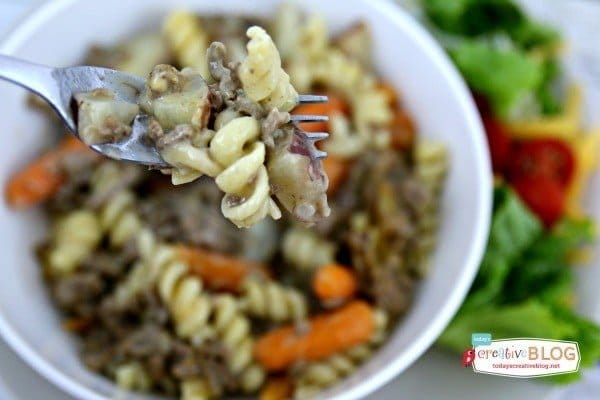 Wanna bite?
I only used cheddar cheese, but a mixture of Parmesan and cheddar would be tasty too. That's the beauty of casseroles. You can add or take away ingredients to suit your family. I'm sure some of you would enjoy a little green pepper added, but not this girl. Ick! I just can't stand green pepper. Ick!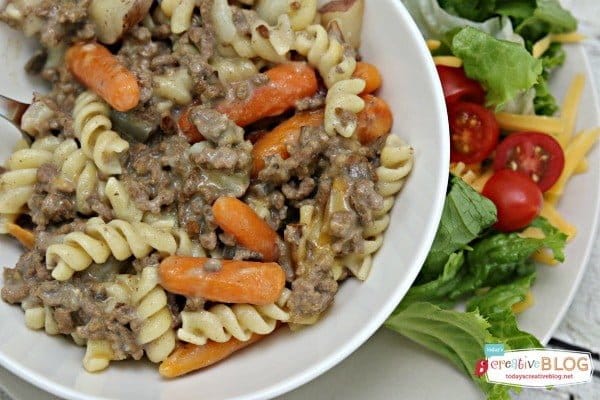 The pasta and potatoes together are what nominate this crockpot meal as the ultimate comfort food. Seriously…… is there anything better?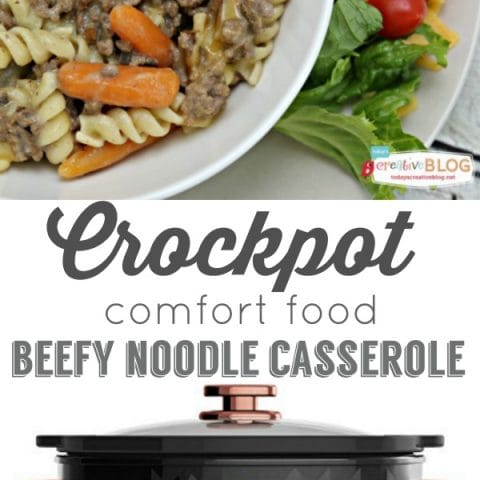 Crockpot Beefy Noodle Casserole
Yield: 5
Prep Time: 15 minutes
Cook Time: 4 hours
Total Time: 4 hours 15 minutes
This dish was a winner with my family. I will add mushrooms and broccoli next time at the same time as the milk and pasta. Onion or green pepper would be a good addition to add at the beginning if you like them of course. Any cut of pasta you have on hand will work. I may try adding 1/4 cup sour cream next too. Why not? Yum!
Ingredients
1 pound ground beef or turkey - browned and drained
2 cups chopped red potatoes
2 cups carrots
1 teaspoon garlic powder
1/2 teaspoon salt
1/2 teaspoon black pepper
1 can (10.5 oz) condensed Cream of Mushroom Soup
1/2 cup 2% milk
2 cups rotini pasta (cooked)
2 cups shredded cheddar cheese
Instructions
Grease your crockpot with cooking spray or use one of those crockpot liners.
Place all of your items except Milk, Pasta, Cheese into your crockpot.
Stir to mix it all together.
Cover and cook on LOW for 6-8 hours or HIGH 3-4 hours.
Add cooked pasta and milk 15 to 30 minutes before serving.
Sprinkle cheese on the top and allow it to melt a bit before dishing up.
Enjoy!
---
Slow Cooker Comfort Food Recipes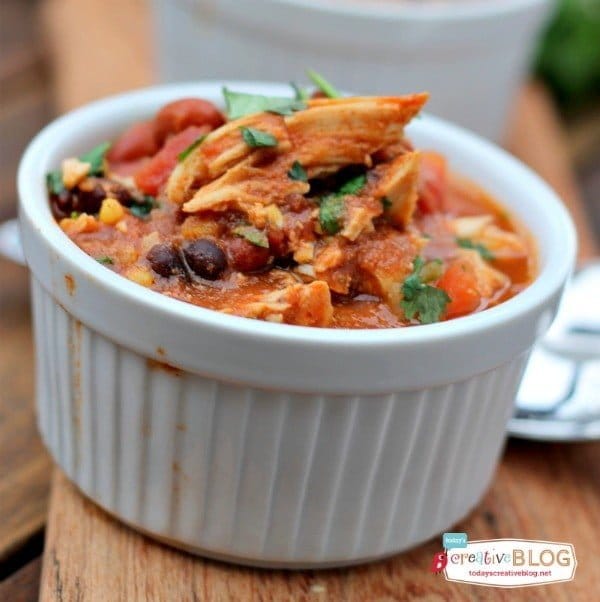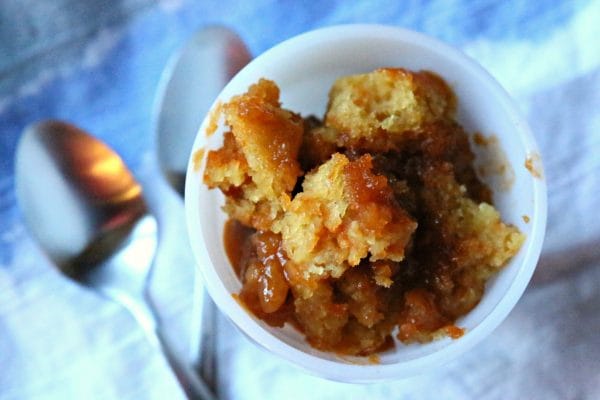 Slow Cooker Vanilla Butterscotch Pudding Cake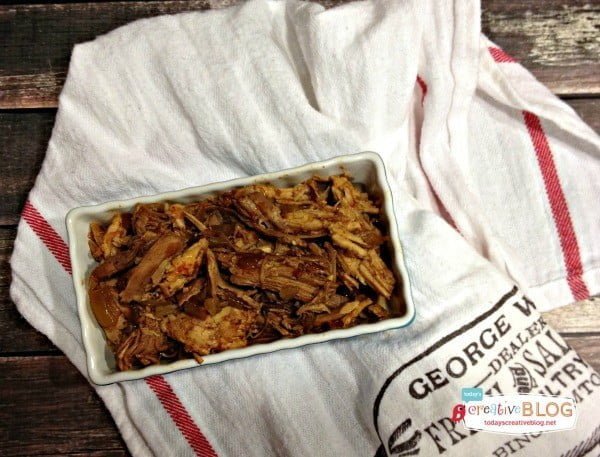 Follow my Slow Cooker Pinterest board for some of the yummiest recipes online.
Follow Kim Demmon (today's creative blog)'s board Crockpot & Slow Cooker Recipes on Pinterest.

Product links are for your convenience. These are affiliate links. This costsyou nothing, but if you do decide to purchase, it means I will receive a teeny % from each sale.