My slow cooker is working overtime now that fall is here. With busier schedules, often means dinner time is more hectic. I know it's not just me. I know many of you could also use this easy Crockpot Lemon Garlic Whole Chicken recipe for those days when you know the evening may have everyone eating at different times. I have so many great Slow Cooker Sunday recipes to keep life easy for you!
Crockpot Lemon Garlic Whole Chicken Recipe with Thyme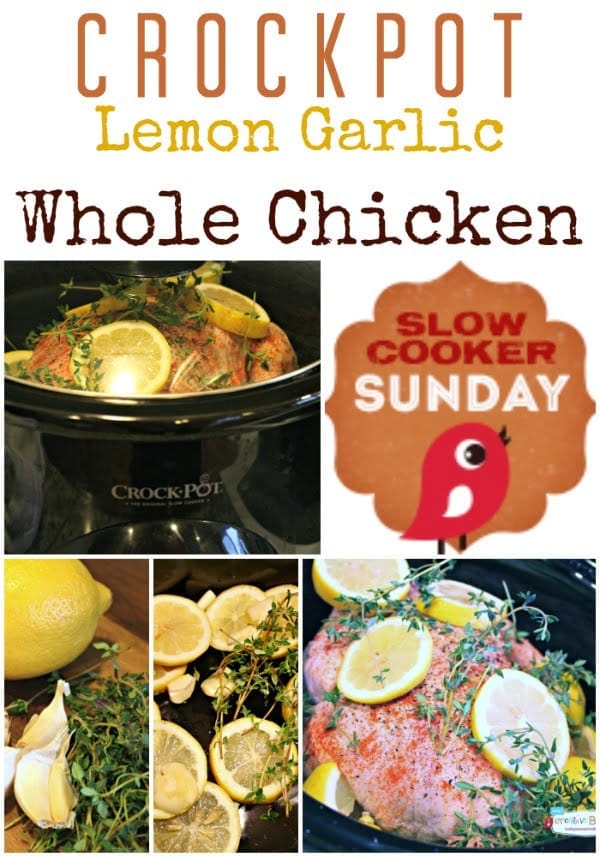 This is ready and waiting for you at the end of the day! What I love is that it's a recipe that can be cooked all day if you're away from the house for a longer period. I set mine on Low for 10 hours, but it was ready after 8.
Buying a whole chicken is much more inexpensive. It doesn't require a bunch of extra work like some think. The only thing I hate is checking the inside for the "extras". I don't think I know anyone who wants the extras except my mother. She doesn't waste a thing.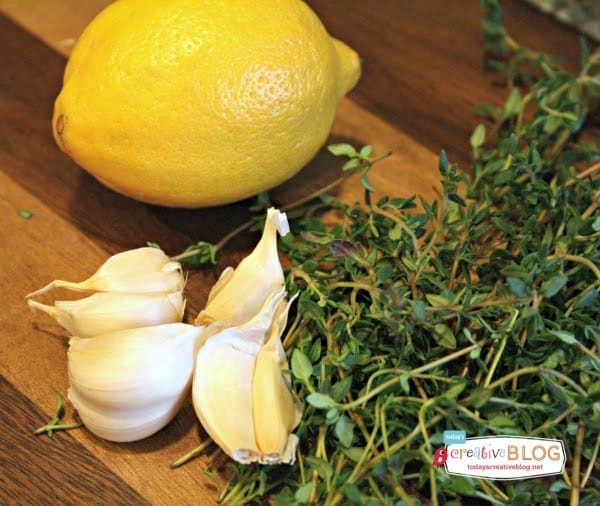 I used a LOT of garlic and honestly, it could have used more. The lemons over powered the garlic, but it was still delicious.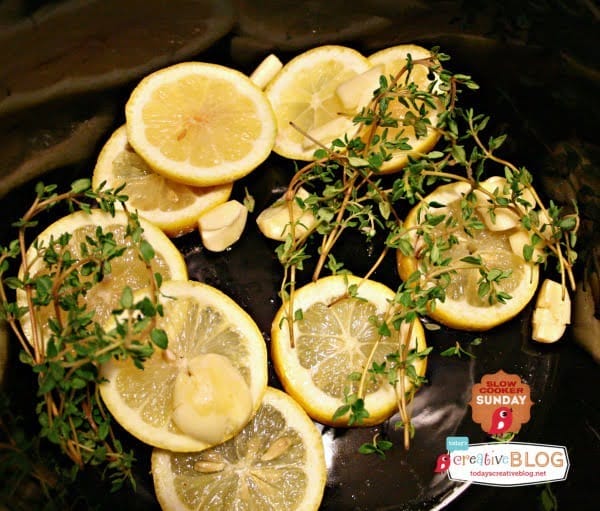 I cut up 3 fresh lemons, peeled 6 or 7 cloves of garlic and grabbed a handful of fresh thyme. I placed a little on the bottom, placed the chicken on top, then added the rest. I sprinkled a bit of sea salt, smoked paprika and a freshly ground lemon pepper. (I buy it at Trader Joes)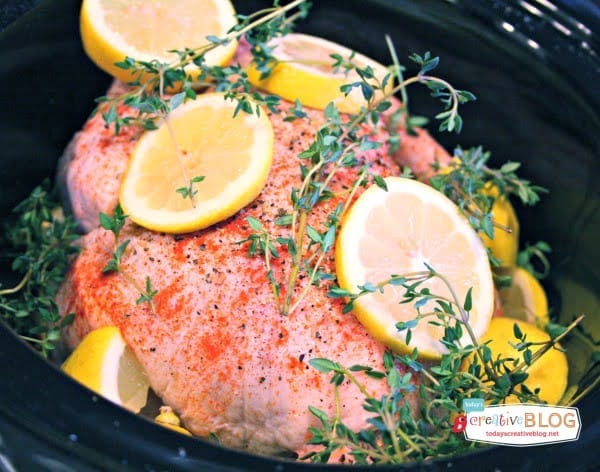 After about two hours, it didn't seem to have as much juice as I was expecting, so I added about 1/4 cup chicken broth, but in the end, I didn't need it.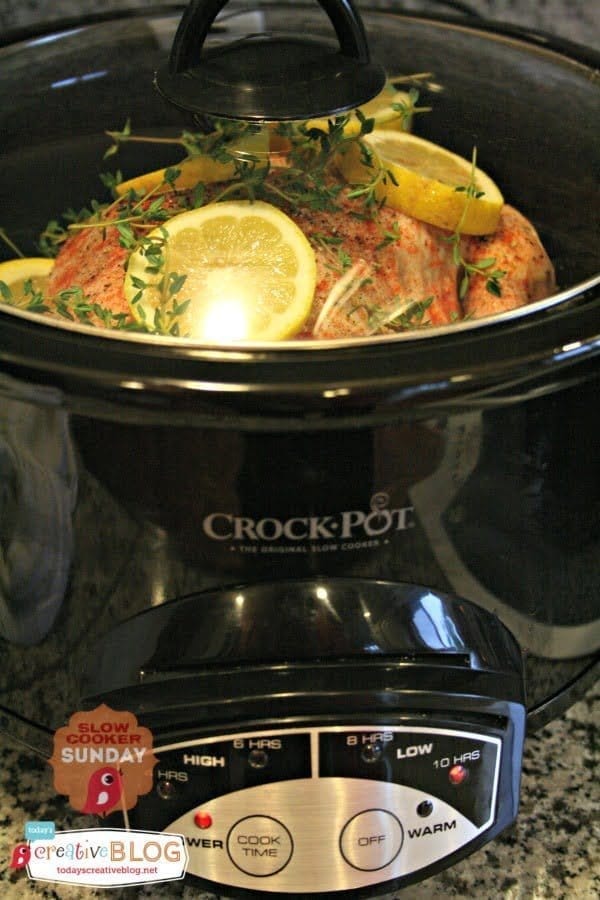 This recipe created enough juice to fill the crockpot a 1/4 way up. Which……after picking out the lemons and seeds will make some amazing broth.
Cooking a chicken this way is also a great way to make a bunch of shredded chicken for later. I know that I can always use chicken and it's nice to have it on hand for a quick recipe.
I do a lot of chicken in my slow cooker. Here are just a few of my favorites.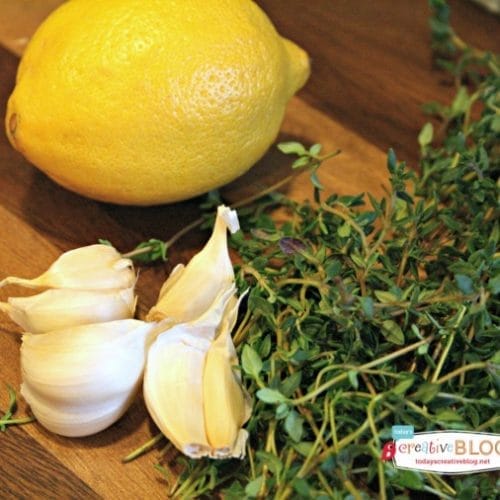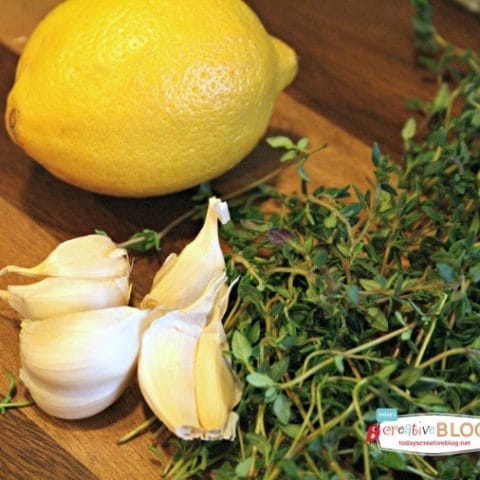 Crockpot Lemon Garlic Whole Chicken
Prep Time: 10 minutes
Cook Time: 8 hours
Ingredients
1 whole chicken
2 or 3 lemons
6-7 cloves of garlic
handful of fresh thyme
1/2 teaspoon sea salt (or regular)
1/2 teaspoon smoked paprika
1 teaspoon lemon pepper
1/4 cup chicken broth - only if needed
Instructions
Cut your lemons into thick slices and place half on the bottom of the crock.
Add half the amount of garlic cloves and thyme to the bottom.
Place your chicken on top
Add the rest of your lemons, garlic, thyme.
Sprinkle with seasonings
Cover and cook on low 8-10 hours
Add chicken broth if it's looking too dry half way through.
Notes
Always use good kitchen habits while cooking with raw chicken. I bleach all surfaces after placing chicken in the crockpot.
Looking for more Slow Cooker recipes? Join my pinterest board.
Follow Kim Demmon (today's creative blog)'s board Crockpot & Slow Cooker Recipes on Pinterest.