DecoArt asked if I'd like to do a project for their catalog. My first thought was……..have they seen my projects? But they said they loved the idea of my Penny Tray I did with Envirotex. So…..that's what I did. I love trays! I've been wanting a tray for my bathroom to match my bedding.
I needed something flat and silver to line the bottom of my tray, but I was too cheap to use nickles or dimes. Washers! Washers would be perfect! Using one of their blueish paints that matched my duvet cover, I was on my way!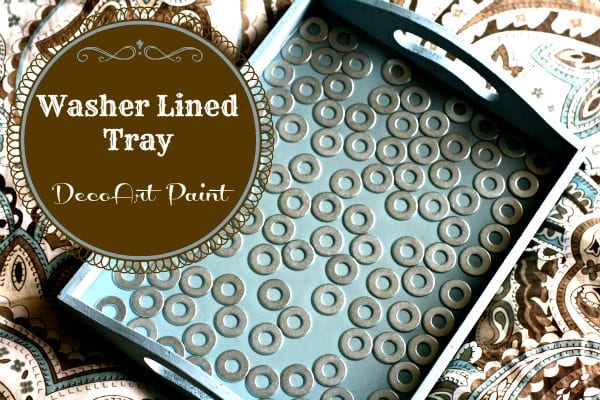 It looks perfect in my bathroom! This project was simple…….like I like it. The only thing that takes time is the EnviroTex. It takes a couple of days to harden.
Items Needed

DecoArt Acrylic Paint
Wood Tray
EnviroTex
Washers

After painting your tray with your desired color, let it dry.
Place your washers flat on the bottom of your tray
Following the EnviroTex directions, mix and pour.
Wait approximately 2 days before placing anything heavy on it.
Keep 13 yr old boys away while drying because they will not be able to contain themselves from poking their finger in the half way dried EnviroTex, which may result in a very loud "NO"!
Looking for the Thanksgiving Place setting Printables?