Decorating a small bathroom doesn't mean it can't be fabulous!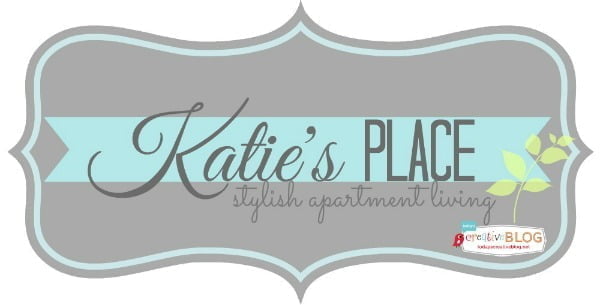 I am loving this Stylish Apartment Living series I'm doing with Katherine Harris from Creole Wisdom.
Katie is a mid western girl with a wholesome style when it comes to decorating her apartment. Stylish Apartment Living is alive and well. You don't have to own a house to start living in your dream space.
Don't let living in a small space squash your creativity.
You can read pt.1 and pt.2 about other ideas for stylish apartment living.
Here's Katie…….sharing how she decorates a small bathroom.
Decorating A Small Bathroom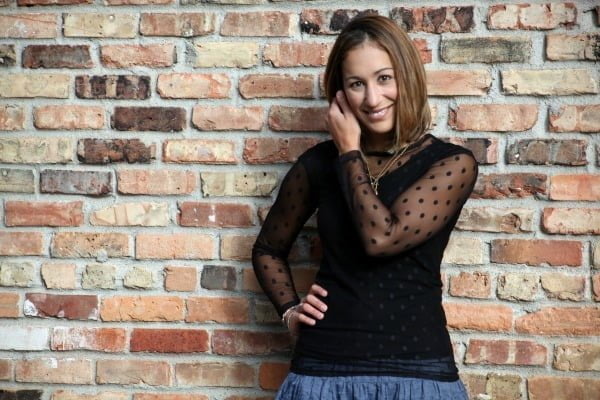 It's a good thing I'm not very tall because this bathroom is tiny! It also must have been designed by someone belonging to the male species for its utter lack of storage space.
Where am I supposed to put my gigantic blow dryer with diffuser head? I've had to get really creative in this space and am happy with the storage I've been able to fit in such tiny dimensions.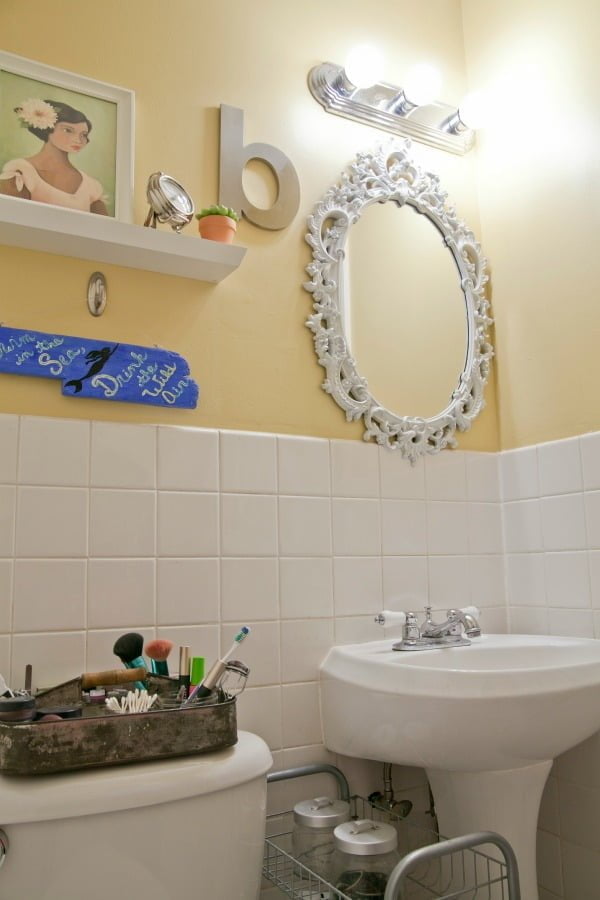 I found that rolling cart to keep all my bath products neat and tidy. I'm not sure what that metal carrying bin was originally used for, but it works great for makeup storage. I did add that shelf and re-painted an old mirror the first year I lived here.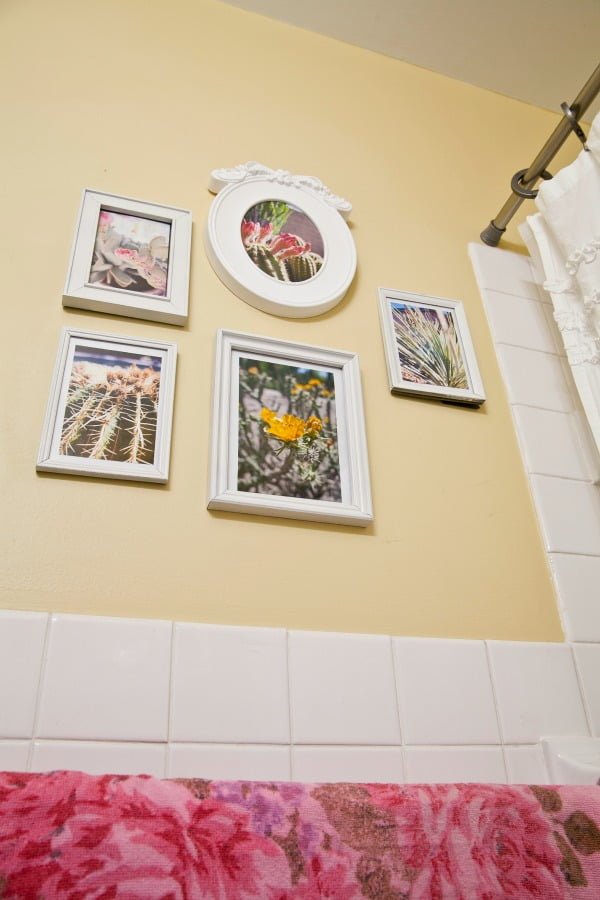 Right behind the door is a small collage of my own photos taken while visiting Arizona for a dear friend's spring wedding. Freezing winter mornings, I look at these pictures to help me remember that there's warmth in other parts of the world.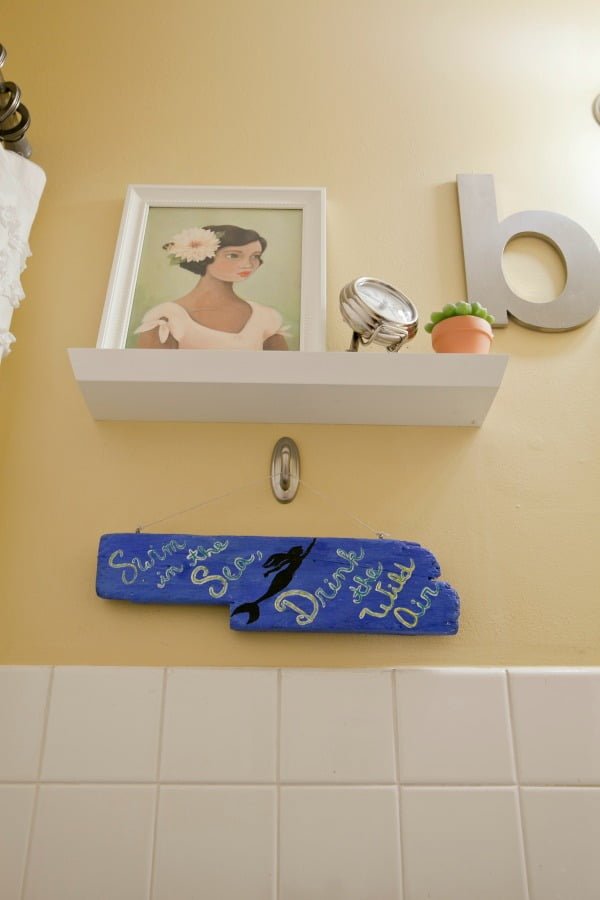 That hanging piece of painted wood was a gift from a sorority sister who moved away to attend graduate school—she painted similar pieces for each girl in our group of friends.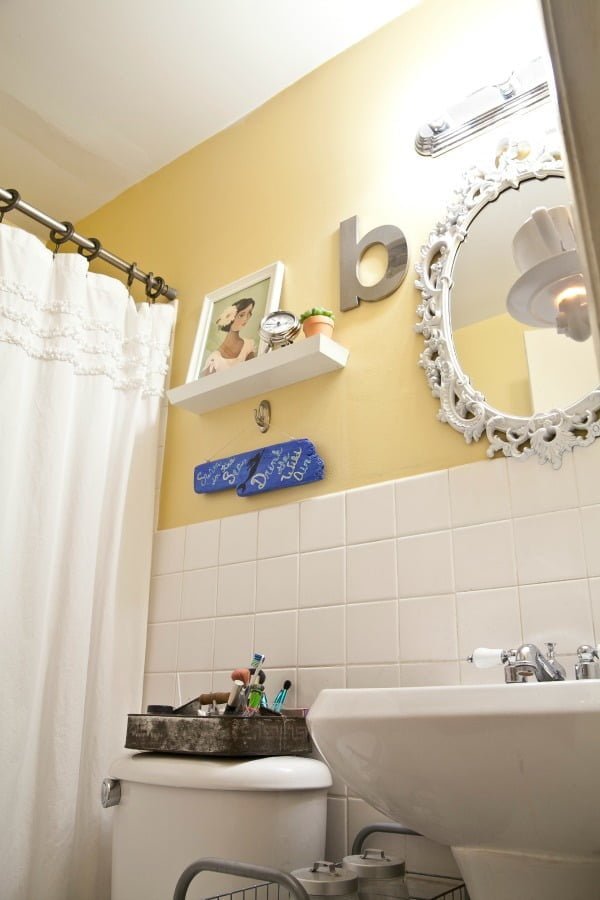 Since the space is so small, I still like to keep the larger pieces neutral, like this white shower curtain. My favorite thing about this bathroom is the wall color; my apartment came painted, but I would've chosen something similar regardless!
Here's More ideas!
Sources: small white shelf: Target | rolling cart: The Container Store |
glass jars: IKEA | metal caddy: Piccadilly Prairie | shower curtain: Rachel
Ashwell Shabby Chic for Target | portrait: The Black Apple on Etsy |
frame: Target | clock: Pottery Barn | mirror and photo frames: thrifted
Similar Items Found Here.