Are you Deep Cleaning your Hardwood Floors with an oxygenated solution?
We're all mopping the floor at one time or another, am I right? And when we do, we want them to be CLEAN!
Since posting this post, I have updated my home with new Wood Flooring using all Bona products for its finish. Always toxin-free and it's so durable! They look gorgeous! See Hardwood Flooring Installation FAQ.
Deep Cleaning your Hardwood Floors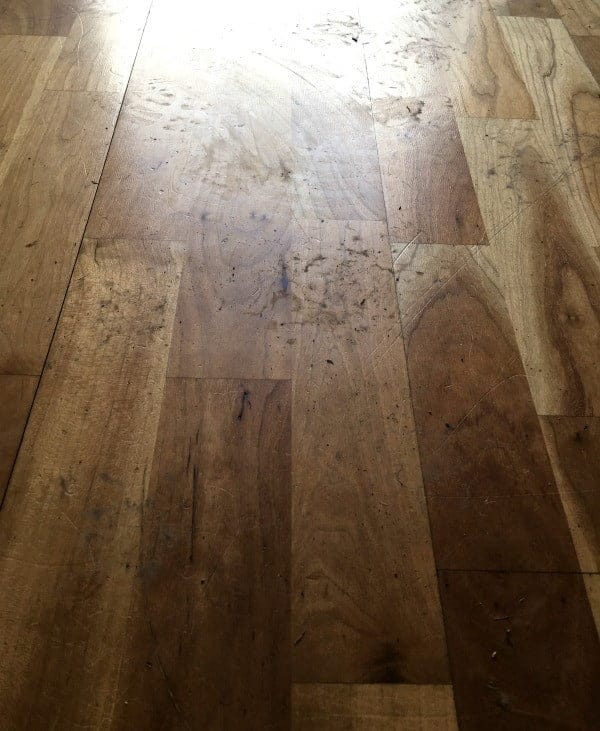 Well, when you own a dog, especially a dog that has furry paws that sop up mud, grime and liquid like a sponge, and you have a teenager that lets your furry paw pup outside and allows her to tromp through the flower beds and then lets her run into the house…. Mopping the floor becomes an art. Deep cleaning your hardwood floors becomes an obsession. I haven't even looked at my etched concrete floor yet.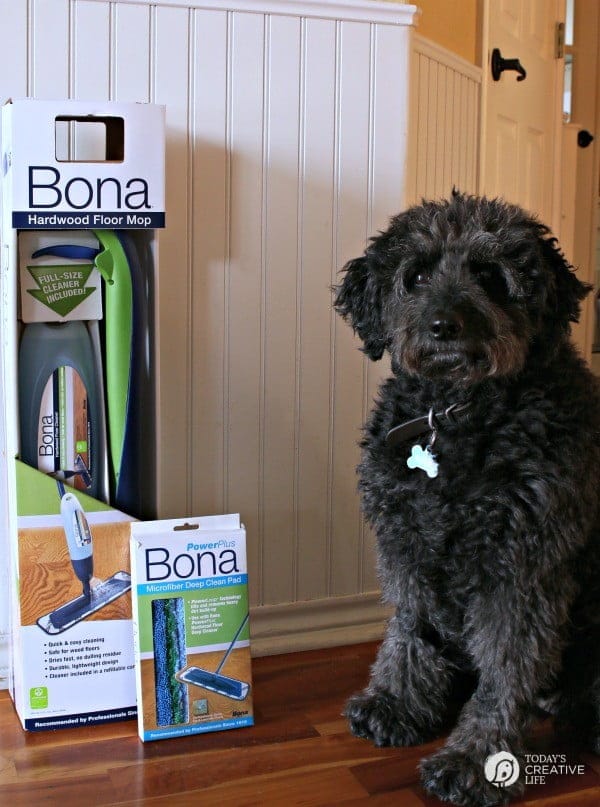 When Bona® contacts you during the muddy season and asks if you'd like to work together… and you already use and love all their floor care products, you pretty much email back using all caps with a YES! And when they want you to try out their new Bona PowerPlus™ Deep Clean, an Oxygenated Hardwood Floor Cleaning System, which is their deepest cleaning solution yet along with their PowerPlus Microfiber Deep Clean pad.… you pretty much stalk the mail lady until it arrives!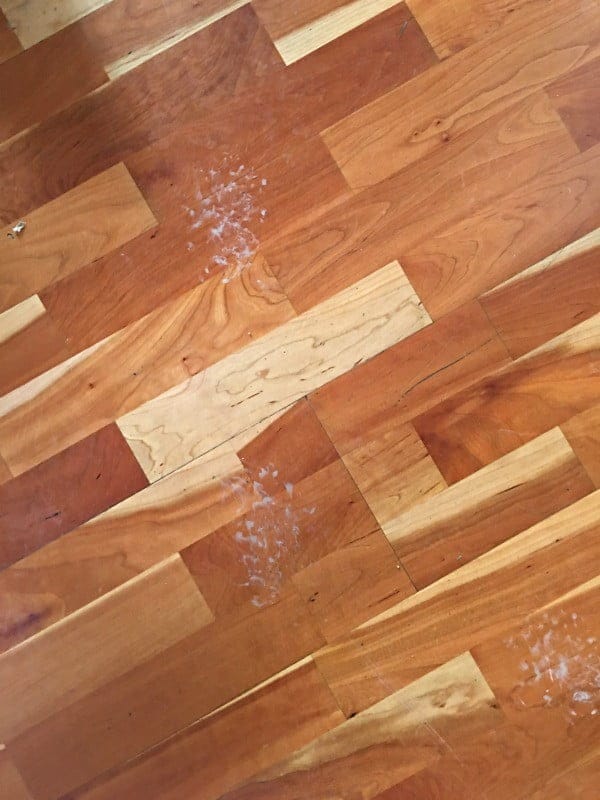 Funny Story: When I had my son and was wheeled into my room, I was of course in full labor, but being a decorating girl, I noticed they had a short indoor/outdoor carpet. This made no sense to me and wondered how in the heck did they keep them clean? So while they were trying to prep me, I was in full conversation with the nurses asking how they kept their carpets clean day to day. She told me they used peroxide. So I know it cleans really well and was super excited to use a floor solution with oxygenated power at home!
"Gone are the days of deep cleaning with a mop-and-bucket and scrubbing on hands and knees. Bona has created our most advanced cleaner yet while maintaining an easy, all-in-one approach."
I needed something that was going to do some deep cleaning but with minimal effort. I loved how quick this was and I loved knowing it was really really cleaning my floors.
The Bona PowerPlus™ Deep Clean is an oxygenated hardwood floor cleaner. It uses peroxide to penetrate for a deep clean and finally, the oxygenated bubbling action lifts away surface debris.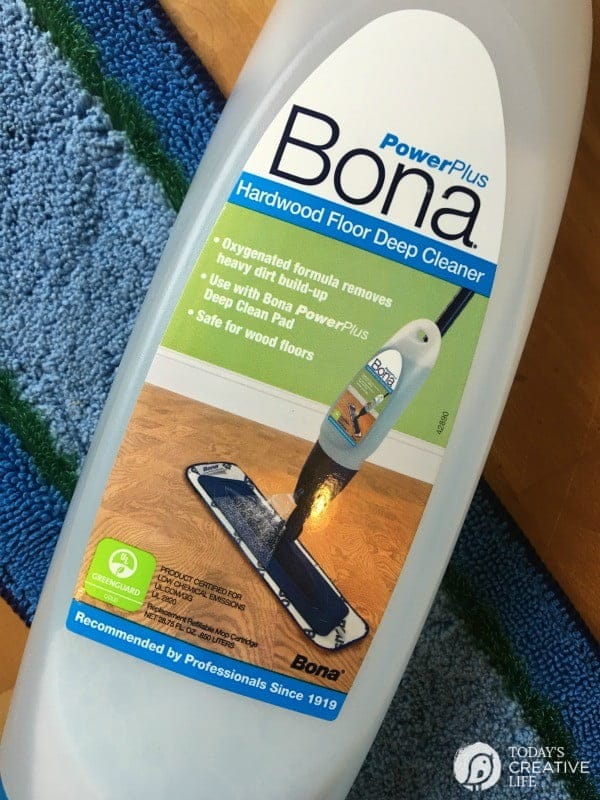 I love that it's residue-free, but can still give me deep cleaning results quickly! There's no pulling out the bucket and mop, mixing up a cleaning solution… yada yada yada.
Since I live in the rainy pacific northwest, my floors have muddy paw prints more often than I'd like, so having a quick solution that also works great makes this mama happy!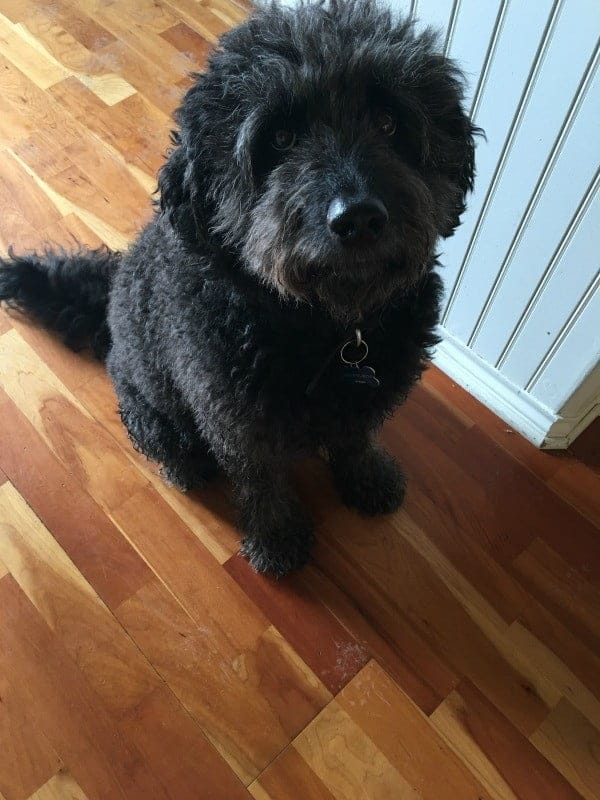 My floors are a laminate and I swear they'll scratch if you look at them sideways, but this cleaner is great for both hardwoods and laminate.
Deep Cleaning your Hardwood Floors doesn't need a bunch of toxic solutions.
The Bona PowerPlus line of deep cleaning floor care products provide three times the cleaning action and includes the Bona PowerPlus cleaning solution and the new Bona PowerPlus Deep Clean Pad with patented PowerLoop technology.
The Bona PowerPlus Hardwood Floor Deep Cleaner, specifically formulated for hardwood floors, works to deep clean and bring beauty to hardwood floors. First, a surfactant loosens tough, heavy dirt build-up. Next, peroxide penetrates for a deep clean and finally, the oxygenated bubbling action lifts away surface debris.
Safe for hardwood floors this GREENGUARD certified, ready-to-use, residue-free formulation provides deep clean results that are fast, beautiful and easy.
Working in tandem with the Bona PowerPlusHardwood Floor Deep Cleaner, the patent pending Bona PowerPlus Deep Clean Pad brings even more power to deep clean hardwood floors.
Featuring PowerLoop technology, the microfiber pad gently breaks apart and loosens tough dirt via the twisted nylon scrubbers while the dual zone pad absorbs and traps dirt. The machine washable Bona PowerPlus Deep Clean Pad provides more than two times the absorbency over other microfiber pads.
While water/vinegar IS a great cleaner, it is an acid that will strip and dull hardwood floors. Bona PowerPlus (and all their products) are pH neutral and specifically formulated for floors so no need to worry about damage!
I usually make my son and husband put things together because I just can't be bothered with following directions. I am happy to report this was super simple and it only took me about 4 minutes. I loved that they had photos… because I'm a visual girl.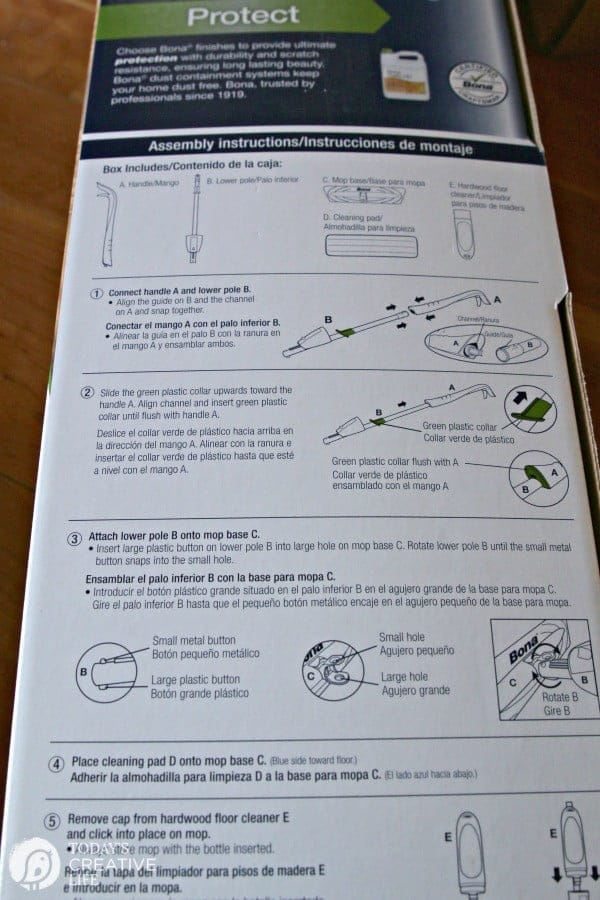 Since my floors were covered in dried mud, I decided to use the microfiber Bona PowerPlus™ Deep clean pad with a patented PowerLoop technology. It's the one with the green strip.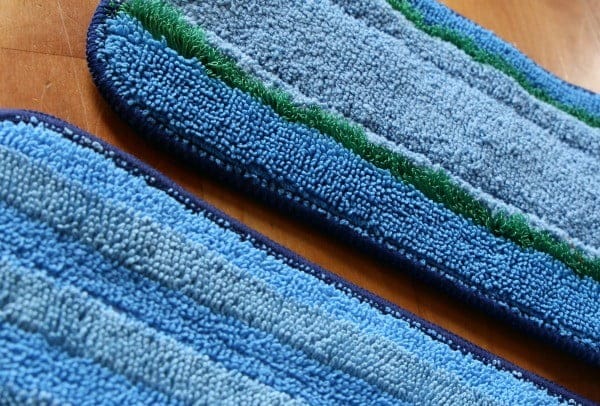 The green strip has a little stiffer texture, aimed at really scrubbing those tough spots. This microfiber pad with its twisted nylon scrubbers really clean up the grime while the pad absorbs and traps it. I like that!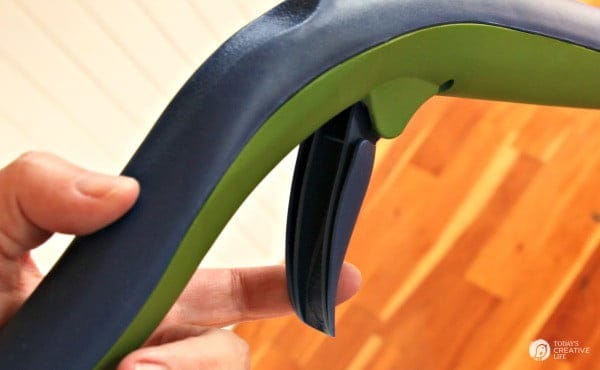 I liked the easy trigger that dispensed the floor cleaner. I also loved that you could redirect the stream by simply moving the long handle to aim the stream where needed.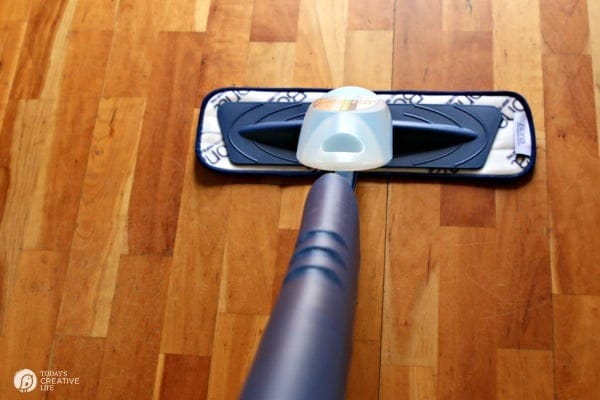 If you wanted the floor cleaner to dispense directly in front of you, you tilt the mop handle so it's pretty much vertical. If you wanted to aim it further out in front of you, covering more space, just tilt the mop handle back towards you like I'm showing above.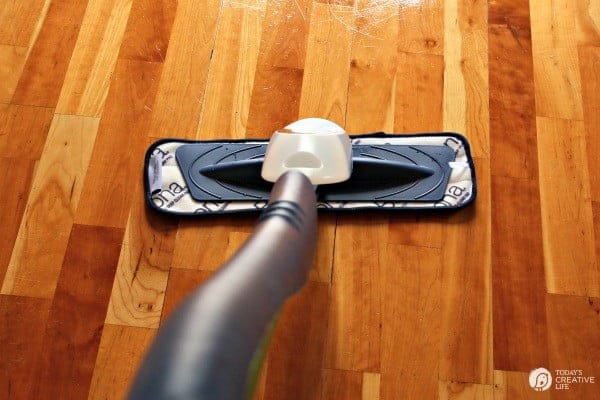 Looks cleaner already. Let's ignore the scratches, ok.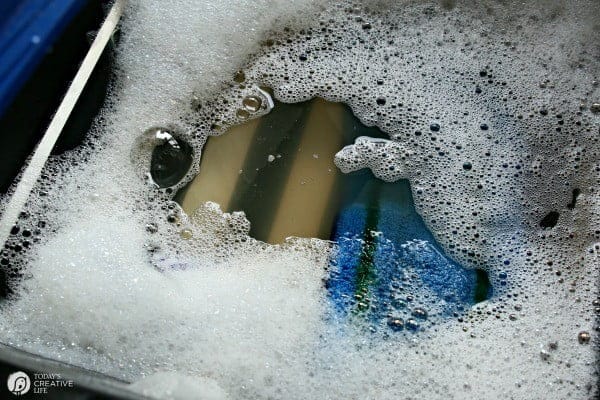 After one round, my floors were clean. I'm used to doing 2 rounds.
I pulled the pad off to rinse it and thought I'd rinse it in a full sink of soapy water where I was already soaking the placemats for my pups food area…. but WOW… you can see just how dirty the water is. After you're done, just throw the cleaning pad in the laundry. Simple.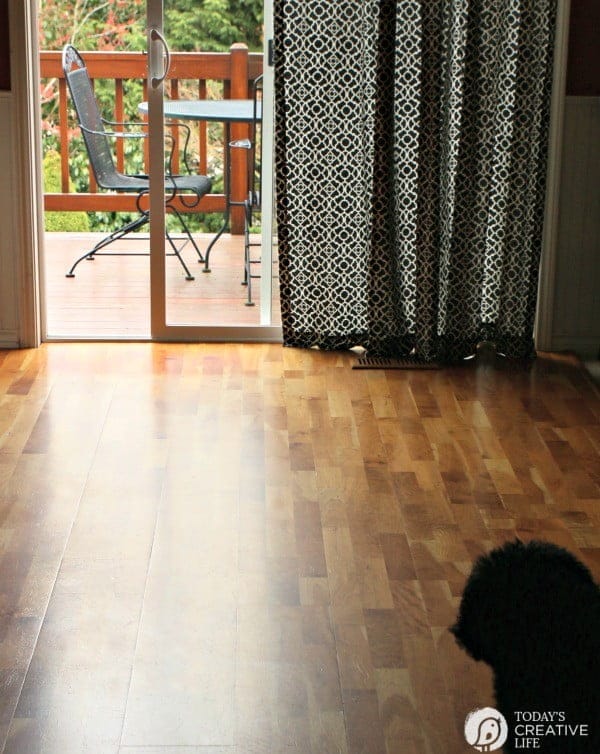 Here's a shot after they've dried. So much better and no more mud! But most importantly, they are CLEAN, really clean. Deep Cleaning your Hardwood Floors doesn't have to take all day.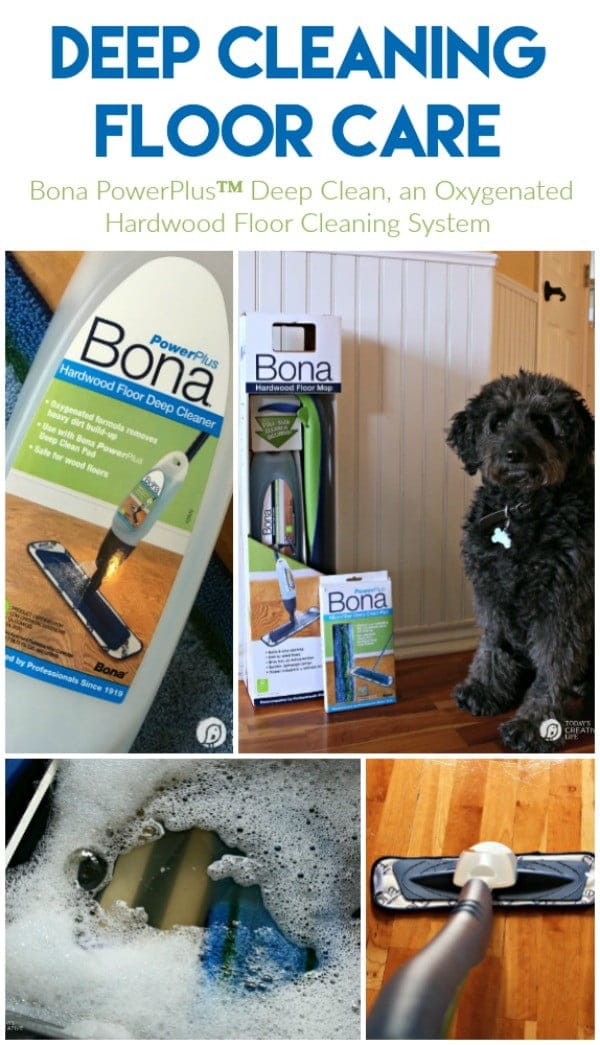 I'm thrilled to have found a quick solution for those messy moments! I hope sharing my favorite product helps you in deep cleaning your hardwood floors too!
This post is a sponsored post. I was compensated for my time in creating this article. I was also sent the products needed to complete this post. I've been a Bona believer for a couple of years. All opinions are 100% mine.