Welcome to my annual Celebrate Summer Series, where I introduce you to a few of my fellow bloggers and their creative ideas! This DIY Fabric Scrap Door Wreath is my kind of craft! No sewing involved like these scrap fabric flip flops! I love all her practical and creative ideas on her site, Sondra Lyn at Home.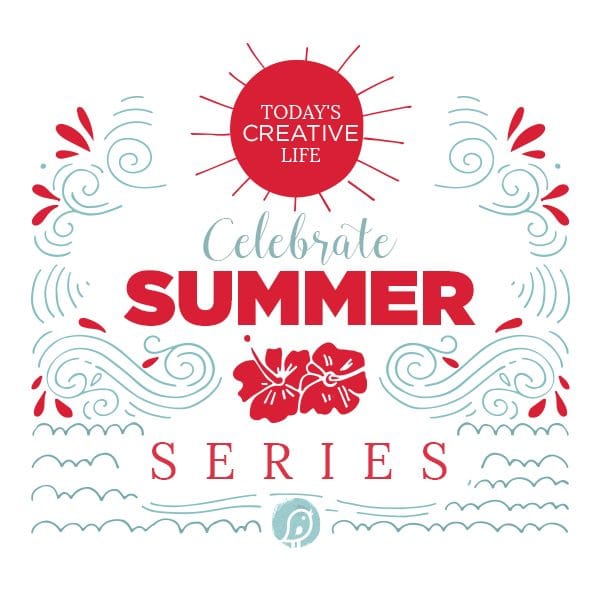 ---
DIY Fabric Scrap Door Wreath
It's such a treat to be with you today for the Celebrate Summer Event at Today's Creative Life. My name is Sondra and you'll find me over at Sondra Lyn at Home. I am happy to share my DIY Fabric Scrap Door Wreath!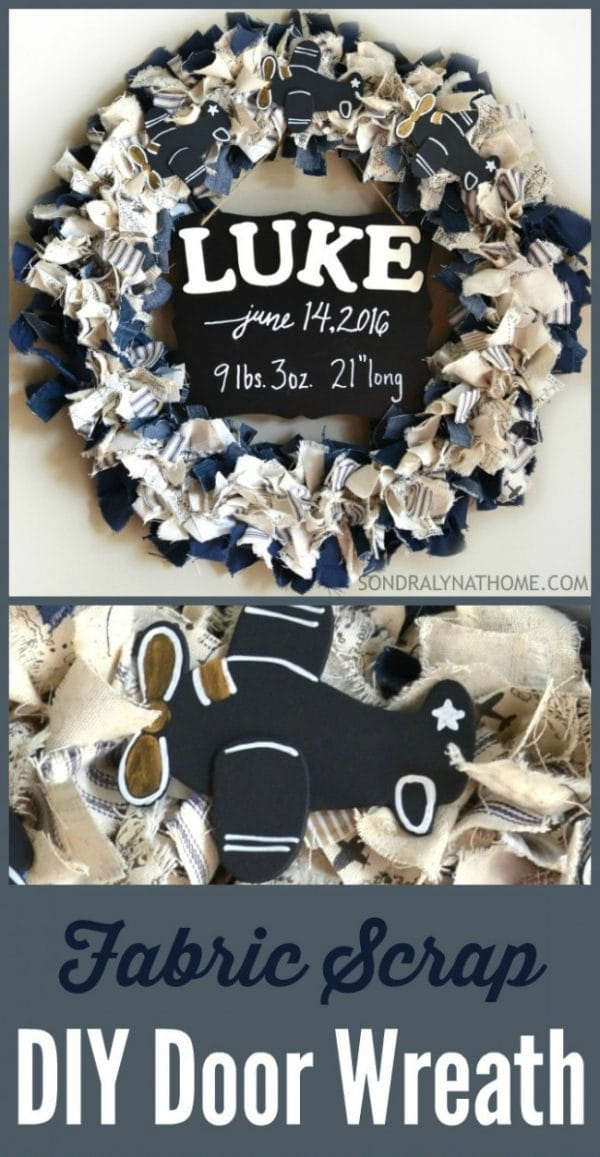 This fabric scrap DIY door wreath is specifically for a new baby's nursery, but can be adapted to any occasion. Just modify as you wish. You can use any embellishments – or none. You can use scraps of fabric that you have on hand already – or go buy some new fabrics in colors that you love. You can use it on your patio, and it would be great made with outdoor fabrics – no fading! This makes a great patriotic wreath, as well… just add some red and there you have it! Here's what you need and all the how-to's:
Fabric Scrap DIY Wreath Supply List
Affiliate links for your shopping convenience.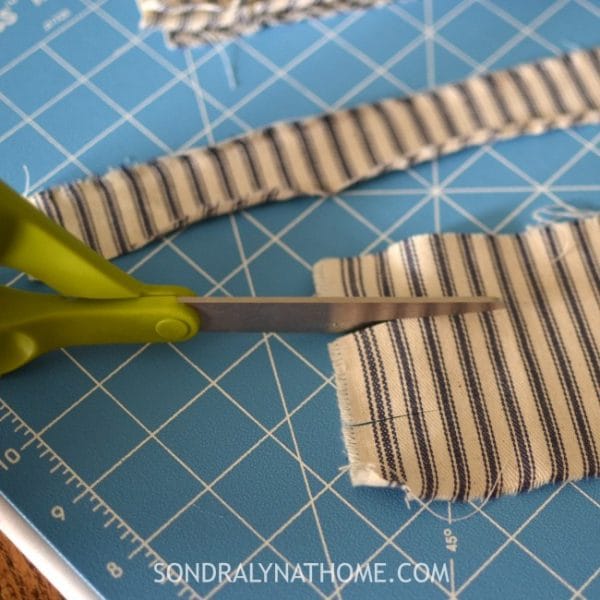 The first step is to tear the fabric into strips. I didn't get too fussy about the exact size of them, I just made it work out according to the width of the fabric. For instance, if the fabric was 44″-45″ wide, I tore the width of the fabric in 1-1/2″ strips and then folded it in equal parts until I could cut several shorter (7-1/2 to 8 inch) strips. You don't have to tear them, of course. You can cut your strips if you don't want the rough edges.
You will need more strips than you think. I didn't count them, but trust me… it takes A LOT! I used all that you see below – plus more. A good estimate of the yardage needed would be about 1/3 yard of 4-5 different fabrics.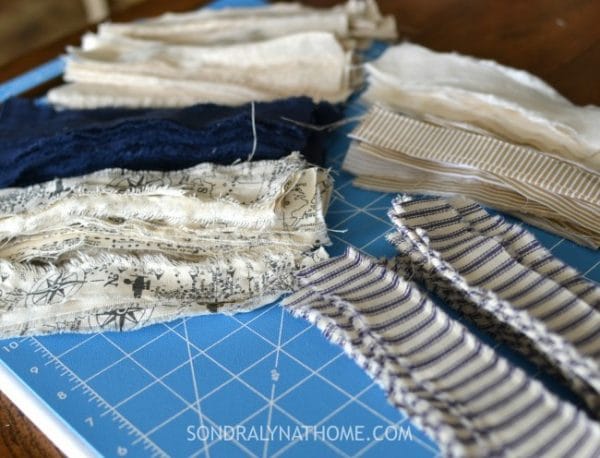 Since this summer baby's nursery theme is 'Little Adventurer', I went with natural fabrics, with some blue ticking and denim thrown in for interest! The airplane and compass fabric is from the baby's custom-made quilt, as is the little tan and white striped.
When you have lots of fabric strips cut, you can begin to tie them onto the wreath form. I wanted the navy blue concentrated in the outer and inner sections, so I began by tying the navy blue and denim strips along the outside of the ring. The wreath form is sectioned off into about 8 sections, so tie roughly the same number in each section to ensure even distribution. If the sections aren't full enough, just tear more strips and tie them on until it looks right.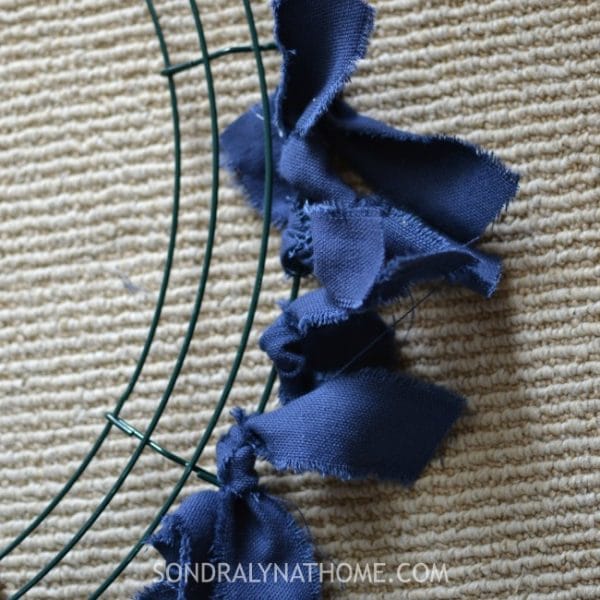 You'll want to fill each section so that none of the wire wreath form shows (I was just getting started in the photo above!).
When you have your wreath as full as you want, it's time to attach some embellishments, although this is optional.
For this one I wanted to use airplanes, in keeping with the nursery theme. I looked and looked until I found just the right shape. The colors didn't work, though, so I just took my acrylic paints and customized them to go with the wreath. Attach them to the wreath with fabric strips that you affix to the back of the airplane with a dot of glue.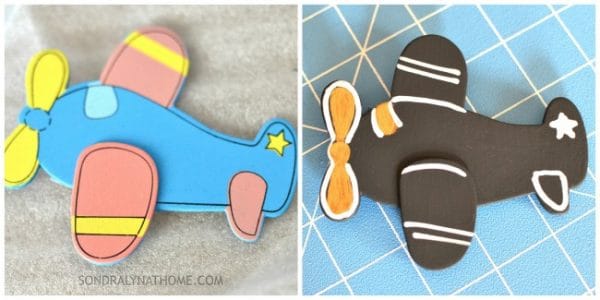 Since this wreath first hung on the hospital room door, the parents wanted some way to let visitors know the baby's name and vital statistics. The perfect way to incorporate all the information is on a chalkboard! So I purchased an inexpensive placard that was easily attached to the wreath with a fabric strip. This can be attached after the birth, when all the info is known.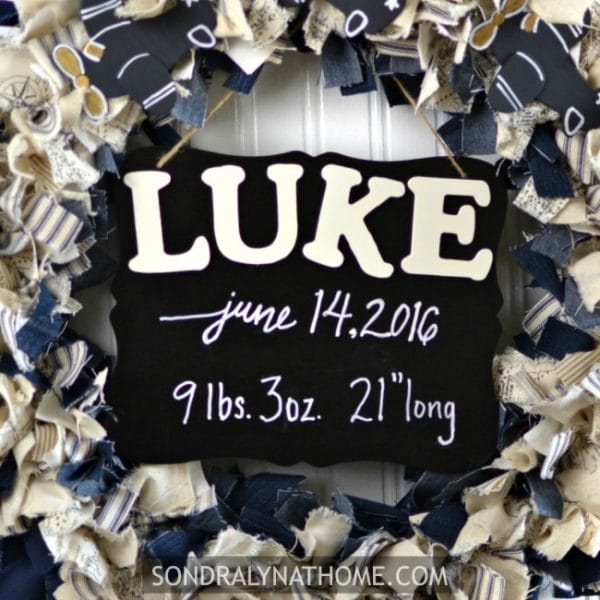 And here's the finished wreath: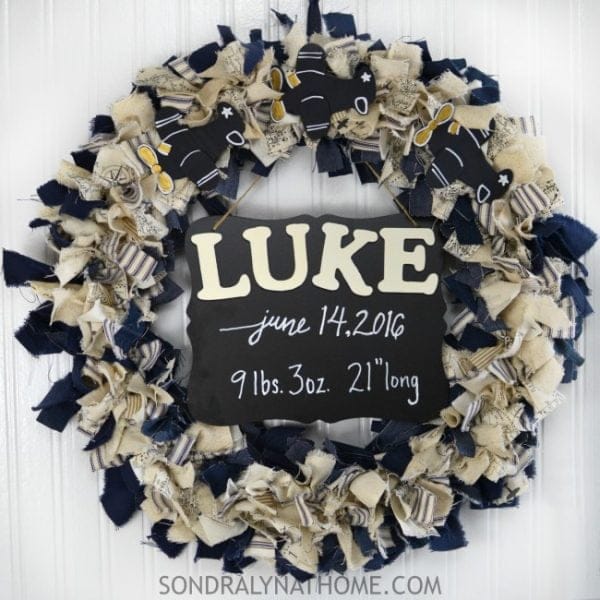 Thanks for joining me today for this cute diy fabric scrap door wreath tutorial! And thanks, Kim, for inviting me to share.
I'd love to see you over at Sondra Lyn at Home! Here are some other projects you might enjoy:

---
See more Creative Ideas