My DIY Fall Decor centerpiece is always simple, budget-friendly, and can last through Thanksgiving. Using nature as my guide, I put together a rustic centerpiece by using real pumpkins and gourds, a few faux picks, moss, and even feathers.
Today's Creative Life is FULL of all kinds of DIY Fall Decor Ideas! One thing you can bet on with any of my DIY decorating ideas is they will be easy and very do-able for everyone! Don't miss my Small Entry Way Decorating Ideas.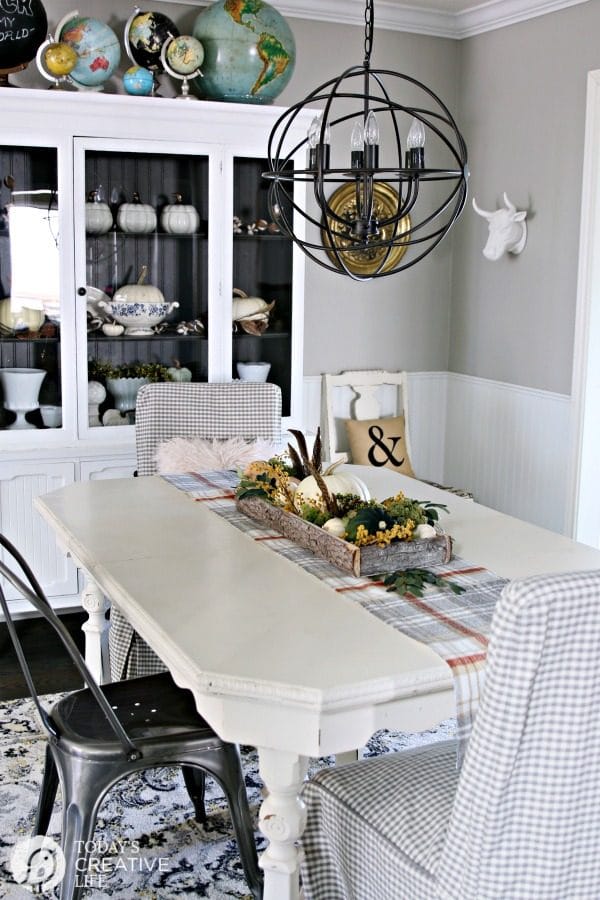 DIY Fall Decor Ideas
Even though this fall table centerpiece only took me about 10 minutes to throw together… yes, throw. It took me over a week to get motivated to get it done!
Like last years Easy Fall Table Decor, I started out with wanting all neutral colors. I did keep it more neutral, but I still couldn't stay away from some harvest colors. Our new paint colors (Mindful Grey by Sherwin Williams) made it easier.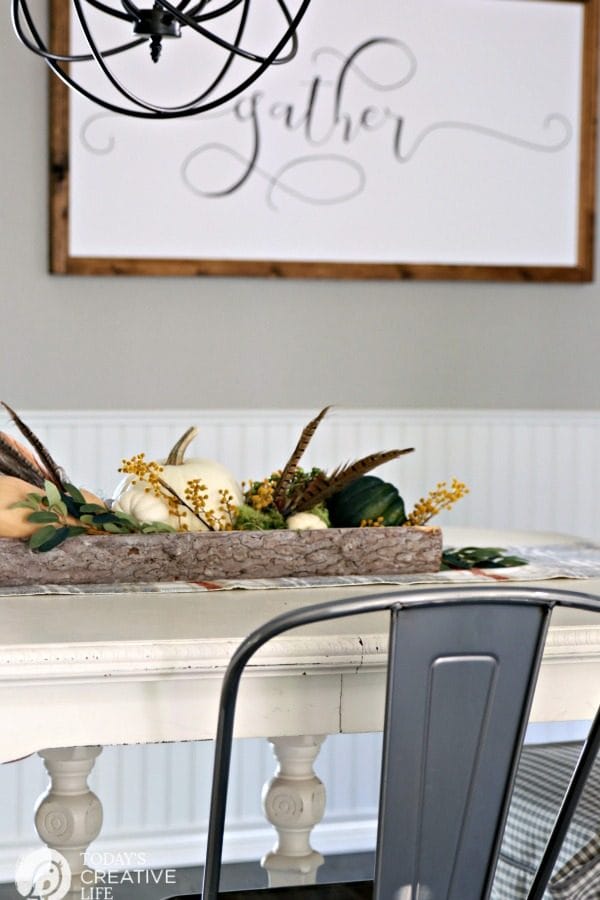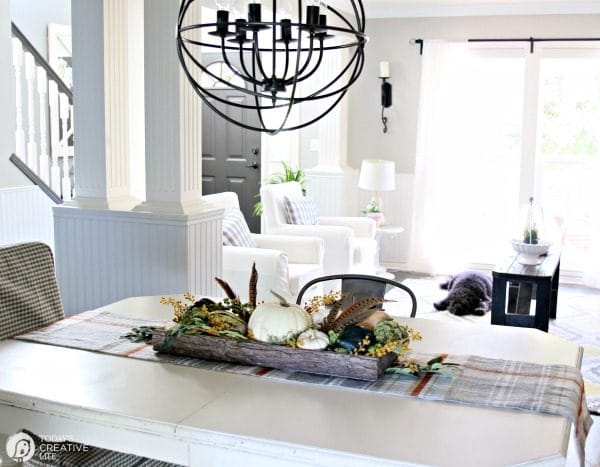 I still thought about stuffing as many pumpkins in the hutch again. I love that look! This year, I used all the white vases I usually store inside along with my late mother's soup tureen. I added a few cotton branches and called it good.
How to Create Simple Fall Table Decor
Table Linens: I wanted a table runner and when I saw this gray plaid one from Target, I knew it was perfect. I love how it coordinates with my IKEA gingham chair covers. (They are no longer available, but you can sometimes still find them on eBay).
Base: I first looked for my base. I planned on using my dough bowl like the year before, but while shopping at my local craft store, I found this log bark tray. I thought it would be perfect to arrange all my fall decor item. Your base doesn't have to be a container. It can be flat, heck, you can just use your table runner.
Larger items: What will your larger pieces be? You'll want to arrange those first. Shop your produce section of the grocery store. This is where you'll find all kinds of things to decorate with. Of course, I wanted white pumpkins and a variety of squash. I always buy more than I need, but you can always use them for fall decor elsewhere. Other great items are eggplants, walnuts, artichokes. Depending on how long your centerpiece needs to be there, will help determine if you can use more perishable items such as asparagus and other beautiful fruits and veggies.
Filler: I grabbed whatever caught my eye. I will usually just walk around my yard and clip twigs, branches, flowers, seed pods etc… Anything that will give me that rustic centerpiece look. I used store-bought moss, seasonal picks, and pheasant feathers. Once I had all my items to create my fall centerpiece, I laid them all out on the table and just started putting things in, filling in the small vacant areas with leaves and moss. I even grabbed some rocks I had spray painted to fill in small areas.
Walk Away!: Once you think you've got it, walk away. Otherwise, you'll tinker and tinker and hate everything. Come back to it in an hour or so and see if you still like it. Looking at it with a fresh eye will help finish up your DIY Fall Decor table centerpiece.
If you'll be using this for Thanksgiving dinner or any dinner, you'll need to consider the height of your table decor. You want your guest to see who's on the other side of the table. You can remove it of course when you're eating, but for a holiday dinner, we usually want some sort of table decor.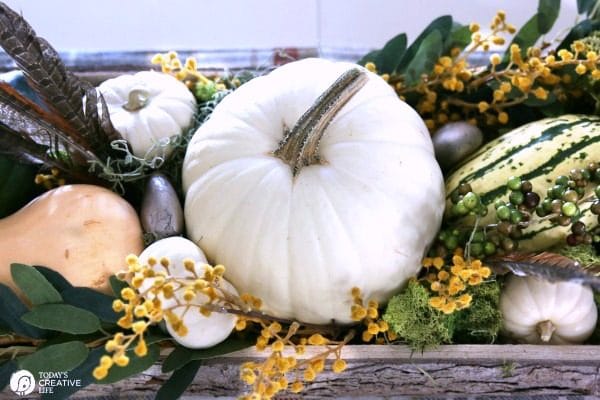 My method is always trial and error with a lot of rearranging, but once I start, I'm usually finished in 10-15 min.
I love the rustic look and I think you'll be surprised what nature will provide for you when you look around.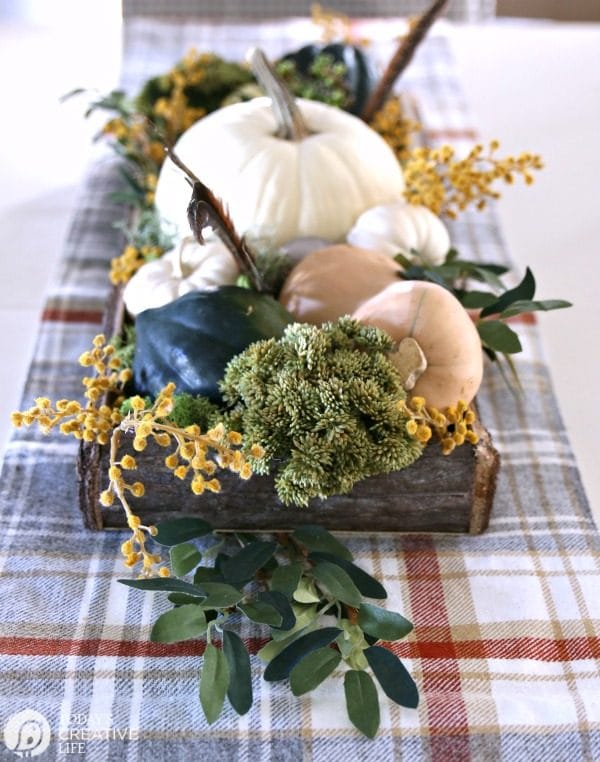 I've been eyeing these beautiful rose hips on one of my walking trails. I need to remember to take my garden snips with me. I can easily just poke them into this already assembled DIY fall decor table centerpiece.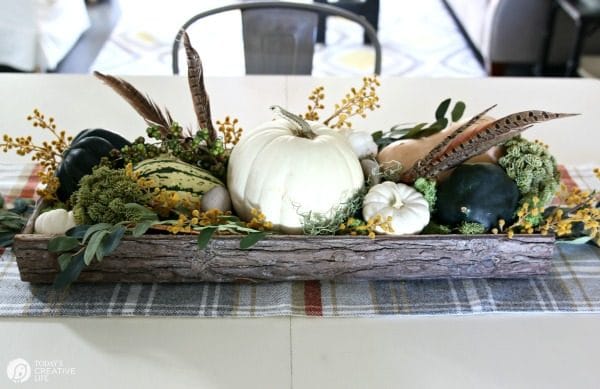 What I love the most, is this will transition perfectly for Thanksgiving. My work is done!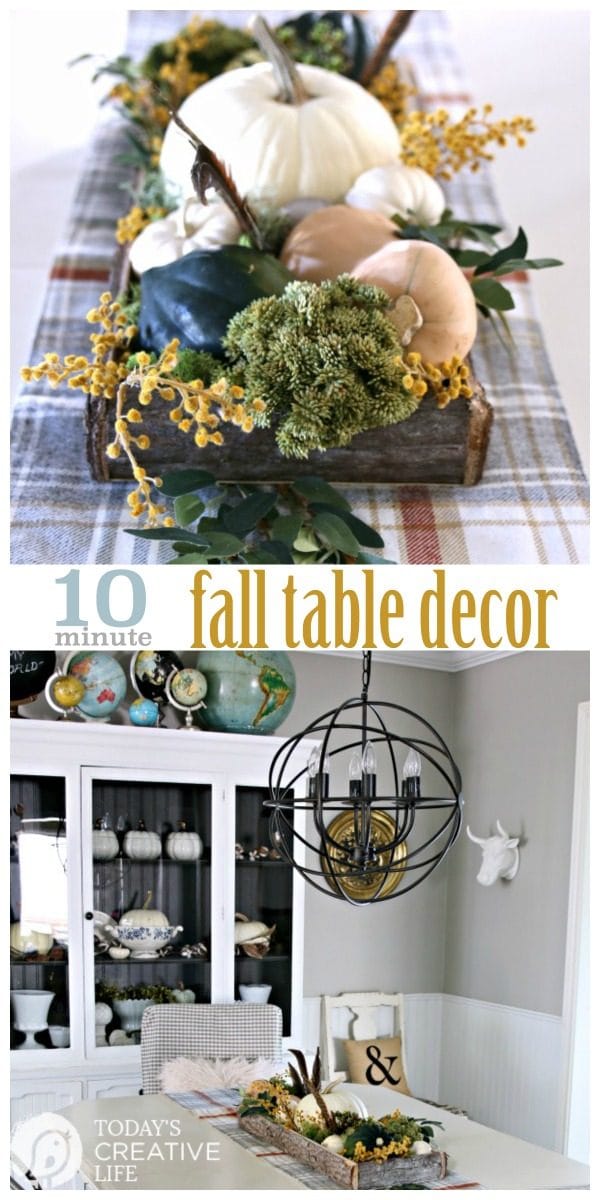 Decorating for Fall
Inexpensive Fall decorating ideas for your home. DIY home decor that is budget-friendly and easy to create.
Printable DIY Wall Art for Fall.
Make your own rustic wreath. Fall Wreath Craft
Simple ideas for decorating your fall table.
Make this Burlap and silk leaves wreath. Fall door decor.
Quick fall porch decorating ideas.
Budget-friendly decorating with printables.
Decoupaging pumpkins is a great way to decorate without carving.
Easy Fall decor for your home.
Printable decor for fall.