It's that time of year when we're looking for Fall Door Decor, so I thought that a quick update on this DIY Fall Floral Basket Door Decor that was originally shared back in 2014 would give you inspiration for front door fall decor ideas. This was a guest post by another blogger and shared on Today's Creative Life. Enjoy!
While I'm away attending and speaking at the BlogHer Conference (who's idea was that anyway?) I've got an amazing team of bloggers who are willing to hold down the fort! Today's Post: DIY Fall Floral Basket Door Decor from April over at illi style. This is a great step-by-step tutorial for a beautiful fall door! Enjoy!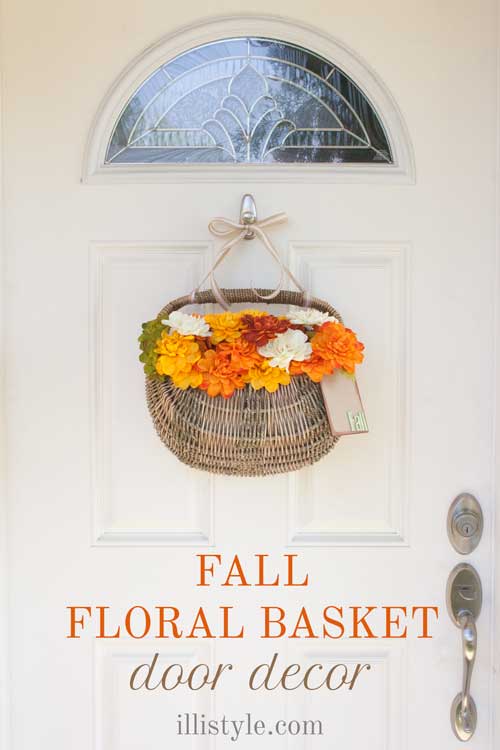 DIY Fall Floral Basket Door Decor
I know some of you are thinking "What the heck? Fall Door Decoration? It's not even August yet!" But lemme 'splain:
#1. I love fall!
#2. I dream of fall all summer long. And since it has weirdly been 70-85*F for weeks, I am naturally in a fall mood. (Let's not hate on the girl who lives in cool weather… I did my time in 100*F with 100% humidity and no A/C while serving as a missionary in Roatan, so I know what it means to be hot and I feel for you all.)
#3. Did I mention, I love fall?
#4. If you are hot and dreaming of sweaters and boots, this is a good way to mentally cool down, right?
And if my four-point presentation did not persuade you and you are still upset, just imagine that the flowers are bright and the tag says "Summer," and then we can still be friends, right? Whew, good.
Fall Door Decor Floral Basket Supplies
1 basket – a flat back basket works best, but as you can see I made it work without one.
1 Floral Foam block
Fall Florals -Find the best inexpensive variety at the Dollar Store.
Wire cutters or scissors (for cutting flower stems)
Ribbon for hanging (not shown)
How to Make DIY Fall Floral Basket Door Decor
Use your imagination! This DIY fall craft has a lot of wiggle room and no need for perfection. In a nutshell, you literally stick floral stems into the floral foam.
Fall door decoration ideas can be budget-friendly and quick to make. Rummage through any of your faux florals you might already have or pick twigs, branches with fall colors, flowers, etc from your yard. You'll be surprised by what you can use!
If you don't have access to any floral foam, you can use an old piece of styrofoam too.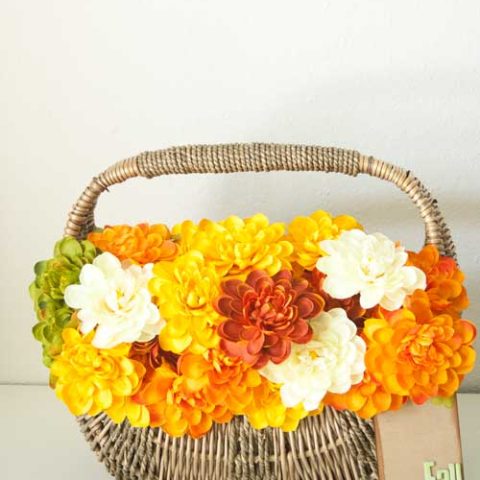 Fall Door Decor
Yield: 1
Prep Time: 5 minutes
Active Time: 15 minutes
Total Time: 20 minutes
Difficulty: Easy
Estimated Cost: $15
Fall Decor Decor with this easy-to-make DIY Fall Floral Basket Door Decor.
Materials
Tools
Instructions
Gather your supplies.
Place floral foam into the basket.
If your flowers came in a grouped bunch, separate the stems by snipping them with scissors. Leave the stems as long as possible.
Start arranging your flowers by sticking the stems into the foam. I started with the color which has the largest quantity, placing one color at a time into floral foam, with flowers facing front.
If needed, remove some flowers in order to achieve a balance of color overall. In this arrangement, I removed two yellow and one red in order to make room for the green and white.
Make a tag or add a fall sign if desired.
Notes
The Dollar Store is a great place to find all these items.
Add a Fall tag if desired, or any fall sign.
Get creative and create wherever your imagination takes you.
Use real flowers or foraged items from your yard. Soak the floral foam for a few hours before to keep the real plants alive.
How to Make a Fall Tag
I used a paper tag I already had and chipboard letters. You can paint them any color you'd like. You can spell any word that fits and just glue them on your paper tag.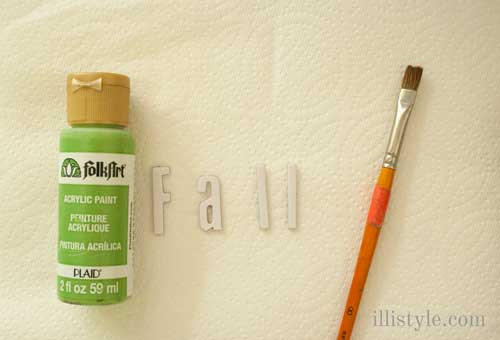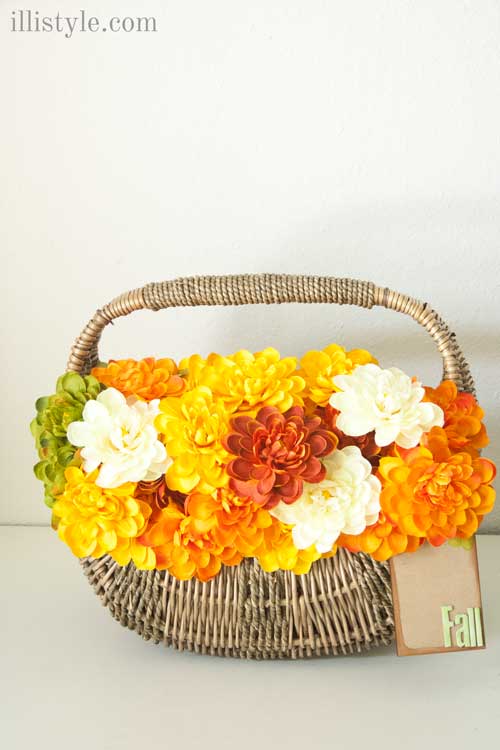 I removed one flower and threaded it through the hole on the tag and stuck it back in. Perfect.
Tie ribbon to the basket and hang on the front door (but wait until October 1, or your neighbors might riot at your desire for summer to end.)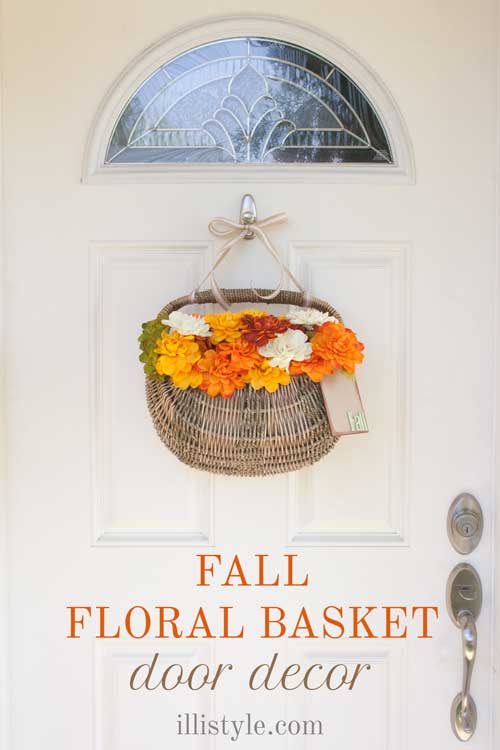 Decorating for Fall
Inexpensive Fall decorating ideas for your home.
Printable DIY Wall Art for Fall.
Make your own rustic wreath. Fall Wreath Craft
Simple ideas for decorating your fall table.
Easy Autumn Table Centerpiece ideas!
Make this Burlap and silk leaves wreath. Fall door decor.
Quick fall porch decorating ideas.
Budget-friendly decorating with printables.
Decoupaging pumpkins is a great way to decorate without carving.
Easy Fall decor for your home.
Printable decor for fall.