Last year I wrote this up for a guest post and figured you'd all love to do this fast and easy craft too!
DIY Glittered Jars are perfect for fall decorating and besides…… it's GLITTER! I posted about using these for my fall table decor last year.
I'm into simple and easy! I love a good craft that looks great, but didn't take a ton of skill to complete. I also don't like to read instructions, which could explain why I have so many craft fails.
DIY Glittered Jars for Fall Decorating
Save your jars people! I know they look ugly when there is still food inside and labels on them, but trust me, once you wash them out, get rid of the labels…… you'll be surprised by how cute some of them are!
I have finally have my husband asking me if I need a jar before he recycles them. The answer is YES….. Yes, I want the jar! Always!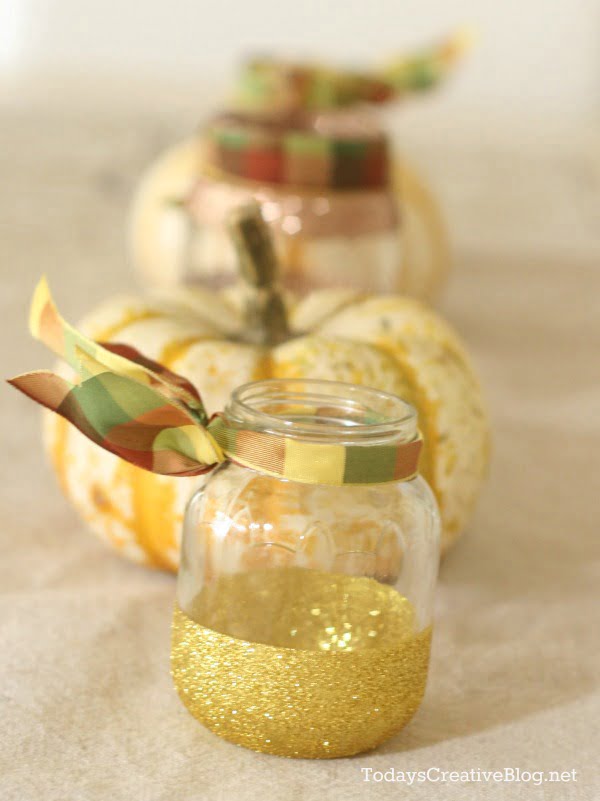 It's all about glitter lately, especially gold. I haven't embraced the gold trend in home decorating again…..not just yet, but I am trying to incorporate it in small ways and gold glitter is perfect for that. I already rode that gold trend once.
In our home, we need a fairly simple table centerpiece since we use our dining room table for dinner each night and for the occasional homework table. As much as I'd love to keep something more elaborate up, it's just not functional since it needs to be easy to move. These glittered jars make the perfect Easy Fall Table Centerpiece. It's simple, festive and easy to move when needed.
Let's make some jars!
How to Make DIY Glittered Jars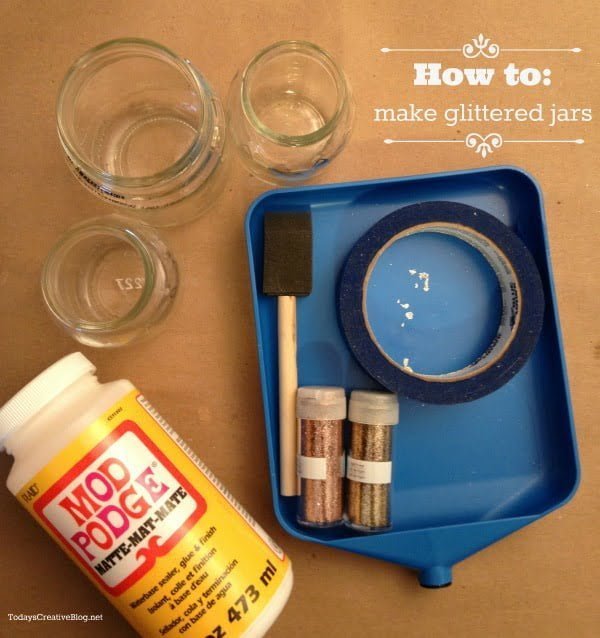 Gather your supplies:
Mod Podge
Jars (any glass decorative item will work)
glitter
foam brushes
Painters tape
Glitter tray or paper towels
Mask off your design. The non taped areas will be glittered
Apply Mod Podge to your jar
Holding the jar over your tray or paper towels, generously apply glitter, gently tap so the loose glitter will fall.
Let dry for at least 4 hours
Using a soft bristle brush, you can brush off any remaining glitter where it's not supposed to be.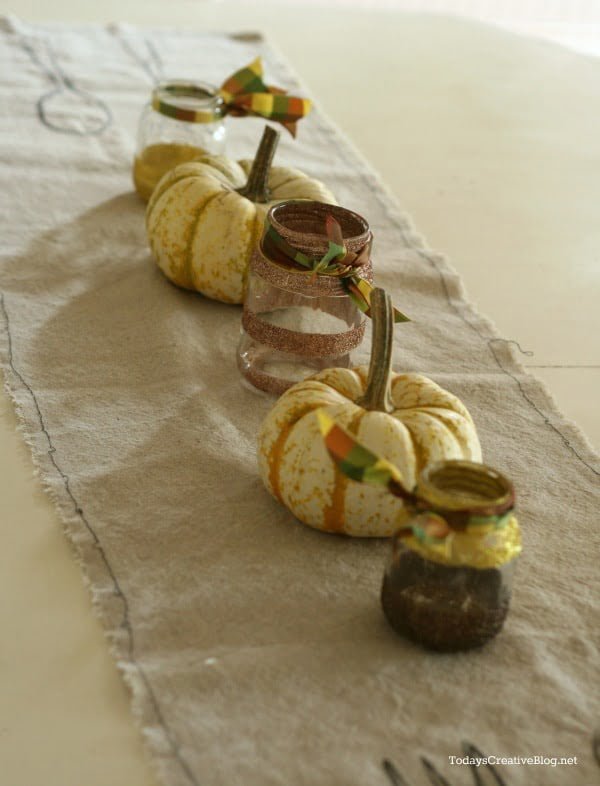 Because the tops looked a bit shabby, so I tied ribbon around the top. I'll add non-flammable candles or tea lights inside the jars. I love them!
What do you think?
Want to pin it for later? Pin this photo below.