It's gettin spooky up in here! These DIY Halloween Apothecary Jars are so easy to make!

DIY Halloween Apothecary Jars
I have always loved apothecary jars and was so excited to make these DIY Halloween Apothecary Jars. I was thrilled when The Dollar Tree asked me to join them in their latest campaign. I got to choose one tutorial to recreate from their Dollar Tree Value Seekers Club. Did you know they had craft tutorials? Me neither!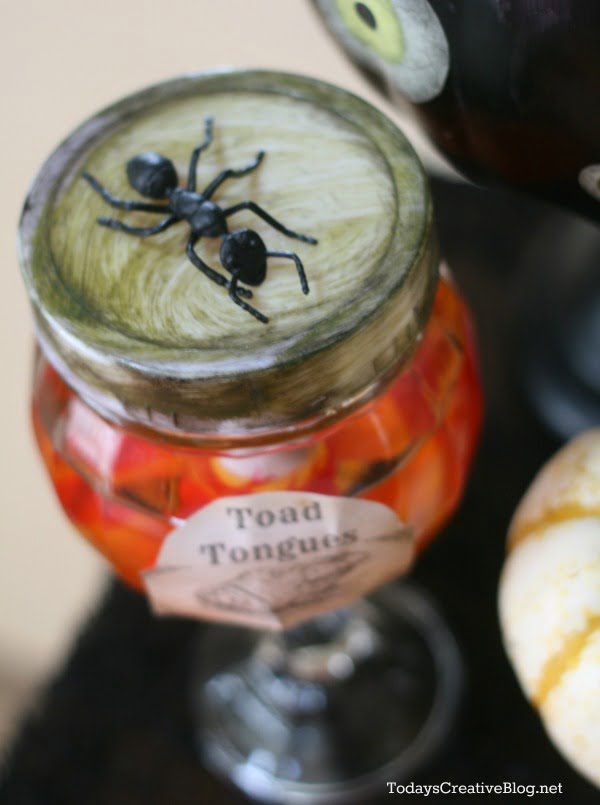 For such a great looking Halloween decoration, these are SO SO easy and pretty fun to create!
Are you ready?
First, head to your Dollar Tree and pick up some fun Halloween items.
Supply Ideas:
When you're looking for jars and you swear they are always in the dishes area…….but you CAN'T find them, so then you text your friend in a panic…..but you keep walking around thinking maybe they moved them………. keep walking around until you check the spot they're supposed to be in for the 3rd time…..and you see the gal stocking the shelf with the EXACT jars you wanted! I just about kissed the poor woman I was so happy!
Once you have your supplies, head home and get ready to CREATE!
I wanted the jars to look like they'd been sitting on a shelf in a lab for years, so I took the lids and smeared my black and yellow patina ink all over the top. You could spray paint them if you wanted, or use stamping ink. I tried craft paint, but it didn't stick very well and I didn't have time for multiple coats. (I'm not a patient crafter)
I filled my jars half way with water and played around with adding different combinations of food coloring to get a tinged color or bloody color. After I achieved the colors I wanted, I stuffed in my Halloween items. This was the fun part!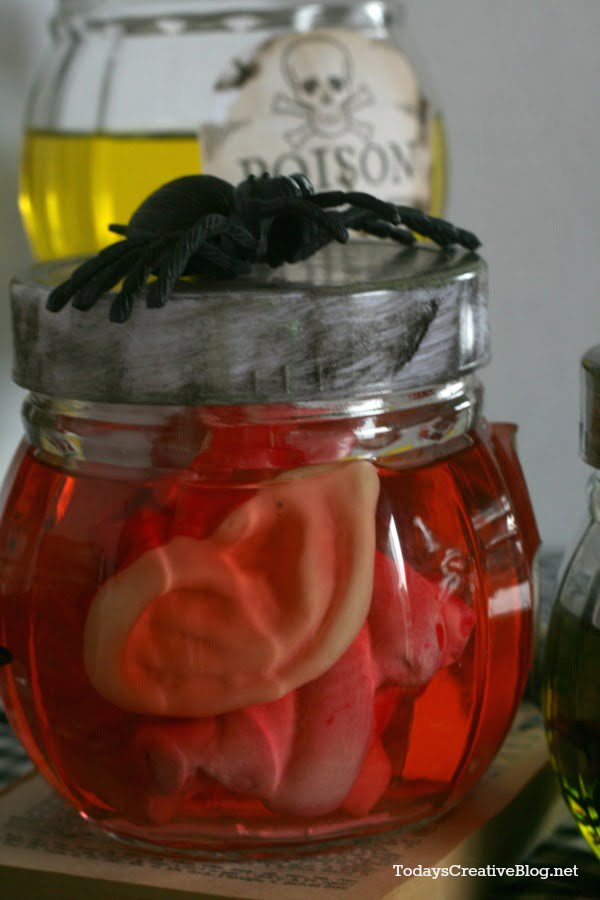 For fun, you can set another creature on top of your lid.
Now here comes the really exciting part. I took one of the candle sticks they always have at the Dollar Tree and glued it to the bottom of my jar. This really made it look like an old time Apothecary jar. I use E6000 silicone glue.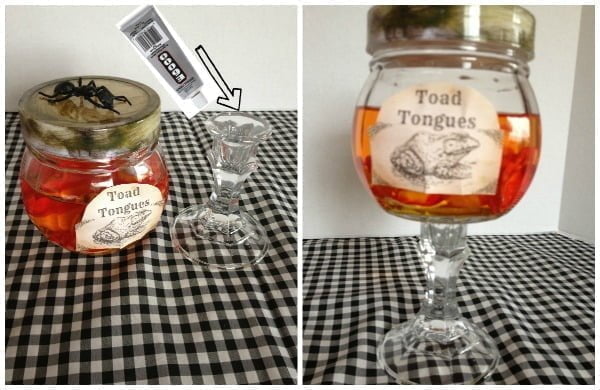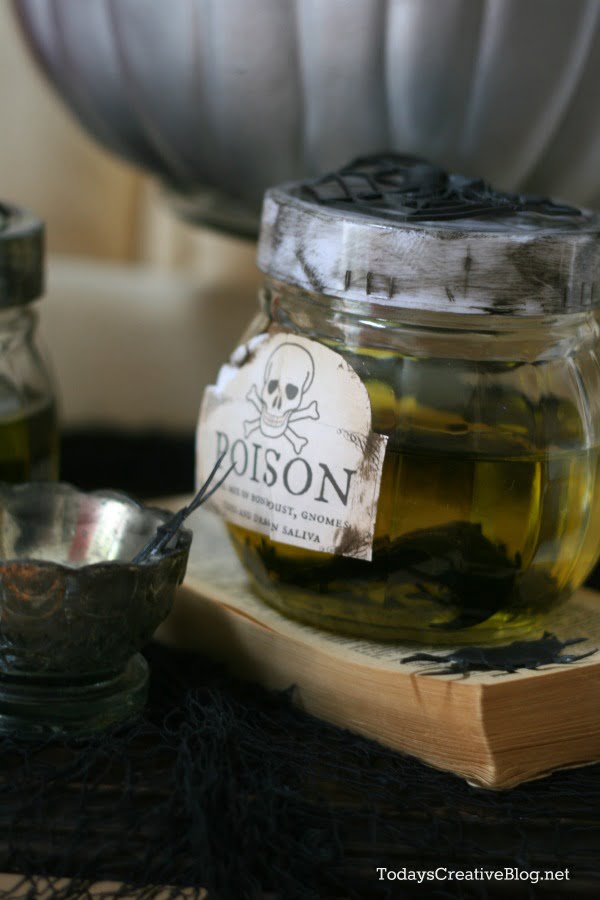 I was going to make my own labels, but why? There are so many great printable free Halloween labels out there. I found these here.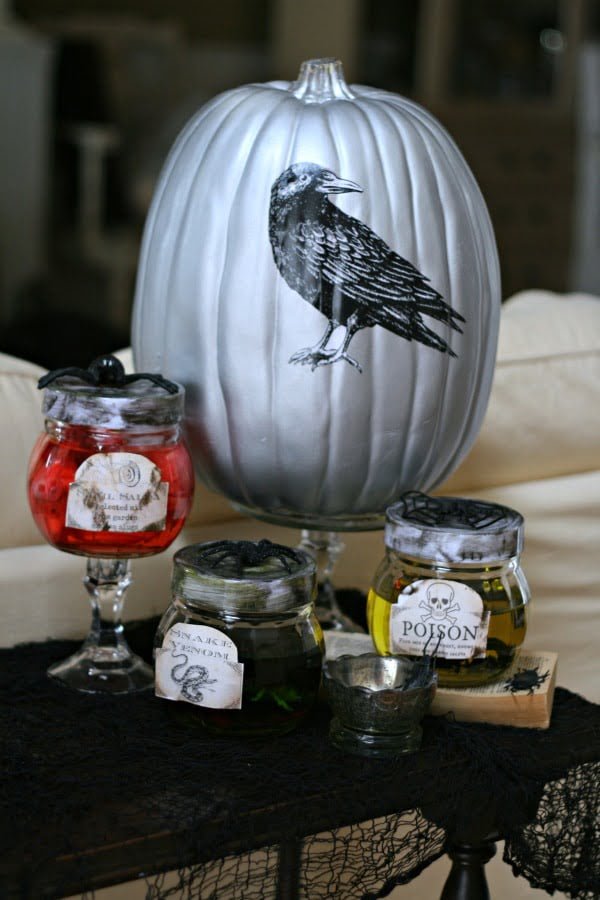 Don't they look great? I'm loving them. I grabbed my decoupaged pumpkins that are really making their rounds in the house and placed everything on my entry table.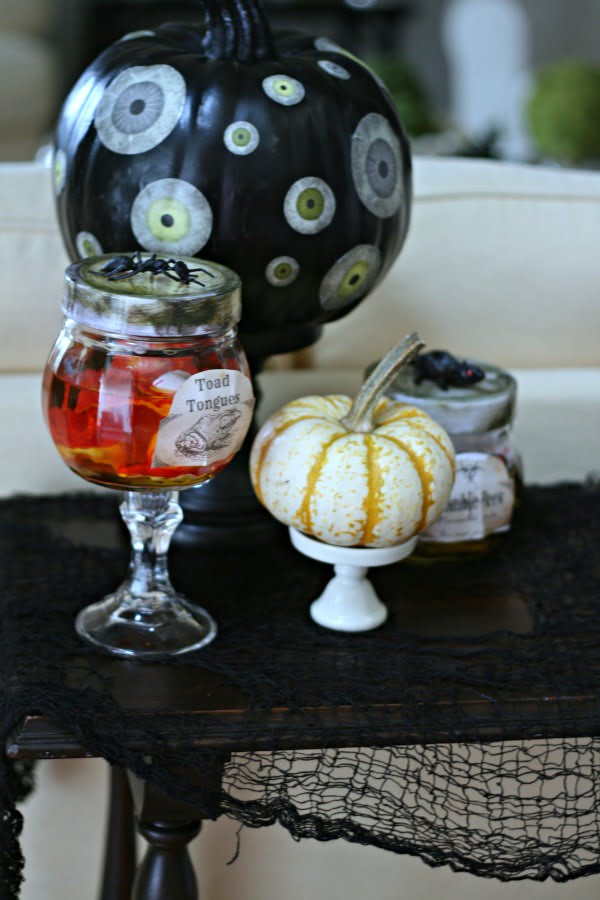 You can see my girl sitting at the end of the table…….she likes to help me.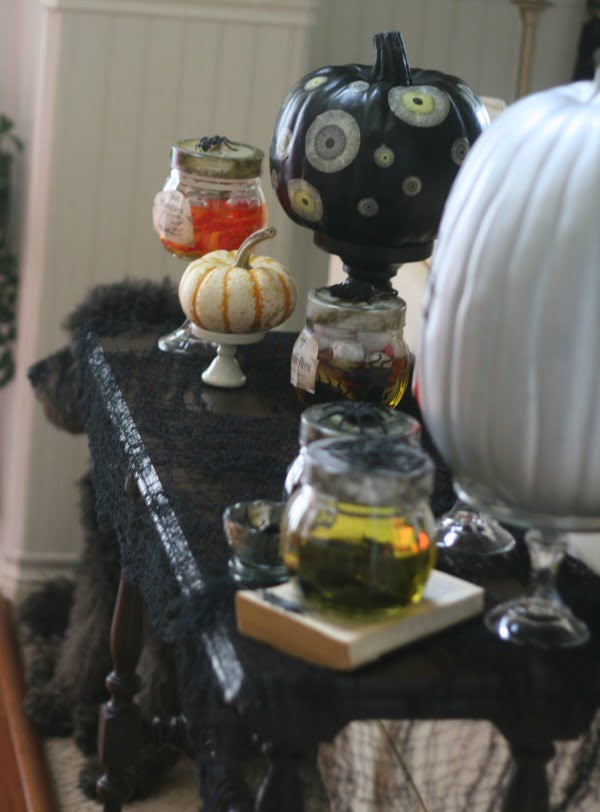 ---