I've been playing around a bit with the Martha Stewart Gilding Sheets and am thrilled how easy they are! I've been staring at my gilding paint forever, too scared to try it, so I was thrilled when I was asked to partner up with Martha Stewart Crafts and my box of goodies had gilding sheets! Those looked more manageable to me for some reason.
DIY Silver Gilding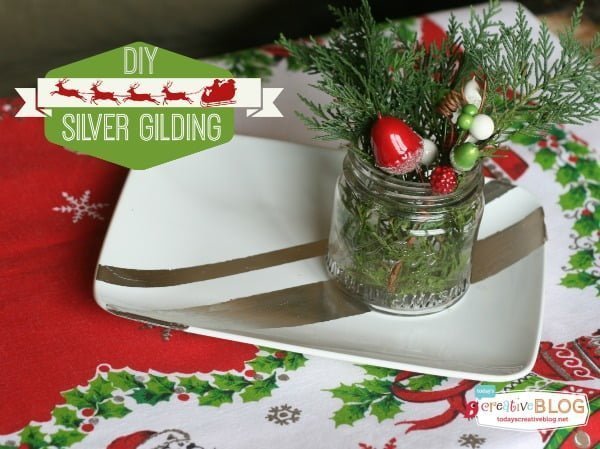 I love the cute dish I did, it's perfect for Christmas. I can use this to host candles, an arrangement, or even make one up for a gift. These sheets also come in gold and copper……….wouldn't copper be pretty for Thanksgiving? Oh those wheels are turning……. I'm loving it on my vintage linen table cloth….a yard sale find! ($2)
As mentioned, the gilding sheets seemed like they would be easier, and even though I've never done the gilding paint, I am going to say, that they are easier. I have nothing to base it on, except that my first try wasn't a fail. Which is rare with any new medium I'm working with.
I grabbed my dish from Target for $8.99 and got to work.
1. Gather your supplies. Everything I used was Martha Stewart of course, except for the tape and the dish. Your local Michaels should carry all the supplies needed, they may even have a dish that would work.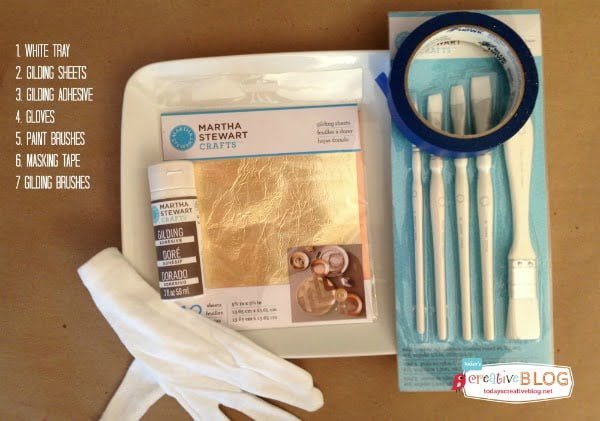 You'll need:
White dish (any color would do, it's just the color I used)
Martha Stewart Gilding Sheets
Martha Stewart Gilding Adhesive
Cotton Gloves
Paint Brush
Gilding Brush (soft bristle brush)
Masking tape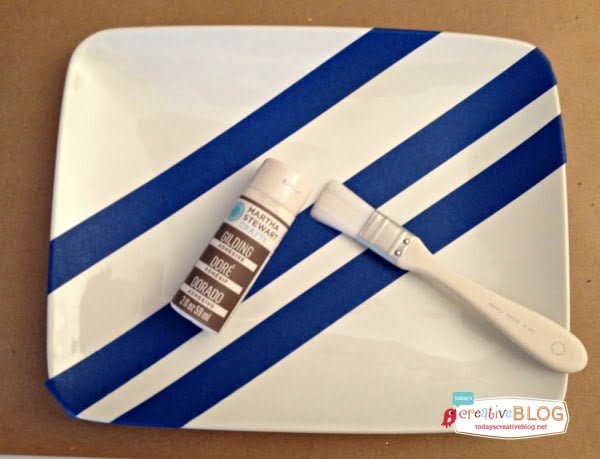 2. Tape the design you'd like onto your dish. I wanted something simple and a bit abstract. That's about as modern as I get.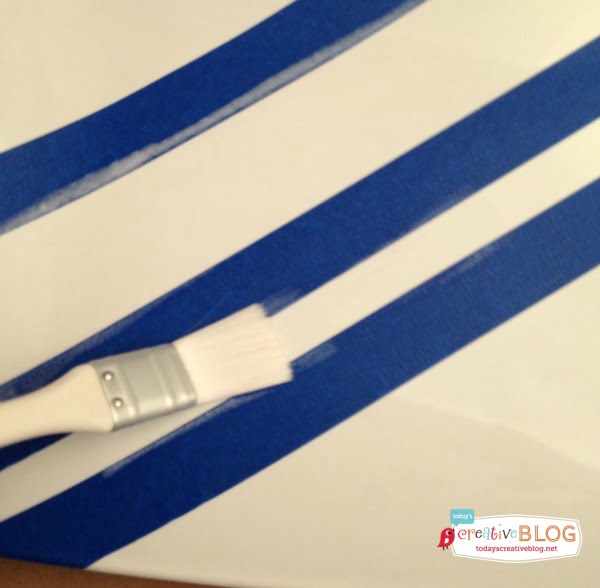 3. Brush a light coat of the gilding adhesive onto the areas you're wanting to place the gilding. Let it dry for about 15-20 minutes until it's just tacky. Not wet, but tacky.
4. The sheets come in a pile. Take the full orange sheet with the gilding on the back and press it, then rub onto the tacky adhesive. Use your gloved hand. At first I was taken back by the need to use a glove…..I've never been afraid of getting my hands covered in paint etc…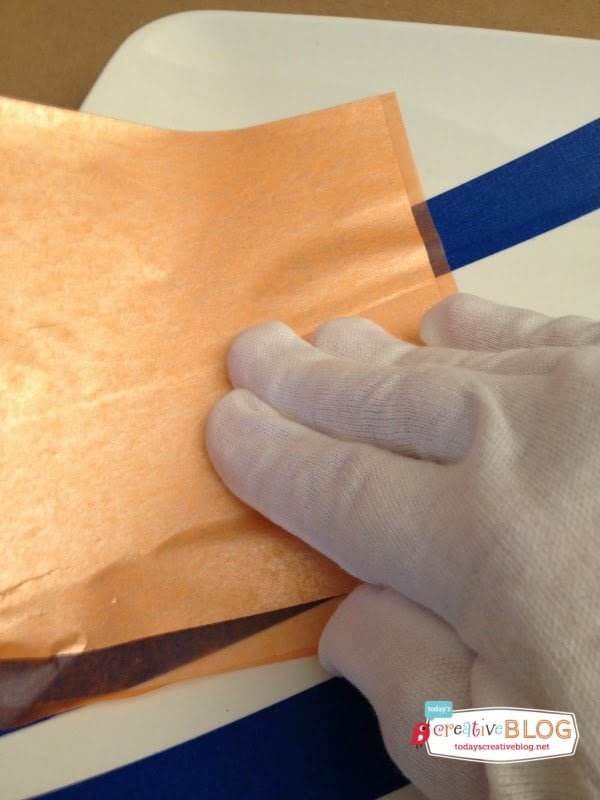 I don't have a manicure that I will ruin, so my first thought was that perhaps it's toxic…….but when visiting the Plaid site, I learned it's to keep any oil or dirt from your hands getting onto the sheets. The gilding sheets can actually change color with oily hands. Besides…….you'll look like you work in a test kitchen or somewhere.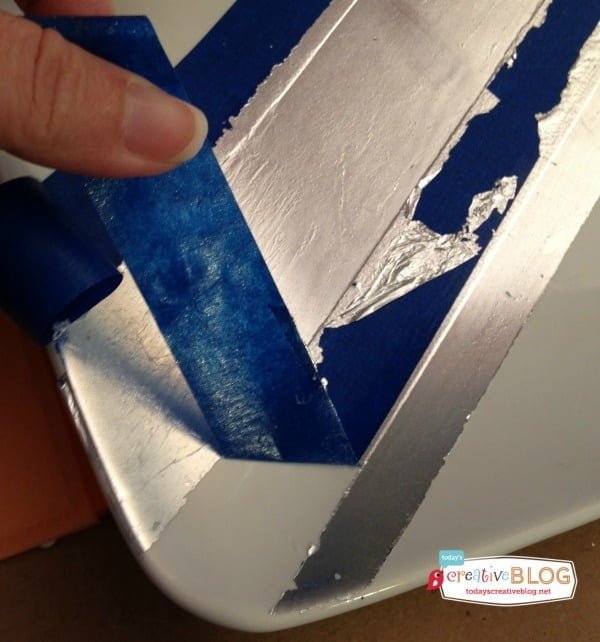 5. Let it dry for a bit before pulling up the tape. You want to make sure the adhesive has had plenty of time to dry completely. I waited about an hour. Pull the tape slowly and use your gloved hand to press any pieces that pull up back into place. Once you pull all your tape up, use your soft bristle gilding brush to brush gently to get rid of any loose flakes.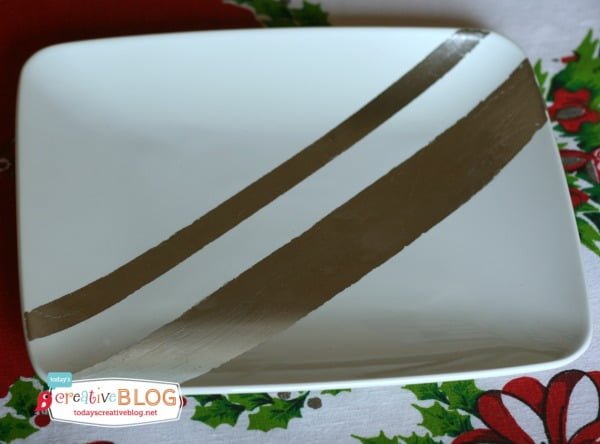 This was a fun project. Martha Stewart Crafts has a few new items added to their list of supplies. I'm enjoying her decoupage mediums……and they're dish washer safe! So there you have it! Time to get crafty!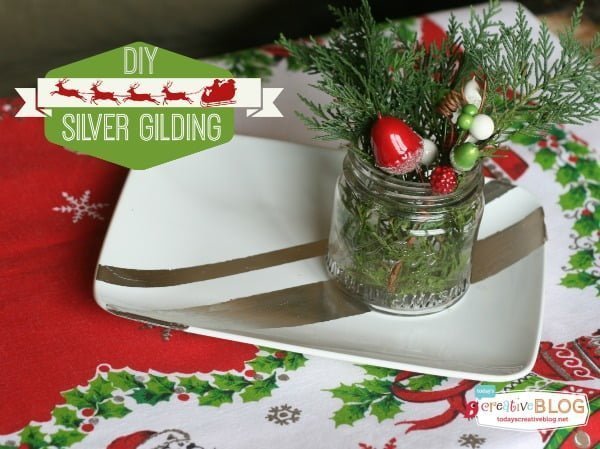 For more great ideas:
This post was sponsored by Plaid / Martha Stewart. I was compensated for my time and effort.