Thanks to Jenni, one of my home girls from the Portland area for stepping in to guest post while I'm away! Jenni is sharing her DIY Sunscreen Reminder Station. That's what we do, we make practical solutions pretty and creative!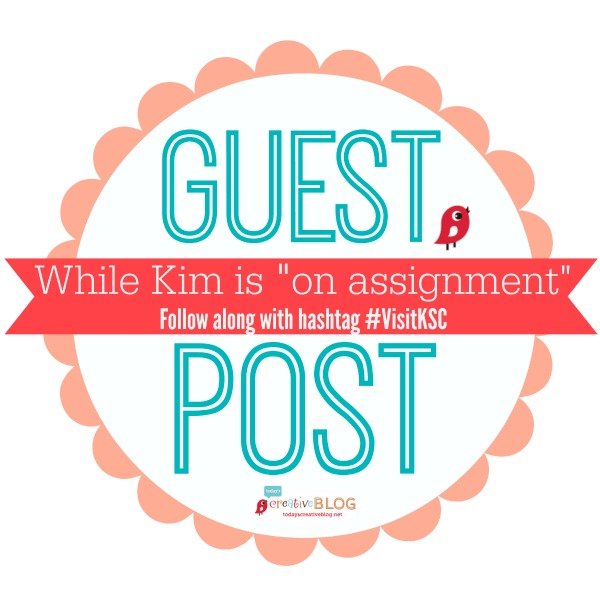 Hello! I'm excited to be sharing my work with all of Today's Creative Blog readers! My name is Jenni Bost and I am the blogger behind A Well Crafted Party.
My little area of the blogosphere is all about the party that is life. Some of my post popular posts include my free blog planner printables, a spring party featuring DIY cherry blossom branches, and the easiest pasta salad EVER.
DIY Sunscreen Reminder Station
May is Skin Cancer Awareness month— just in time for warmer weather and outdoor activities. I was diagnosed with skin cancer in April and since then have learned a lot about this very common, but little known cancer. (Still so much more to learn and experience.) Throughout the month, along with my regular content, I'm featuring some of my experience with skin cancer, DIY sun-safety crafts, and some sun-safety fashion items to build on skin cancer awareness.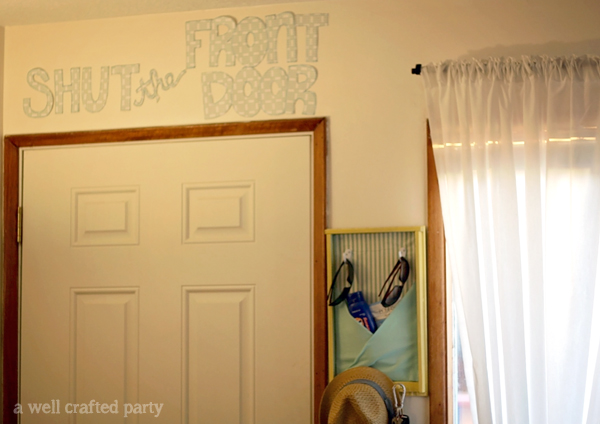 After my diagnosis I reevaluated how I approached my sun-safety for myself and my family. Sure, I put on sunscreen if I planned on being outside for extended periods of time. I also kept sunscreen in our diaper bag and my beach bag. I never thought to wear it daily, even though I spend over 2 hours driving each day (car windshields don't protect your skin from the sun). I also didn't keep sunscreen accessible. I knew that I wanted to have a station next to my door with some easy to use sun protective items.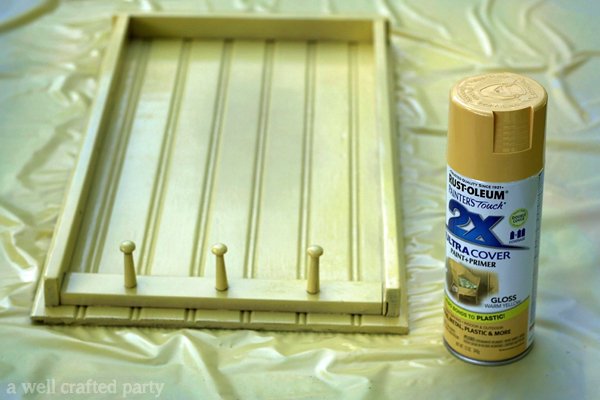 One trip to Goodwill and a couple of at home supplies and suddenly I had a great little sun station that I use all the time for myself and my family. And, bonus, it only cost me $5!
How to Make a DIY Sunscreen Reminder Station:
Supplies:
Sun Station Base
Spray Paint
Staple Gun (Optional)
Hot Glue Gun
Fabric (A couple of quilting fat quarters will do just fine)
Hooks (eye hooks or larger hooks—optional)
Screw Driver (optional)
Something to hang your sun station on the wall (optional)
Washi Tape (optional)
Step One: Find and prep your sun station base.
I lucked out and found this great old key and mail rack that had dowels running across it and three knobs. Though, really, a shadow box, thick board, or tall key rack would also work. I took off the dowels and spray painted the base yellow. I had the paint at home and used it without even sanding my base. The paint is Rust-Oleum Ultra Cover Paint and Primer Painters Touch in Warm Yellow. Let the paint dry and prep your next step while you are waiting. My sun station base had a wire on the back to hang from a nail on the wall. If you get a shadow box it may come with a hanger attached. If your sun station base does not have something, you may want to purchase hangers and screws or some 3M tape that will hang your sun station on the wall.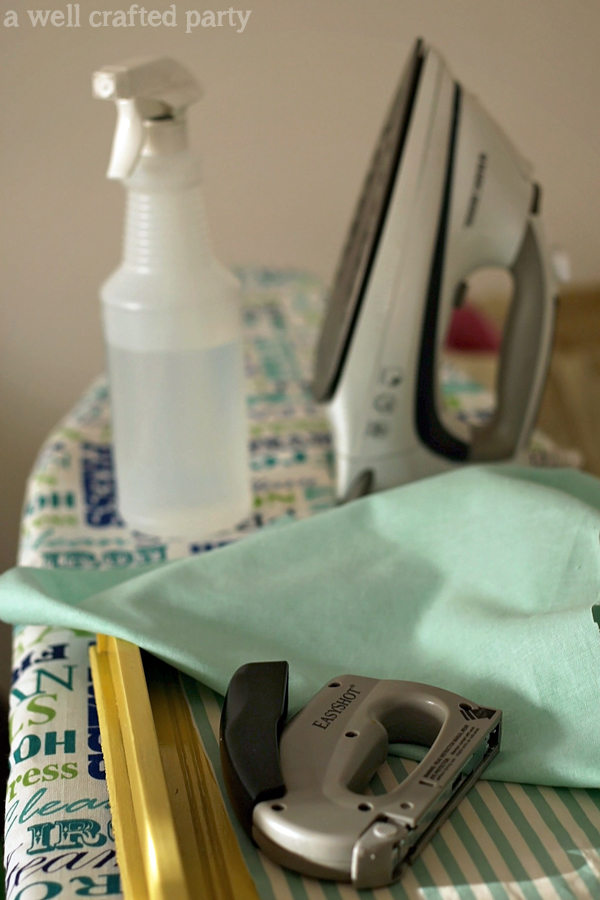 Step Two: Prep your Fabric
In order for my sun station area to be useful I knew that it needed to have at least a pocket for sunscreen and a pocket for some wet wipes (I hate the way sunscreen feels on my hands after applying!) I dug around in my fabric scraps to find two pieces that coordinated and looked good with the my living room decor. After ironing the wrinkles out of the fabric I cut it to just a tad larger than my sun station base.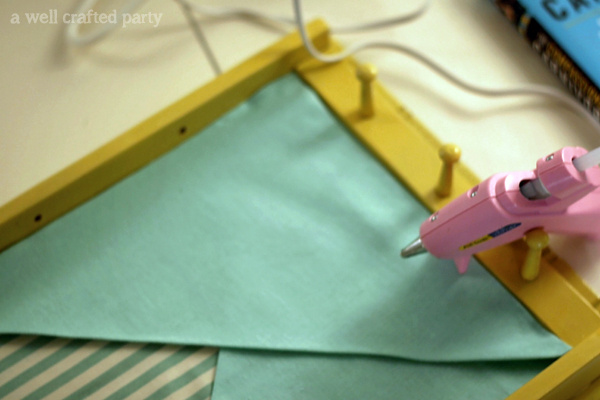 Step Three: Attach Fabric to Base
I used both a staple gun and a hot glue gun to attach my fabric to my sun station base. No sewing necessary for this project! I first stapled the bottom layer of fabric to the base, keeping my staples as close to the edge as possible. In order to create the overlapping pockets I took one square of fabric, folded it in half, and hot glued the pointed edge to the sun base, leaving the pocket opening unglued. I then repeated the step with the top fabric triangle. I then glued down the overlapping fabric. You can really get creative with this process… even taking a pair of pockets from a pair of old jeans could work!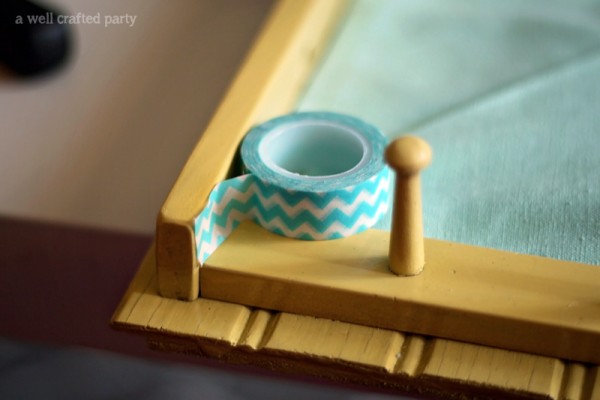 Step Four: Attach Hardware & Decorate!
I really wanted to have a place to hang my sunglasses, hat, and keys on my sun station. The three knobs at the bottom worked great for keys and my hat. I easily attached two hangers for my sunglasses to hang. I was overall pretty happy with the whole project. There just seemed to be something missing… washi tape to the rescue! I lined the inner area of the base with washi tape to make the whole thing pop. This would work great in a larger shadow box as well!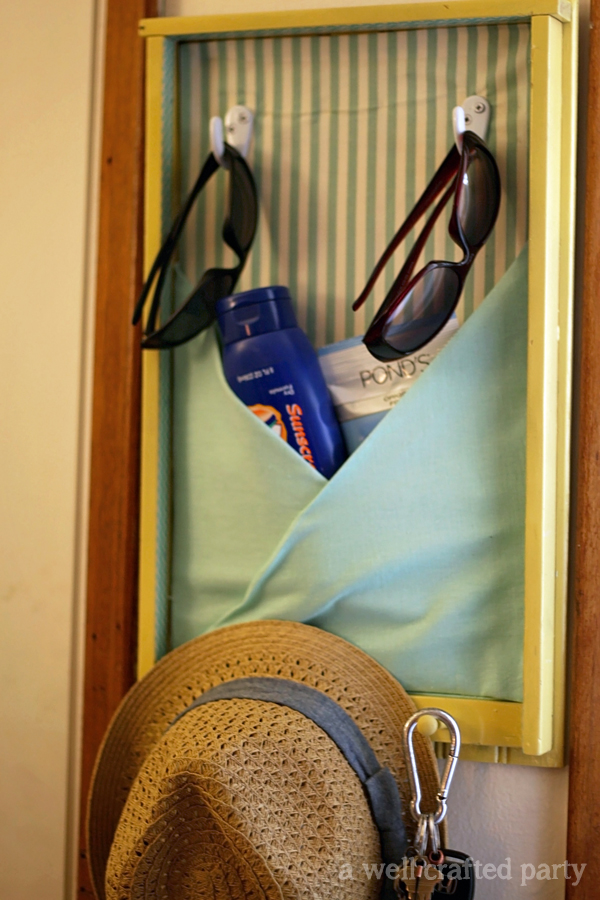 Step Five: Hang and Utilize!
I hung my project right next to the door so that my sun-protection supplies would be the last thing I see before heading out of the house. I filled it with all kinds of sun-protection goodies including sunscreen, wipes, and SPF Chapstick.
This is such an easy craft that has a big impact on a room (and, likely, on you and your loved one's overall health!) for little to no money at all. It is also a craft that can lend itself to so many different styles and room decors depending on the choice of base, fabric and paint! If you do make yourself a sun station… I'd love to see it! Take a pic and tag me on social media so that I can see how you helped to protect your family in a crafty way!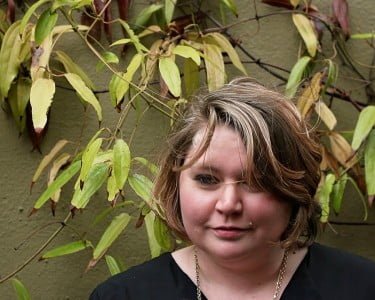 Tell me… am I missing anything? What would you put in your Sun Station?

Connect with Jenni by commenting below or following along on social media:

Blog / Instagram / Twitter / Facebook / Pinterest / BlogLovin / Google +
Thank you Jenni!