Please welcome Colleen from Lemon Thistle as one of my new creative contributors! Colleen was hand picked by me for her creative ideas, like this DIY Watercolor Felt Roll-up, her attention to detail and her beautiful photos! I just know you'll love her as much as I do.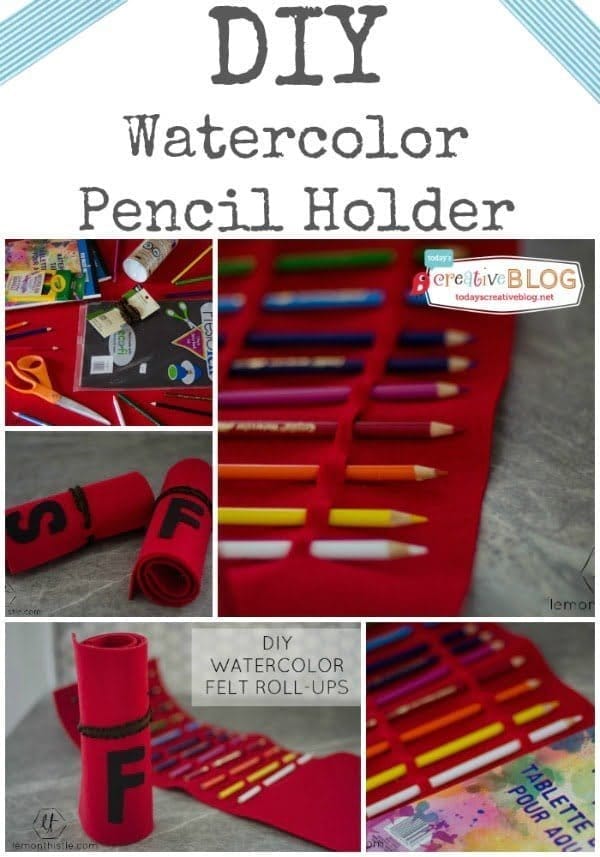 DIY Watercolor Pencil Felt Roll-Ups

Hi Guys! I'm Colleen- the girl behind Lemon Thistle and I'm SO excited to be the newest contributor here on Today's Creative Blog! I'm going to be stopping in every month to share a DIY for y'all and the first one I have for you is these cute little Watercolour Felt Roll-ups! Before I share the how-to, let's get to know each other, shall we? I'm a mama to 14 month old twins, I love to party, and my awesome hubby and I are working our way through renovations on our new home. Oh, and we're operating on a budget too. Nice to meet you 🙂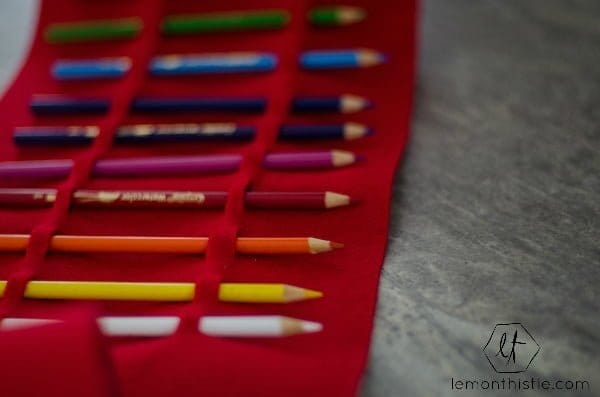 These Watercolor Felt Roll-Ups would make an awesome gift for a kid in your life… that's where mine are headed. Water colour? Yes! Those pencils are actually watercolor pencils, isn't that fun? And the roll-up makes it convenient to take them everywhere. How fancy would you feel if you were 6 and rolled these out in a coffee shop while your mom caught up with a friend? Pretty darn fancy, I'm sure. The best part: they're so simple to make.
You'll Need:
Watercolor Pencils & Pad
Medium Weight Felt
Sticky Back Felt (or regular weight felt with spray adhesive)
Scissors
Large Square
Craft Knife & Mat
Fold Over Elastic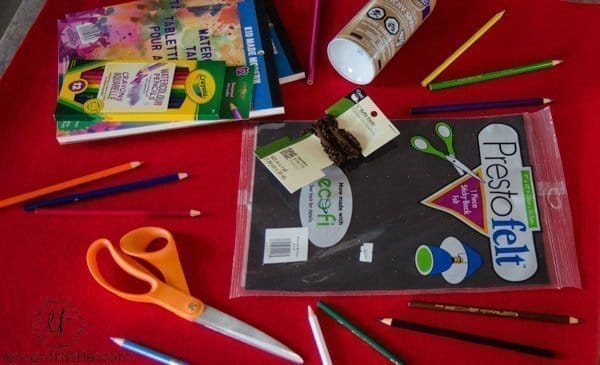 Start by cutting your Medium Weight Felt to size. Felt can be found by the foot/meter at fabric stores and the medium weight is so much nicer than the dollar store felt. Lay one of your pencils down on the felt and add an inch and a half on either end. Use your large square to mark where you'll need to cut. The quickest way to do this is to run the edge of your scissors along the square to score the felt. I cut mine about two feet long and then cut the excess off once I was complete.
Next, line up a pencil and using your craft knife cut 3/4″ long slits in the felt equal distances apart to hold the pencils. I made my 'straps' for the pencils about half an inch thick each and used the box from the pencil crayons to measure the distance apart.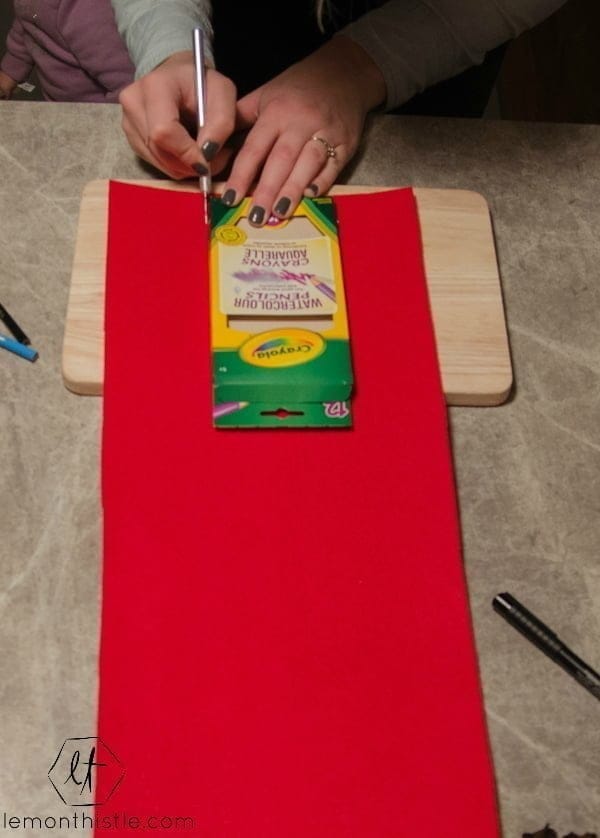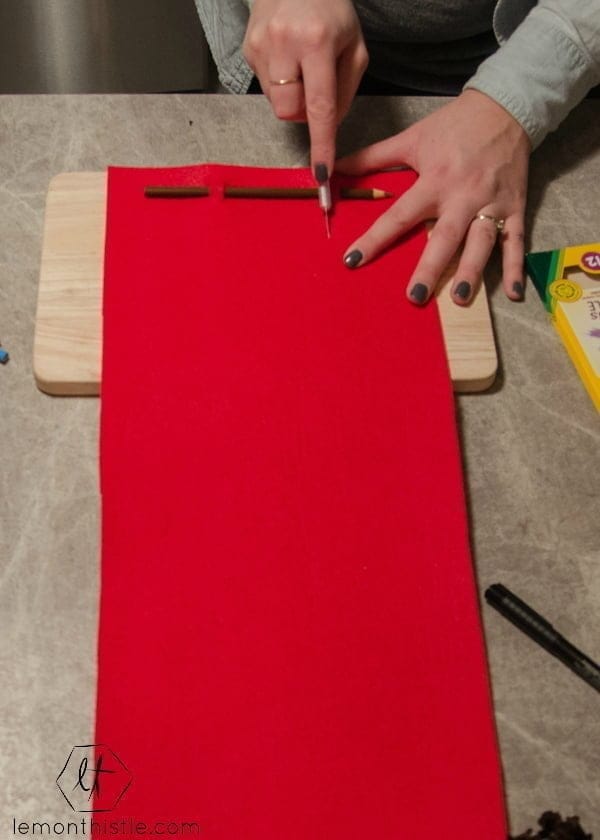 Once you've cut all the slits for the pencils, test out rolling it up. I left a bit extra with no pencils on the end so I could add an embellishment. I chose to trace out the letter of my nieces first names for the embellishment. Make sure you trace it out reverse on the paper backing for the stick on felt. Stick that on, and then add your fold over elastic. Fold over elastic is the stuff they are making hair elastics out of now, it's great because you can cut it and use it without worrying about frayed edges. I found this ruffled one at the fabric store when I picked up my felt. Cut another 'strap' perpendicular to the rest in your felt. This will serve to anchor the elastic.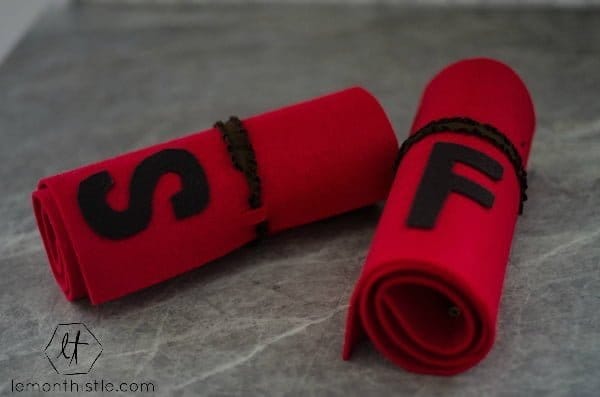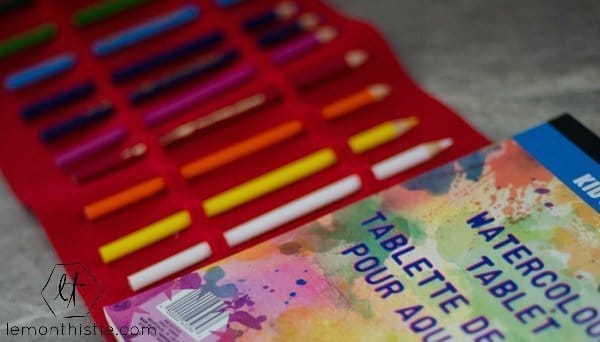 That's it! Quick, easy and on-trend… package them with a watercolor pad and you have a perfect holiday gift (and more than enough time to gather the pieces before holiday giving gets stressful!). So let's hear, what do you think? And have you ever tried the watercolor pencils?
Find Supplies Here – my affiliate links


See more fun tutorials on Lemon Thistle.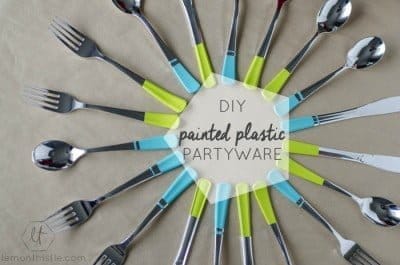 Painted Plastic Partyware!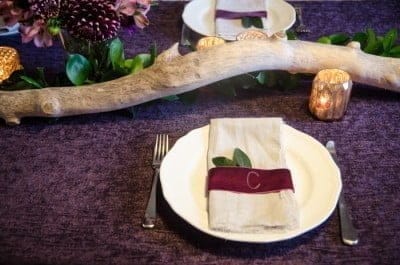 DIY Monogrammed Velvet Napkins and Bunting