Never heard of Dream Scream Poke Cake? This isn't just any poke cake, this is made with the TruMoo Orange Scream Milk.
Dream Scream Poke Cake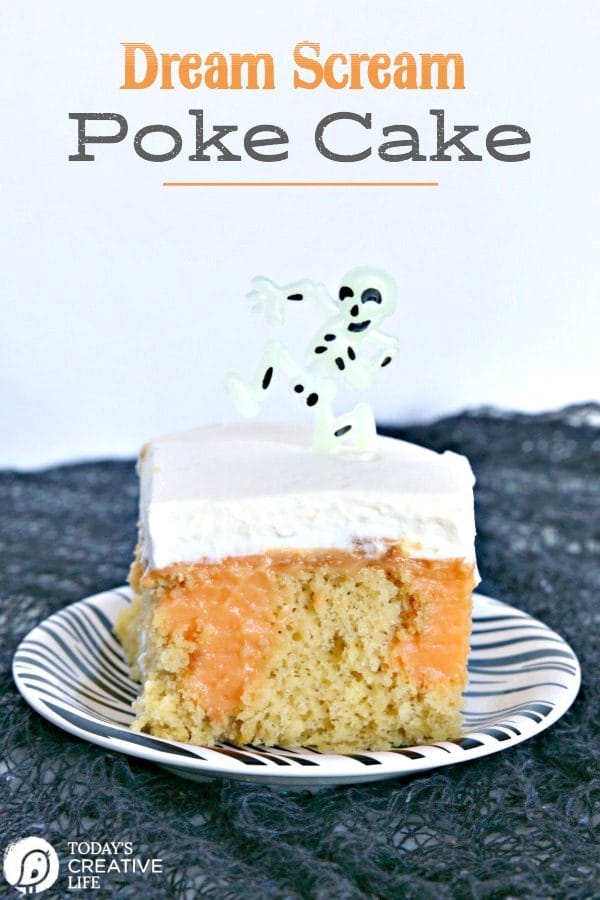 When TruMoo they asked me work with them again to create a recipe, (and to promote their sweepstakes below) …. this Dream Scream Poke Cake was the first thing that I thought of! Made with creamy vanilla pudding and the TruMoo Orange Scream milk, it's like a creamsicle, but better… because it's CAKE! Cake is always better! The last time I worked with them, I created the most delicious Chocolate Peanut Butter fudgesicles!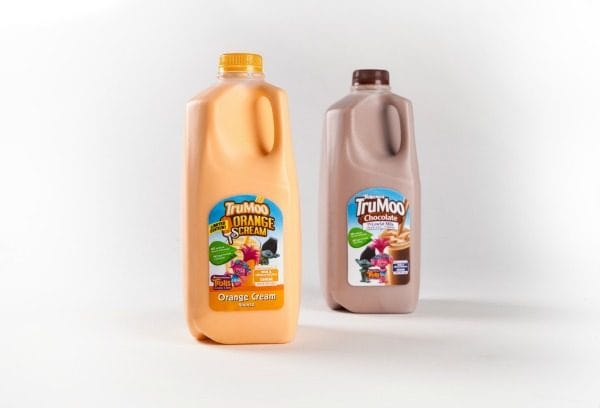 Now that my son is older, Halloween looks a little different than when he was little. Before, it was all about the costume and going trick or treating. Even though he and his friends may still hit up a few homes for candy (yes, he's THAT teen), dressing up in their sports gear, I like to find simple and creative ways to celebrate the holiday.
This Dream Scream Poke Cake is great for halloween parties, halloween dinners or just to have in the month of October.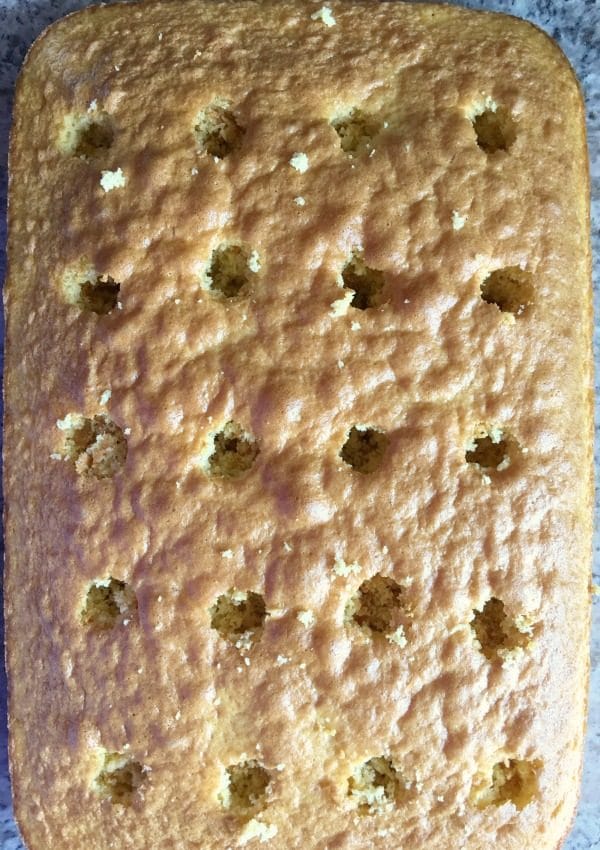 The thing about making a poke cake with pudding, is you need to use a thicker handled wooden spoon. That's my professional poke cake advice. Anytime I use anything smaller, I never seem to get the amount of pudding setting deep into the cake. Now if it's just a jello solution, then a smaller hole works fine. I always wait for the cake to cool a little before poking.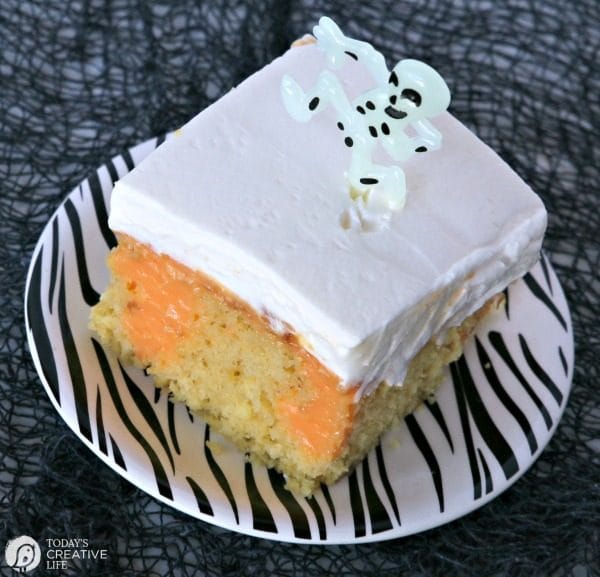 I used the TruMoo Orange Scream Milk to make my vanilla pudding, then poured it first into the poke holes, then over the entire top.
Place it in the fridge to set completely. After about an hour, your cake is ready for it's topping. I just use whipped cream topping. There is nothing easier and everyone likes it!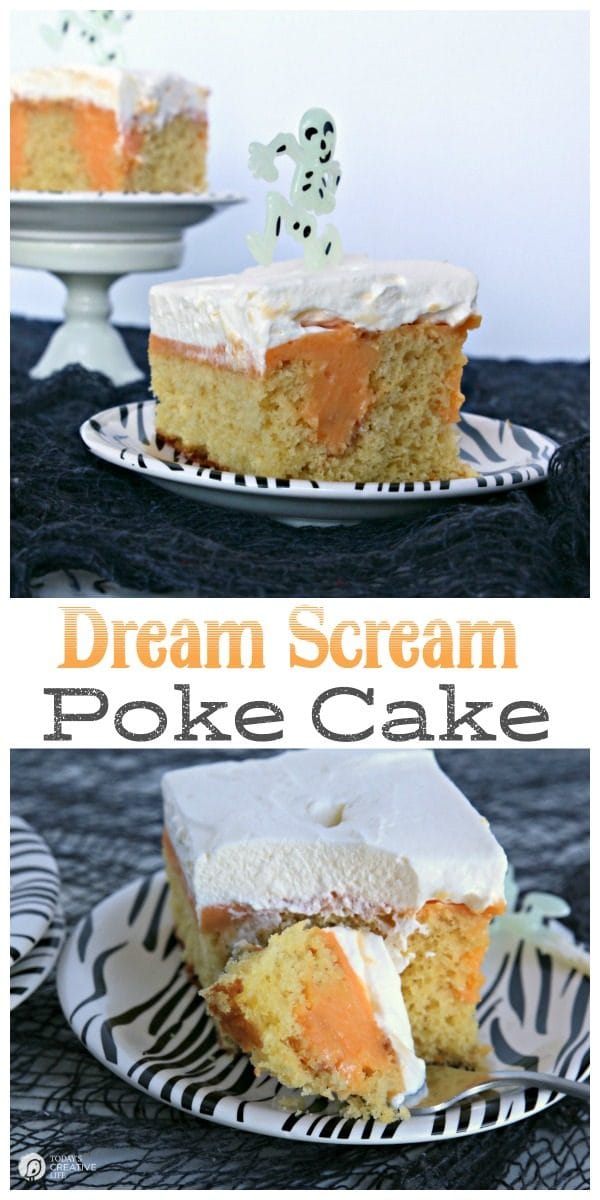 After slicing in squares, I placed a halloween theme pick into each piece, just in case someone didn't pick up on the Halloween theme I was going for.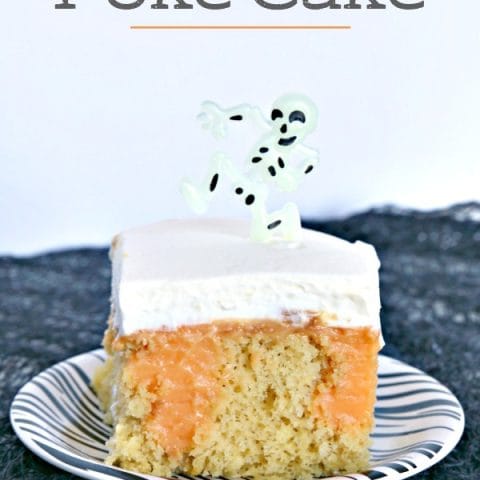 Dream Scream Poke Cake
Ingredients
1 yellow cake mix (and the ingredients listed on the box)
1 (3oz) box instant vanilla pudding
2 Cups TruMoo Orange Scream Milk
I (8oz) carton non- dairy whipped topping
Instructions
Make the cake according to cake mix instructions.
After you bake the cake, set aside to cool.
Once it's cool, use a thicker handled wooden spoon to poke holes into the cake.
Mix up your Vanilla Pudding according to package instructions, but use the TruMoo Orange Scream Milk instead of regular milk.
Pour the pudding into the poked holes, then over the entire top of the cake. Place into the fridge to set for about an hour.
After it's set, Frost the cake with the non-dairy topping.
Enjoy.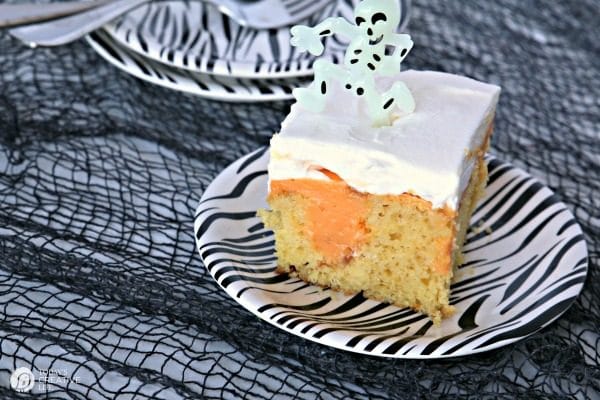 This post is sponsored by TruMoo. All opinions and ideas are 100% mine.
---
SWEEPSTAKES INFORMATION
TruMoo Orange Scream is not only the perfect treat for your Halloween festivities, but TruMoo is also giving you a chance to win a Royal Caribbean DreamWorks Experience cruise, plus week Trolls prizes! Visit TruMoo.com to enter the codes found on specially-marked bottles of TruMoo Chocolate and Orange Scream milks to enter for a chance to win.*
*2016 TruMoo Halloween Sweepstakes. NO PURCHASE OR PAYMENT NECESSARY TO ENTER OR WIN. A PURCHASE WILL NOT INCREASE YOUR CHANCES OF WINNING. Starts on 8/11/16 at 12:00:01 p.m. PT and ends on 11/16/16 at 11:59:59 a.m. PT. Weekly drawings start 8/19/16. Open to legal residents of 50 U.S./D.C. (excl. CO), 18+. Void in CO & where prohibited. Free Code: Send SASE to TruMoo Halloween Sweepstakes, P.O. Box 536, Elmhurst, IL 60126. Requests must be postmarked by 10/31/16; rec'd by 11/7/16. For complete Official Rules, go online to www.trumoo.com. Sponsor: Dean Foods Company, 2711 North Haskell Avenue, Suite 3400, Dallas, TX, 75204.