Heart-healthy pasta with chicken, asparagus, pesto, parmesan cheese, and more fresh ingredients make this Dreamy Creamy Asparagus Chicken Rotini a delicious dinner idea.
I originally created this easy to make pasta dish for Dreamfields pasta and their 31 recipes in 31 days campaign. They have several more recipes if you're looking for more ideas.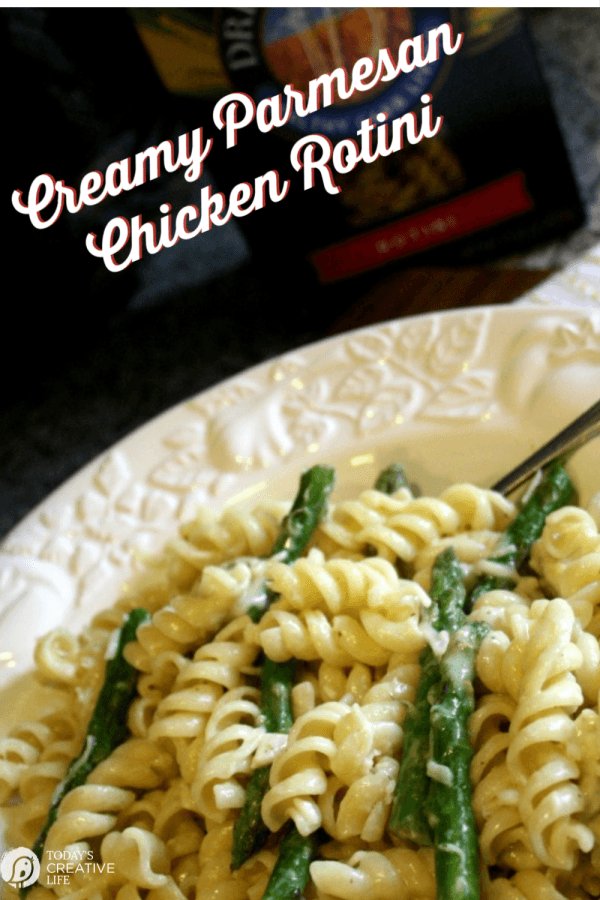 Dreamy Creamy Asparagus Chicken Rotini
Pasta recipes are always great for those nights when you need to whip up dinner in a hurry.
I was THRILLED that Dreamfields asked me to work with them since it's the only pasta I eat.
My doctor recommended Dreamfields to me a few years ago when she thought my blood sugar was looking too high. I was worried I would have to adjust our taste buds, but It tastes like normal pasta and my family can't tell any difference. Not only do we love the taste, but I'm happy that it has 5 grams of fiber and 7 grams of protein for every one cup cooked pasta.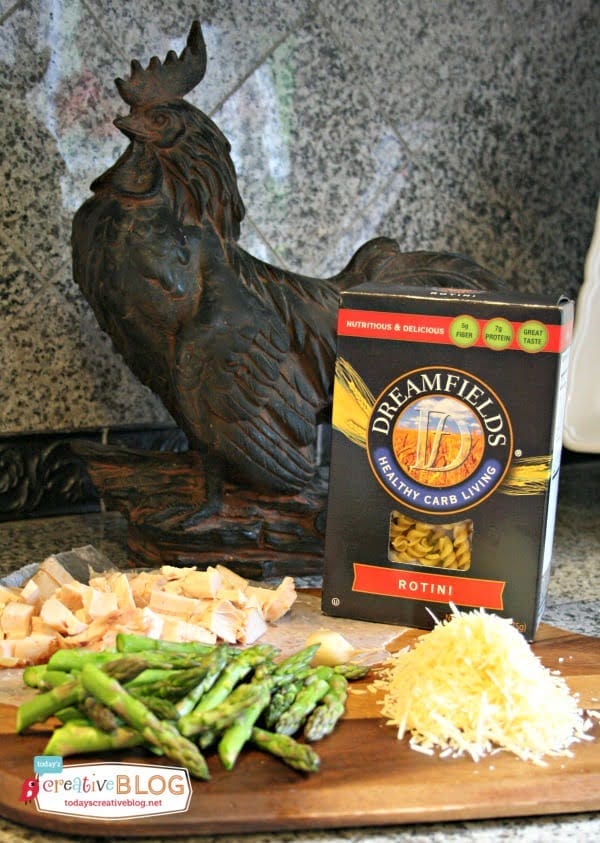 I made a quick pasta dish that is perfect for casual entertaining or just a casual dinner for your family. I talk about busy family nights due to soccer, school events & work schedules. I'm certainly not alone when it comes to having a bit of chaos during the week, so I think you'll enjoy this quick and healthy dish too. I like EASY healthy meals I can put together quickly. And truth be told…….I love a meal that comes in a bowl.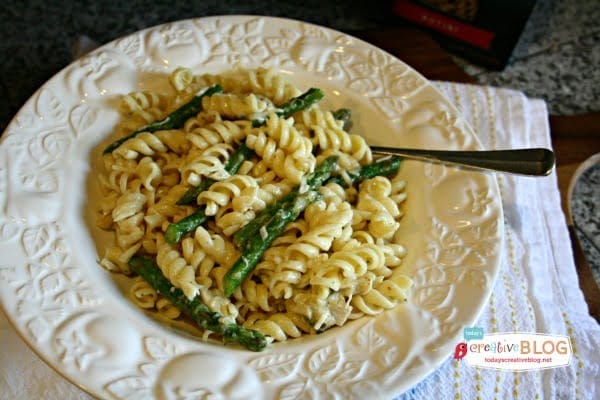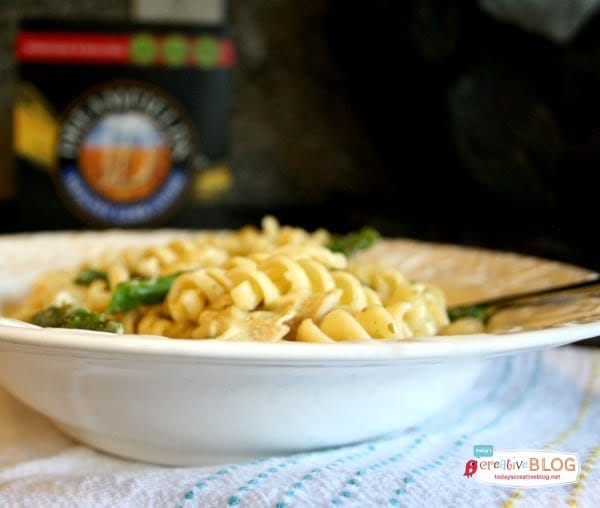 I wanted to keep my recipe very simple with simple ingredients. I used Dreamfields Rotini Pasta, cooked chicken breast, asparagus tips, Parmesan cheese, a couple of teaspoons of my homemade pesto along with a little salt and pepper and called it dinner! (Printable Recipe below)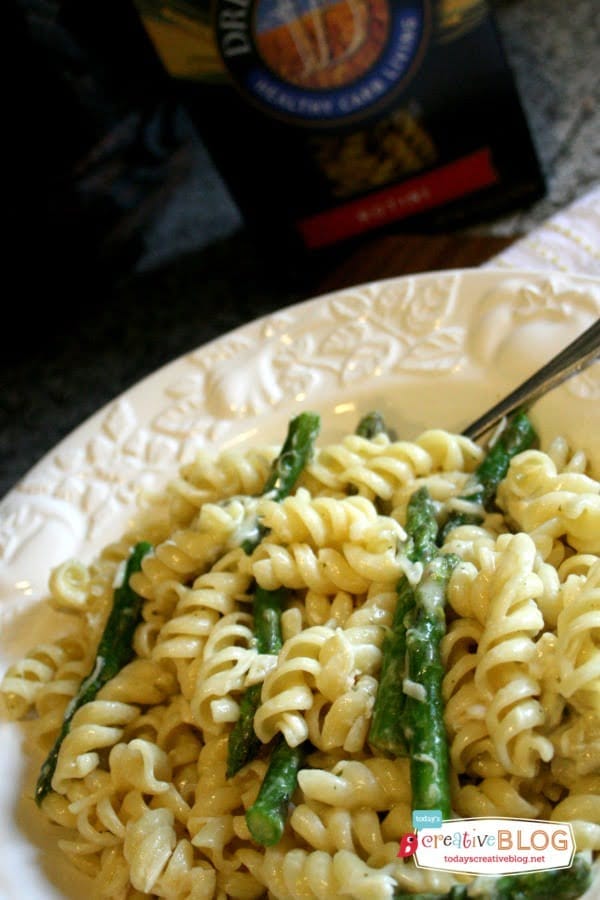 How to make Creamy Asparagus Chicken Rotini Pasta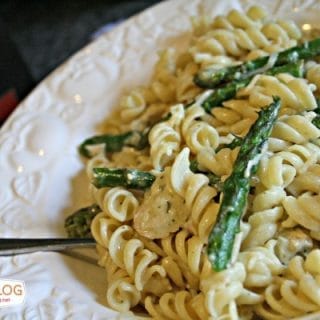 Dreamy Creamy Asparagus Chicken Rotini
Yield: 8
Prep Time: 20 minutes
Cook Time: 10 minutes
Total Time: 30 minutes
Ingredients
1 box Dreamfields Rotini
2 boneless, skinless chicken breasts cooked, chopped
3 tablespoons olive oil
3 cloves garlic chopped
3 tablespoons all-purpose flour
1 cup chicken broth
1 cup half & half
1 bunch asparagus tips only
1 teaspoon sea salt
1 teaspoon basil pesto
1/2 teaspoon white pepper
2-1/2 cups Parmesan cheese shredded, divided
Instructions
1. Cook the pasta according to the package directions. Drain and return to the pot; keep warm.

2. Heat the olive oil in a large saucepan over medium heat. Add the garlic and flour cooking and stirring for approximately 1 minute until smooth.

3. Slowly add the broth and the half and half to the flour mixture. Continue to stir until it thickens. (Add more flour to thicken if desired.)

4. Add the asparagus and chicken to the flour mixture. Stir in the salt, pesto, pepper and 2 cups of the cheese, until the cheese is melted.

5.Add chicken mixture to pasta; toss to coat completely.

6. Sprinkle with the remaining cheese before serving.
Notes
Asparagus and chicken can be sautéed separately in olive oil, before being added to the broth mixture, if desired.
Nutrition Information
Yield 8
Amount Per Serving
Calories 440
Saturated Fat 18gg
Carbohydrates 40gg
Protein 30gg
---
Easy Pasta Dinner Ideas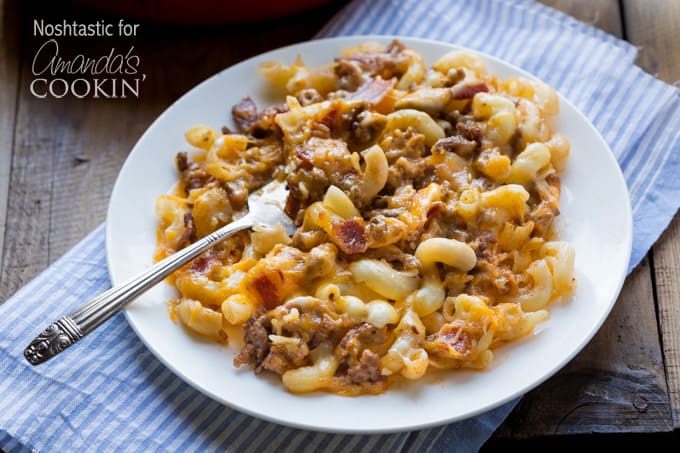 Bacon Cheeseburger Pasta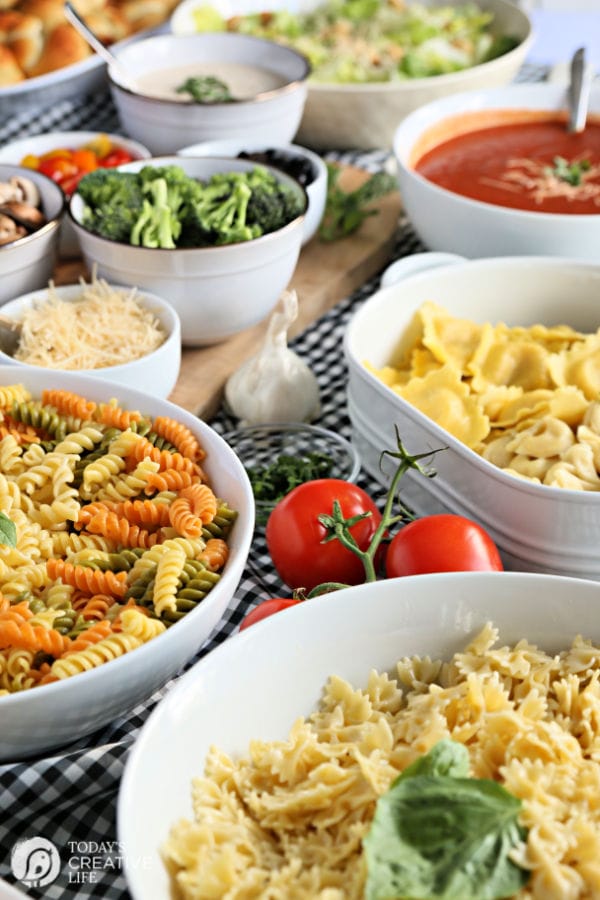 How to Host a Pasta Bar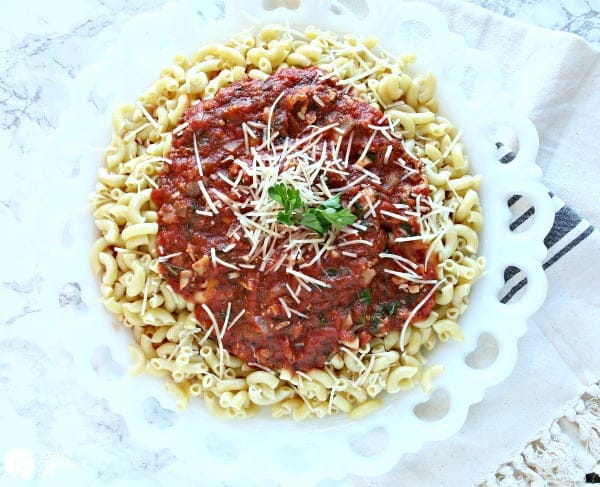 Pasta with Tomato Clam Sauce