Welcome to TCB's Summer Celebration as I share a few guest posts. Today we have Barbara from Chase the Star as she shares this fun and easy Duct tape decorated Mason Jars and delicious spritzer!

Hi there! I'm Barbara from Chase the Star, a little blog about decorating and crafting on a budget. I'm thrilled to be a guest today at Today's Creative Blog!
4th of July is just about here, so I'm sharing a simple last minute addition to your party table…
Duct Tape Decorated Mason Jars
In case you haven't heard, duct tape is everywhere these days! You'll find that it's now available in beautiful colors and patterns making the crafting possibilities truly endless!
The tape is very durable, and adheres to glass really well.
Want to decorate some mason jars for your 4th of July bash? Here's how:
You'll need:
Mason jars (or any empty and clean glass jar)
Duct tape (in two or more colors and or patterns)
Scissors
Jute twine (optional)
I snagged mini rolls of red and aqua duct tape at Target for just $1 each!
Directions:
Step 1:
Simply cut small triangles out of the duct tape with sharp scissors. They don't have to be perfect, just as straight as you can get them.
Step 2:
Place them on the front of the mason jar (opposite side of the logo) in a desired pattern.
Step 3:
Add the jute to the neck of the jar and tie it in place
That's it!
You can decorate a bunch of these while you watch tv 🙂
I made a super simple spritzer to go along with my fun mason jars. You can make this the morning of the party, it's so easy, and I bet you already have these ingredients at home!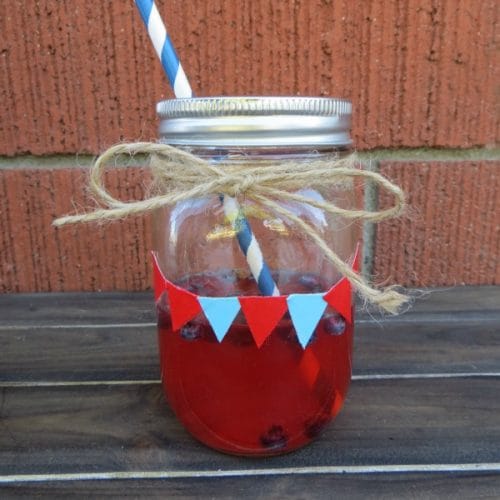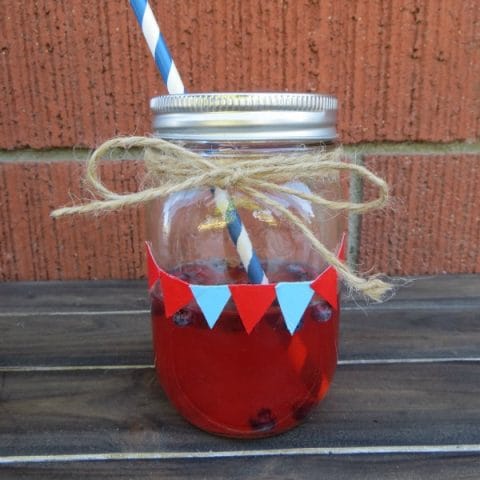 Summer Spritzer
Ingredients
3 cups of Ginger Ale
3 cupes of cold water
1/4 cup strawberry Kool Aid mix
1/8 cup sugar
Blueberries (or any fruit you like)
Instructions
Put all your ingredients together in a punch bowl and mix them up.
Serve cold.
How festive is that? It's really yummy, and very easy to throw together.
Its pretty red and blue colors makes it the perfect drink for your 4th of July get together.
You may opt to let your guests keep their mason jars as a favor, or of course save them for another fun occasion!
Now I'm ready for the 4th of July BBQ!
What last minute preparations are you working on for the 4th of July?
It was such a treat to be here today, thanks so much for having me Kim!
You can find all of my crafts, recipes, decor, and more, at the blog! Also, connect with me on, Facebook, Twitter, Instagram, and Pinterest!
Happy 4th of July!