With summer here, we are in full "Spruce Up" mode and have started a few Easy Backyard Projects. I still haven't set up our Outdoor Room under our deck with our drop cloth curtains, but I'll hopefully get to it soon.
Easy Backyard Projects
Our backyard can be challenging to landscape around since we have a large concrete pad that the previous owners put in.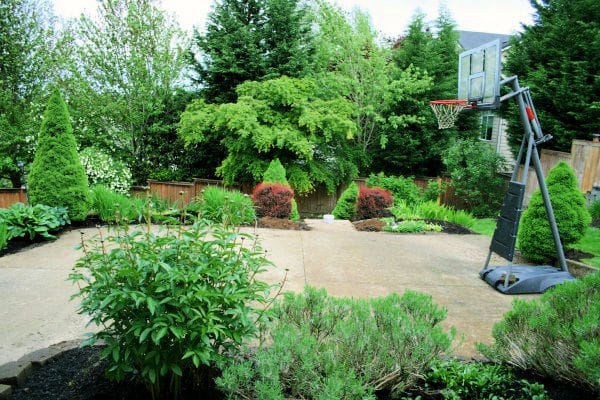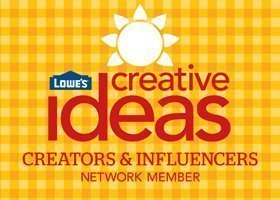 It's come in handy for a play area or basketball court for our son, but I can't wait for the day we can create an outdoor fireplace and kitchen in that space. My husband still looks at me like I've got two heads when I bring it up, but I know he would love it once done.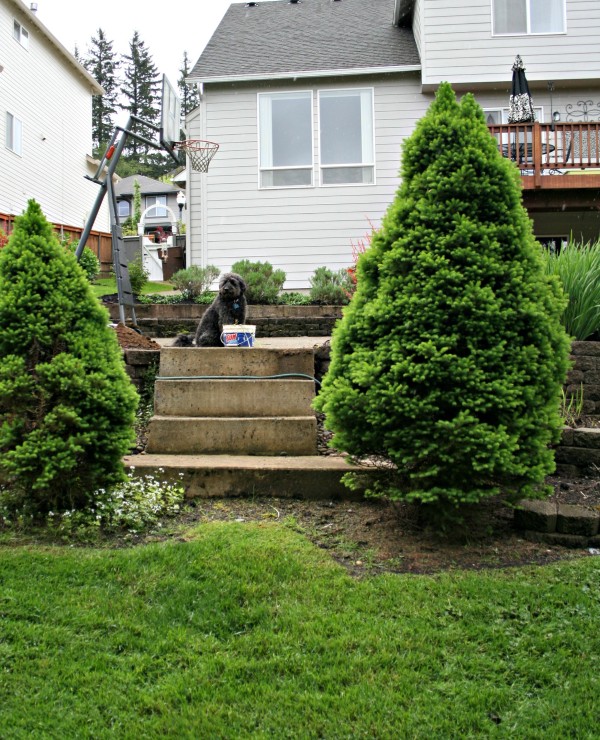 Our yard has two levels with 3 (ugly) steps that take you to the lower area.
The two shrubs next to the steps were dying and needed to be taken out. You can see the two trees pointed to below. I wasn't sad to lose them since the previous owners had planted 22 on our property. (this photo below was taken during my son's 13th birthday in the winter months)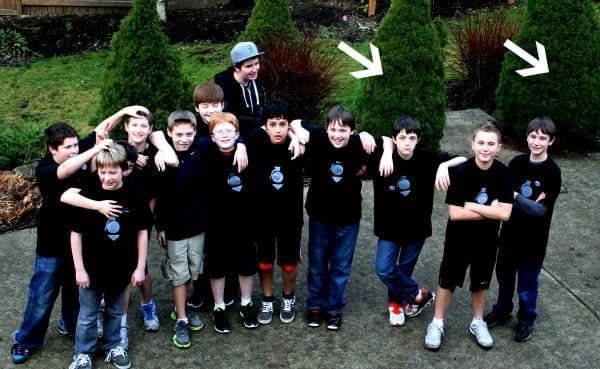 I've always wanted to have some sort of an arbor with a red climbing rose over that area to spruce it up a little, create some dimension and add some blooming color in the summer. I decided to remedy this backyard problem for my My Lowes Creative Ideas Creators & Influencers challenge this month.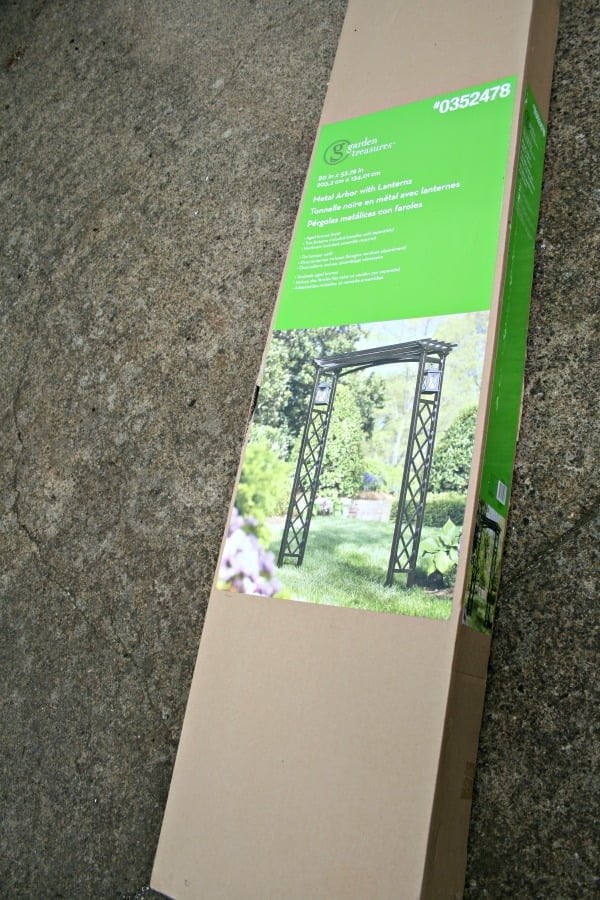 We shopped Lowe's Outdoor section and found large selection of arbors in many styles. Wood, metal, white, brown etc… We had very specific measurements to work with which narrowed our choices. I really wanted one of the white ones, but our space was too small for the base. All the measurements are clearly marked to help make it easy to find the perfect fit.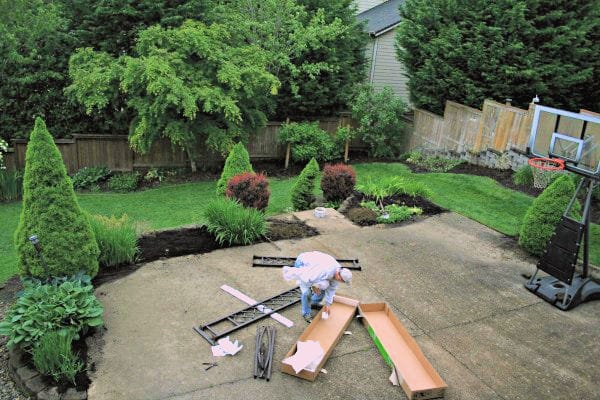 My husband laid all the parts out and had it assembled in about 10 minutes. Wearing his finest yard clothes and using his burly muscles, he carried it to its new spot.
Before securing it with the metal stakes, he wanted to make sure it was level………. because if it wasn't, you know how much that would bug a person every time you looked at it.
Once level he secured it and then planted the climbing red roses, which I can't wait for them to grow grow grow!!
We decided to add solar lights to the lanterns. Using the same method as my solar jars, I bought a couple of solar lights, took the tops off and placed them over small canning jars. I also placed a solar light on each side of the arbor base.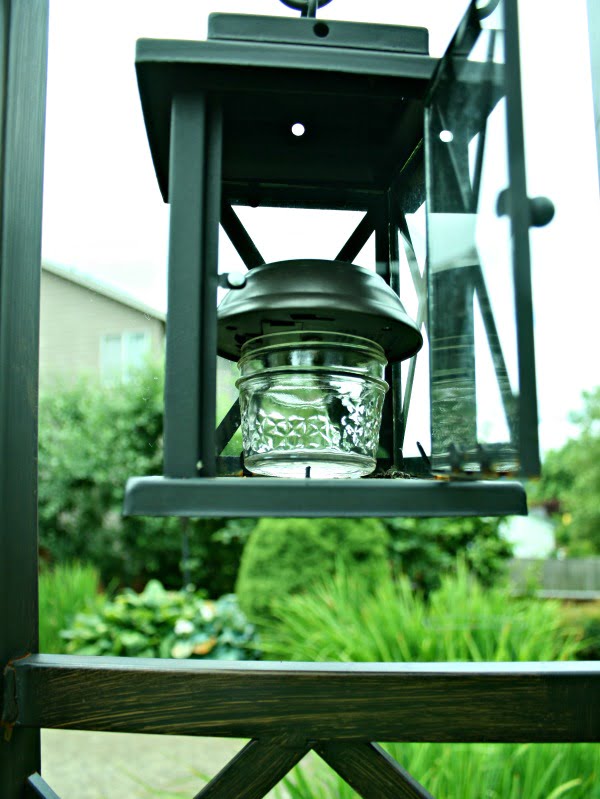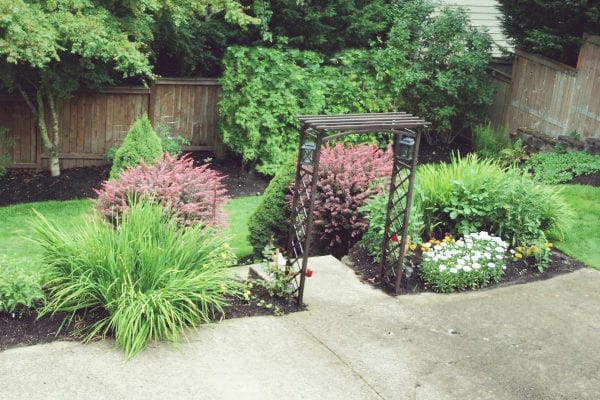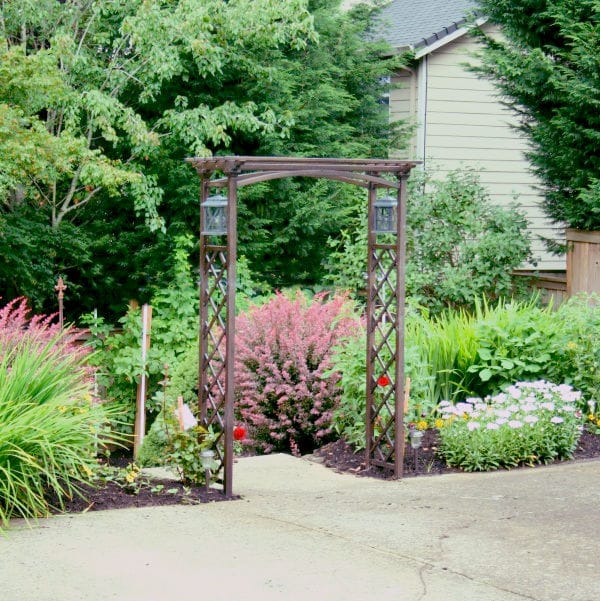 It's looking so much better, don't you think? Now just think how great it would be to have that outdoor kitchen.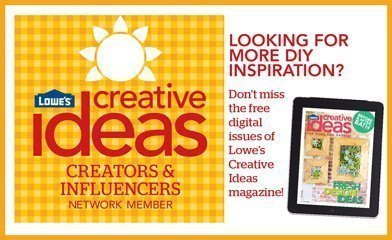 I am compensated for my time and effort by Lowe's. All opinions and challenges come from my pretty little head. 100% me!