This is a Sponsored post written by me on behalf of Frozen Food Foundation. All opinions are 100% mine.
My son has discovered the love of Chicken Pot Pies. He's 14. He eats a lot.
I've made Pioneer Woman's Chicken Pot Pie and was amazed by how easy it was. My recipe for this Easy Chicken Pot Pie is of course inspired by her.
Easy Chicken Pot Pie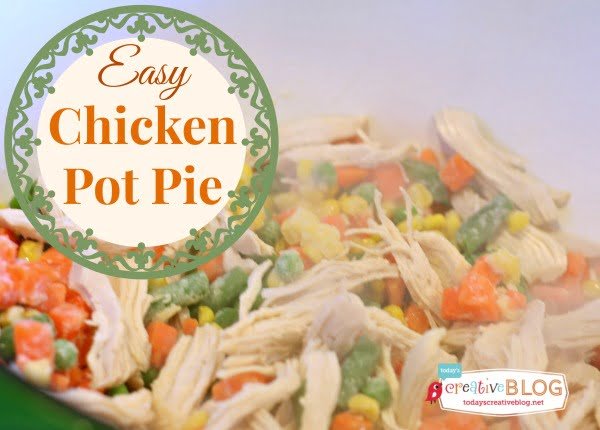 I was recently asked to partner up with the Frozen Food Foundation, so it was a perfect opportunity to try the pot pie recipe with frozen mixed veggies.
A study conduced by the Frozen Food Foundation and University of Georgia revealed that, in many cases, the nutritional value – namely the amounts of Vitamins A, C and folate- of frozen fruits and vegetables is greater than that if fresh-stored produce owing nutrient degradation resulting from long term storage.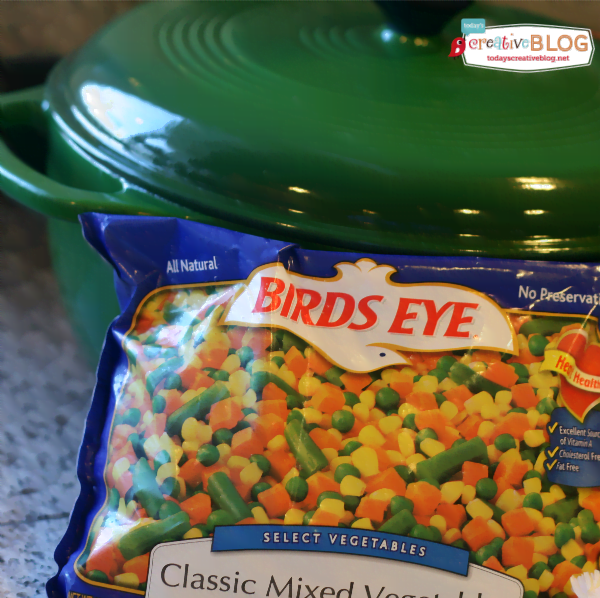 Pretty fascinating findings in favor of nutrition. Which makes this mama happy. Having a selection of frozen foods makes making dinner or quick snacks a breeze. It's so much easier for me to have more items on hand when I need them. It's nice to know I'm not giving up taste or nutrition.
I received 7 vouchers for frozen food items in the mail to try. My son will be thrilled with the Hot Pockets/Lean Pockets. All the others I plan on using as either a quick lunch or dinner making staples. Stocking up is easy when their frozen. No spoiling.
Stouffers / Lean Cuisine
Healthy Choice
Hot Pockets/Lean Pockets
Maria Callenders
Buitoni
Birds Eye
Green Giant
Who's ready for some Chicken Pot Pie? This baby is ready for the oven! My pup (the black blob watching) is just waiting for me to walk away so she can try to have a taste. She's really good at counter surfing.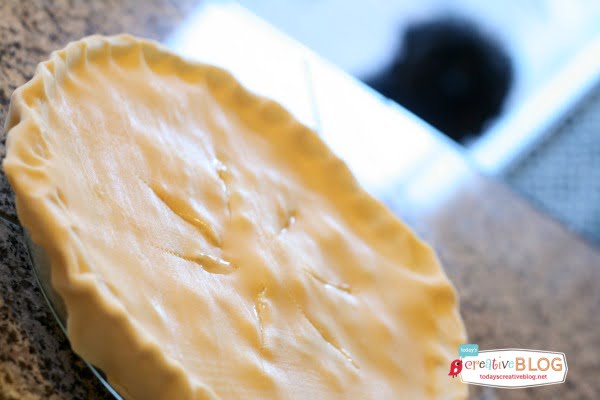 Easy Chicken Pot Pie Recipe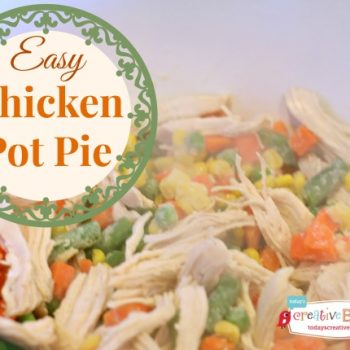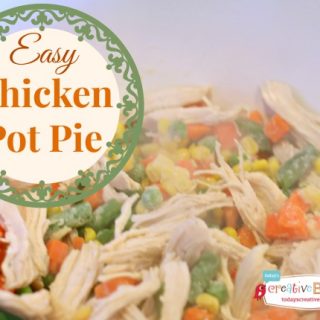 Easy Chicken Pot Pie
Ingredients
4 Tablespoons Butter
2 large garlic cloves - minced or crushed
1/2 cup chopped onion
1/2 cup chopped celery
one 16oz bag frozen mixed vegetables
3 cups cooked shredded chicken
1/4 cup flour
3 cups chicken broth (more if needed)
salt and pepper to taste. I used sea salt and white pepper
4 oz cream cheese (because I was out of cream or half and half, Pioneer Woman's recipe calls for cream or half and half.....if that's what you want to use, click on her link in this post for her recipe)
1 whole pie crust - I purchased mine
Instructions
Preheat oven to 375° and take your store bought pie crusts out of the refrigerator. They work better at room temp.
I used my dutch oven, but any large pot will work.
Melt butter
Add garlic, onions and celery. Saute until onions are translucent. About 3 min
Stir in your cooked chicken
Stir in your frozen veggies and saute (about 3 min)
Sprinkle flour over the top and stir until well mixed
Add broth
Once it starts to thicken, add your salt and pepper.
Add cream cheese in pieces if your using the brick.
If it's looking too thick, add more broth
better taste it
Roll out your pie crust and place into a pie plate.
Pour your chicken goodness into the pie plate
cover with the 2nd pie crust. Vent the top with small slits.
Place your pie plate on a baking sheet before baking. Bake for 25-30 min until the top is golden brown!
Enjoy! Yum!
Frozen Food Foundation Facebook
Frozen Food Foundation Twitter