Our cold snap has finally snapped and we're now in a thick soupy fog, which of course made me think it was time for another soup. I have a very easy crockpot Potato Soup recipe that I fall back on over and over. I do love my Baked Potato soup too, but this one is easier……at least I think it is. I knew I'd need a Slow Cooker Sunday recipe and knew this would also make dinner time less hectic. This soup is hearty and perfect for a cold night or for a weekend late lunch.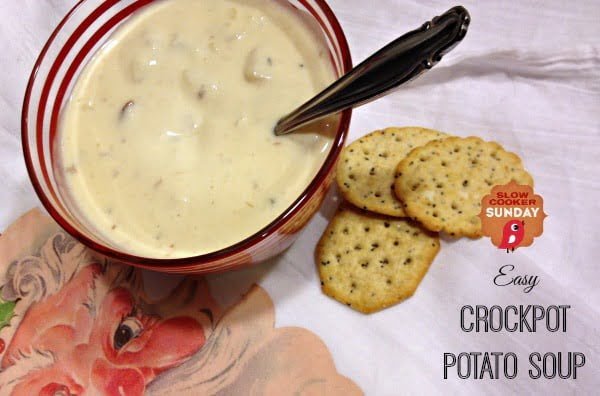 My husband suggested this soup on our way to an early soccer game offering to cut up the potatoes when we got home, if I'd put it together in the crockpot. You've got yourself a deal mister! He also knew he'd be spending the afternoon finishing up our outdoor lights and would need a warm meal.
Once home, I completely forgot about the soup and he forgot about cutting up potatoes. I was distracted by my "to do" list for our Annual Cookie decorating party and headed out to grab the items on my list and only remembered I was going to make this soup when I saw "Homemade Potato Soup" in the deli of my super market…. DOH! I knew there wouldn't be enough time now and since I'm into simplicity this season, I decided to buy a couple of containers for dinner and pretend it was from my slow cooker.
Then I thought about how sad you might be if I didn't share a Slow Cooker Sunday recipe…..and thought I could STILL share the recipe that I had planned to make, it just wouldn't be the soup we're eating tonight.
I give you permission to take the easy way out! Don't sweat the small stuff. It's soup.
Easy Crockpot Potato Soup
Ingredients
6 potatoes
1/2 cup sliced green onions (I was out, so I used onion flakes)
1 carrot
1 stalk celery
4 chicken bouillon cubes
1 can cream of mushroom soup
1 can cream of celery soup
2 cups water
1 tablespoon parsley flakes
1 tablespoons butter
13 oz. can evaporated milk
chopped chives - optional
Instructions
Cut all into bite size pieces. Place all ingredients into your slow cooker EXCEPT the milk and chives. Cover and cook on low for 8-10 hours or high for 3-4 hours.
One hour before it's done, stir in evaporated milk. Serve with chopped chives.
Try out my other Slow Cooker Sunday Meals! Make dinner easy!
Have you seen my new site? Check out InspirationDIY.com – Submit your creative ideas!