I am so excited to have Leigh Anne from Your Homebased Mom with us today as she shares one of her Easy Dessert Recipes! A fellow PNW gal and look……..she has the SAME cups as me! Love them! I've used them for my Peanut butter Cup Crockpot Dessert and my Easy Blackberry Cobbler. I can't wait to try this Cherry Berry Compote, it looks DELICIOUS!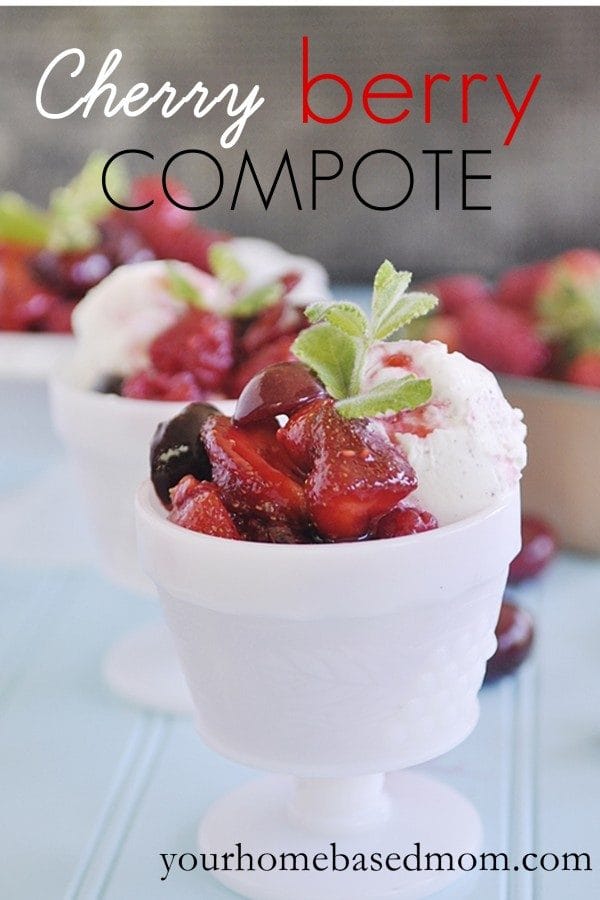 Easy Dessert Recipes
Hello! I am Leigh Anne from Your Homebased Mom and am so excited to be here today to share something pretty & delicious with you! I am lucky enough to live in the beautiful NorthWest! One of the perks this time of year is amazing berries. Whether I pick them from the berry patch in my own backyard, at the nearby U-Pick farm or purchase them at our local Farmer's Market we can't seem to get enough!
I am excited to share with you a delicious dessert that is perfect for this time of year. It is perfect because it is the one time of year I can buy fresh strawberries, raspberries and cherries all at the same time at the Farmer's Market. Of course you can purchase them most of the year at the grocery store but they are oh so much better when they are in season.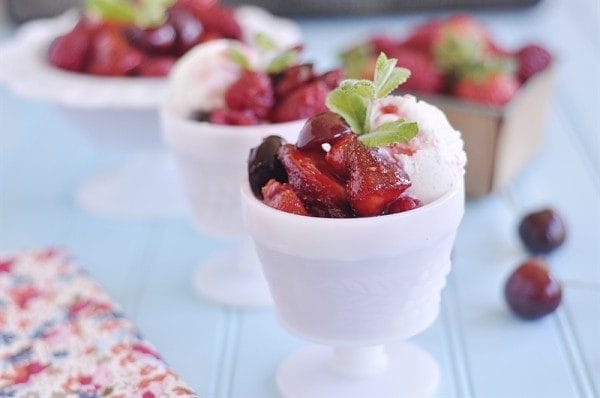 Compote comes from France and basically means a dessert made with fruit in a sugar syrup.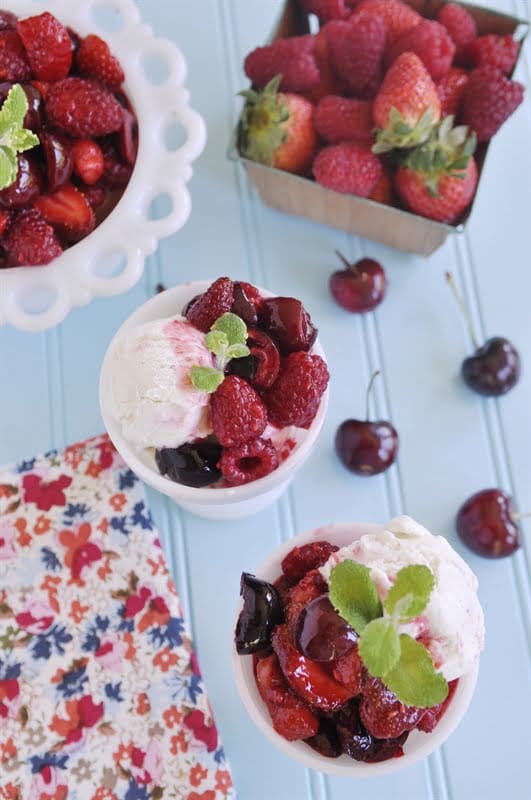 This particular compote uses cherries, raspberries and strawberries but you could totally get creative and use any combination of fruit you like. Some blueberries would be yummy thrown in too! Pick whatever is in season.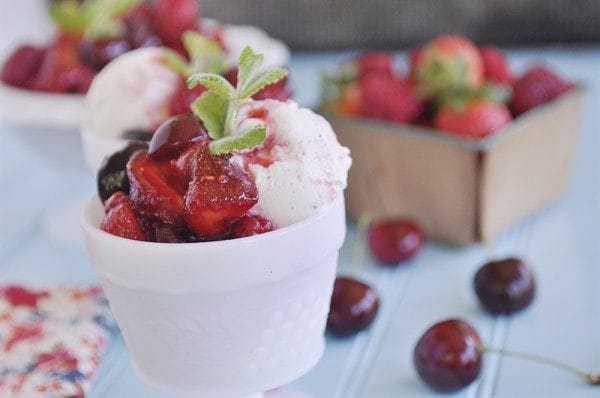 The first step is to make your sugar syrup which is basically sugar and water. The original recipe called for raspberry liqueur but since we are not drinkers at our house I decided to use something I had on hand and that was raspberry syrup. It worked like a charm! You boil it all together and then let it chill.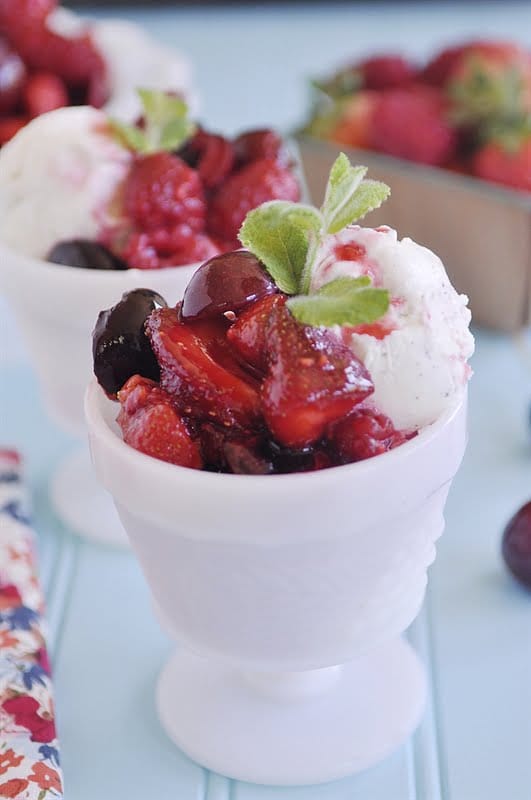 I then used two cups each of cherries (sweet red cherries), strawberries and raspberries. Pour the syrup over it and then let it chill for a few hours. Then pour it over ice cream and oh so delicious! I promise!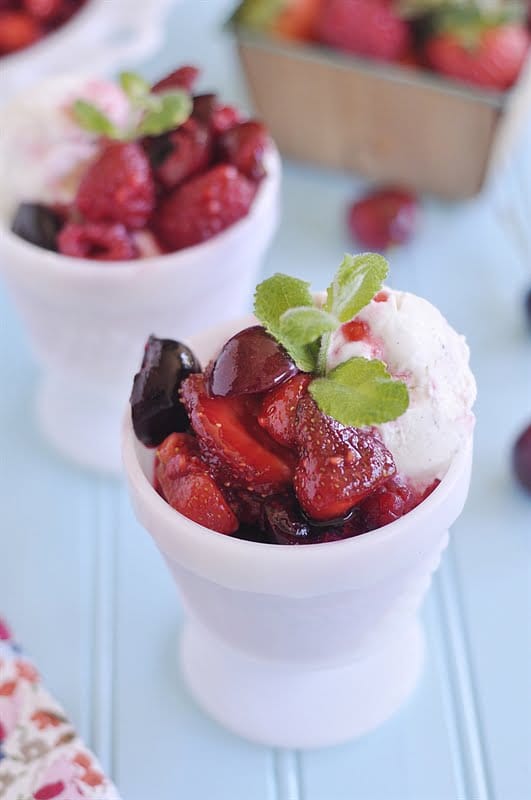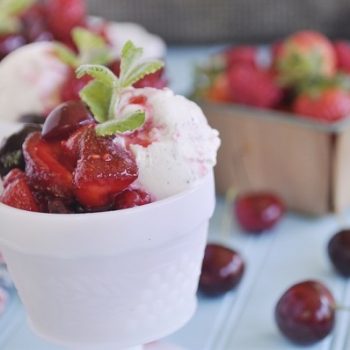 Cherry Berry Compote
Ingredients
1/2 C sugar
1/4 C water
3 Tbsp raspberry pancake syrup or 2 Tbsp raspberry liqueur
2 C each of raspberries, strawberries and dark sweet cherries, pitted.
ice cream
mint leaf for garnish
Instructions
In a pan mix together sugar and water and bring to a boil over medium high heat. Stir.
Remove from heat and add in syrup. Allow to chill
Place fruit in bowl and pour chilled syrup over the fruit and refrigerate 1-2 hours before serving
Serve over ice cream with a sprig of mint!
Notes
Please Pin the recipe, but do not paste the full recipe in your pin.
---
For a few other yummy berry recipes check out these:
Enjoy!
Leigh Anne
You can also visit me on Facebook, Pinterest, Twitter, Instagram and Google+
For a list of where I Link Up each week go here.