Whether you're looking for easy dip recipes for the holidays, a potluck, a super bowl party, or an evening at home with the family, I have several delicious and simple recipes that don't take a lot of time.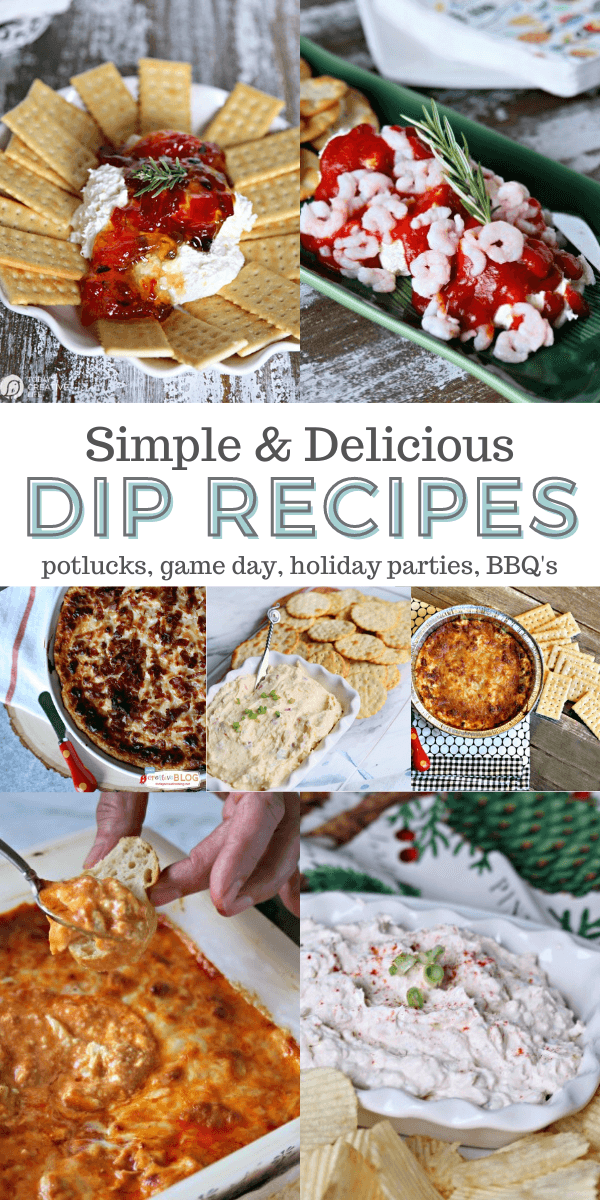 Easy Dip Recipes
My favorite and easy dip recipes usually start with cream cheese or some type of cheese! Or sour cream! Those are dip ingredient staples if you ask me! I don't like any dip recipe that has too many steps or is difficult to make. I have two all-time favorite go-to dips that I make many times a year. They are so easy, you'll never need a recipe card. My Cocktail Shrimp Cream Cheese Appetizer and my Pepper Jelly Cream Cheese Party Dip.
Dip Recipe Dippers
There are so many great dippers to scoop up those delicious creamy and gooey dips. The dipper is a vehicle for the dip and you want to choose something that pairs well and won't overpower in taste or take over. You need something that will bring the most out in your dip recipe. You also want something sturdy that isn't going to break.
Here are a few of my favorites.
Crackers – There are so many types of crackers to choose from. If my dip is bursting with flavor, I'll probably want to choose one that isn't heavily salted or seasoned. A simple water cracker is always a good move. Wheat Thins are also a favorite, as well as the beloved Ritz cracker. Although, they tend to crumble with a thicker dip, just add a small cocktail knife for spreading.
Vegetables – Most cream cheese or sour cream-based dips will go well with veggies. People tend to love vegetables that can be cut into a stick-like shape.
Chips – There is nothing better than thick ruffled potato chips with a delicious clam dip.
Sliced Baguette – I love a good french bread slice for dipping. Especially for my Hot Buffalo Chicken Dip (although celery is really good with it too) or my Brie Cheese and Corn Salsa bites. My mouth is watering just writing this.
Cold Dip Recipes
Hot Dip Recipes
Easy Dip and Appetizer Recipes
Simple ingredients & easy to make appetizers and dips.