These Easy DIY Holiday Gift Bags make any gift look that much better and lucky you.
If you give someone a handful of chocolate kisses, they'd thank you and probably be happy they had some free chocolate. But if you hand them a handful of chocolate kisses in an adorable decorated canvas gift bag with a cute little fox, it suddenly becomes one of the cutest gifts EVER, so much more than just chocolates!
Easy DIY Holiday Gift Bags using Iron On Transfers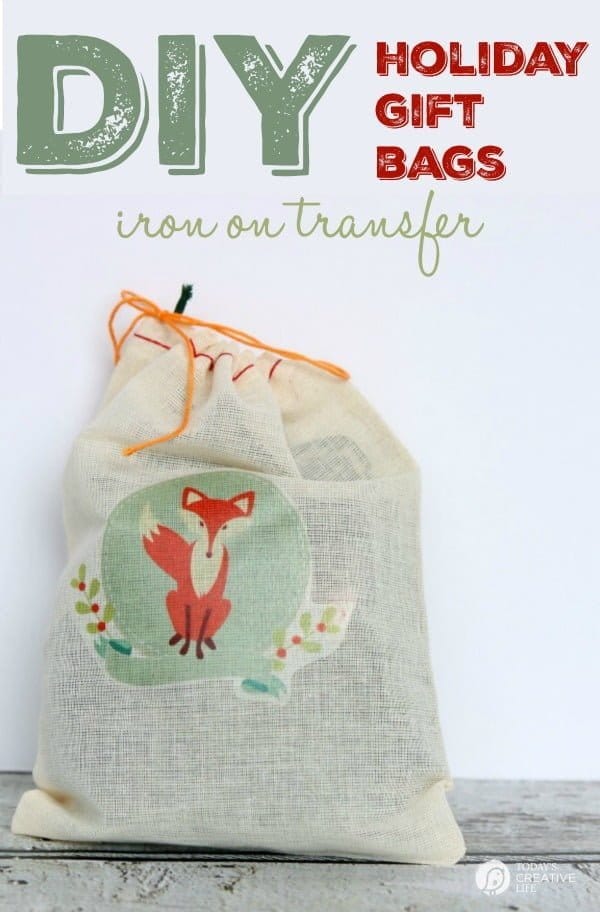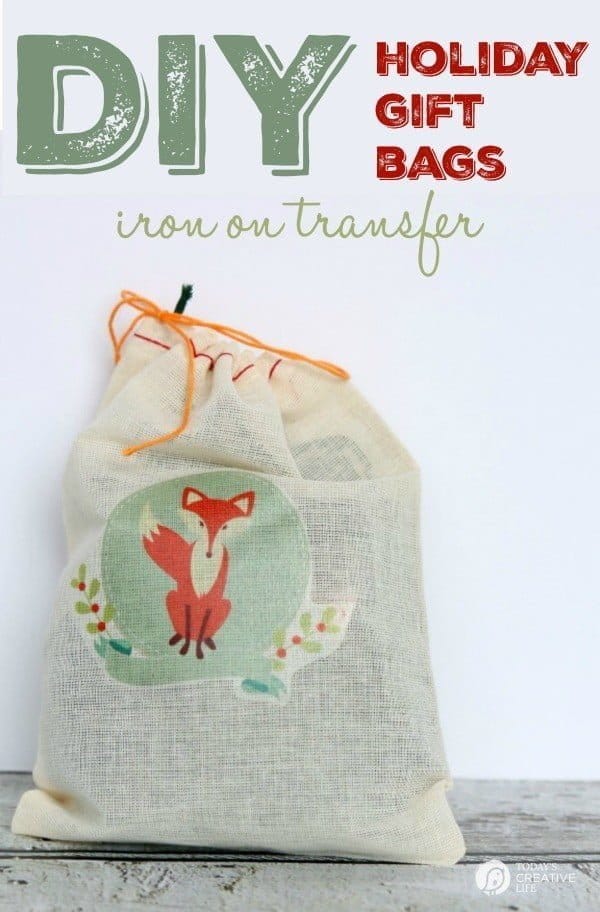 It's all in how to present a gift! Presentation is EVERYTHING! I'm looking for cute, yet quick gift wrapping ideas, so Easy DIY Holiday Gift Bags are my answer! Keep reading for my simple step by step tutorial.
All those gift cards I'll be giving out this season to my paper guy, the UPS gal, the mail person and all of my son's teachers will look much more special in a custom designed little canvas bag. I found this graphic from Graphic Stock. They used to have a 7 day free trial.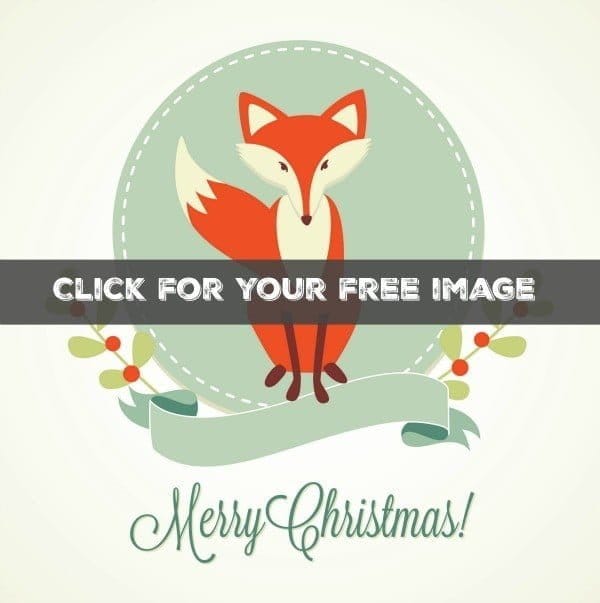 We all know my love for iron on transfers! Seriously one of the easiest things ever! I've created the cutest Christmas pillows, a table runner and several dish towels using this method. It's the easiest way to take something from drab to fab in a matter of minutes. And honestly…… it takes little skill! My kind of craft!
I find many of my designs to use for fun projects from GraphicStock. They have just about anything I'm searching for, from illustrations to photos and for any event I need. Holidays, seasons, events or any time of year…… there is always the perfect image for the projects I'm working on.
That's where I found this adorable little fox. I also found a few other holiday images that I'm making the cutest gift tags. Think retro holiday! Yes, I'll be sharing all four styles soon!
I think I've downloaded 8 items I plan on using this holiday season.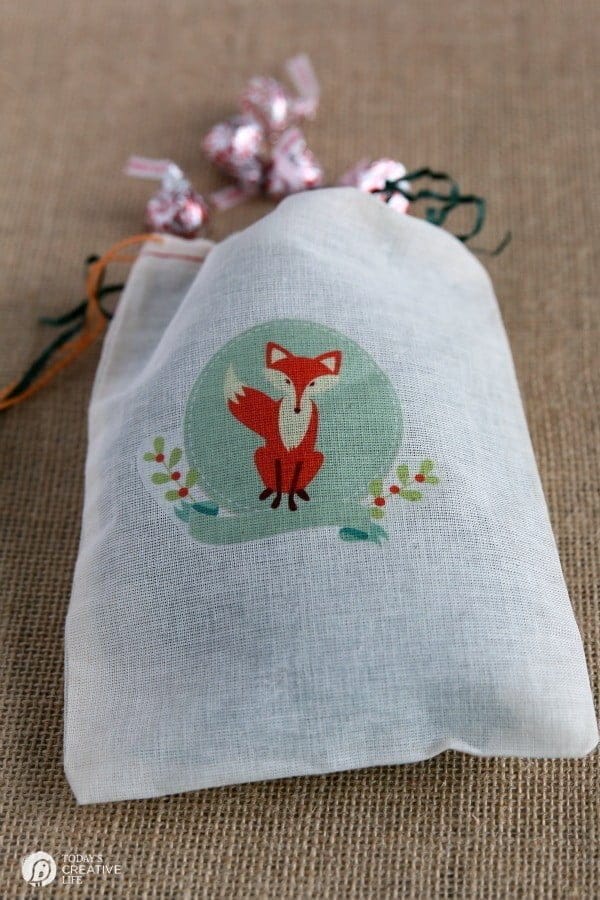 I had so many ideas for this Fox image. First I thought I'd print it out as a 8 x 10 and just frame it for a quick table top decoration. I love the Merry Christmas message. Then I realized how darling they'd look as an iron on transfer on these cotton canvas bags.
How To Make Iron On Transfer Canvas Bags

I usually use the Avery Iron On Transfer sheets for light fabrics. Follow the package instructions on printing. (Find the Fox image on GraphicStock – just search Christmas Fox)
Gather your printed sheet and supplies.
Trim your design.
Before ironing on, place a piece of paper inside the bag so that the design doesn't accidently stick to the other side too.
Place your design face down.
Place a thin cotton towel over the design and iron. Press firmly, moving the iron around for about 30 seconds.
Let it cool before carefully pulling up the paper, leaving the design on our bag!
Anytime there's writing on the image, you have to print as a mirror image. I'm not sure where my head was, but I could not find my setting for that on my printer settings. I've done it a thousand times, but my brain was just not clicking. So I did what any good creative person would do. I solved the problem and just cut the bottom portion off and finished my project. This way I can do up a few and use them all year long, rather than just Christmas. But if you can figure it out, do it!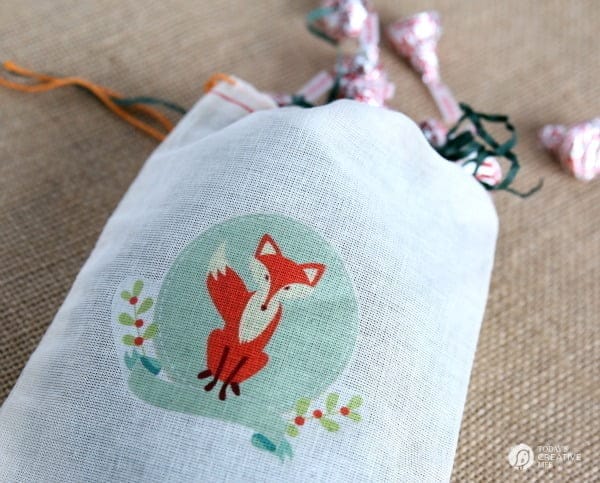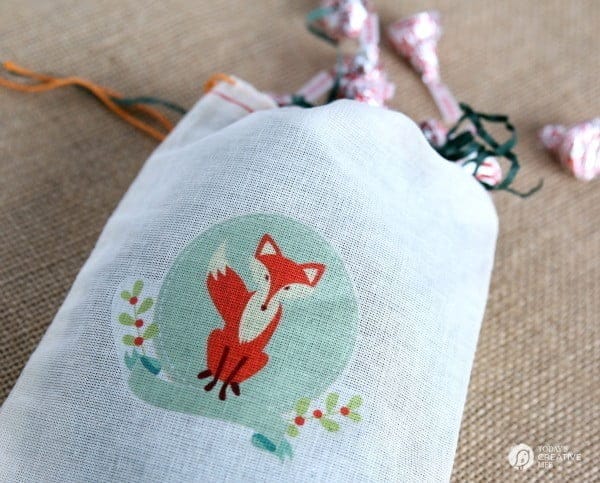 Now who wouldn't love receiving this cute little bag?
I love it when the gift wrapping is a gift in itself. I love it more when giving cute gifts is inexpensive and quick!