This Easy Entertaining Drink Station is a busy moms dream!
As much as we love Pinterest, it can also make us feel like the biggest failure. I'm here to reinforce your need for creativity, but in a simple way for quick and easy entertaining. No need to feel inferior!
I'm also giving away another $100 Walmart gift card to one lucky winner.... that will help your creativity! Keep reading.
Easy Entertaining Drink Station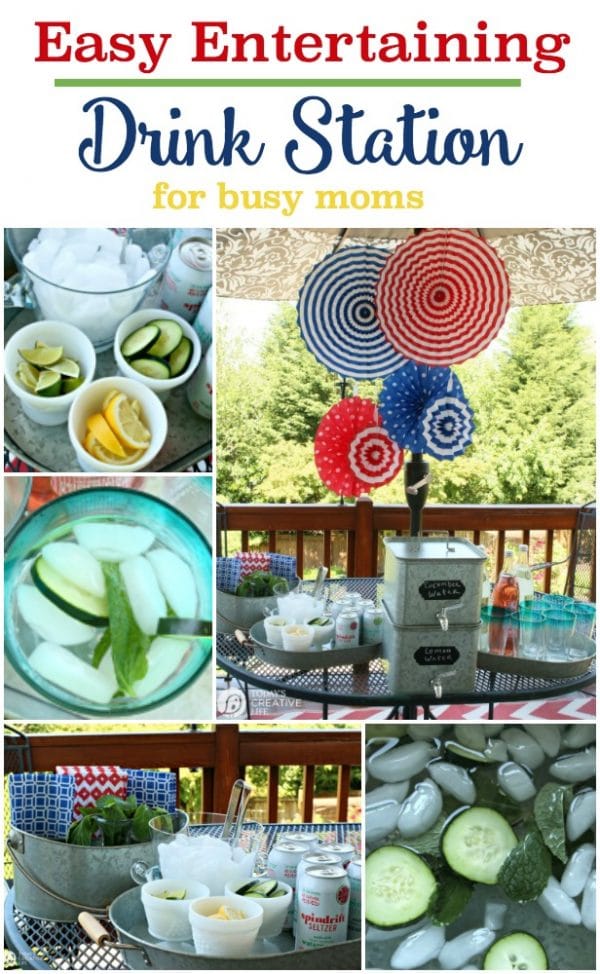 Don't beat yourself up trying to be a "Pinterest Mom"! I'm going to show you a few simple ways to create a drink station that will satisfy your creative side and still wow the socks off your guests.
I am partnered up with Better Home and Gardens, as a part of their blogger network. I LOVE BH&G! You can find it at your local Walmart, or check it out online.
Better Homes and Gardens always has the cutest stuff at a great price. When planning for Summer Entertaining, I picked up a few pieces that are my foundation pieces.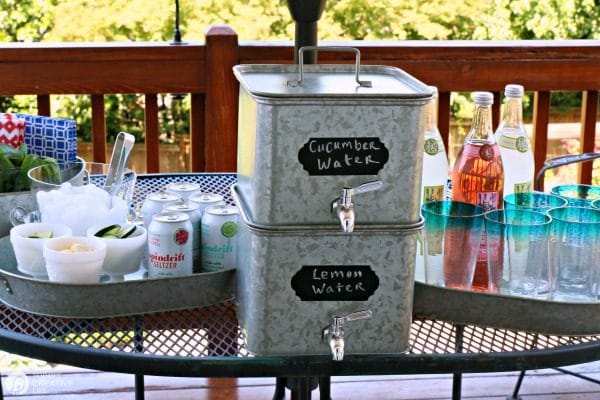 I love all things galvanized, so when I saw the metal trays, the stackable drink canisters and the utensil caddy, I had to have all 3. The versatility for these products are fantastic, not to mention the classic look that can be used for years to come.

To complete my summer entertaining needs for drinks on the patio, I also grabbed a set of the acrylic tumblers. I'm ready for summer!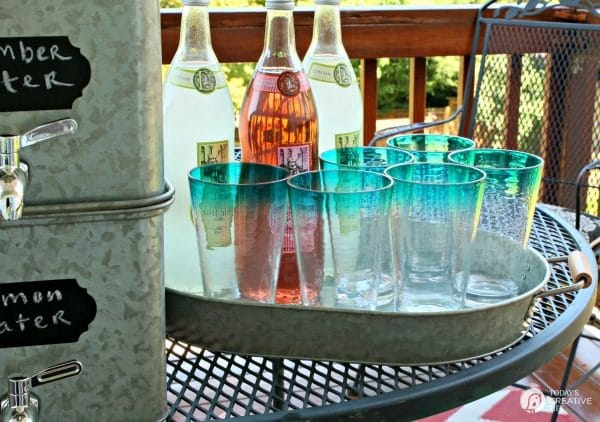 Easy Entertaining Drink Station Tips
First you'll want to figure out where to set up. Use any table that will give you enough space or area that will host all the items needed. This will be a popular area, so make it a space easy to move about.
Keep your Drink Choices Simple
I filled my drink canisters with flavored infused water. This keeps your cost down, but it also makes it look like something special. I filled one canister with cucumber and mint and the other with sliced lemons.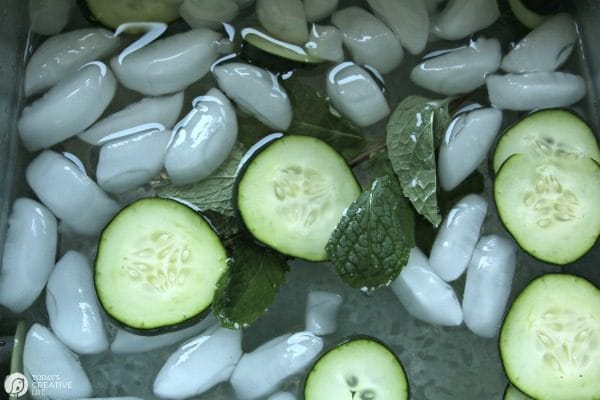 Garnish
I also offered sparkling flavored water along with a few garnishes. When you offer lemon and lime wedges, sliced cucumber and sprigs of mint, it suddenly creates the most beautiful and refreshing beverage. It also tastes great!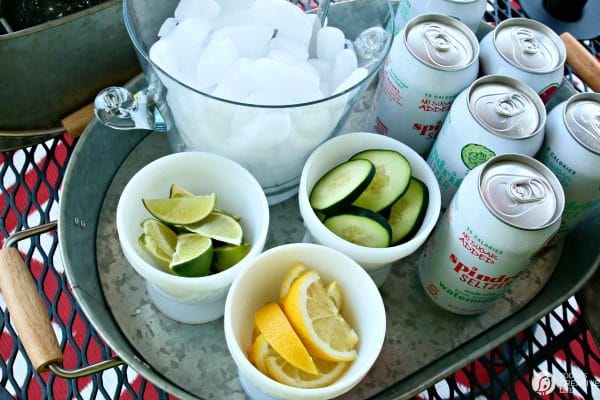 Simple Decor
All I did was add a colorful set of hanging party decorations and… BOOM! It's suddenly a special event! They also help bring attention to your guests on where the good stuff is.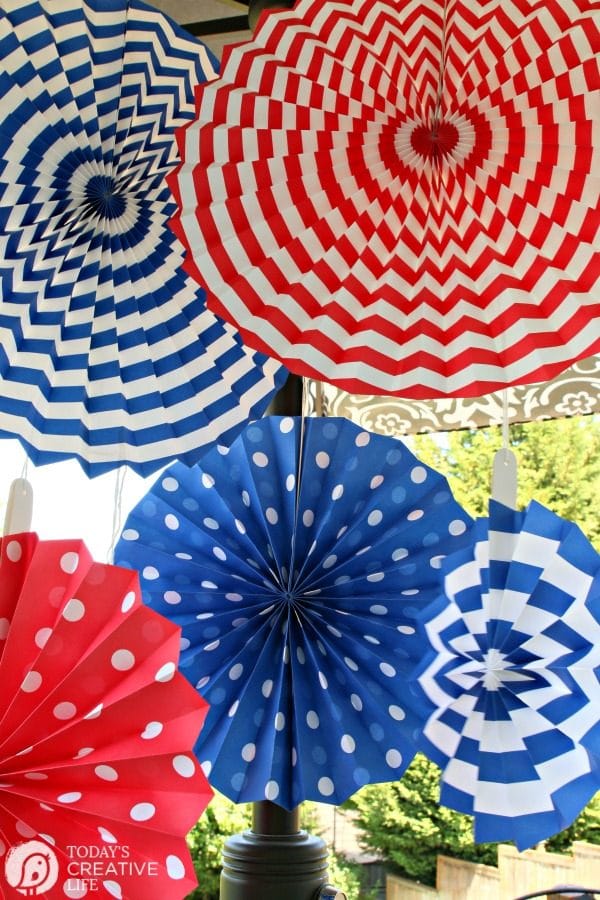 Drinkware
As mentioned above, pick up a drink canister that can be used for many occasions. I once bought this really beautiful glass canister and now I rarely use it because it seems so fragile or to fancy. These galvanized stacking drink canisters are perfect for just about any occasion. I love the chalkboard label that can be written on over and over. Also you're going to need at least one tray. I never regret buying a tray. I use them for entertaining and decorating. Also having a utensil caddy will come in handy more than you think. I can't tell you how many times I've placed utensils in a glass or red solo cup because I didn't have another option. I love that the caddy has 6 slots for holding napkins, utensils and even flowers.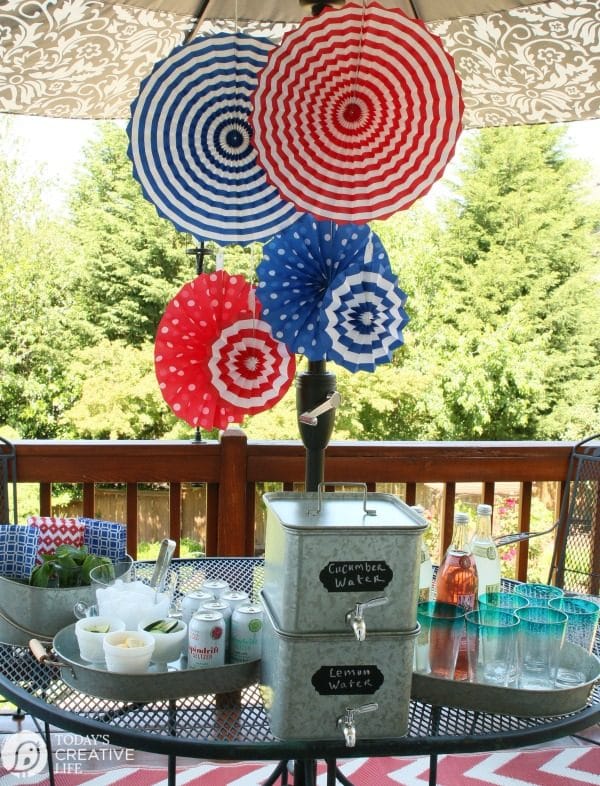 Ice
Don't underestimate your need for ice. Have an extra bag tucked away in the freezer to refill your ice bucket. Don't forget the ice tongs…. you don't want people using their hands. Better Homes and Gardens has a galvanized ice bucket that I didn't see at the time, otherwise I would have grabbed that too!
So with a few simple products from Better Homes and Gardens, I now have what I need to throw together a drink station with a moments notice. If you have stylish drink canisters, a couple of trays and a utensil caddy, you can entertain on the fly!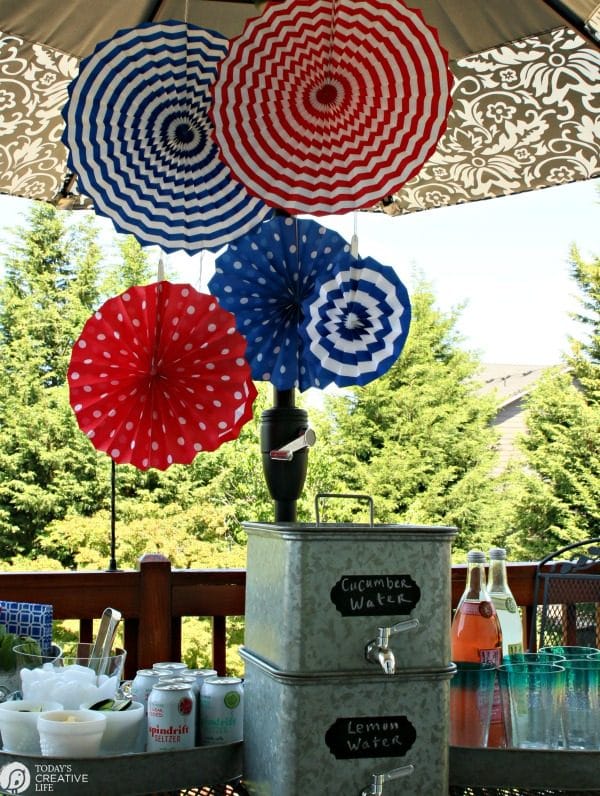 By offering a serve yourself easy entertaining drink station for your guests, it frees up your time to enjoy your own party too!
That's my kind of entertaining. Effortless and simple.
WIN $100 Walmart Gift Card!
Enter to win using the widget below. Any information entered will only be seen by me if you are randomly chosen as the winner.
>