Thank you to Better Homes and Gardens at Walmart for sponsoring this post. All opinions about my Easy Fall Table Decor and their products are 100% mine.
My home is not fussy. It's distressed and comfortable, so that's why this Easy Fall Table Decor is perfect for my dining room. It's full of color, natural elements, and easy charm. Similar to this Rustic DIY Table Centerpiece, it will be easy to put together.
Easy Fall Table Decor Ideas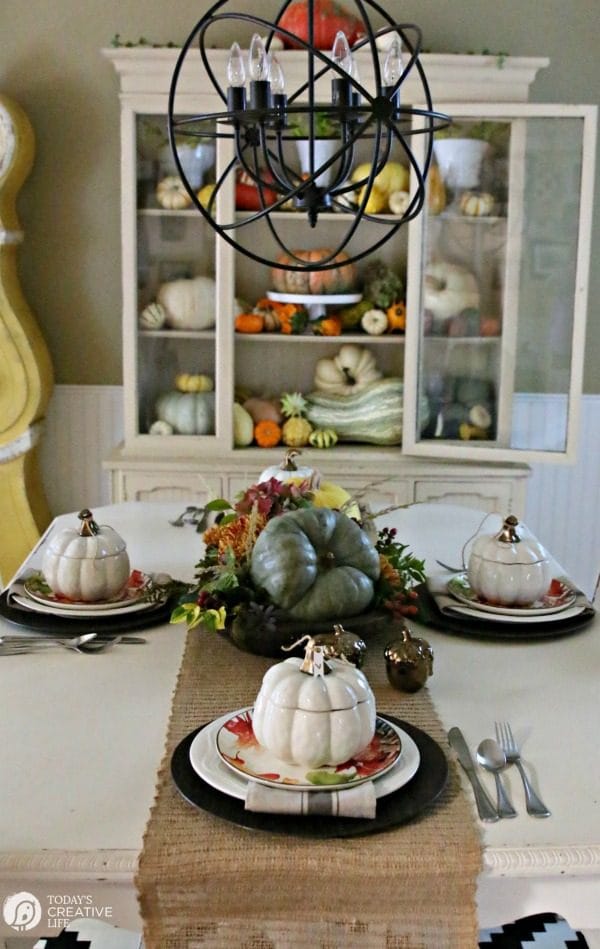 Our challenge this month as part of the Better Homes and Gardens Live Better Blogger Network, was to create a beautiful fall table using all the gorgeous BHG products. Back in July, while hanging out at their headquarters, we had a sneak peek at the new fall and holiday line and I instantly fell in love with the pumpkin soup bowls, the leaf print salad plates, and the faux wood chargers.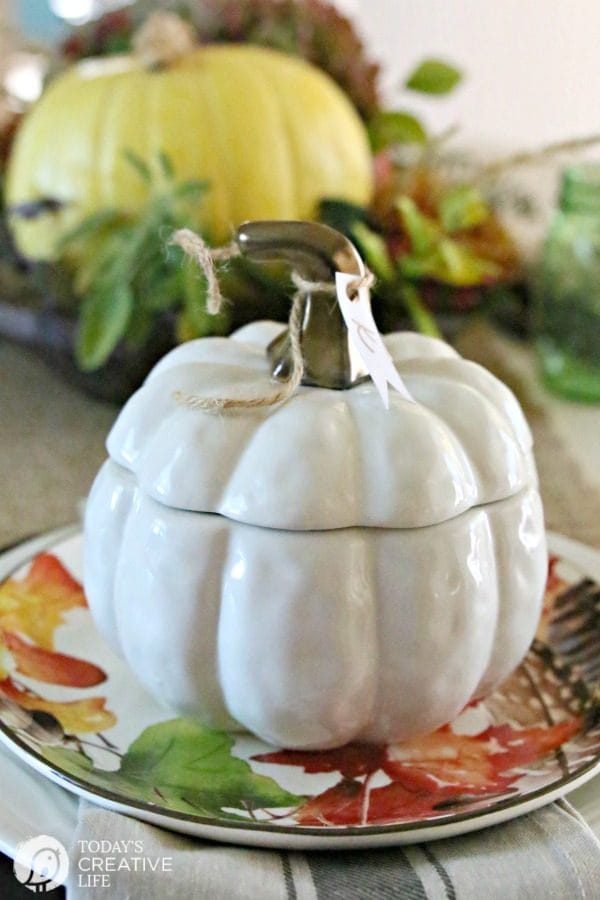 This new print with the leaves and the feathers caught my eye with the vibrant colors. I had first started to plan my table using greens, white pumpkins and browns, but I kept being pulled into the more traditional fall colors. The autumn hues kept calling my name. How could I NOT buy the orange and yellow pumpkins? I had to.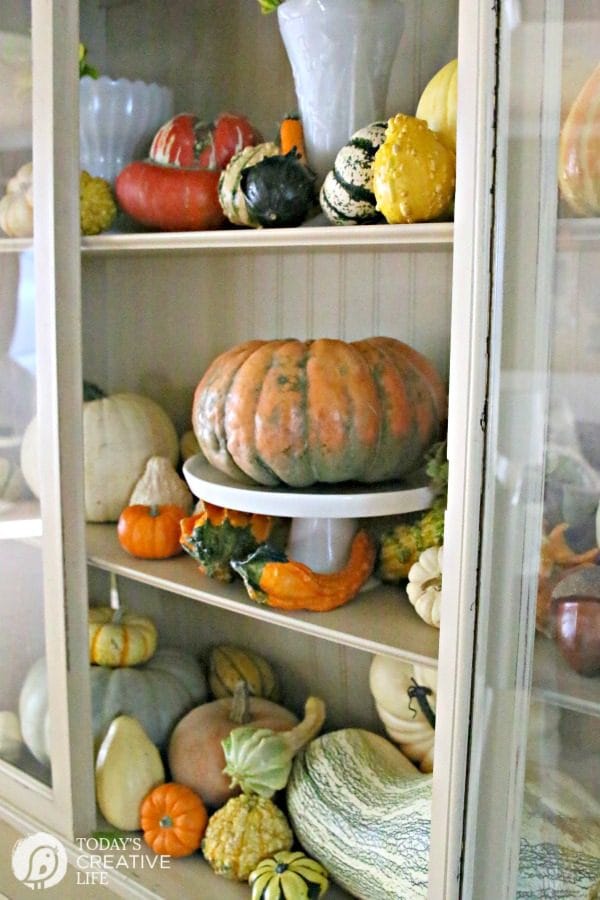 I went pumpkin shopping and came home with more pumpkins and gourds than anyone should ever be allowed to buy. But I had a plan. I had a plan to clear out my china hutch and then over fill it with my bounty. Why not?
I've never been someone to follow any decorating rules, except "group like items and decorate in 3 or 5". I believe in doing what speaks to you and tinker until you find what you're going for. I wasn't sure how the hutch would turn out, but I love it! What do you think?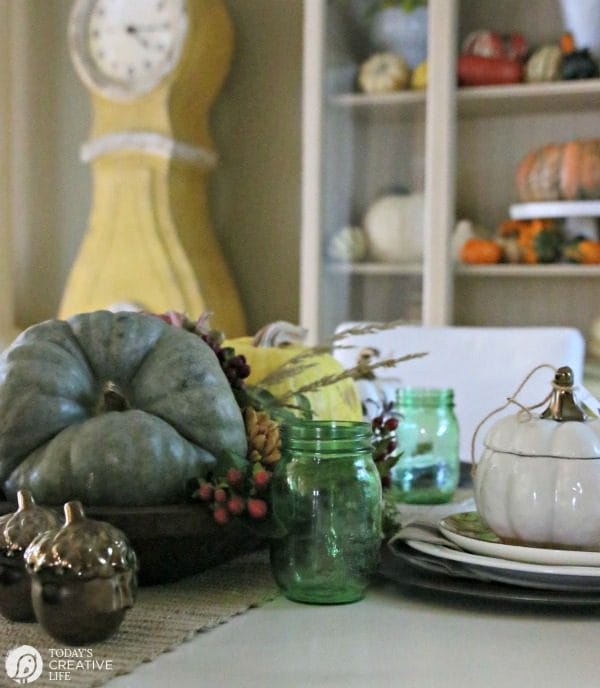 For my fall centerpiece, I knew I wanted to use my wood dough bowl and a variety of plants and more pumpkins of course. After I had selected what gourds and pumpkins I wanted, I set out to forage my yard for plants, flowers and herbs.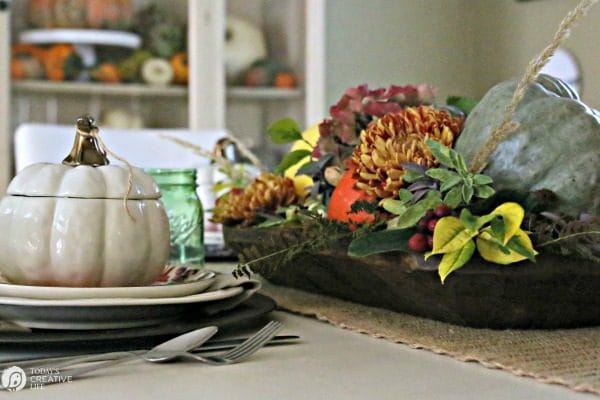 I cut a few branches from this and that. I picked some flowers, I grabbed some herbs and then I just kept placing them in and filling the holes. I always start out with the bigger items and fill in with the smaller.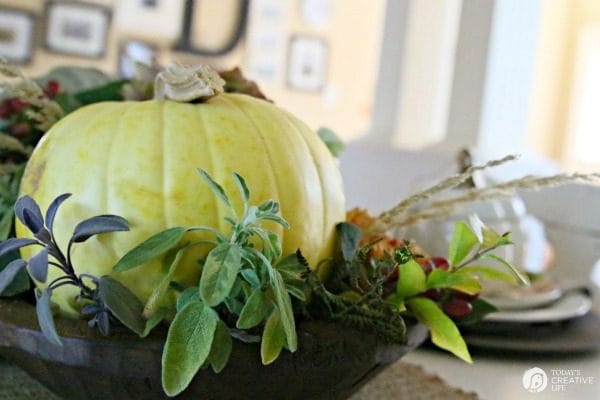 I think you'd be surprised what you can find outside.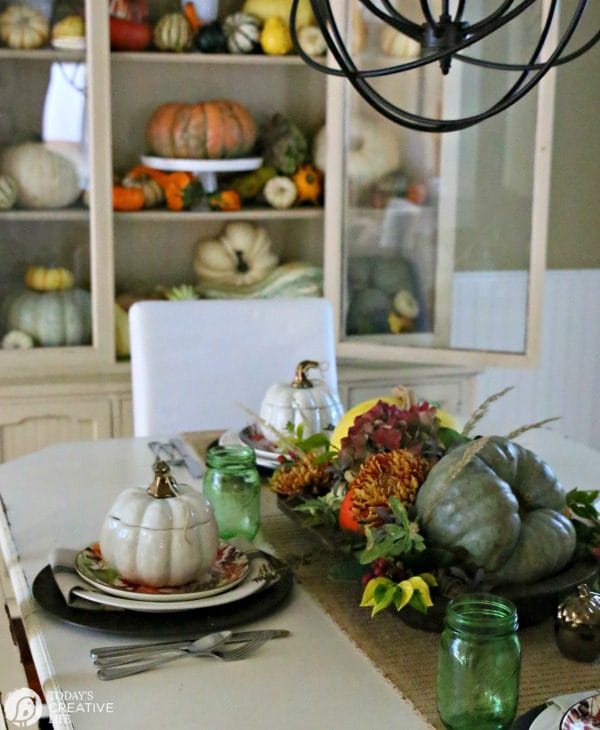 Yes, I know my silverware isn't in the proper place, but again…… I don't always follow the rules.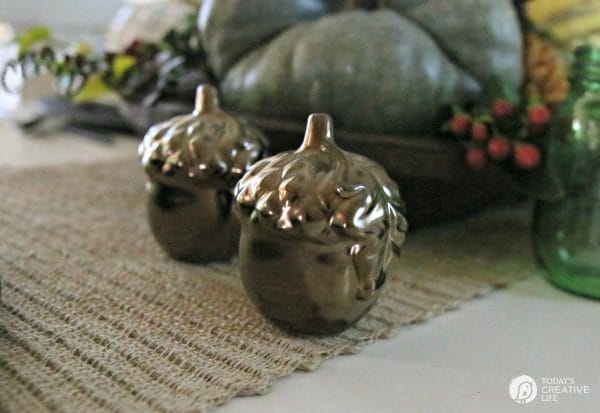 While choosing from the Better Homes and Gardens Fall products, I also picked up these adorable acorn salt and pepper shakers. They are perfect to use all season long, as well as the burlap table runner. I actually picked that up last year and used it for my outside S'More Party. Perfect for indoor or out. I love how versatile the BHG products are.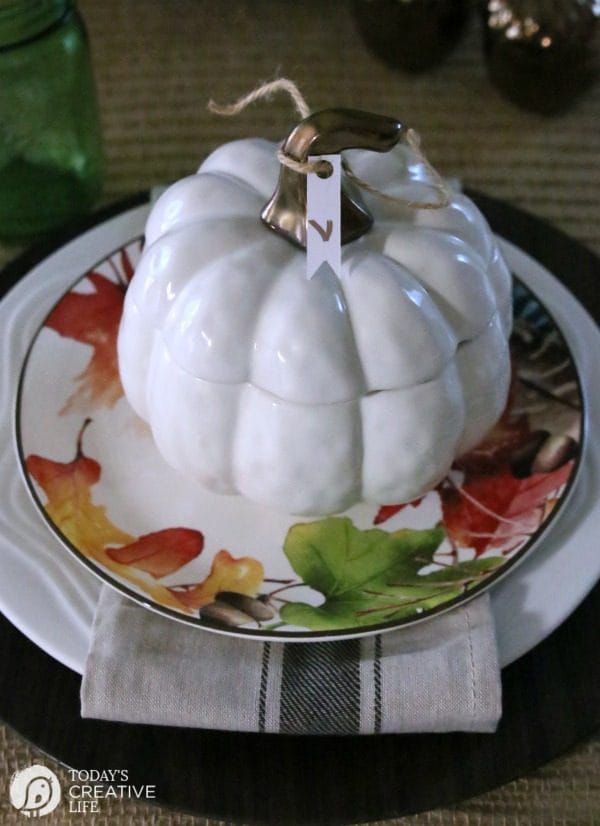 From casual to fancy, you can create any type of table decor easily.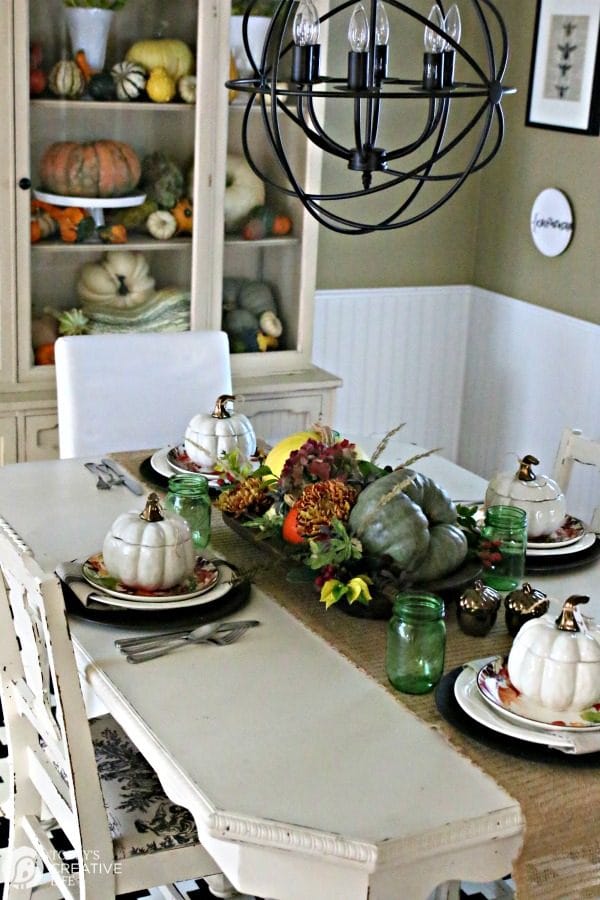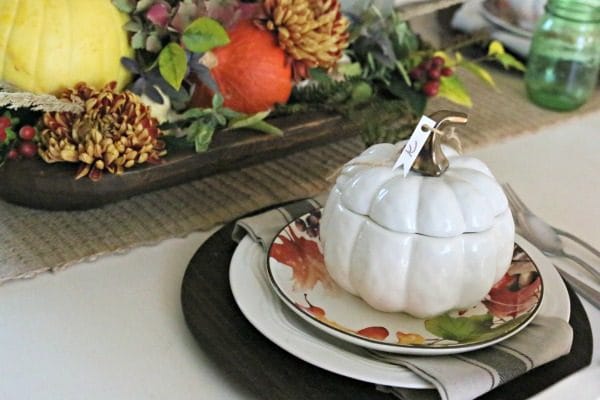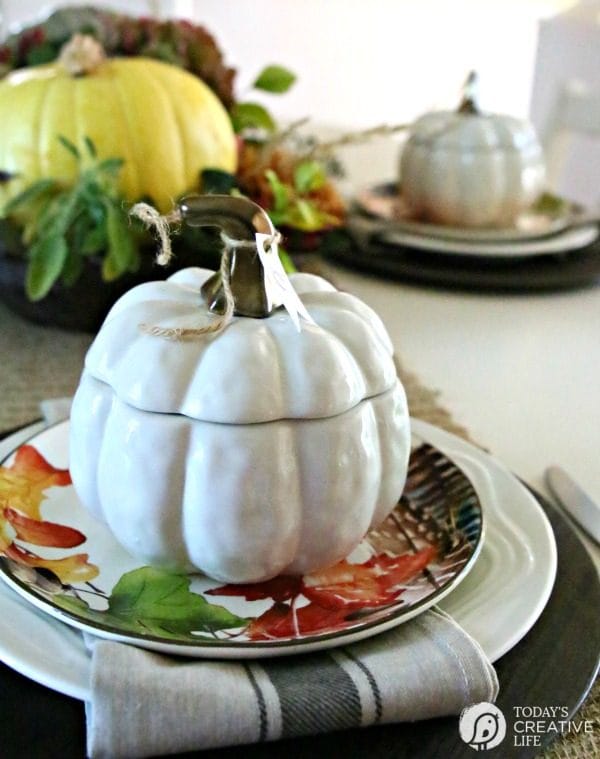 Doesn't that fall table make you all warm and cozy?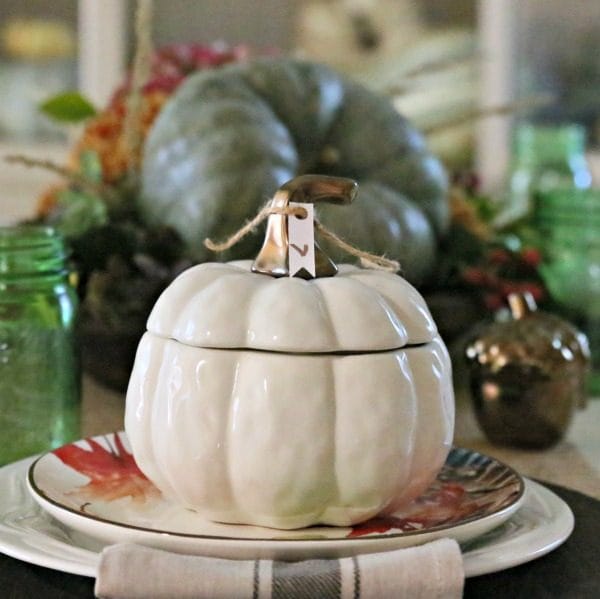 I have never served soup at Thanksgiving, but maybe this will be the year, just so I can use my new pumpkin bowls!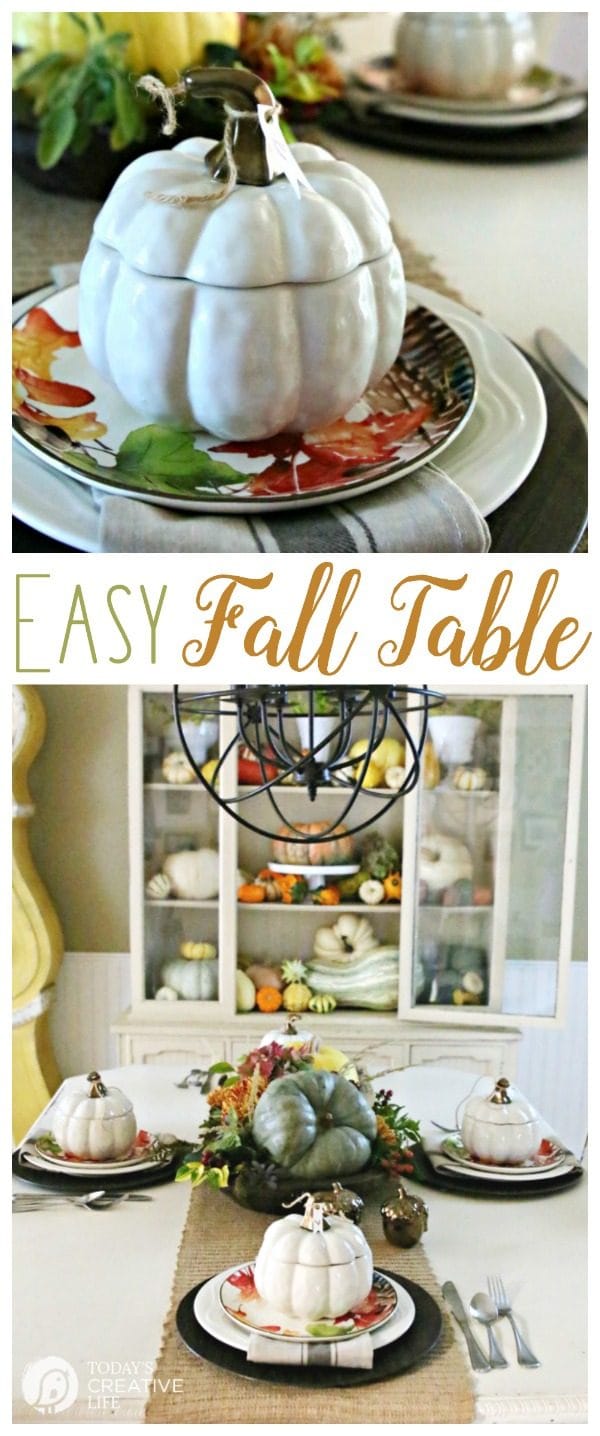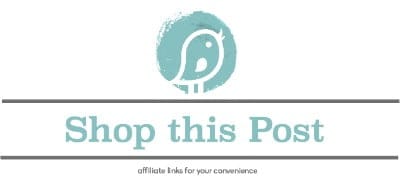 Pumpkin Bowls ($4.64 each) and matching soup tureen ($15.46 each – not pictured)
Leaf Garden Plates, Set of 6 ($18.99)
Faux Wood Chargers (4 pack $14.94
Table Runner ($13.96)
Acorn Salt and Pepper Shakers ($1.94 each)
---
For more Better Homes and Gardens Easy Table ideas