Decorators and gardeners will love this handmade gift. Easy Gift Ideas with Paperwhites are easy to make by planting a paperwhite bulb in a variety of containers for fast growth. I like planting mine mid-November so they are in full bloom for the holidays.
Easy Gift Ideas with Paperwhites!
Who doesn't love paperwhites? They're the kind of gift that keeps on giving with their fragrant blooms in the dead of winter.
It's calorie-free, gluten-free and functional. They're a plant that everyone can grow and isn't meant to grow forever, so no worries about killing it. The package even says "guaranteed to grow". If you've never grown them, they grow FAST!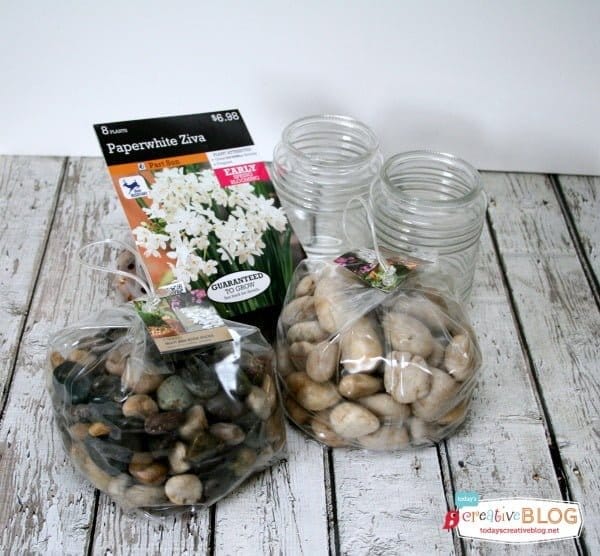 How to Plant Paperwhites
What you'll need: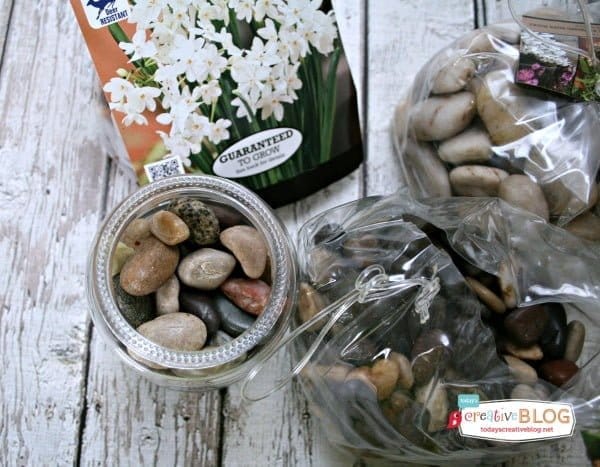 Place the gravel 3/4 full. Press the bulb into the gravel and pour a bit more over the bulb so it's anchored in.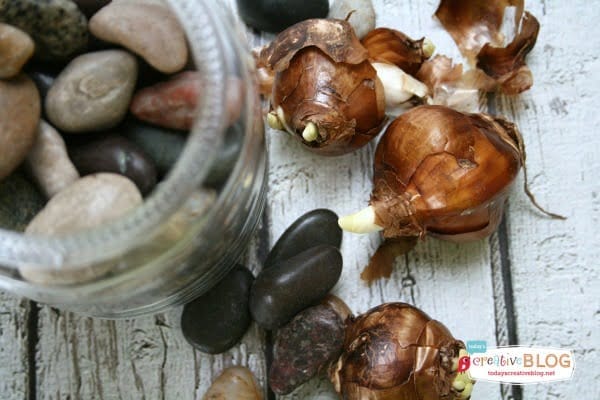 As they grow, they can get so tall, they can topple over. So make sure the bulb is supported with dirt or gravel. Only the shoulders of the bulb need to be peeking out. Yes…… bulbs have shoulders.
Fill halfway with water……..this is when I like having smaller gravel or using dirt. I always worry about the bulbs "soaking" too long.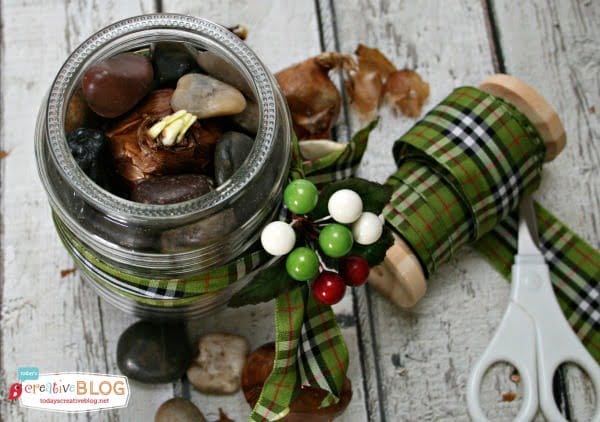 If you're giving as a gift or just using for decoration, they look pretty cute with decorative ribbon tied around.
You can keep it very simple with one of my Printable Holiday Tags and bakers twine or decorative ribbon. Lowe's has a LOT to choose from right now.
Yes, they even have ribbon!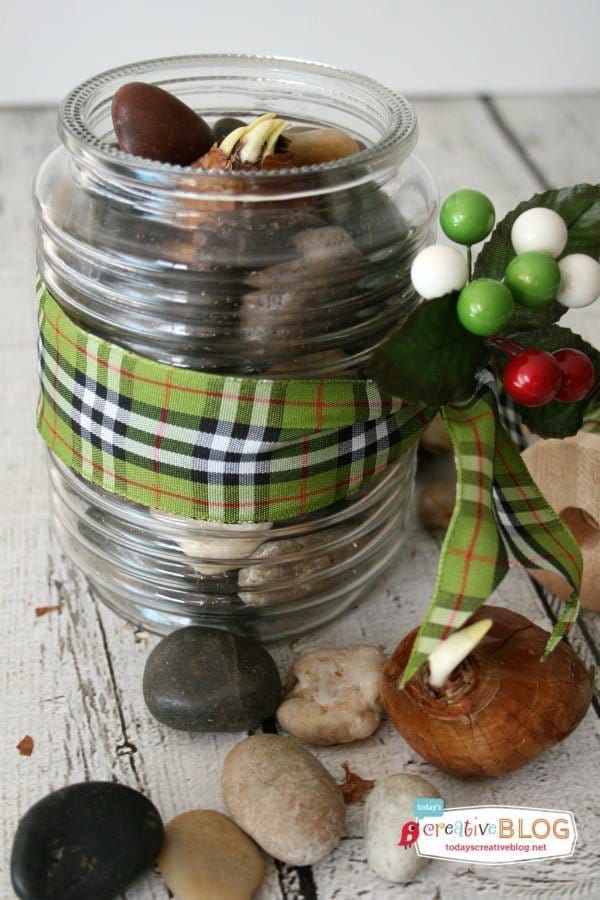 Then I got a little crazy and grabbed some of the Spanish moss from their garden area and did a 10-second centerpiece.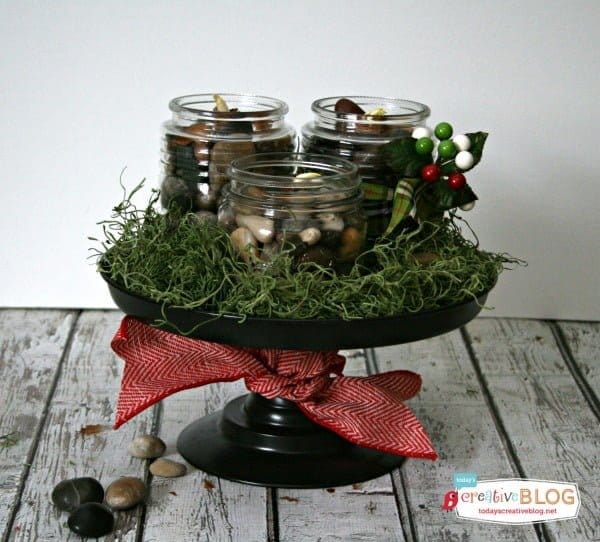 Just take the ribbon off after the holidays. Boom! I like non-fussy decorating that doesn't demand my constant attention. (the stand is from goodwill)
How to Force Paperwhites to Bloom.
After planting, keep the bulbs in a cool, 65 degree, dark room for several weeks until the roots take hold and shoots start to sprout from the bulbs. Then place the containers in a cool, sunny location. In 4-6 weeks, you'll see tiny blossoms on the flower stems.
How to Avoid Paperwhites that Fall Over
For years, my paperwhites would grow so tall and fall over, sometimes before even blooming. I've learned there are ways to avoid this. Either they were grown in a room that's too warm (above 65°F) or they didn't get enough light. For stocky plants, grow the bulbs in a cool room (50-60°F) and make sure they get lots of bright, indirect light. I've also learned about a study done by Cornell University.
They found the plants were about 30% shorter by watering them with a 4% to 6% alcohol solution. Mix 1 part distilled alcohol like vodka with 7 parts water. Use this solution once the shoots are about 2″ tall. Pour off the water and replace it with your new alcohol solution. See the research here.
Once these bloom, your home will be filled with the most amazing scent!
Enjoy!

---
Gardening Tips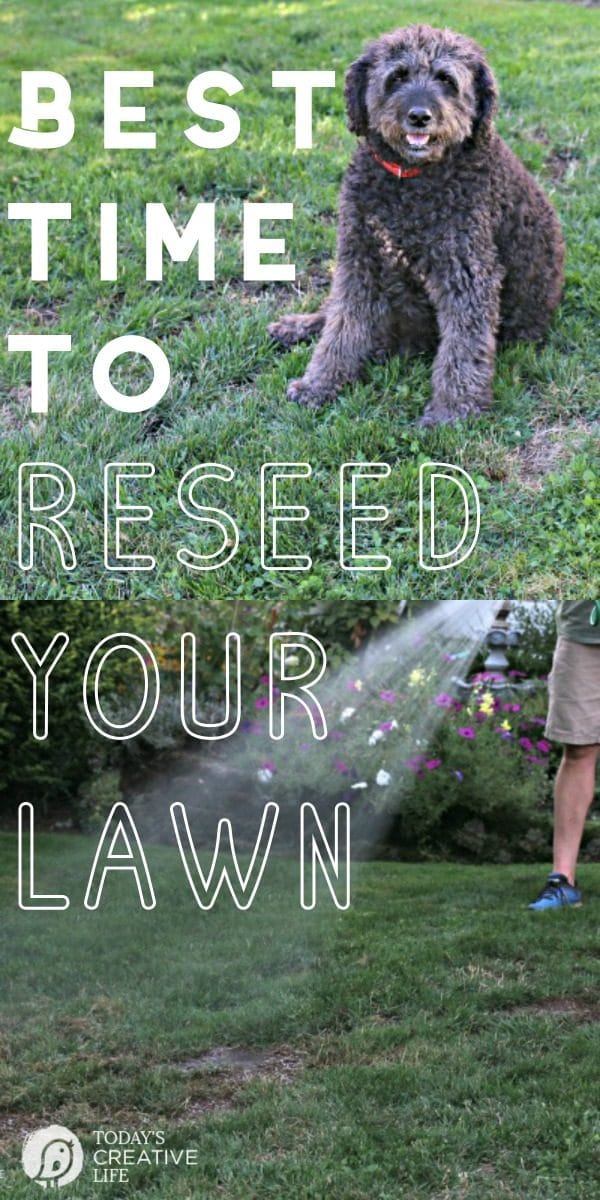 What is the Best Time to Reseed Your Lawn?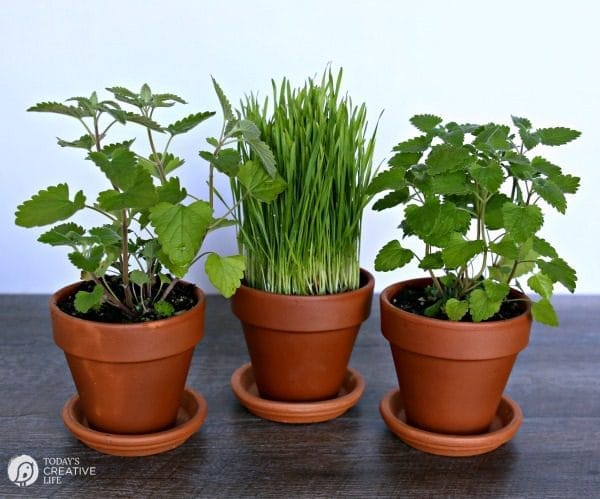 Herb Garden for Cats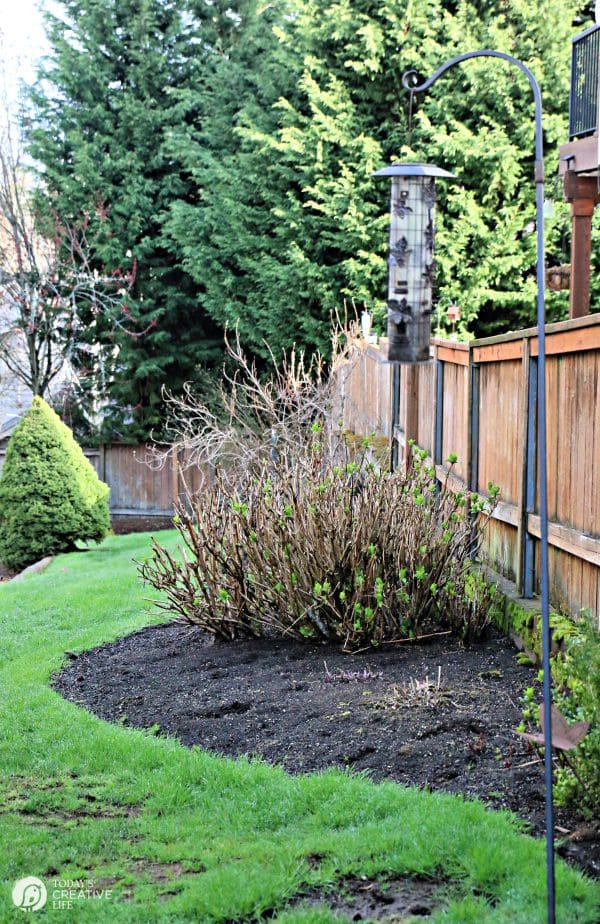 Winter Recovery for your Lawn