I shared these with Kelly for the Craft Bake Sew event and thought I'd share them here in case you missed it. Everyone needs Easy Gift Wrapping ideas. These couldn't be easier and they look cute too!
DIY Gift Bags
These DIY Gift Bags are perfect for me. I'm a lazy crafter.  I like quick crafts with little fuss that look amazing! I wish I had the attention span to spend hours on a project, but I don't.  I also hate gift wrapping. It never turns out the way I want.  My expectations outweigh my talents.  Because of my lack of gift wrapping detail, I have perfected the gift bag.  I use simple kraft paper bags…………. lunch sacks. They're my favorite, and perfect for a quick gift to a neighbor or a teacher.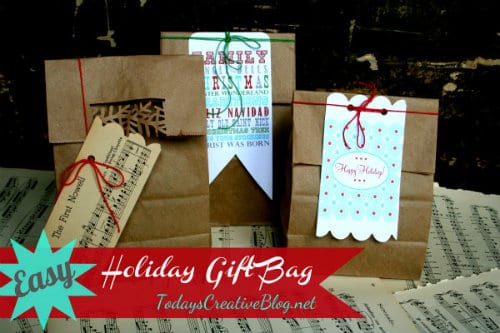 I also love printables.  I combined my love of printables with my love of kraft paper bags.  My Holiday Cheer printable is back by popular demand because it's so dang cute. I decided to shrink it down to use for a different purpose other than framing it. Thinkin' outside the box……. Looks pretty cute!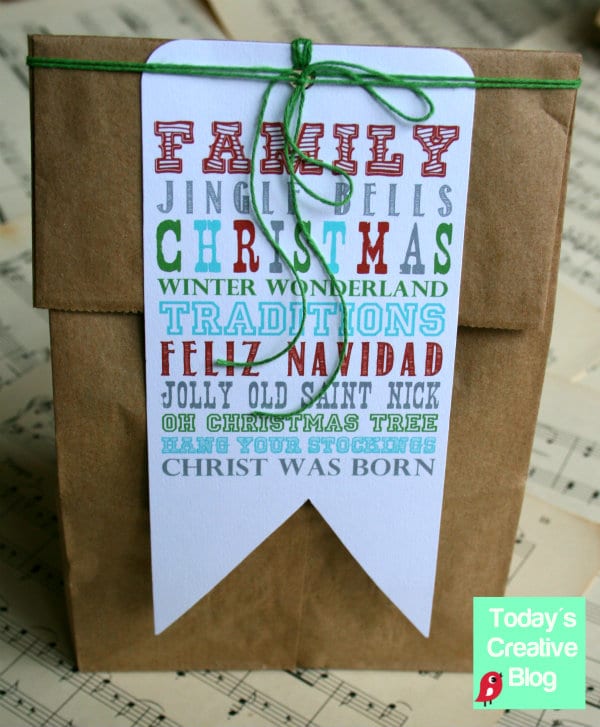 Below, I also used a holiday candy bar wrapper from my friend Marlynn at Urban Bliss Life.  Shrunk it down and added it to a scalloped piece of paper. Simple. Didn't take a ton of time, but once again……..so so cute!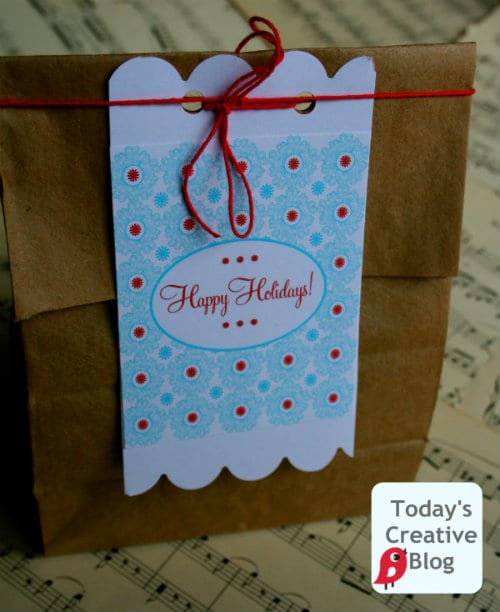 Another simple way to create an awesome gift bag is using unconventional materials. We're already using a lunch sack, so why not also use other paper goods that you normally wouldn't.  Like old sheet music.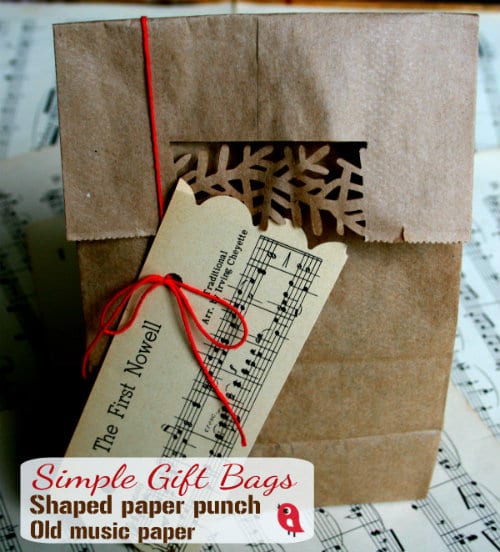 I picked mine up at a garage sale and it also happened to be Christmas music.  Perfect for making tags or wrapping.
Other ideas…… use maps, newspaper, old books, patterns etc…
Download your free Holiday Printables