I'm all about Easy Gift Wrapping Ideas for Christmas! It's easy to make a DIY gift bag from a simple paper lunch sack. These Christmas wrapping ideas are simple, cute and stylish!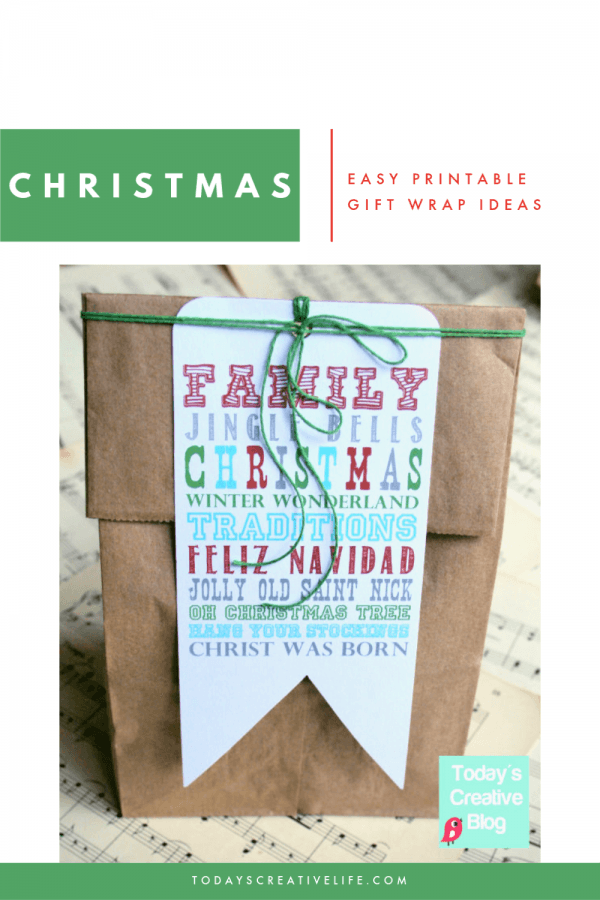 These DIY Gift Bags are perfect for me. I'm a lazy crafter. I like quick crafts with little fuss that look amazing! I wish I had the attention span to spend hours on a project, but I don't. I also hate gift wrapping. It never turns out the way I want. My expectations outweigh my talents. Because of my lack of gift wrapping detail, I have perfected the gift bag. I use simple kraft paper bags…………. lunch sacks. They're my favorite, and perfect for a quick gift to a neighbor or a teacher.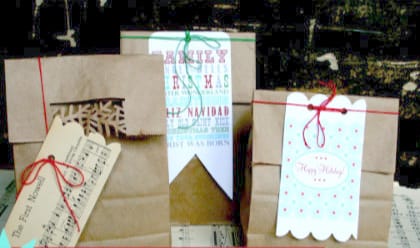 Easy Gift Wrapping Ideas
I also love printables. I combined my love of printables with my love of kraft paper bags. My Holiday Cheer printable is back by popular demand because it's so dang cute. I decided to shrink it down to use for a different purpose other than framing it. Thinkin' outside the box……. Looks pretty cute!
How to Make a Gift Bag
DIY Gift Bag Supplies
brown paper lunch sack
Twine, string or ribbon
Printables – Subscribers have password access to all free printables. Subscribe here and your password will be sent to you. Check your spam folder.
Decorative Paper
Craft Scissors – Optional
Hole Punch
Decorative Punch – Optional
Fold paper bag top over and punch two holes.
After printing out your printables or cutting any shape of decorative paper, punch two holes to match the paper bag.
Use your string to attach the tag to the bag.
Below, I also used a holiday candy bar wrapper from my friend Marlynn at Urban Bliss Life. Shrunk it down and used scalloped scissors to make a decorative edge. Simple. Didn't take a ton of time, but once again……..so so cute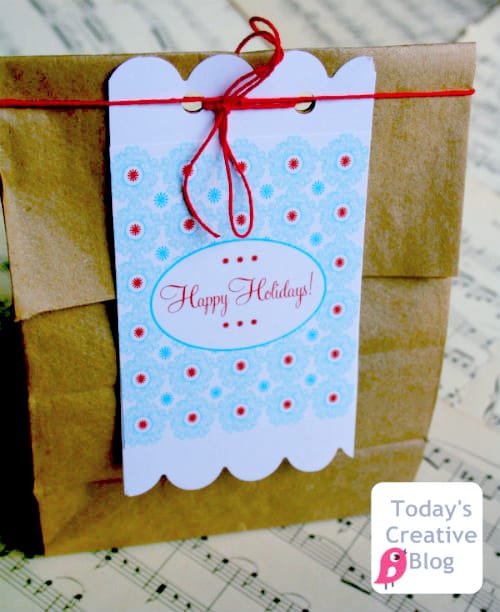 Another simple way to create an awesome gift bag is using unconventional materials. We're already using a lunch sack, so why not also use other paper goods that you normally wouldn't.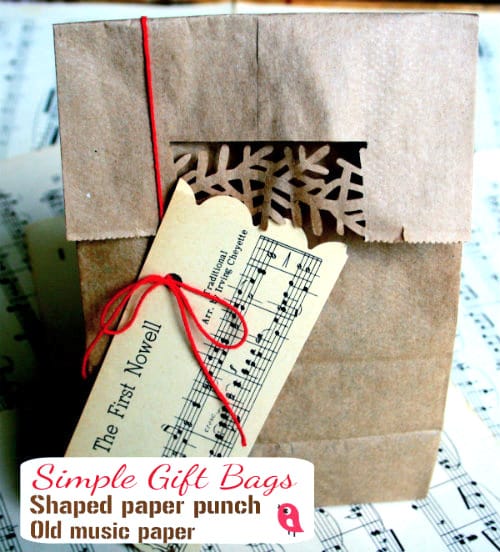 Like old sheet music. I picked mine up at a garage sale and it also happened to be Christmas music. Perfect for making tags or wrapping.
Other ideas…… use maps, newspaper, old books, patterns etc…
Download your free Holiday Printables in the Printable Vault.
DIY Holiday Decor
Easy DIY ideas for creating your own Christmas decor.
Easy to make holiday craft for Scandinavian Evergreen Stars.
Vintage Rustic porch ideas for Christmas.
Easy to make Christmas pillows using iron-on vinyl and a pillow cover.
Homemade white clay ornaments are fun and easy to make for holiday decorating.
Drying oranges is a holiday classic. How to make Dried Oranges in the oven for holiday decor, potpourri and gift wrapping.
Free Printable Merry Christmas paper tag banner adds quick DIY holiday decor.
Easy to make felted wool ball pom-pom winter pillow cover.
Easy to Make Holiday Ornaments using chip board or cardboard
Easy to make Christmas luminaries with cedar and cranberries.
Use your Cricut Cutting Machine to make holiday snow topped paper houses.