As part of the Better Homes and Gardens Live Better Blogger Network, I'm showing you a couple of my Easy Home Decorating Ideas. Like my 10-minute table decor, I love quick and easy decorating ideas. Especially if I can put them together inexpensively! (see how I've updated my living room decor since this post).
Our challenge this month was "A Fresh Take on Outdoor". Yes, the BHG outdoor decor is hitting Walmart and there are so many new products! These products I'm sharing are CRAZY inexpensive! You're going to flip at the style and quality. I'll be sharing my affiliate links to all the products I've used today so you can get a jump start on your patio ideas. This is for your shopping convenience and does not cost you anything extra.
Easy Home Decorating Ideas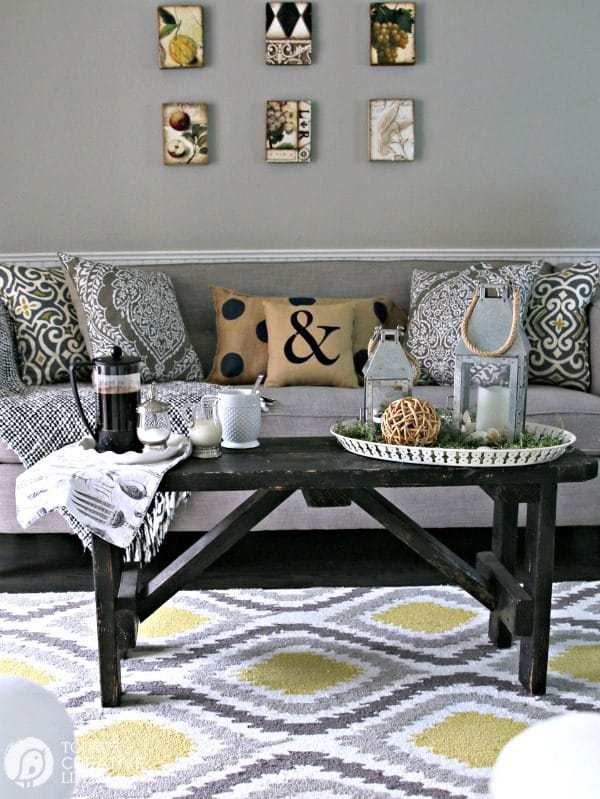 I've been dreaming of getting my porch ready for spring, but since it's still snowing and raining just about every day, I decided to get creative and use a few of the outdoor products inside! I created a comfy spot to enjoy a cup of coffee and watch the rain come down.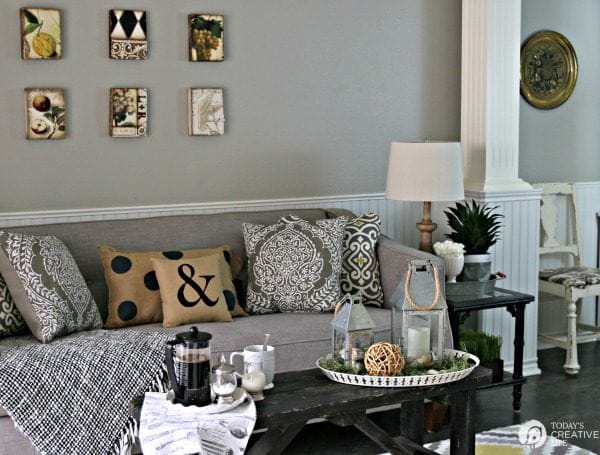 There are no rules. Just because it says it's for your patio, doesn't mean you can't bring it inside. You can find so many inexpensive and easy home decorating ideas by shopping the outdoor section at Walmart for BHG products.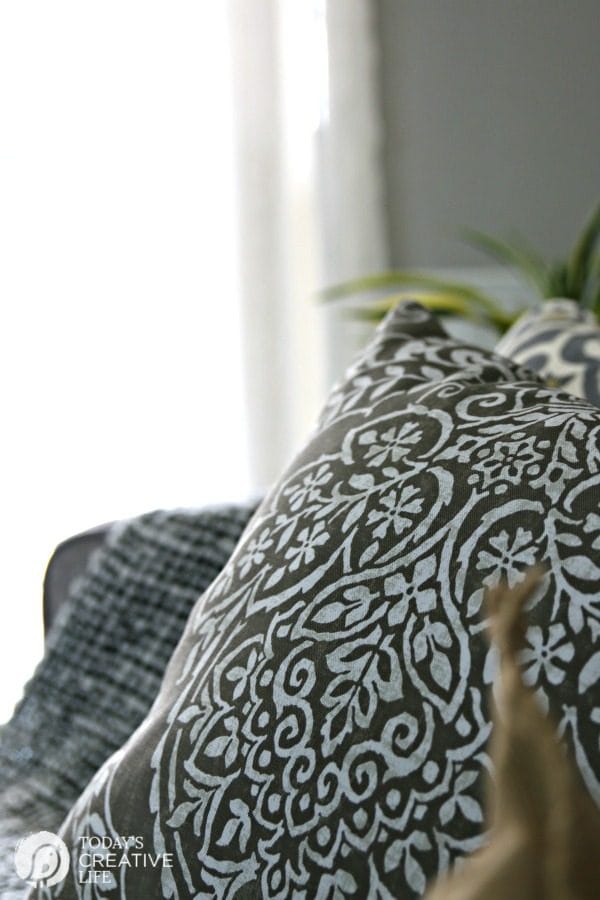 When I first saw these pillows, I didn't even think about using them inside. My plans are for my front porch in my red Adirondack chairs, but then I saw just how perfect they were for my sofa!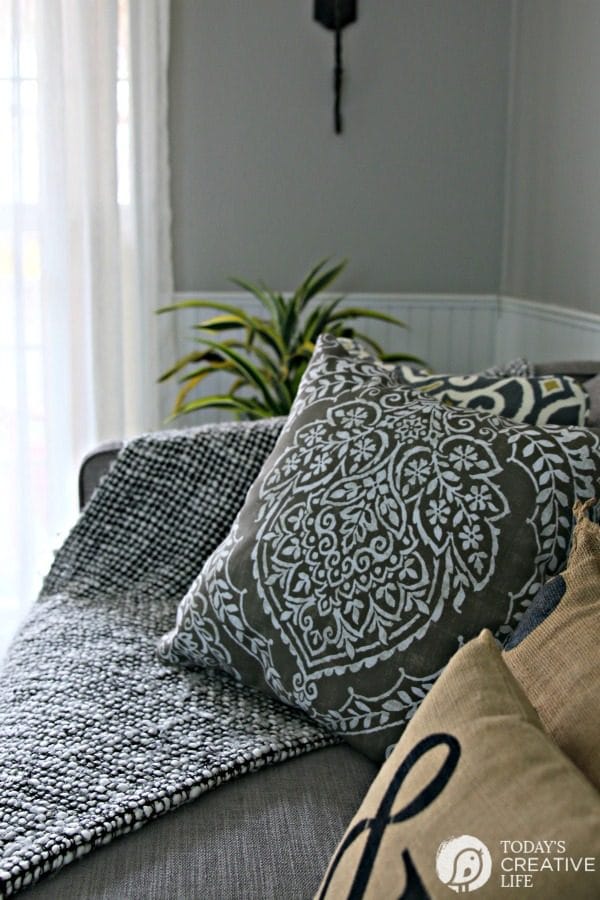 I couldn't have planned it better had I tried.
Funny thing is, I've been casually looking for coordinating pillows for about a month! I love it when things just magically work out. I'm not even sure I will move them outdoors. I may have to just purchase more.
Easy Home Decorating Ideas are simple with $8.88 outdoor pillows! Get your Fleur Outdoor Toss Pillows here.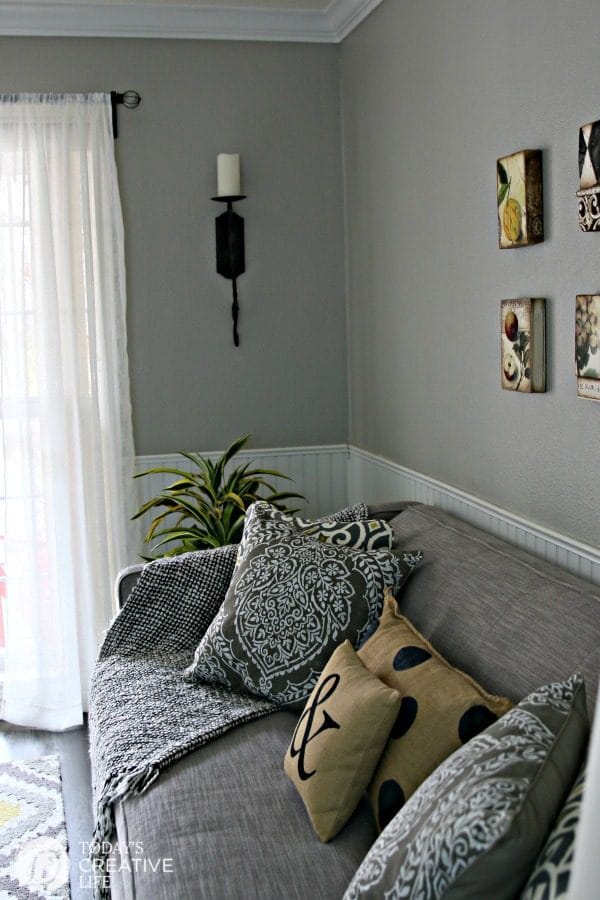 While I was shopping, I was able to find more lanterns. I'm only using 2 here, but I ended up purchasing 6. They come in 3 sizes, ranging from $6.75 to $14.06.
THAT IS CRAZY INEXPENSIVE! Use my affiliate links for all the BHG products and grab your own Galvanized Lantern Candle Holders Here.
You can never have enough lanterns. They are one of the most versatile decorating items.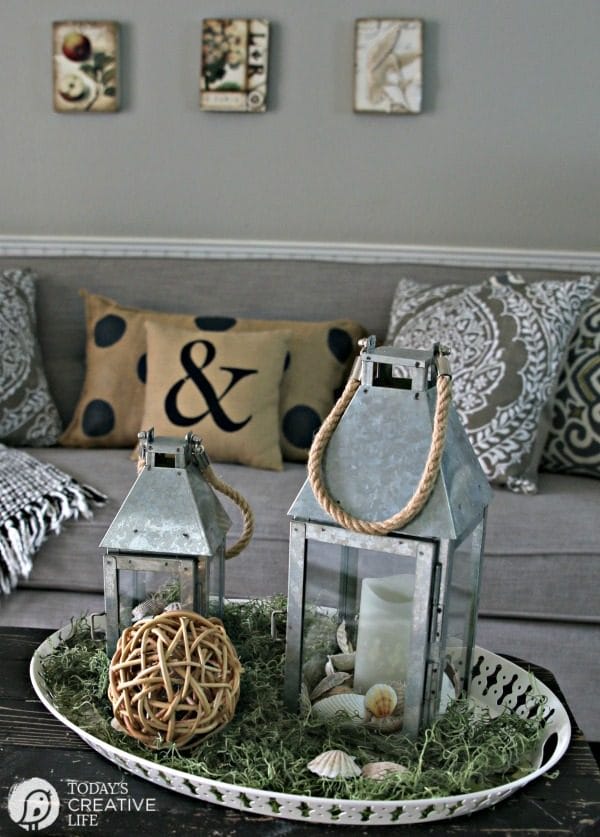 I love using them on the patio, the porch and for table decor. You can see how I used another BHG lantern for my Decorating for Christmas post.
I'm filling mine here with the BHG flameless candles with a few seashells thrown in for fun. These candles come with a remote, making it easy to turn the candles on and off.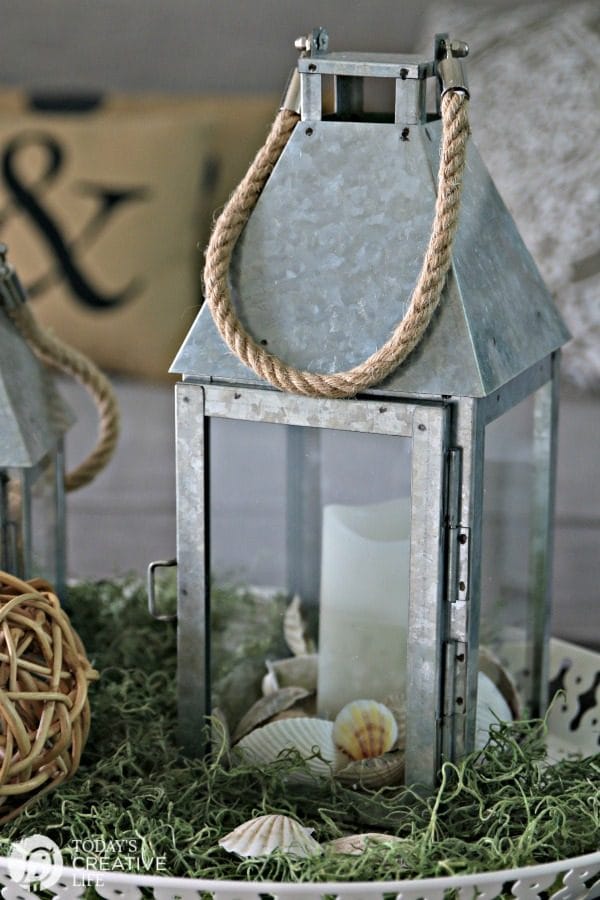 The doors are magnetic, so if you were to hang them outside, they won't open if it's breezy.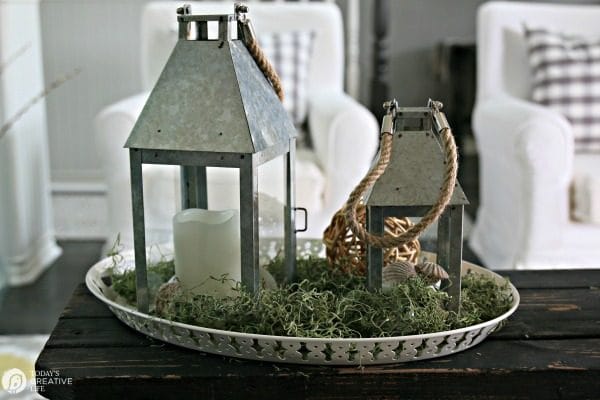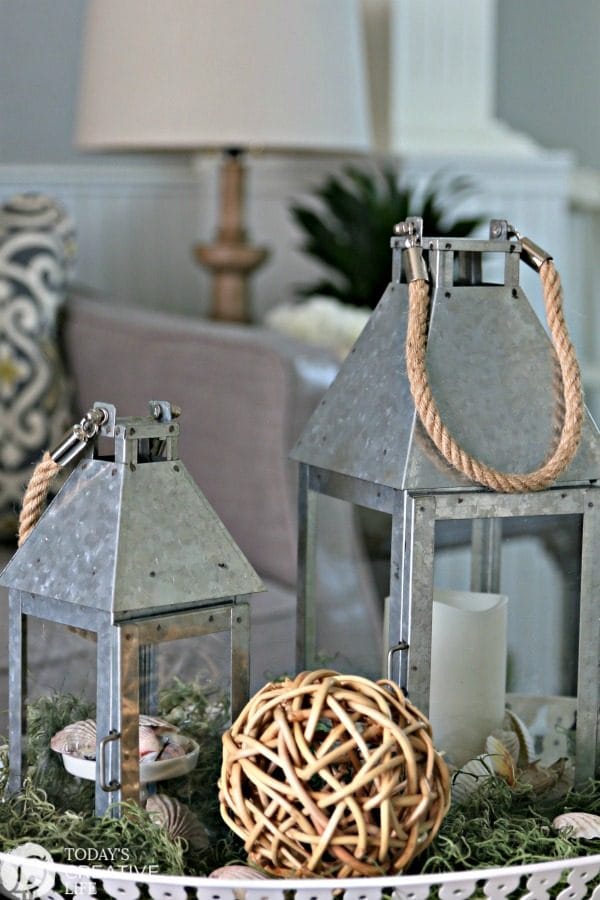 One of my favorite mugs from BHG is their hobnail white coffee mugs. You can only purchase these in the store. They are $3.56 each.
It's not for the outdoors, but this Better Homes and Gardens Rustic lamp is one of my favorites. At $20.15, it's definitely in the easy home decorating ideas category!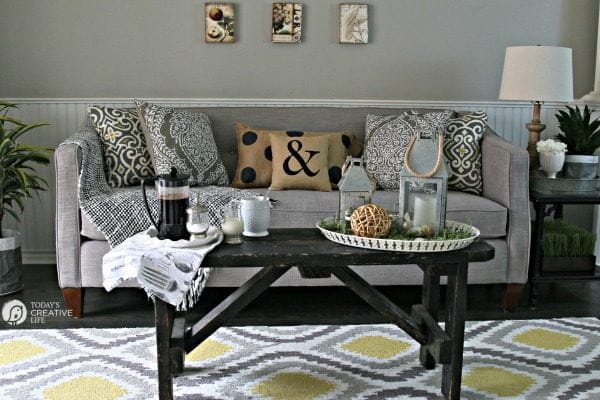 BHG Products Shopping List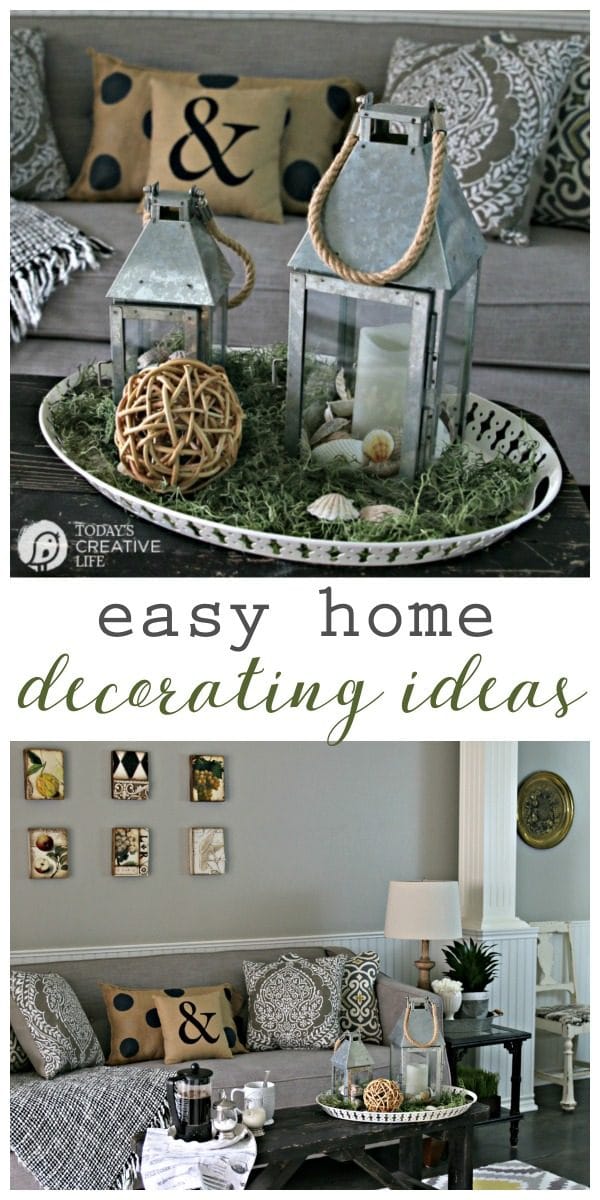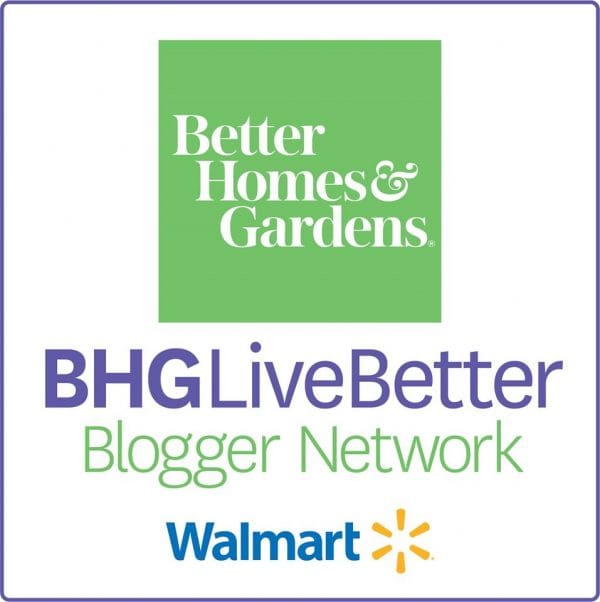 This post is sponsored by Walmart and the BHGLiveBetter Blogger Network. I was compensated for my time and products, however, all my opinions and ideas are 100% mine.
---
More Decorating Ideas