Gingerbread Cake Mix with Free Printable Tag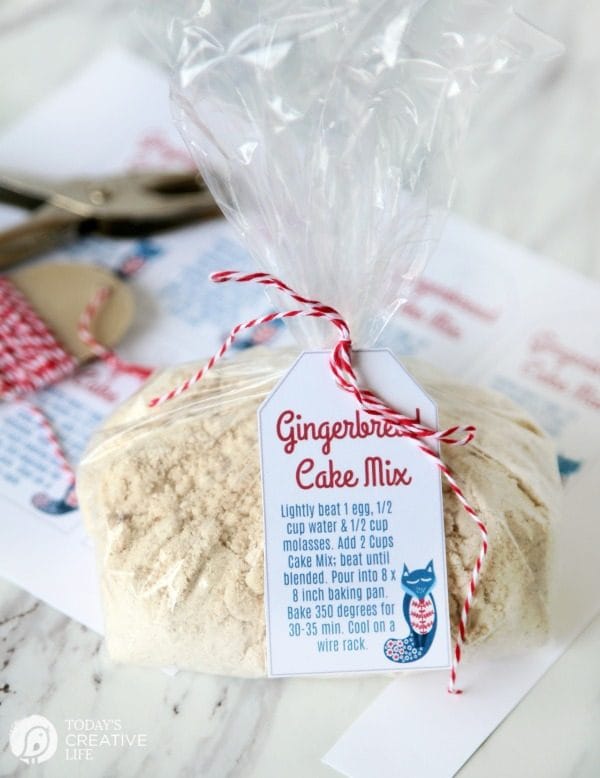 Author:
Today's Creative Life
6⅔ cups flour
1½ cups sugar
¾ cup plus 1 tablespoon powdered milk
¼ cup baking powder
1 tablespoon salt
1½ teaspoon ground cinnamon
1¼ teaspoons ground cloves
1½ teaspoons ground ginger
1½ cups shortening
Additional Ingredients for each batch:
1 egg
½ cup water
½ cup molasses
You'll need a large bowl.
Combine the first 9 items and mix well.
Cut in shortening until it's coarse and crumbled. I used a fork to do this, but a pastry cutterworks well.
Store in a cool and dry place, in an airtight container for up to 6 mo.
To Make Gingerbread Cake
In a medium-size mixing bowl, lightly beat egg with molasses and water.
Add 2 cups cake mix; mix until blended.
Spread into a greased 8 inch baking dish and bake at 350 degrees for 30-35 min.
A toothpick inserted into the middle should come out clean when done.
Cool and serve with ice cream or whipped topping.
Grab the free Gingerbread gift tag on TodaysCreativeLife.com
Recipe by
Today's Creative Life
at https://todayscreativelife.com/gingerbread-cake-mix/