We recently took a family trip to New Orleans! You can read my first New Orleans Post, pt. 1 here.
Family Friendly Ideas for New Orleans
Day 3 (read day 1 & 2 here)
Since we were traveling with my teen son and teen nephew, we needed Family Friendly Ideas for New Orleans, which meant staying away from Bourbon street!
Many many people warned us before the trip and while there. We were also told that it's pretty much OK in the morning, which we did walk down some on Easter morning. And although we didn't see anything inappropriate, we did see evidence of some heavy partying on the side walks. I probably wouldn't have noticed, but boys have a beacon for anything gross, so they were quick to point it out to me.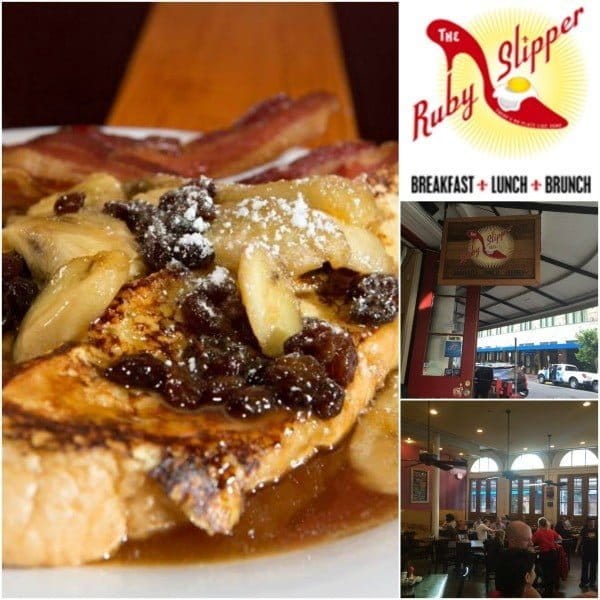 I woke up not feeling my best. I think the humidity was getting to me and I just couldn't seem to get myself hydrated, but I rallied and we headed to the Ruby Slipper for breakfast.
This was a bustling restaurant with good southern home style cooking. My husband got a huge omelet and the boys ordered Banana's Foster French Toast for the 2nd morning in a row, along with a side of bacon and hash browns. Oh to be young again with a fast metabolism. Since my stomach was a little queasy, I went straight for the biscuits.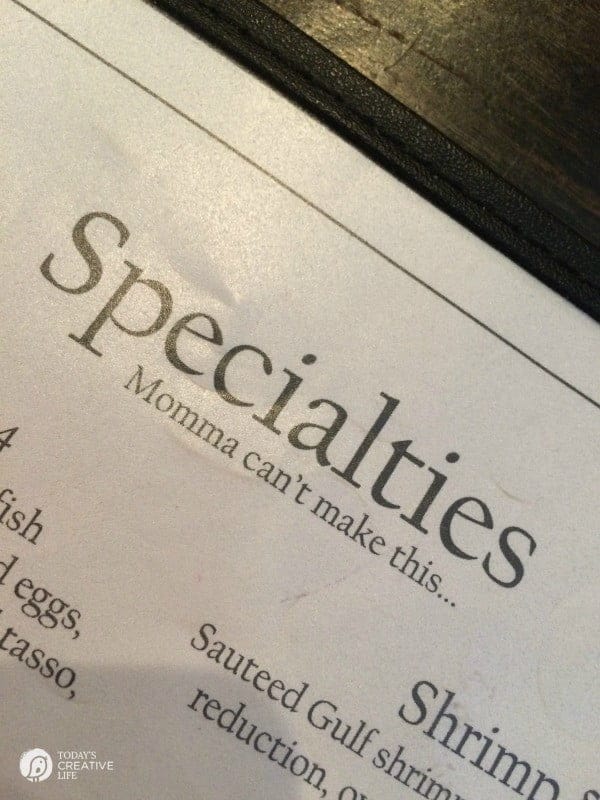 A big fluffy southern style biscuit can cure any ailment, right?
When we were getting ready to leave, the darling bus boy with his southern drawl says "Y'all have a great day", then looks at me, then the boys, then back to me and continues "Parts of Bourbon Street are OK, but when you see the Cat's Meow, you've gone too far". You have to say that with the southern drawl to get the full feeling.
After breakfast, we headed towards Canal Street and hopped on a Trolley. While my husband and the boys were excited to see the WWII Museum, I wasn't sure if I was up for that, so I thought about staying on the Trolley and navigating my way to the Garden District for a tour. After realizing that I still didn't feel my best, I was hot and tired, I thought I'd better stay with the pack, because who needs to throw a fit in the Garden District without a way for your husband to come pick you up if needed. Yes, I was being a little bit of a baby. But the thought of a quiet and cool museum seemed a better choice.
On our way, we walked past this "Before I Die" painted wall.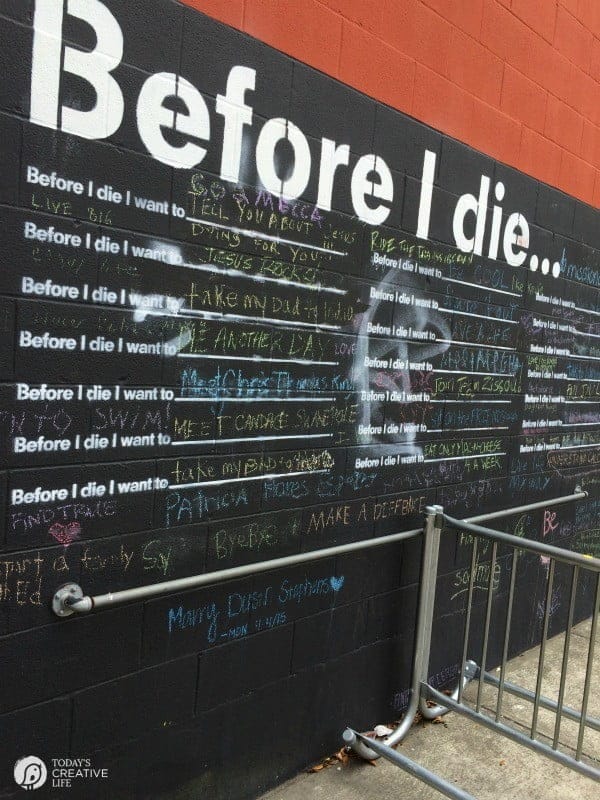 The boys really enjoyed this and spent a lot of time reading. It was perfect to spur our own conversations as to living life to it's fullest.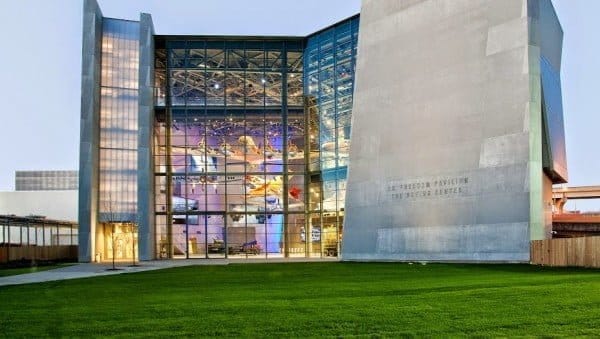 We walked in and WOW! This place was amazing! They really had it down with the perfect mixture of entertainment while learning. It was very interactive, which is perfect for kids. Lots of artifacts, short movies and lessons.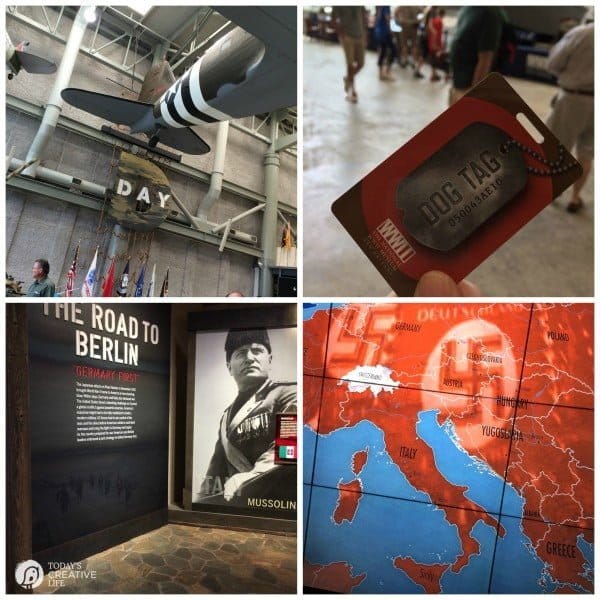 You were issued your own dog tag and had to enter your information into your key pad while riding the train……it was just an assimilated train, but still cool.
I was assigned Ernie Pyle, which my smart history buff of a husband was instantly jealous, so I traded him. Then one of the boys was assigned a nurse and that wasn't exciting enough for them, so I traded again.
All through out the museum, you could swipe your dog tag for information about your person. This museum was the perfect family activity! The 4D movie with Tom Hanks was very very good too! While the boys finished up, I went to the restaurant and had a sprite. The people watching was great too.
Evening Plans
My brother in law took all the boys to the NBA Pelican's basketball game. They loved it! (Thank goodness there were only 4 tickets!)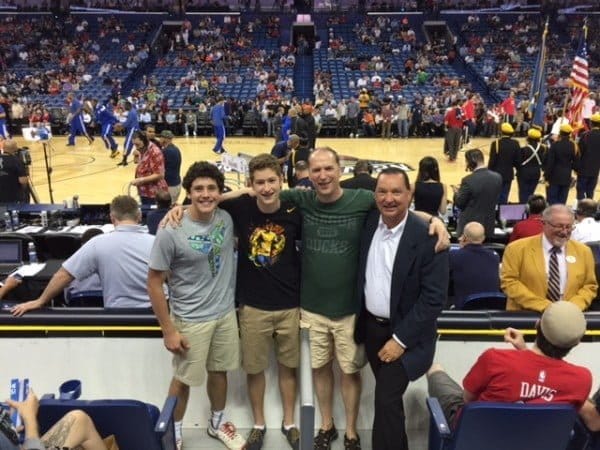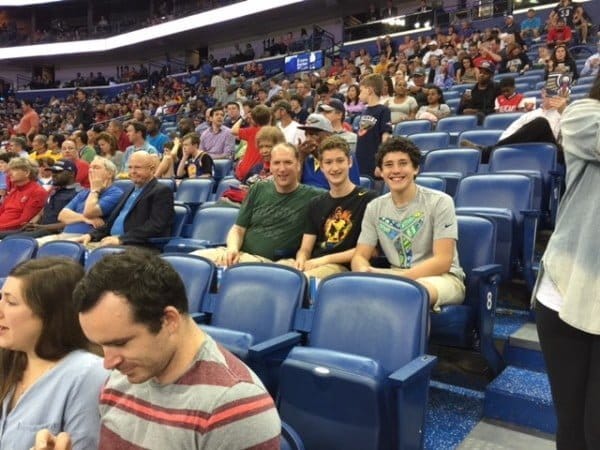 And I drove out to my sister in laws home for some quiet girl time. Driving the Mazda CX9 made it so easy! Not only was it easy to use the navigation, but having the blind spot indicator, the back up camera along with the comfortable ride made my driving in a new city pleasurable.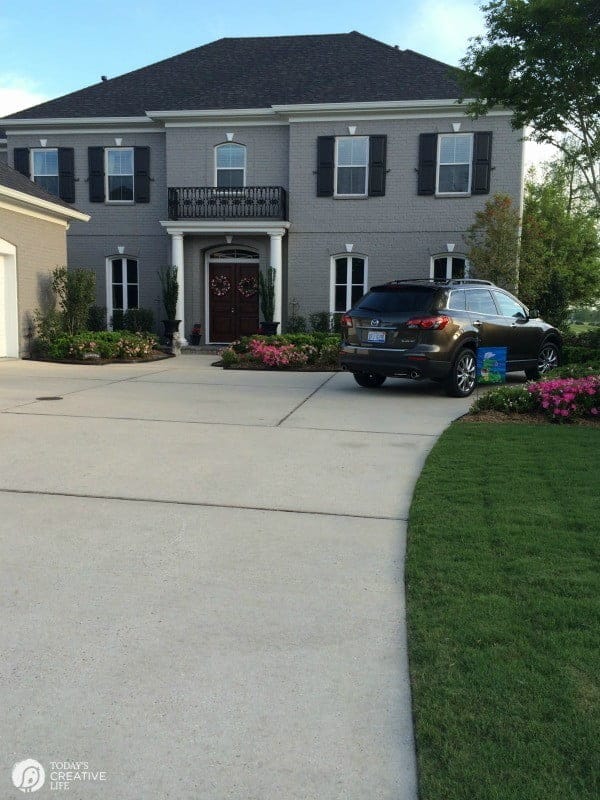 It was so exciting to hang out in this beautiful home. There is a lake right behind it where we spent a lot of our time feeding the swans and ducks, then sitting inside the screen porch listening to the frogs and cricuts.
DAY 4
Our last day in NOLA.
We still needed to hit the Garden District so I could drool over all the amazing homes! And oh my, they did not disappoint.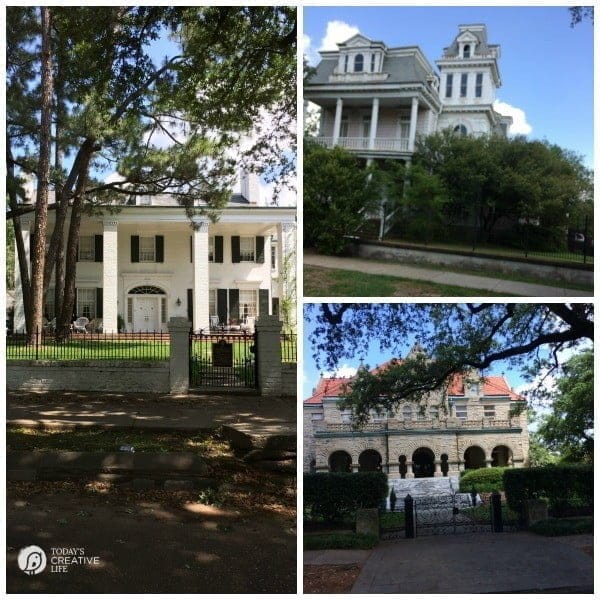 We found some hole in the wall cafe that was very tiny and had some delicious food! The boys had ……. you guessed it, Banana's Foster French toast and I completely splurged since I hadn't eaten much the day before…. I ordered Biscuits and Gravy! Oh yes I did……with fresh squeezed beet and orange juice. My husband had another omelet.
As I was waddling out of there, I had to buy one of the plaster houses they had hanging on the walls. I love buying original art when on vacation!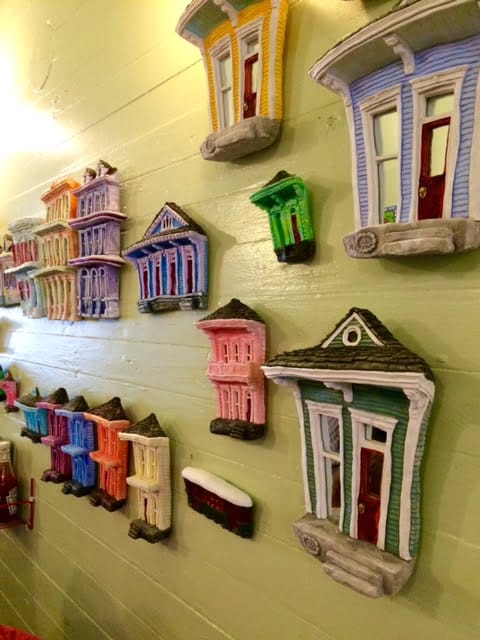 It's now hanging in my office and I love it!
After breakfast we headed out to the Oak Alley Plantation.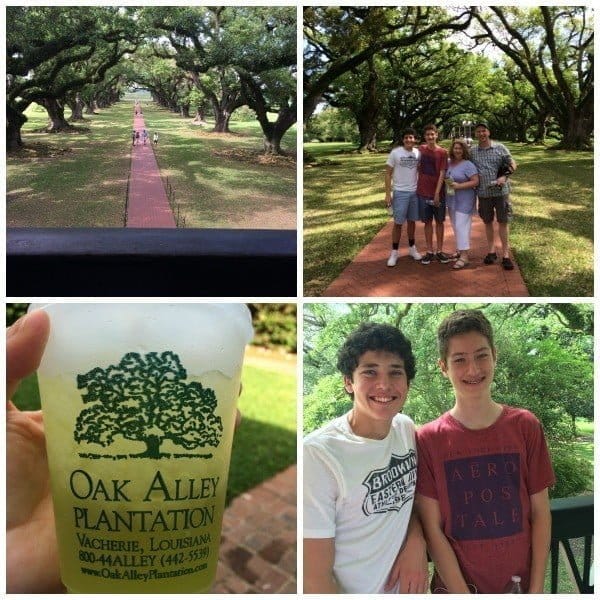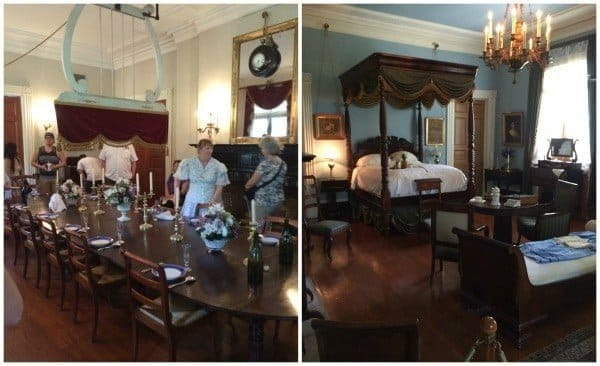 It was about a 40 minute drive, which again was super easy using the navigation in the Mazda CX9. Even though there are plenty of tour buses that will take you, we were happy to have our own vehicle.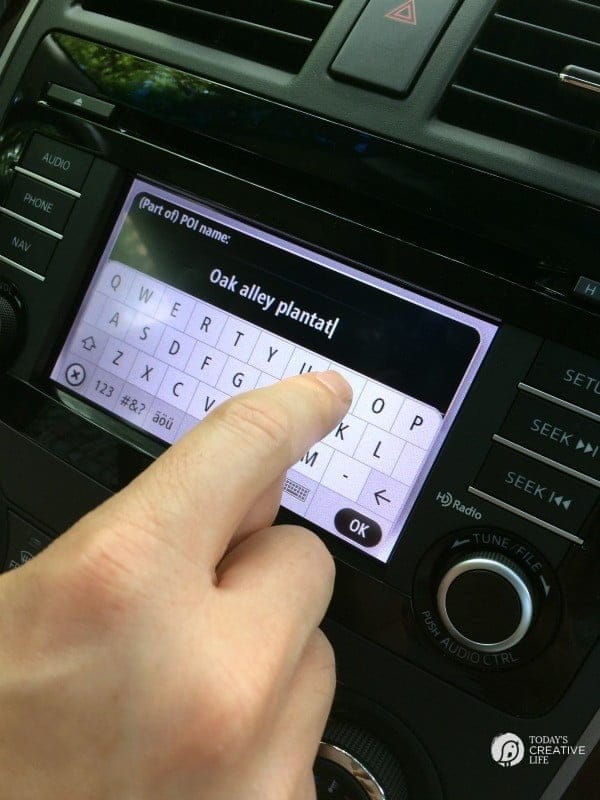 Oak Alley was FULL of history and stories as you can imagine. The grounds were so beautiful and I couldn't help think about all the slaves who lived there and what their lives must have been like. Even though it was such an amazing place, it certainly had a dark side to it. I tried a mint julep and DID NOT like it. It tasted like plain whiskey to me, so the gal made me one without the alcohol, which was delicious!
We arrived back to the hotel just in time to head out again to our French Quarter Haunted Tour. We met up at some famous VooDoo shop across from the famous Pat O'Brian's between Royal and Bourbon street. I have never seen so many people. My photo doesn't look so busy, but trust me, it was!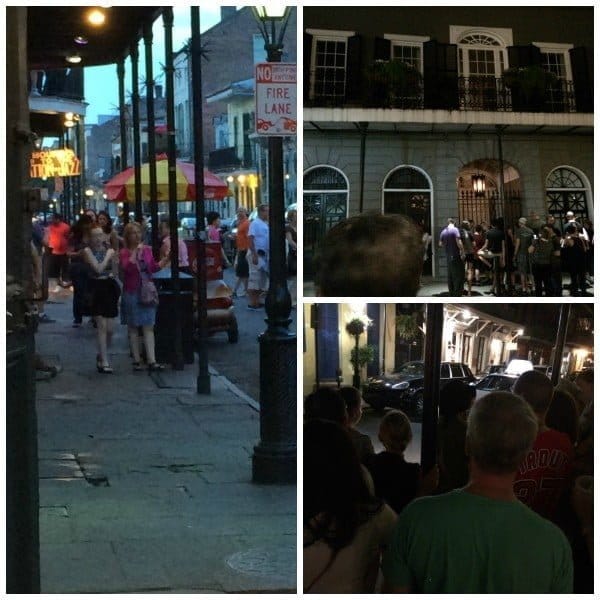 While we waited in line, my husband said he was headed to grab more cash from the ATM, which was code for "I'm really going to go see what all the fuss is about on Bourbon Street". He came back and said " Yep, not a place for kids or teen boys". Apparently Pasties are what's in style.
The haunted tour was very good. Full of stories and apparently the home that Nicolas Cage owns, is the most haunted. (upper right corner in the photo collage)
We walked to Frenchmans Blvd on our way home and never once did we feel unsafe, although I did get a little nervous on the 2 block stretch that was not well traveled. It didn't help when my husband says "Did you see all those signs during the tour warning you to walk around in large groups for safety?" Yea……. THAT did not help.
Frenchman's Blvd is full of live music and people, but we didn't stay long, since we were leaving the next morning, we headed back to the hotel and packed up.
Finding our way back to the Park N' Ride was simple…… actually getting around in New Orleans is pretty easy, especially if you have your fancy navigation!
The New Orleans airport isn't that big, so it's very easy too. We arrived home with no delays – we couldn't believe it!
Would I visit New Orleans again? Yes!
Would I visit New Orleans with teens again? Yes!
It was a great family trip full of culture, great food, lots of things to do and not to mention beautiful!
Read part one of my New Orleans trip.
For more great places to vacation with teens:
DriveShop supplied me with a car while traveling. All opinions shared about the Mazda CX9 are 100% mine.