Spending time together visiting my sister in Utah each summer has become a tradition. We try to scoot off for a couple of family trips while there. This year we headed to Zion National Parks to get some serious hiking in.  I was thrilled to take my niece with me. Her and my son love to hang out and with her heading off to college soon, this may be our last chance.
We hiked almost every trail Zion had to offer.  Except for the ones considered dangerous. My husband was ready to go on one, but the weather turned and made it too risky. We did however hike The Narrows.  This hike is through the river.  It's usually so hot, that hiking through a river sounds delightful.  On our way into the river, it started to cloud up quickly and was raining pretty good once we were ready to enter the river.  There's a risk of flash flooding in Zion, so you have to be very careful.  We decided to head on in ……all was fine until about an hour in when we saw more and more people heading towards us saying we should turn back.  So we did.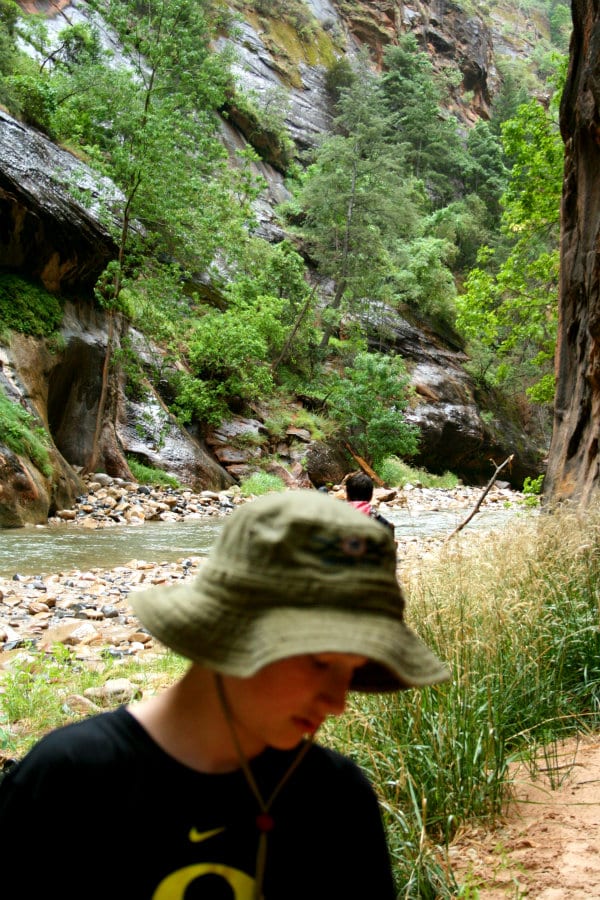 On our exit, they had placed the Closed sign up. You can see us here and read up on my advice on what NOT to wear……..unless you want to show the world what your mama gave you.
What you need to hike the Narrows: (there are places you can rent boots and sticks)
Walking Stick

Sturdy Shoes
Clothing layers
Clothing that does well in the water
Hat
backpack with water and food
On our last day, we spontaneously decided to head off to the North Rim of the Grand Canyon.  It was only 3 hours away and who knew when we'd be that close again.  It's been important to us to show our son as many of these natural wonders as possible.
I'm SO glad we went. We found a room easily at Jacob Lake. (which by the way is only a sink hole with water in it).  We spend one day at the Grand Canyon hiking as much and seeing as many view points as possible. The lodge is UNBELIEVABLE!  We watched the sunset on the rock designed deck in a HUGE Adirondack chair. Pure peace.
Here I am watching the sunset at the Grand Canyon…….dirty feet from hiking in my crocs.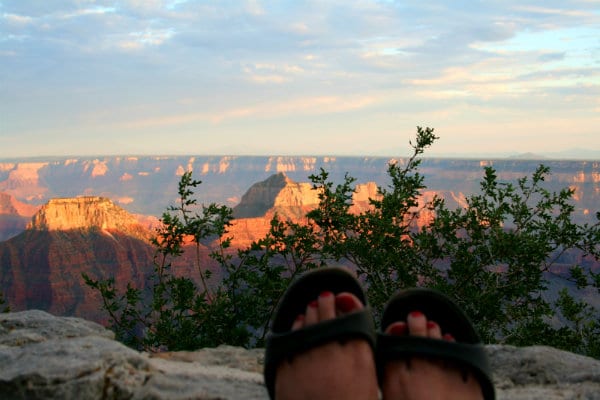 This was a GREAT family vacation!
Hiking the Narrows in Zion National Park was a highlight! Wading through chest high water during a rain storm was all the thrill seeking I needed.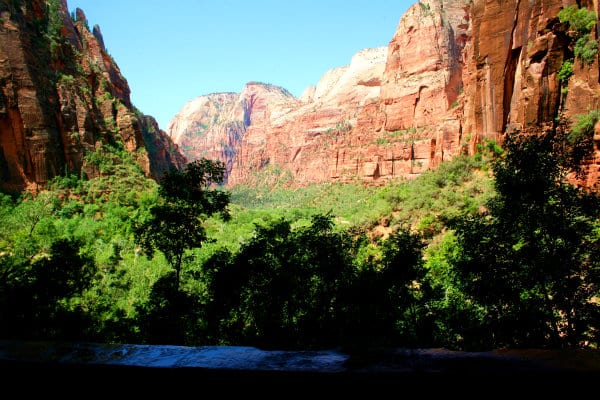 The Wheeping Rock hike was amazing! Vacationing at our beautiful National Parks is a great way to have an inexpensive family vacation.