I know some of you are planning Super Bowl parties for this weekend and some of you could care less.
I'm in the 2nd category, but I am having fun thinking of Football Food Ideas you can make.
If you ARE having people over for a fun Super Bowl party, you'll definitely want to make these simple silverware & napkin holders as well as these yummy sliders.
Football Food Ideas – 3 Meat & Cheese Sliders
My husband requested the Ham & Cheese Sliders I made shortly after Christmas. I had grabbed the recipe King Hawaiian's site and made them up using our left over Christmas ham. OH. MY. GOSH! These were delicious. So not healthy AT ALL! But so so delicious.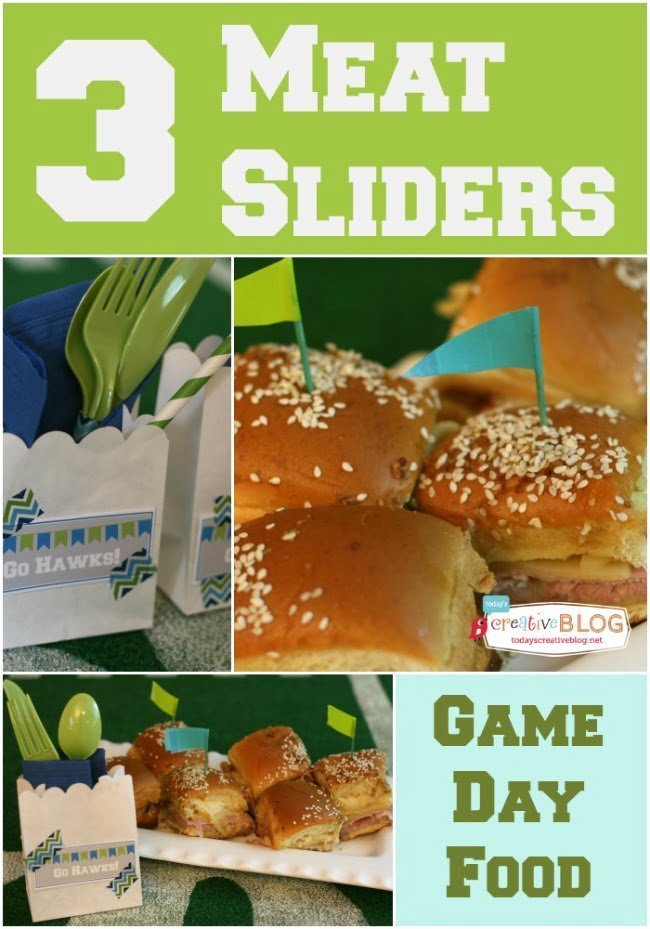 Since my husband requested these and knowing how much he also enjoys roast beef, I thought I'd put my own spin on the recipe. I decided to make a 3 meat and cheese slider instead. And because I wanted to share them with you this week, I made them early. I'll just tell him I thought the Super Bowl was today.
Now mine are NOT pretty and they aren't the easiest food to photograph, but they were made and it was my only chance to grab a photo and I was rushing to meet a group of bloggers for dinner. I figured if I left the house, I wouldn't be tempted to eat these.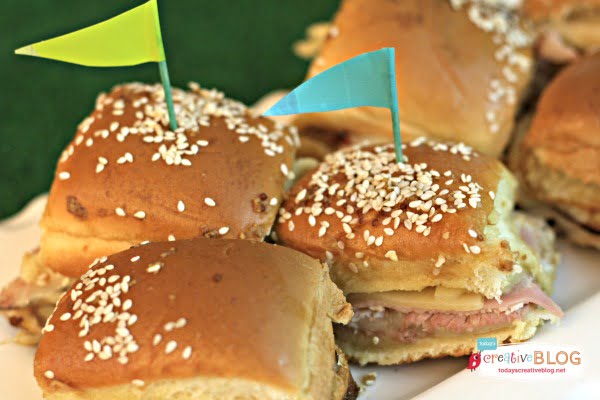 The first time I made them, I was surprised by a couple of steps. It was a bit of an Aha! Moment when I realized you cut the entire block of rolls. DOH! So much easier.
I was also reluctant to pour the sauce over the rolls, but trust me, it's not a typo and oh does it make it delicious! I mean, who wouldn't like Hawaiian sweet rolls with butter drizzled over them?
I am also surprised by how easy they are to make.

Cut – Don't separate each roll. Cut the entire block of rolls.
Open the block of rolls up for stacking your cheese and meats.
Place in your pan and layer your meat and cheeses.
Place the top on and drizzle with your butter mixture.
Bake
Eat, enjoy and nap.
If you've got a lot of people coming over, these are perfect. Some recipes like to assemble, pour the sauce over and then refrigerate for about 30 min before baking. I'm never that prepared, so I bake right away. Still delicious.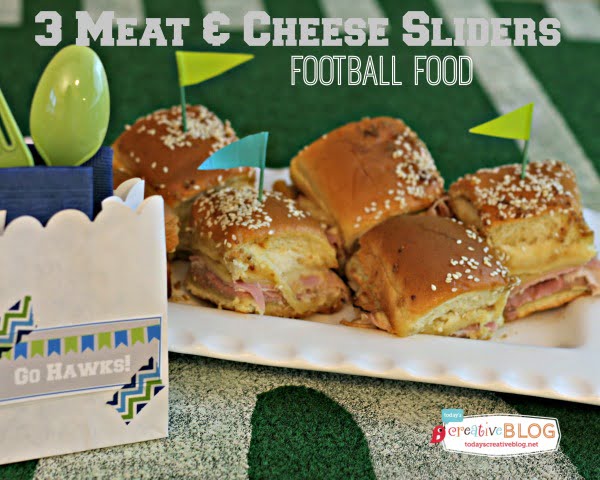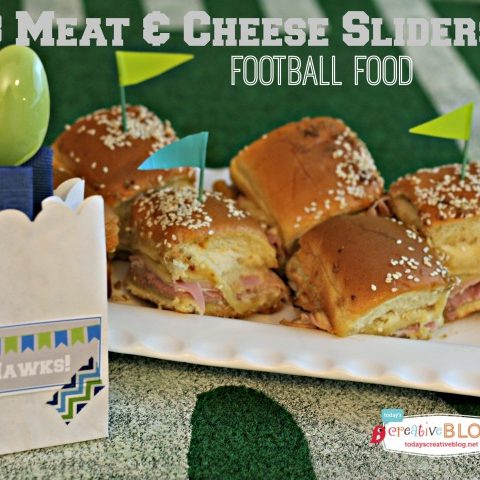 Football Food Ideas
Ingredients
1 package Hawaiian sweet dinner rolls
6-7 slices of each deli meats: Roast Beef, Smoked Turkey, Ham
6-7 slices of Swiss cheese and Provolone
1/2 cup butter - melted
1 Tablespoon sesame seeds
1 1/2 teaspoons Worcestershire sauce
1 1/2 teaspoons Dijon mustard
1 teaspoon onion powder
Instructions
Take the rolls out of the package as on whole brick. Do not separate.
Slice the "brick" of rolls in half.
Place the bottom of the rolls in a baking pan
Layer in this order (actually it doesn't matter, this is just how I did it) Provolone, Meats, Swiss
Replace the top of the rolls
Combine butter, sesame seeds, mustard, Worcestershire and onion powder and mix well.
Drizzle over the rolls.
If you'd like, you can refrigerate 30 min to over night - but I didn't. I let them sit for about 10 min.
Cover with foil and bake at 350° for 30 minutes or until all the cheese is melted.
Take the foil off and bake for 2 or 3 more minutes.
Serve and enjoy!
More yummy football food: