This FREE Printable 2016 Desk Calendar is all yours!
Creative Contributor Michelle from Elegance and Enchantment has made this free printable calendar just for TCL readers!
FREE Printable 2016 Desk Calendar

Don't wait til the last minute and then scramble needing a 2016 calendar. Download your free copy and print it out so you'll be ready!

I love using free printable calendars, because if needed, I can print out each month a few times to use for different reasons. I can easily print one for the kitchen for family stuff and keep my work ideas and goals on another.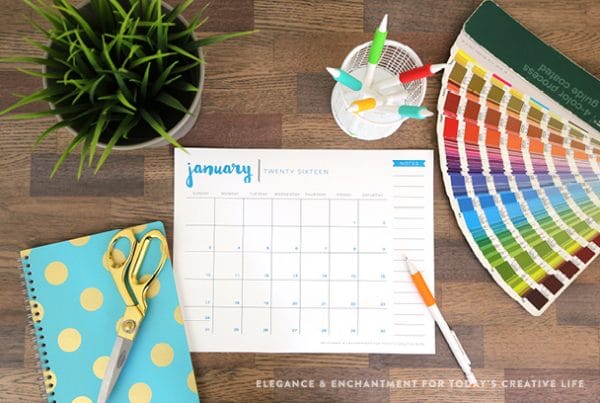 I have a 2016 Printable Calendar Pinterest board where I've collected a several calendars in many different styles. So many great ideas out there.
I love having a space for notes on the side. I can jot down ideas, reminders, meal planning ideas etc… In fact, another great way to use this calendar, is to write down all your meal ideas for January in the Notes area. Then just plug them into each day at the start of the week. Heck, you could even color code everything! The wheels are always churning.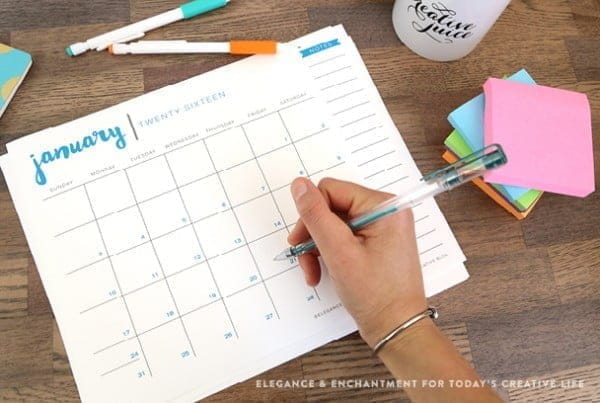 If you like your calendar connected, there are simple ways to achieve that. You could head to your local office supply store and ask them to bind it together, or maybe you have your own binding machine. They're not that expensive.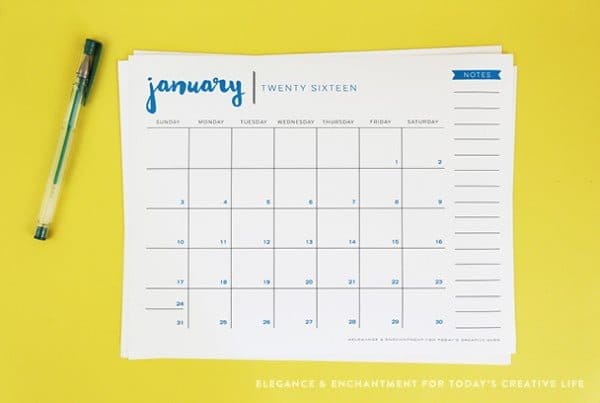 I like to have my calendar sheets loose so I can put them on my clipboards in my office. Since I'm planning out a few months ahead, it helps to have at least 6 months displayed where I can easily see it. I'll also print out a set for my son for his school assignments and test dates. Now if he's just keep it updated, that would be good!
SIGN UP FOR FREE PRINTABLES BELOW
ALREADY have your password? Head straight to the Free Printable Vault.
Because everyone needs a new calendar, go ahead and share it on Facebook! Your friends will thank you!