Easy to make Free Printable Valentine Bunting for simple Valentine's Day decorating. Print, trim, add string, and hang!
I don't do a ton of decorating for Valentines Day, but I did whip up this super quick and adorable Free Printable Valentine Bunting. It's very similar to my NYE Printable Banner. This bunting and the no-sew painted Valentine Table runner I made from a drop cloth is it! And that's enough! Maybe I'll whip up these fun SweetHeart lights made from plastic cups! That would be fun!
FREE Printable Valentine Bunting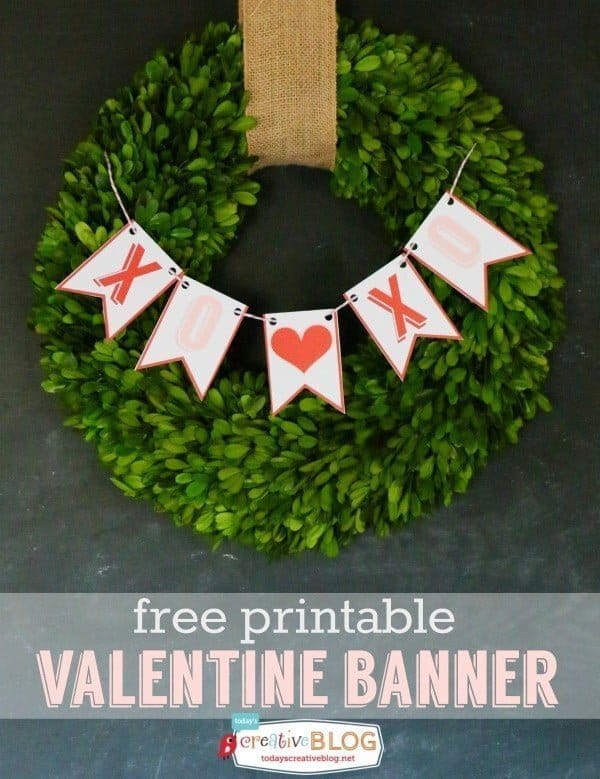 Since my sons birthday is the day after, Valentine's Day takes a back seat. When you have a teen son and he invites his friends over for birthday cake, he will ask that you take down the life size cupid on the mantel……so I've given up with the LOVE decor, except for a couple of quick and easy DIY Valentine projects that don't take over, but add just enough festive flair.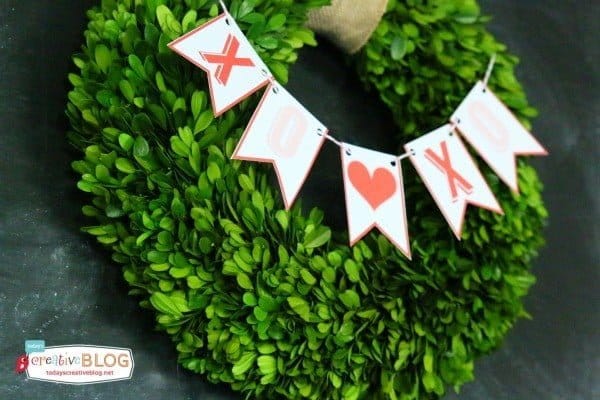 This large DIY chalkboard and wreath hangs in my kitchen, making it super easy to decorate for the seasons. It's been perfect to add a simple bunting or banner to reflect the current holiday.
This banner will take very little time to complete. I love the combination of pink and red. Reminds me of my childhood bedroom that had a canopy bed with a pink gingham checked bedspread and red shag carpeting. Yes, I was a child of the 70's and my adventurous decorating sense came from my mother!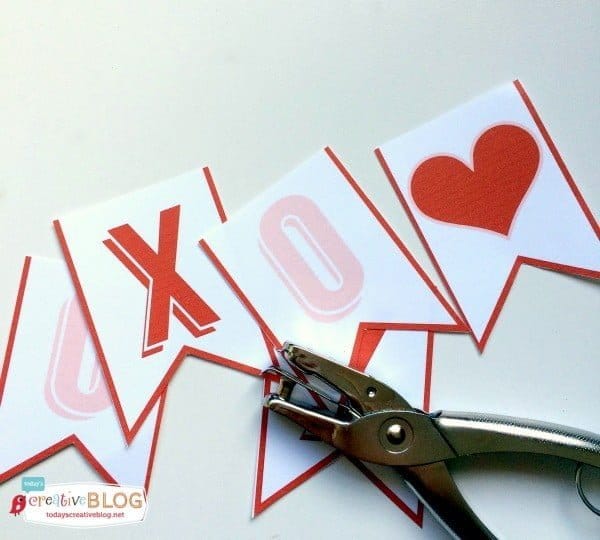 How to Make a Valentine Bunting
This printable Valentine's Day garland is something you can use year after year. Hang it wherever you need a little extra DIY holiday decor.
SIGN UP FOR FREE PRINTABLES BELOW
ALREADY have your password? Head straight to the Free Printable Vault.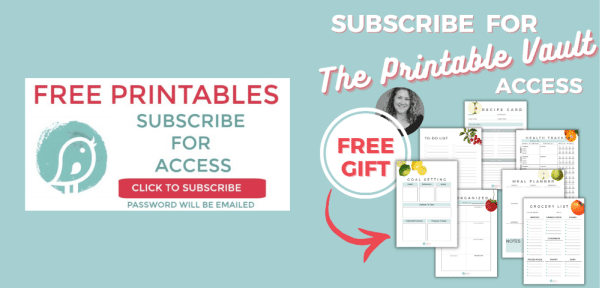 Supplies you'll need:
First, you'll want to download the printable
Print it off on white cardstock. Regular printer paper will be too thin, although if that's all you have, go for it!
Trim – I used a paper trimmer for the top and sides, then used scissors for the pointed bottom.
I punched 2 holes in each piece on the top corners.
Thread ribbon or bakers twine and hang!
Enjoy!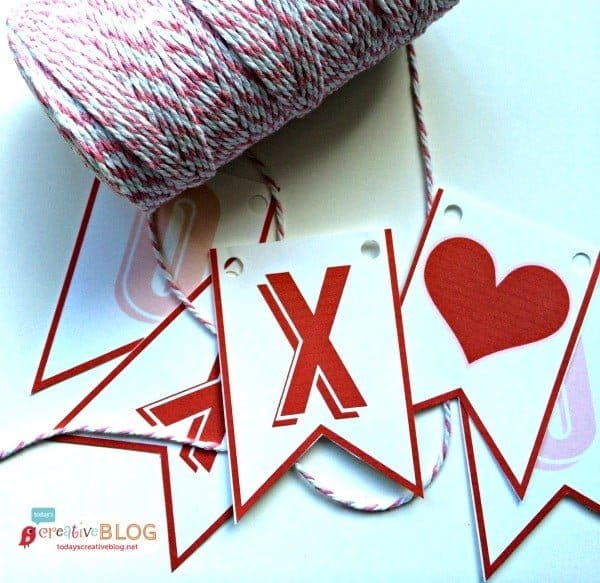 See now wasn't that easy?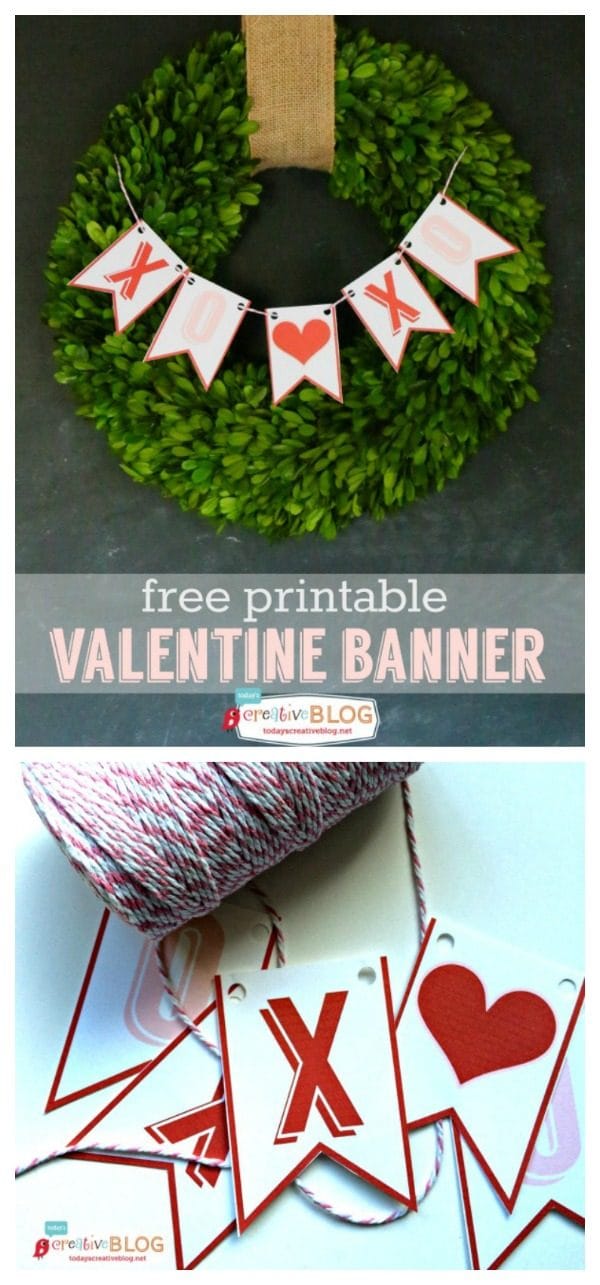 The pink "O" flags don't look very bright, but they look fine in person, promise.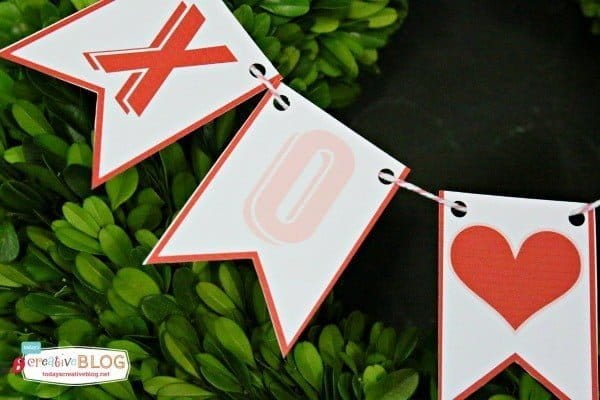 If your front door is protected from the elements, this would look so cute. Or hang it across the fireplace mantel, can't go wrong there. It's going to look fun anywhere you put it. I think I'll hang another one on my son's bedroom door. Because that's what mom's do…..they torment their teenage sons.
Click below to download your own FREE Printable Valentine Bunting.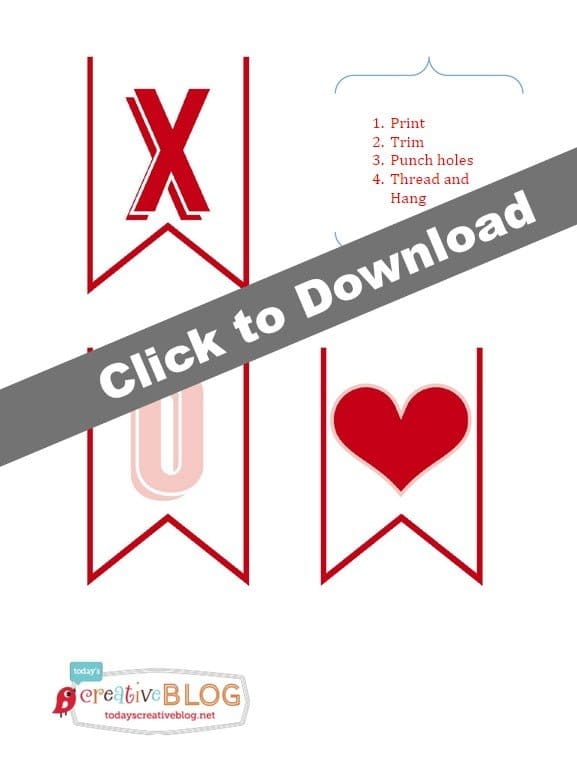 Valentine's Day Ideas
DIY Valentine's Day ideas for crafting, decorating, baking and more!