This easy-to-make Taco Salad is my favorite. Doritos, Catalina Dressing, Cheese, Taco meat. This is our official Game Day Taco Salad, although it's great anytime of year. Great for potlucks too!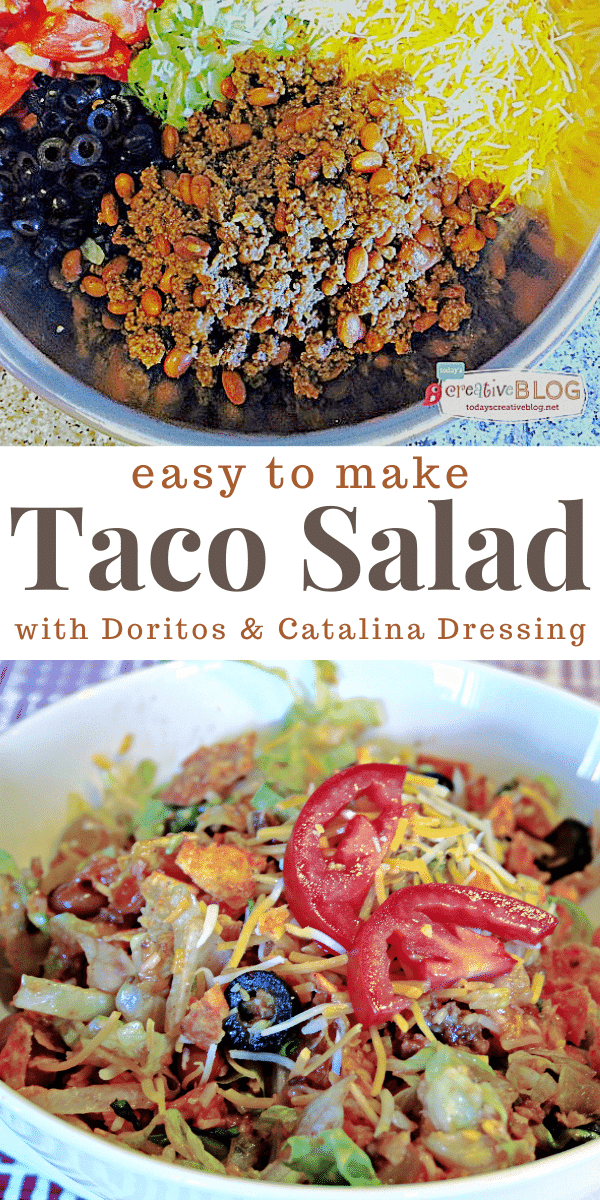 Game Day Taco Salad
Every few months, we gather with a group of friends for "Couple's Bunco". Bunco is a super easy and fun game and it's even more hilarious when you include the husbands.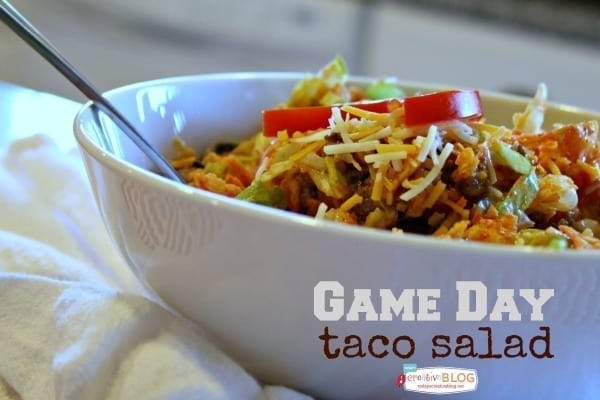 It's always potluck style, so we're always bringing something yummy to share. My friend Joy brought this Taco Salad a few years ago and it's a keeper! It's SO easy to make and delicious to eat! It's also perfect for a crowd. I love that you can bring all the ingredients and when you're ready, just toss it all together.
How to Make Taco Salad
Gather your ingredients:
Ground Beef
Pinto Beans
Shredded Cheese
Shredded Lettuce or Chopped
Black Olives
Green Chilies
Nacho Cheese Doritos
Catalina Dressing or Salsa
You're going to need a BIG bowl. While you're browning your ground beef with beans, place your lettuce in the bowl, (I use shredded lettuce, but you could use any cut you'd like). Then place tomatoes, green chilies, olives, and cheese on top of the lettuce. Add your meat mixture when it's finished. You can add it warm or cold.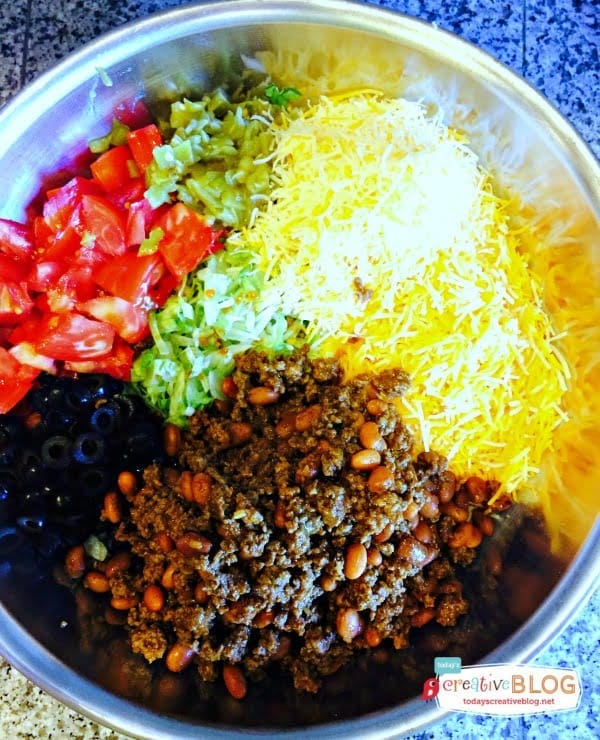 Crush the nacho tortilla chips in the bag before adding.
Add your one cup salsa or Catalina dressing and mix away! I use 2 wooden spoons.
Scoop into a bowl, add a bit more shredded cheese and you are ready to eat!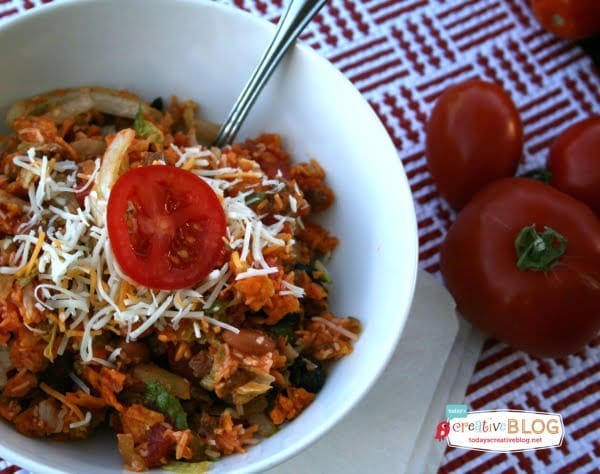 This salad is a crowd-pleaser from adults to children! It's fast and easy with delicious ingredients!
Easy to Make Taco Salad
This recipe travels well, making it great for taking to BBQs, potlucks, or delivering dinner for someone. Take all your ingredients in separate baggies and mix them when you arrive at your destination.
Don't forget a large bowl. It will take you about 5 minutes to put it all together for everyone to enjoy!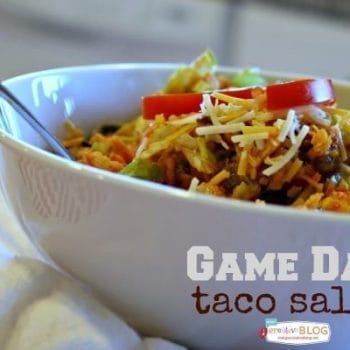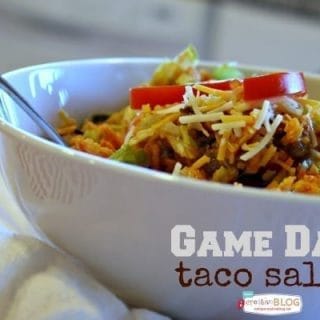 Easy-to-Make Taco Salad Recipe
Yield: 8
Prep Time: 10 minutes
Cook Time: 15 minutes
Total Time: 25 minutes
Easy to make Taco Salad with Doritos, Catalina Dressing, Ground beef, and more.
Ingredients
1 lb ground beef
1 packet of taco seasoning
1 can pinto beans (or black beans) 15 oz.
2 bags Shredded lettuce
3 cups shredded Kraft Cheese
1 large tomato - diced
1 can green chilies 4 oz.
​1 can black olives 4 oz.
1 cup Catalina dressing or 1 cup Salsa
1 medium bag of nacho cheese chips- crushed
Instructions
Brown ground beef over medium heat. I like to break mine up into really small pieces. Once the beef is browned, add beans and taco seasoning. Boil down until it's no longer soupy. Set aside.
In a large serving bowl, combine lettuce, cheese, chilies, olives, tomatoes and ground beef. Add dressing or salsa and mix. Crush nacho chips in the bag before adding to the salad, and mix.
Serve with a little more shredded Kraft cheese on top - enjoy!
Notes
Substitute salsa for Cataline Dressing if desired.
Nutrition Information
Yield 8
Serving Size 1
Amount Per Serving
Calories 611
Total Fat 39g
Saturated Fat 17g
Trans Fat 3g
Unsaturated Fat 18g
Cholesterol 118mg
Sodium 2202mg
Carbohydrates 31g
Fiber 4g
Sugar 16g
Protein 34g
We do our best to calculate, however, nutrition information may not be accurate.
Game Day Ideas
Game Day Food Snacks and printables for Game Day