Gilding with Gold Leaf Sheets makes it SO easy to achieve that gold leaf technique. I'm a gold leafing fool.
I'm sharing this technique with the AMNW morning show, so if you're a new visitor after watching, welcome to TCL!
I did a couple of gilding projects in December…..a Chevron gold leaf tray for NBC's iVillage and a Silver Leafing one for Martha Stewart. Creative Contributor Colleen created this Copper Foiled Photo Mat for her anniversary.
Gilding with Gold Leaf Sheets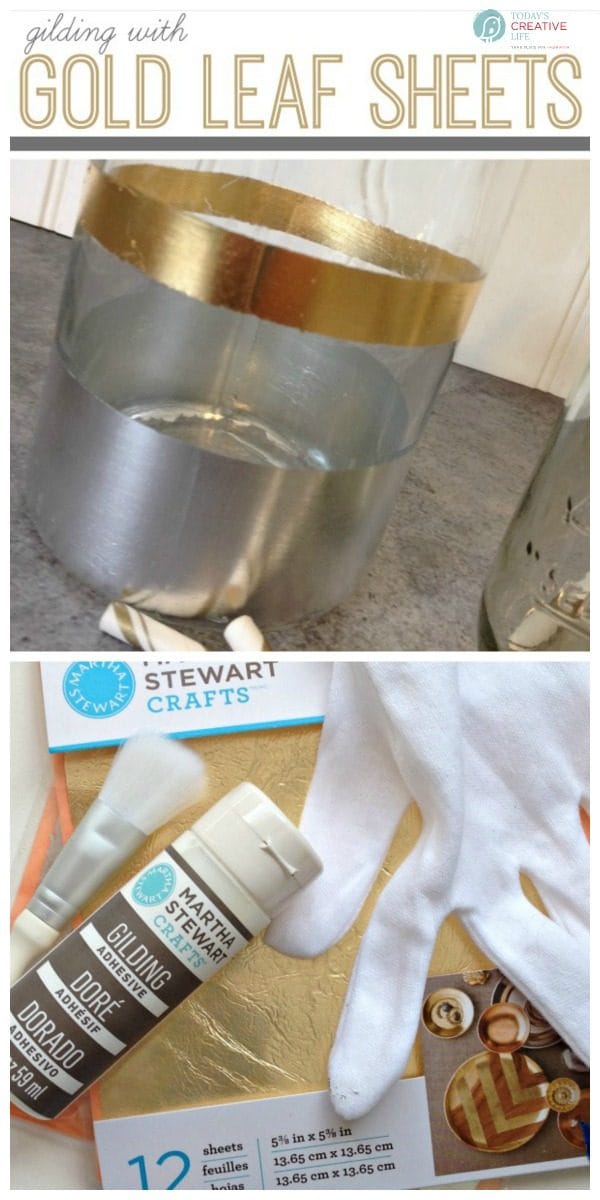 Nothing is safe around me.
These bottles from IKEA look pretty cool with a little leafing action.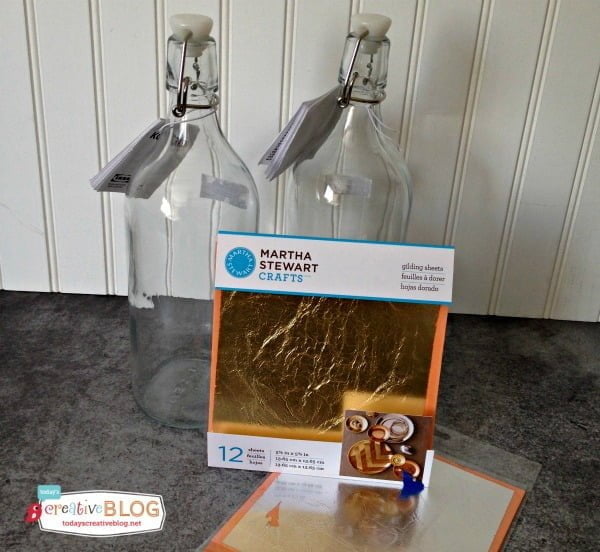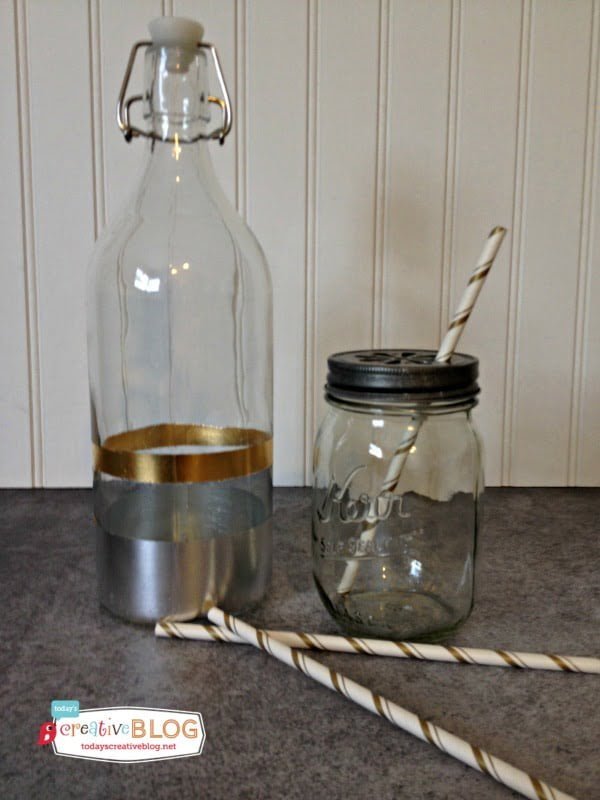 Just think how pretty they'll look on a party table. Gilding with gold leaf sheets is so much easier than you think, or at least what I thought.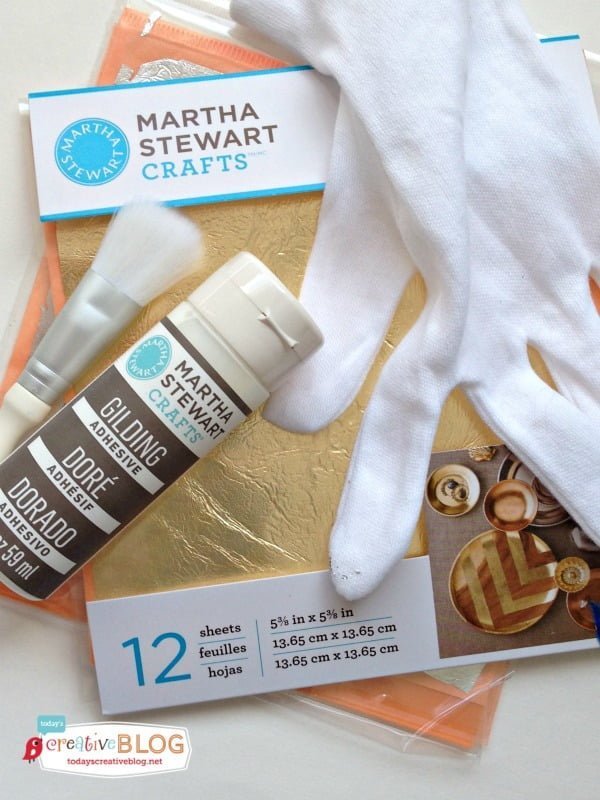 Supplies for Gilding
Affiliate links for products listed are for your convenience only. This cost you nothing extra. If you happen to purchase anything as a result of clicking, TCL will receive a small percentage. Thank you for your support. This allows me to continue to offer you free content.
Gold Leaf Sheets- I use the Martha Stewart brand
foam brush for adhesive
Painters or Washi Tape
Item you'd like to gold leaf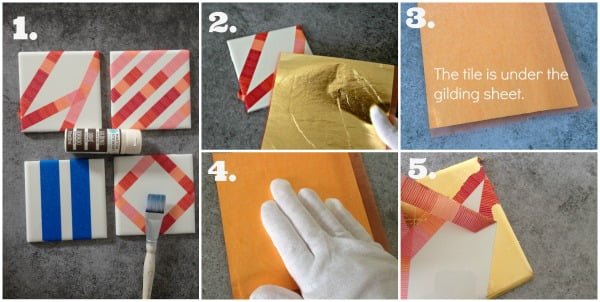 Gilding with Gold Leaf Sheets – How To Use Gold Leaf Sheets
Make sure your item is clean from dirt and grease. Tape off your design. I used painters tape or washi tape. APPLY a thin layer of adhesive on your item with a foam or small brush.
Let the adhesive sit for about 10 min. It should be tacky and not too wet. If the wetness comes off on your finger when testing……it's not ready.
When your item is ready, put your cotton gloves on to avoid oils getting onto the gilding. take your gilding sheet and apply to your item, shiny side down.
Rub the sheet onto your item and slowly pull it off. If you have areas that it didn't stick, feel free to apply again. If it needs adhesive because you've missed a spot, go ahead and carefully apply adhesive to that area and repeat steps.
LET IT SIT for a couple of hours. This is when I break the rules and it's not always in my favor. After it's completely dry……after a couple of hours, gently pull the tape off your item.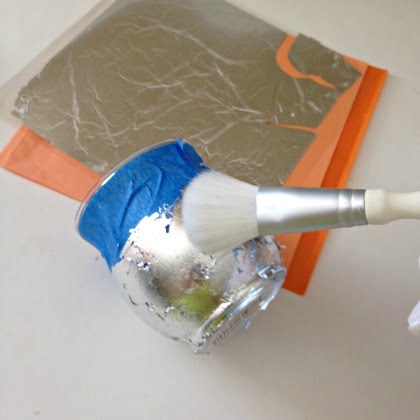 To finish it up, I rub the gilding with my gloved hand and I use the soft bristle brush to brush off any access. (yes, that's a completely different glass item……remember when I said nothing was safe around me?)
I'll spray a gloss enamel finishing spray to protect it. These tiles can be used for coasters, but you'd want to place felt or cork on the back.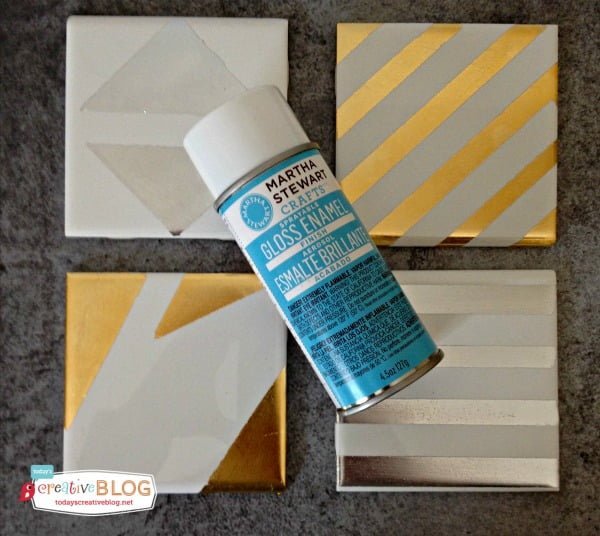 What would you make?
Find all the supplies you need here. Just click on the item.
Supply links are for your convenience and may be affiliate links. If you choose to purchase, it means I will receive a teeny tiny %.
If you're more visual, here's a GREAT video with the Prudent Baby Gals. I wish I would have found this earlier. I was researching on washing gold leaf and found them. Darling and informative!
---
More Creative DIY Ideas