I am SO excited to have spabettie here today! This is a girl after my own heart! I love my grapefruit margaritas, so these Grapefruit Thyme Mimosa-Ritas are calling my name! This summer cocktail is as refreshing as it gets!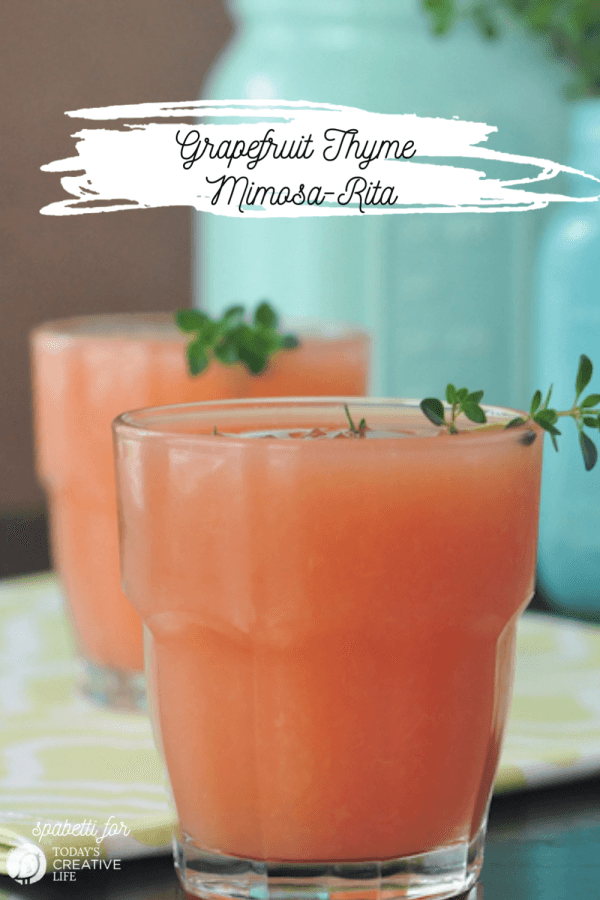 Grapefruit Thyme Mimosa-Ritas
There are two times of year when I do the most entertaining – around the holidays, and all summer long. We have a thing at our place called Happy Hour at Home, which can be anything from an impromptu 'stop by after work' to a planned and prepped for function.
From a little party around the game on television or a fun movie night to a pre-function on the patio before heading to dinner – we love to have people over to our place!
The impromptu versions may not have as many finger foods and creative cocktails, but they can still be a fun and relaxed time. Planning ahead definitely brings a better menu – choose foods that can be made ahead or finished right as guests arrive.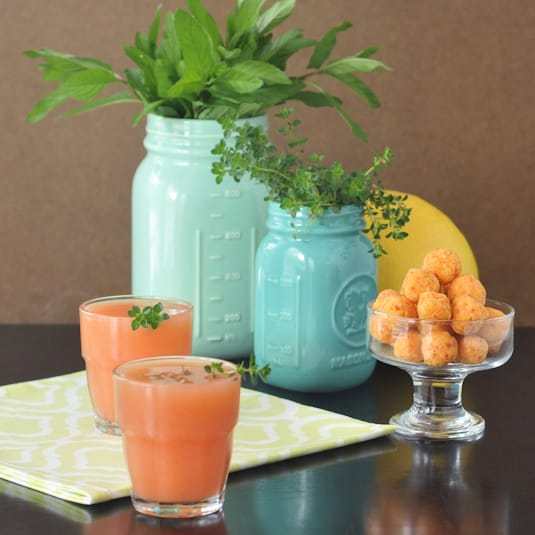 What to serve with Grapefruit Thyme Mimosa-Ritas
Avocado Shiitake Spring Rolls with Spicy Coconut Almond Sauce
Fresh Ginger Anjou Pear Cobbler
When choosing a beverage – if you know the preferred tastes of the people you've invited, a signature cocktail cuts down on your bartending duties. This is one of my go to steps to a relaxed party as a host – settle on one or two signature cocktails that can be made ahead of time, and guests can serve themselves.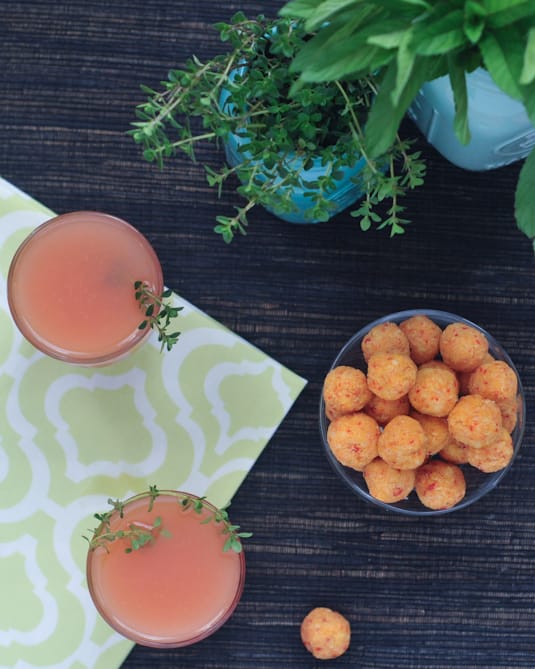 These Grapefruit Thyme Mimosa-Ritas recently went for a test run tasting at our place (recipe testing – a great reason to throw a shindig!), and everyone loved them. We had a brunch crowd, and these were a cooling concoction for an already warm day.
Grapefruit Thyme Mimosa-Ritas
Yield: 5-6
Prep Time: 10 minutes
Total Time: 10 minutes
Refreshing summer cocktail with grapefruit juice, lemon thyme, lime, tequila and more!
Ingredients
Grapefruit Thyme Mimosa-Ritas
YIELD: serves 5-6
INGREDIENTS:
2 cups Ruby Red Grapefruit juice
juice of 1 large Melogold grapefruit
juice of 2 limes
3 sprigs fresh lemon thyme (additional for garnish)
1 1/2 cups crushed ice
1 1/2 cups tequila (Cazadores Reposado is my favorite)
1 1/2 cups Prosecco or Champagne
agave to sweeten (optional)
Instructions
In a blender, combine the grapefruit juices, lime juice, thyme, and crushed ice - blend to a slushy consistency*. Transfer to a serving pitcher, add tequila, Prosecco, and sweetener if using. Stir to combine, serve and enjoy!
*Optionally, you can add crushed ice without blending for a 'on the rocks' version.

Cheers!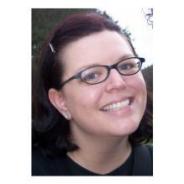 Kristina is better known online as spabettie, where she shares vibrant plant-based recipes, stories of her two dachshunds – Basil and Rosemary – and life in culinary mecca Portland Oregon.
Follow her shenanigans on twitter, Facebook, Instagram and Pinterest, as well as spabettie.com.
Cocktail Recipes
Refreshing home-crafted cocktails.
Grapefruit drinks with fresh herbs are delicious.
This cocktail is like a dessert!
The perfect cocktail for sitting around the bonfire!
This 4th of July cocktail has a bang!
Find a variety of simple recipes for the summer season.
This cocktail screams summer!